Today's wedding is real beauty. Set in stunning Tuscany, it takes in the amazing scenery and is full of natural beauty and the most gorgeous couple. Melissa and Thomas love Italy, so wanted to reflect this in their choice of venue. They chose Villa Ostignano for it's Tuscan charm and gorgeous gardens, and what a location for a wedding, totally tranquil and beautifully breathtaking! With lots of greenery and white flowers to set off the location, the tables look exquisite, as do Melissa and Thomas, so in love and full of smiles. Dallk Photography were there to to capture the day, and they did an amazing job.
A lot of emotions, crying & laughter. Everybody was so friendly, all of that surrounded by a beautiful nature.
Melissa and Thomas were married on 22nd July 2018 at Villa Ostignano, Montaione, Tuscany – Italy. Thomas says, 'both of us love Italy, and i'm from south Italy, Calabria. We had 60 guests and it took a year to plan the wedding.'
How they met 
We met 2 years ago, in a beautiful place next to Leman Lake in Switzerland.
The proposal
I took her in South Italy, the name of the village was Tropea. We went to a beautiful restaurant next to the sea and i did my proposal knees on the ground like classic and she loved it.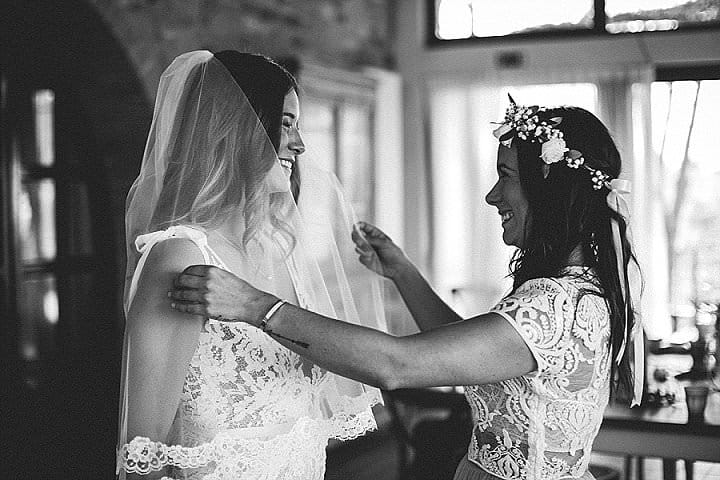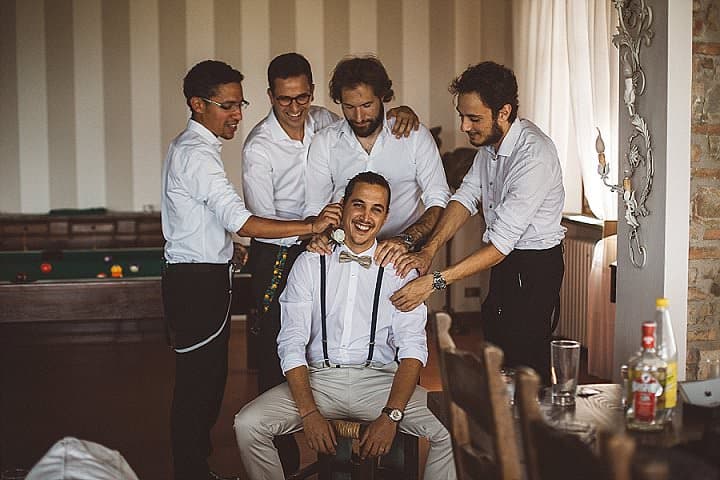 How did you allocate your budget?
We saved money for a long time and our parents helped us.
Where did you splurge and where did you save?
She splurge for the wedding dress (inbal dror) but in general the wedding was quite simple.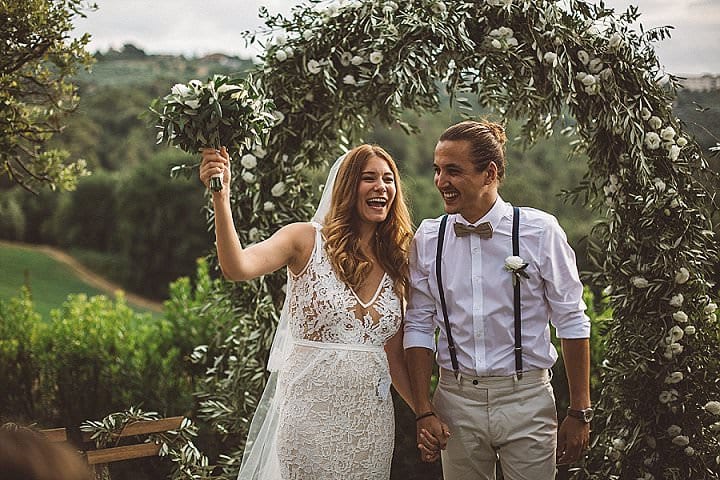 How did you choose your photographer?
It was Dall'k, a couple of wedding photographers, they are great, lovely and really professional.
The dress 
Inbal dror in Paris / Metal flaque – Louboutin for the shoes.
The suit and bridesmaids
Globus Lausanne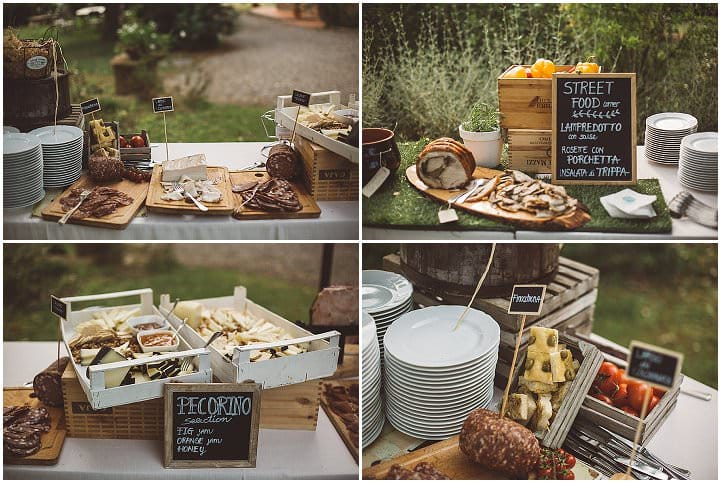 Theme or colour scheme
Green Nature & White Flower
Flowers 
White Rose and Olive tree branch
Decoration 
Wood & Small Lighting / Everything outside The landscape was the decoration by it self.
Food
For the entrance : Typical Italien Antipasti, Salami, Cheese, Wine, Ham from Parm…
And the Main : Risotto & Beef Meat…
Wedding cake
Fruit Wedding Cake
Entertainment
We mostly dance together and having fun with everybody. Some friends did video editing of
our life.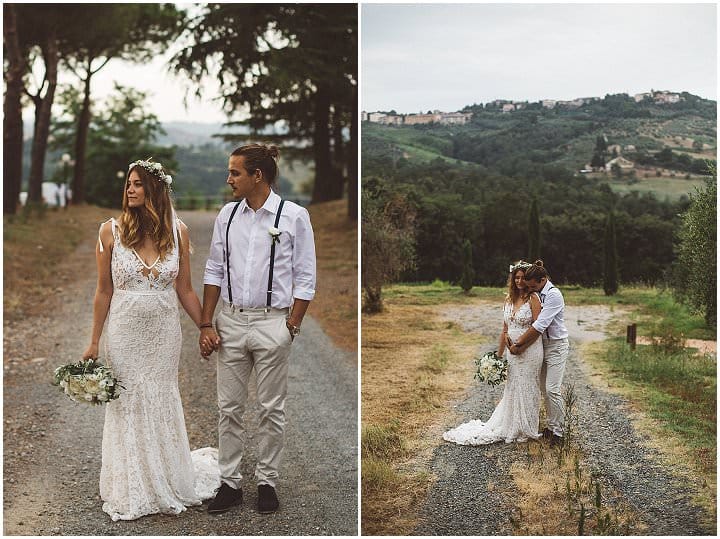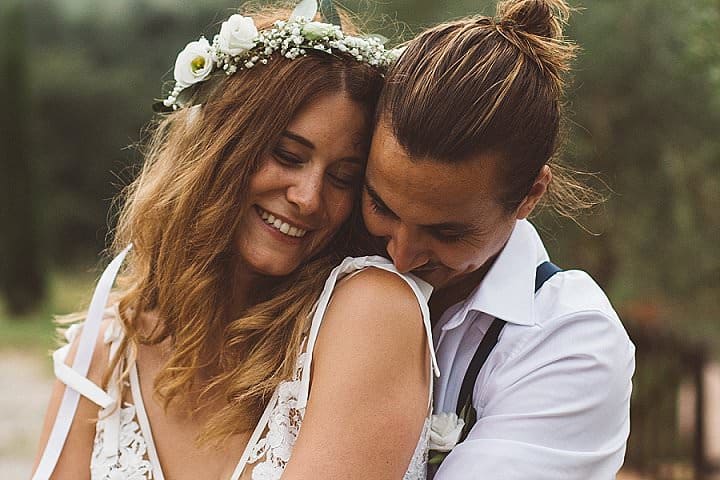 Personal touches
We bought bio olive oil that we put into small bottle for everyone.
Special moments 
The Ceremony and the speech of our parents.
Advice for other couples?
Enjoy the moment it's going fast, and don't do what everyone else wants you to do, do what you want
to do.
Biggest surprise 
To see my wife dressed and coming at me and same for her at the beginning of the ceremony.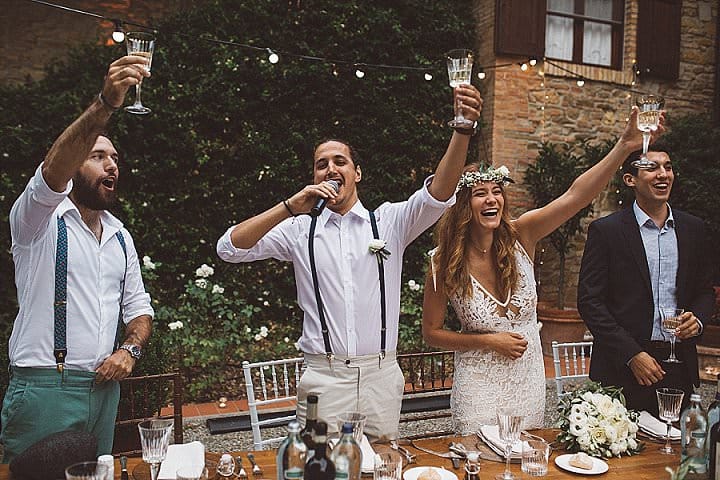 Supplier Shout Outs
Photographers: www.dallk.com
Dress: www.inbaldror.com
Venue: www.villaostignano.com
For more information on Dallk Photography go to
www.dallk.com / [email protected] / +33648379729 / FACEBOOK / INSTAGRAM
We are Marie and Raphael a couple of French wedding photographers a little bit crazy living in Alsace. We met threw wedding photography and fell in love after shooting a wedding together for fun. We have the chance to cover weddings all over the world and we are passionate about travels and telling unique stories. We love funny, full of live and elegant pictures with a drop of moody style.