Good Morning to you all!  I was super excited when Kelly H asked me to put this post together.  Today's styled shoot is from the three wonderful ladies who held The Secret Retreat Photography Workshop.
The Secret Retreat workshop is a bunch of wonderful Photographers hanging out in Italy learning, sharing and creating some really amazing images.  They learn from 3 very talented UK Wedding Photographers.  Claire Penn, Lucy Woodrow and Andrea Ellison.
Today we are sharing with you a selection of 3 styled shoots from Claire, Lucy and Andrea.  I mean, WOW.  They are truly dreamy and amazing.  Imagine having a wedding in Italy looking as beautiful as this?  The lady behind the hosting of the workshop is from My Secret Italy who so happens to be a wedding planner, so Yes….This could be your wedding day!  Just Imagine…..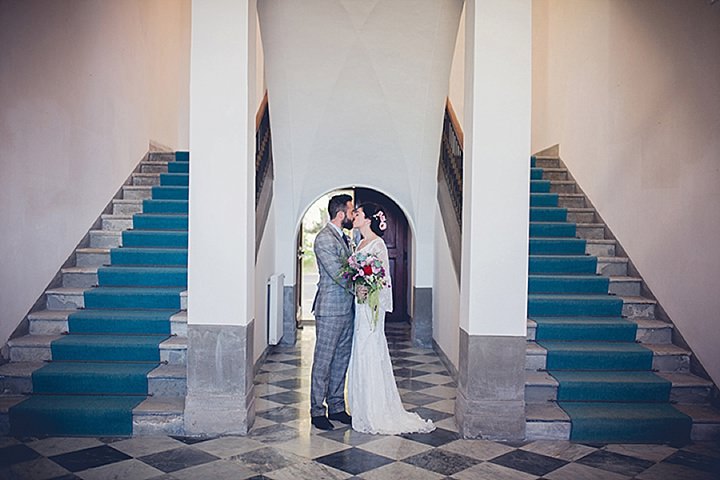 More about the shoot
In late September last year a group of female wedding photographers ventured out to a hidden corner of Italy on a fabulous adventure. The Secret Retreat workshop was hosted by the amazing Julie from My Secret Italy on the sparkling Cilento coast in the seaside town of Santa Maria di Castellabate… the perfect backdrop to shoot three very different bridal inspiration shoots.
We were honoured to be invited to two exclusive homes of the Prince of Belmonte – Palazzo Belmonte and the Summer Palace at Licosa, both of which were surprises we managed to keep a secret from the attendees right up until the last moment.
Our models were in fact two couples who have never modelled before other than having photos taken on their own wedding day! It was really important to us to use real couples for the shoots so that their connection & chemistry was natural and also so the attendees could have the chance to practice directing real couples (just as they do on a wedding day) rather than simply shooting models who knew all the right moves and poses!
The first days shoot was a classic look with an edge of Italian decadence hosted by Lucy. The shoot took place in the shady grounds of the incredible Summer Palace at Licosa with our first couple, the gorgeous Bev & Paul who flew out from the UK to join us. Words can't do these two justice or describe how genuinely loved up they are!
Bev looked incredible in a vintage/thrift shop dress of soft lace with a stunning bouquet of tumbling flowers… elegant hair and make up completed this soft classically beautiful look and Paul brought his fabulous suit from home. Lots of brainstorming took place between Lucy and the incredibly talented Mandy from Saddleworth Shindigs. Mandy styled the shoot to perfection, she and Emillie from My Secret Italy foraged for olive branches and jasmine, Mandy brought suitcases full of goodies from the UK and put together a gorgeous table set up with grapes, pomegranates picked fresh from the garden, figs and cactus fruits… it was exquisite. Beyond Vintage supplied the beautiful stationery.
If you want to check out some more wedding photo venue ideas, look into the beautiful luxury villas on Soprano Villas
The below Images were taken by Lucy Woodrow Photography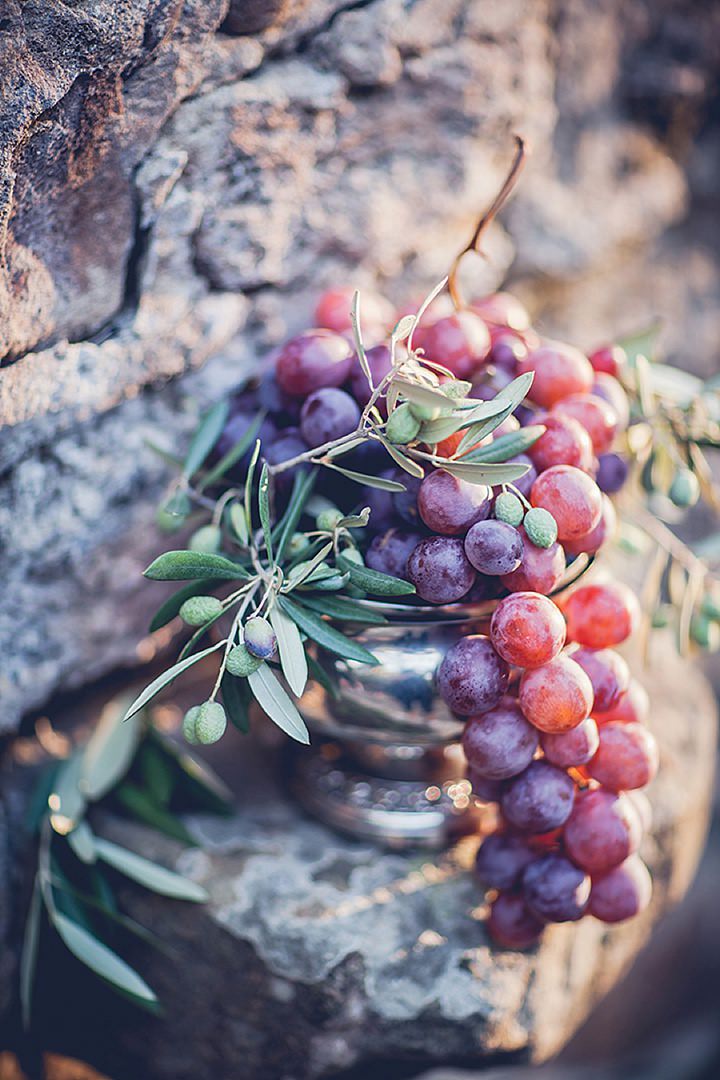 The second days shoot, hosted by Claire, was a barefoot bohemian elopement set next to the crashing ocean at Licosa with our gorgeous Italian couple, Luigi ('Lu') and Antonia, who were married just 5 days before! Still very much in the honeymoon period their chemistry was incredible and they were so perfect for the shoot. Lu is the lead singer of an amazing Italian band who were the star performers at our farewell gala night on the beach where we watched the sunset and partied under the stars (and the most incredible thunder storm) until the early hours.
This shoot was the ultimate in laid back boho chic… Claire chose a genuine vintage 1960s Mexican wedding dress (Etsy) in bright sunflower yellow, yet more exquisite flowers and a stunning feather headdress and barefoot sandals (A Curious Fair). Lu wore his own clothes as we wanted very casual styling and we simply added a knitted mustard bow tie and button hole.
Mandy's styling included lace and feathers hung from trees…delicate dream catchers (which she hand made using charity shop finds) and an intimate ocean-side wedding picnic table among the cacti. She even searched the beach and found some driftwood that looked like antlers – originally planned for the table. However it turns out you can't take antlers on a plane… funnily enough. Lucky we checked beforehand!
The below Images were taken By Claire Penn Photography
Day three saw us take to the quaint streets of Santa Maria among the very friendly locals in the bustling square. We also had an exclusive invite into the grounds of the Prince of Belmonte's home, the 17th century Palazzo Belmonte, and it's private beach. To say we were treated like royalty ourselves on all three days would be an understatement… the Prince and his staff were quite simply the most gracious of hosts and we got to shoot in the most incredible, normally 'off limits' locations.
The inspiration for this shoot, hosted by Andrea, was a funky, stylish but simple elopement which she styled with Barberella in mind. Bev wore a short sexy sequin covered ASOS t-shirt dress and some killer silver heels. She went for a sexy Italian siren look (think Sophia Lauren) and Bev pulled it off perfectly. Paul wore his own wedding suit with an untied dickie bow and looked incredibly dashing!
We had an incredible few days in the sunshine with an amazing group of women in what really is a hidden gem of a place… Santa Maria truly is magical and we cant wait to return this year for our second Secret Retreat wedding photography workshop.
The below Images were take by Andrea Ellison Photography
The Suppliers who made the workshop possible
The next Secret Retreat workshop will take place 13th-17th September 2016. There are just 25 places available and these will go on sale at 10am on Monday 1st February to those who have already registered their interest.  If there are places remaining after that we will then release them publicly.  To pre-register before places go on sale on 1st February please sign up here: www.the-secret-retreat