Good morning to you and Happy Monday everyone! I hope you all had a great weekend? Welcome to another wonderful week here at Boho Weddings and also welcome to November!! Autumn is well and truly here now and with Bonfire night happening this week it's safe to say that winter won't be far away either! However that means cosy nights in, roaring fires, wrapping up warm….and Christmas!! (Yes I did just use the C word!!) so as much as it may be getting colder there are plenty fo things to look forward to.
To start the week off I have something a bit different, as I am sharing with you this gorgeous styled shoot from Andrea Pittam of www.kissthefrogx.com. You may remember Andrea as she is a regular contributor to the DIY Tutorials I run on Monday afternoons. Andrea is an amazing photographer aswell a stylist and accomplished crafter. Today I am featuring this gorgeous shoot that took place in August of this year at Upton Country Park in Poole, Dorset. The shoot is based around a 1970s wedding dress and also includes a beautiful fabric bouquet that Andrea will be showing us how to make in this afternoons tutorial. She will also be giving away one of these beautiful bouquets to one lucky reader, so make sure you pop back to the blog this afternoon to enter the competition.
'A dreamy wedding picnic photographed in the grounds of a pretty country house, featuring an original 1970s wedding dress.' 
I'll pass you over to Andrea to tells us more about the shoot……….
I was approached by Diana Saxby, an independent wedding celebrant (Grace the Day) and asked to photograph her original wedding dress.  I provide Diana with creative support for her business which involves maintaining her Facebook page and providing/creating photographs as needed, so we have an existing working relationship.
I wanted to give the dress a new lease of life and created the story of a romantic wedding picnic, drawing on the colour scheme of lavender, as this is the colour of Grace the Day's logo.  I decided that photographing a 'bride' and 'groom' gave a balance between the masculine and feminine and chose a real couple as models.  The groom is dressed in a modern cut suit in contrast to the 1970s dress.  I also wanted an additional photographer for the shoot to echo the masculine/feminine dynamic by choosing a man to shoot with me.  Although we are both wedding photographers in our own right, we second shoot for each other when additional photography support is needed.
This was my first wedding themed styled shoot and as there was no budget all the details were carefully considered.  There was a great challenge in creating something beautiful from very little. The bride's hair was styled by myself and I chose a creation which drew the hair away from the high neckline of the dress and opted for a side bun with lots of hair accessories.  I used pretty hair grips, an artificial flower and a sparkly hair comb.  The earrings were also handmade using pearl beads.  The bouquet is made from Liberty fabric in a pretty purple pansy print.  Strips of the fabric were sewn into 'roses' and then arranged in a posy.  The groom's buttonhole is also handmade.
In summary, I achieved quite a lot with this shoot as it's also a showcase for my creative ability and not just about photography. I would definitely like to do more styled shoots as they are a great way to practice photography without being restricted by real wedding day timings and also they give me the opportunity to have huge creative control on the content.  So 'yes' is the answer to that question.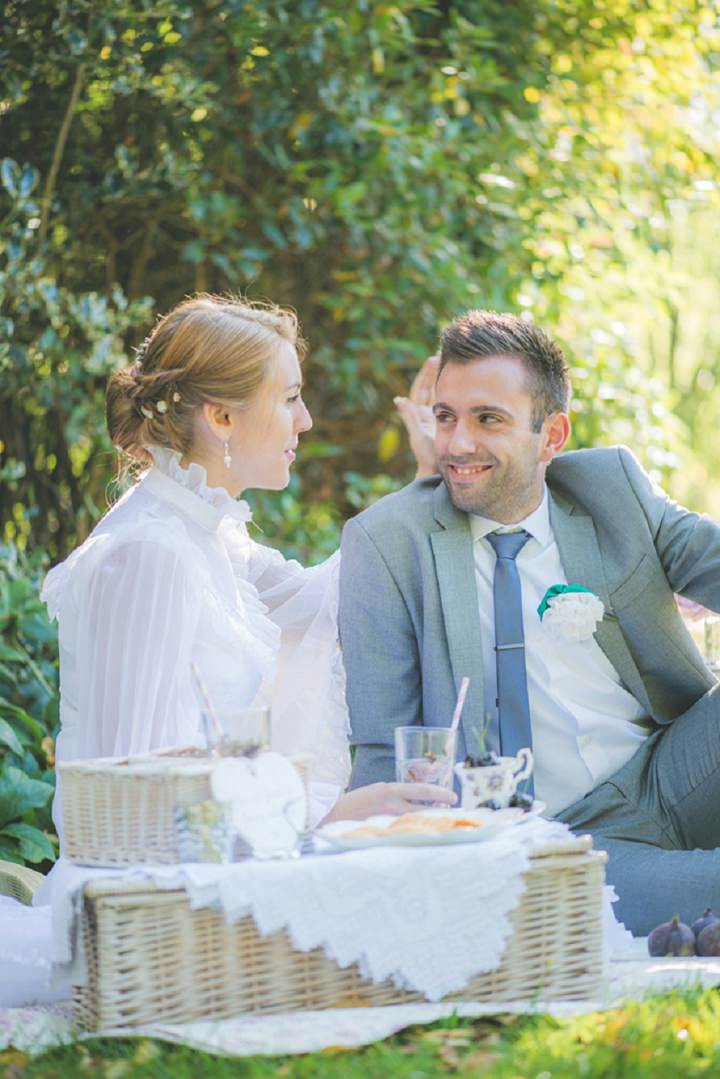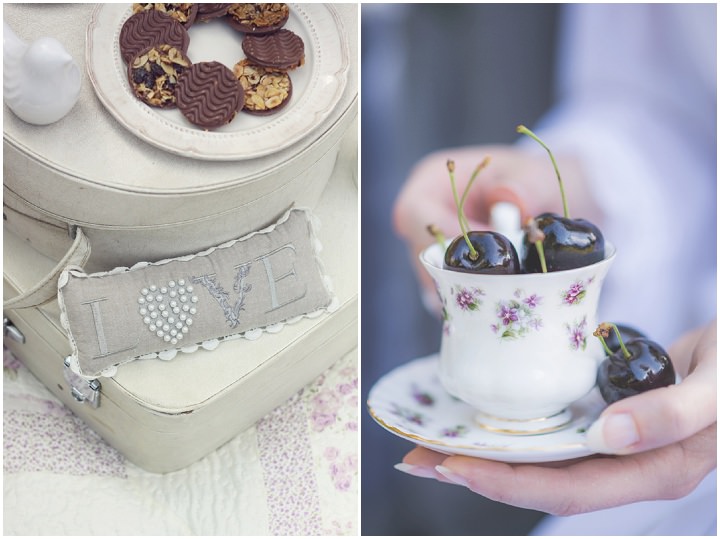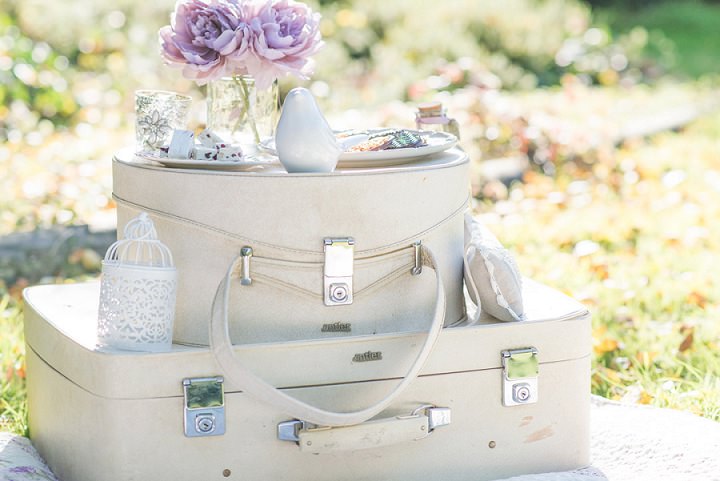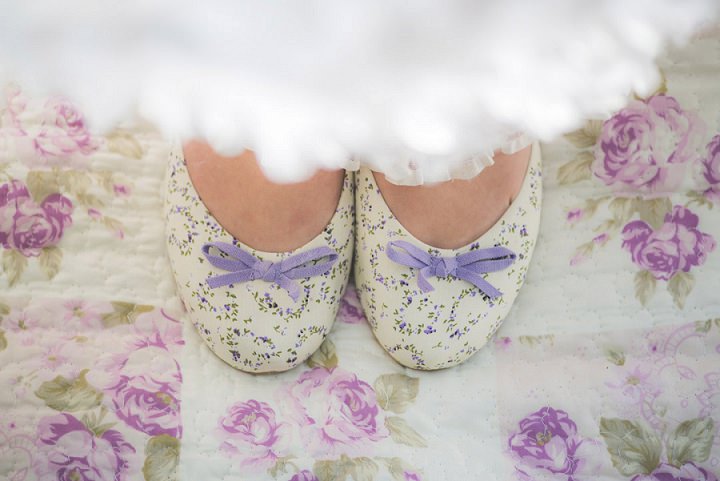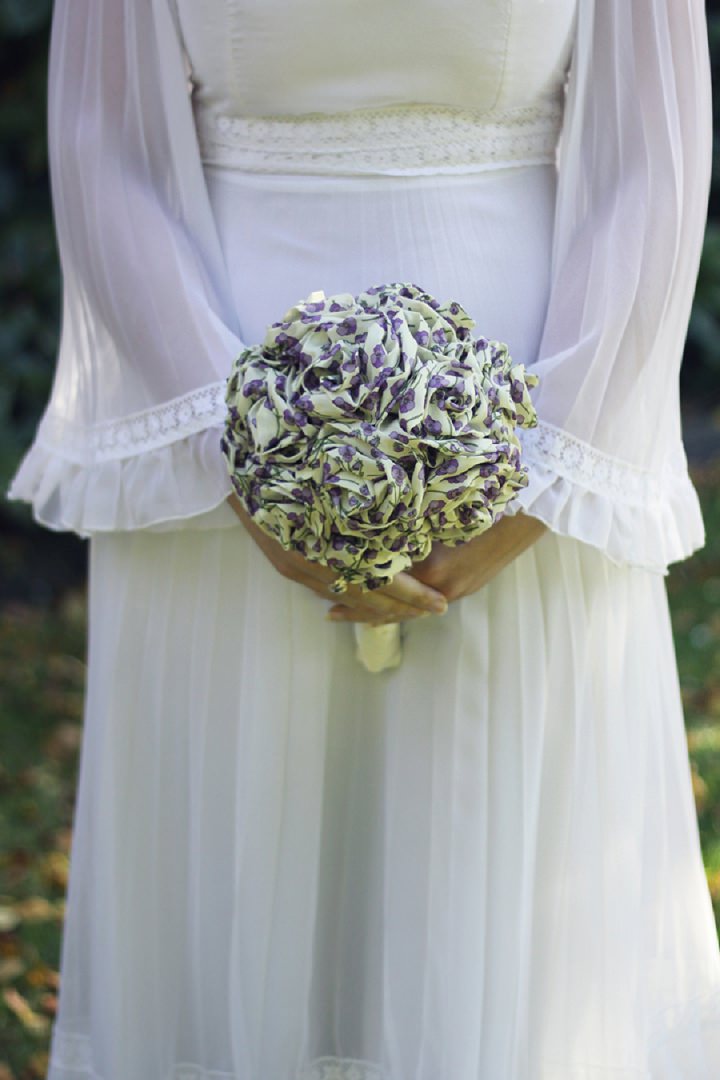 Make sure you pop back this afternoon for your chance to win this super gorgeous fabric bouquet
The suppliers who made it possible…..
For more information on Andrea's work go to
www.kissthefrogx.com
[email protected]
FACEBOOK
PINTEREST
@KisstheFrogx
07581 197329