Todays wedding is bursting with colour, love and so many pretty details. It's the wedding of Bethany and Justin who chose a traditional Jehovah witnesses ceremony, followed by a gorgeous woodland wedding reception. They both got hands on with the planning and created lots of DIY projects to make sure the wedding was very much their own. With the help of lots of talented family and friends they created a fun, bright and super pretty wedding. Big thanks to Sasha Weddings for the wonderful images.
'The most nerve-racking, incredible, funniest, heart warming day ever. The most emotional, enjoyable, happiest and exciting day of our lives'
Bethany and Justin were married on 29th August 2015. The ceremony was held at Gravesend Kingdom Hall of Jehovah Witnesses Kent and the Reception was held at Wise wedding Venue Tonbridge Kent. ' Both I and Justin have been brought up as Jehovah witnesses so it was very special to us and our families and friends to get married in a kingdom hall especially in a kingdom hall that Justin grew up in and it made it even more special that my Lovely Uncle Richard married us. We actually went to see the reception venue one month before Justin proposed (just out of curiosity) We instantly feel in love with this authentic woodland scenery, it was so quirky and magical with the hale bales and swinging sofas and the marquee was nothing we had ever seen before and we love a rustic vintage look and we both love the woods so it was quite literally perfect. Guestwise we had 80 for the sit down and an additional 70 in the evening. All in all it took 17 months to plan due to saving up the pennies.'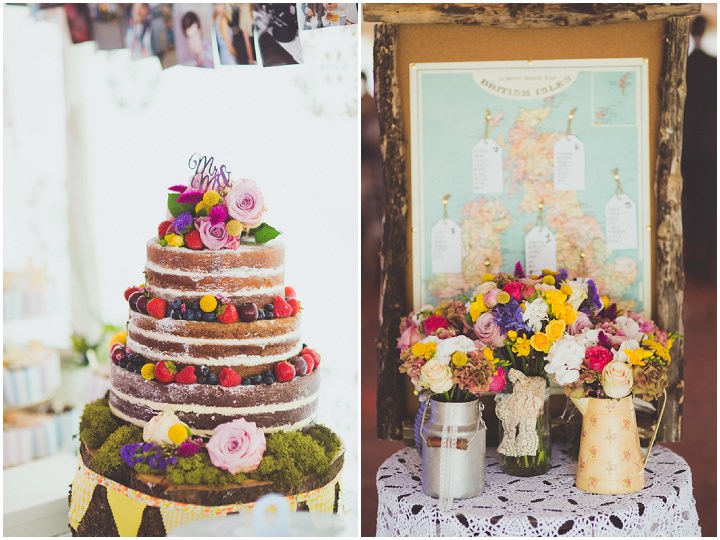 How they met
We met when we were in our teens, outside Gillingham Ice rink in Kent, Justin's sister introduced us. We have been together for 6 years
The Proposal
Well 6 years ago we had our first kiss on a beach called Upnor Beach in Kent- So on a Sunday afternoon March 30th 2014, Justin was showing no inclination that we has was going to propose. While we were at his parents' house he said, shall we go and pick your dogs and take them for a walk at Upnor beach this afternoon, I reluctantly said yes. I went straight upstairs to get changed. All a while this was happening Justin was sneakily asking my Step dads permission to MARRY ME!!! I came back down stairs and Justin said, change of plan let's go to that Thai for two in Rochester high Street and then go for a little walk. Afte the meal we went to Upnor beach. Justin noticed a jetty going out onto the water and said lets go to it! So there we was just looking out onto the water and he had his arm around me….then he went onto say…."shall we make this official?" and I was confused and asked what he meant?….Then he went down on one knee! I instantly started to cry! Because it all added up, that was where we had our first kiss! The ring was absolutely perfect.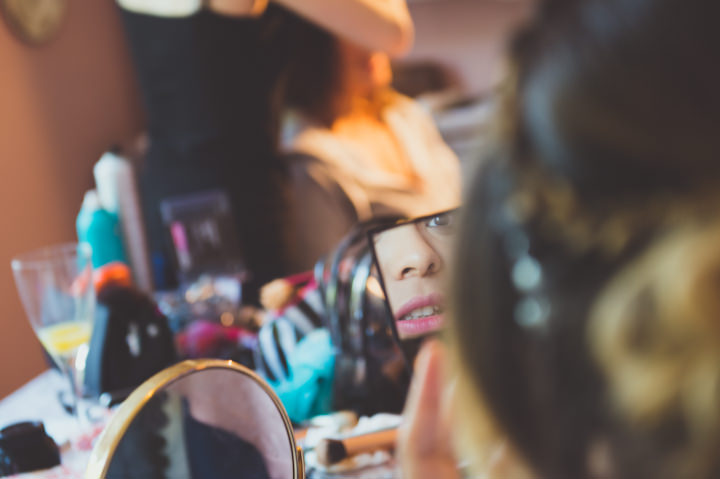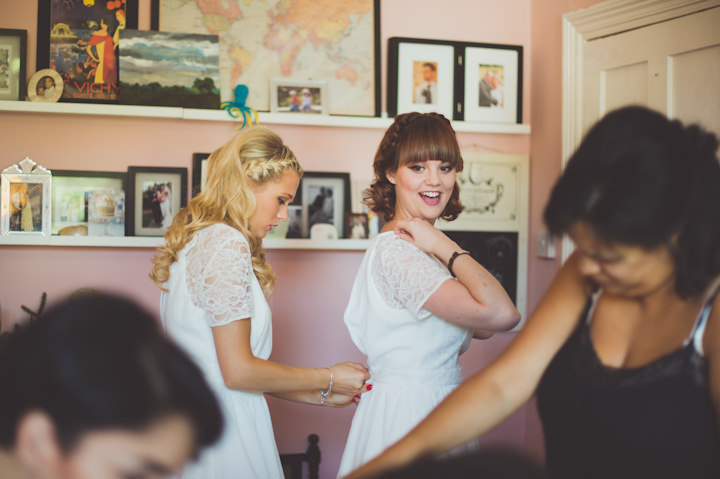 How did you allocate your budget
Well during those 17 months we kept saving, we did have a budget on venue and food and honeymoon, but all the rest we had huge amounts of help from family and friends we really did save a lot of money, we was very fortunate. We did manage to keep our wedding budget within the 15K mark.
Where did you splurge and where did you save
I think we splurged mostly on the venue, because it was so amazing and different we knew we had to have it, regardless of the cost. We also did a lot of things handmade which saved probably hundreds, good job we have creative friends and family. We also had friends who owned a VW camper van in a dark orange, it was just what we needed and they let us hire it for free and it really went well with the theme!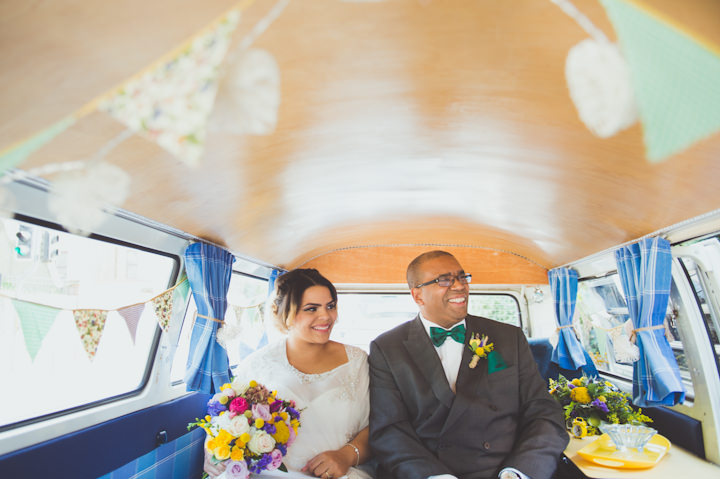 How did you choose your photographer
I found Sasha just by searching for a photographer in Kent on Google and she was one the first websites that came up! I was stunned by how gorgeous her photos looked and really had a soft and had a vintage look, which was exactly what we were looking for! And her price was within our budget. Sasha was even able to do an engagement shoot in Victoria park in London. She was so perfect on the day, really discreet and really professional, we was so glad we had her there on the day, and of course the photos came out beautifully!
The Dress
My wedding dress was made by my Aunty Barbara- Bespoke Gowns. My accessories were from Accesorize and shoes were from Dune
The Suit and Bridesmaids
The suit was actually from Ebay- Justin had a 3 piece brown tweed suit, he looked everywhere to get a tweed looking suit but because it was summer that style went out of season so he had to look online and found the perfect one. Bridesmaid dresses were form ASOS and the Olive green satin waste belt was hand made by my mum. The ushers and best men just had to wear a grey suit, and then we got them a dark green tweed waist coat from ASOS with a white shirt and burgundy knitted tie for the ushers and a gold mustard yellow tie for the best men.
Theme or Colour Scheme
We were going for woodland colours with a lot of bright mixed colours. Mostly- Greens, Mustard yellows, Creams, some brown and lots others
Flowers
Two of our close friends and I got up really early and went to New Covent garden flower market. I aimed to get mostly wild flowers like Billy buttons lavender, wheat, and quite a lot of cream and white roses and some pink peonies and different types of hydrangeas for the tables and bouquets. So it was quite mix and match which is what we wanted. Then for the button holes for the Groom, Best men, Ushers, brothers + in-laws, the dads and my uncle, they had mostly Billy buttons, wheat, and a very small yellow rose and a few more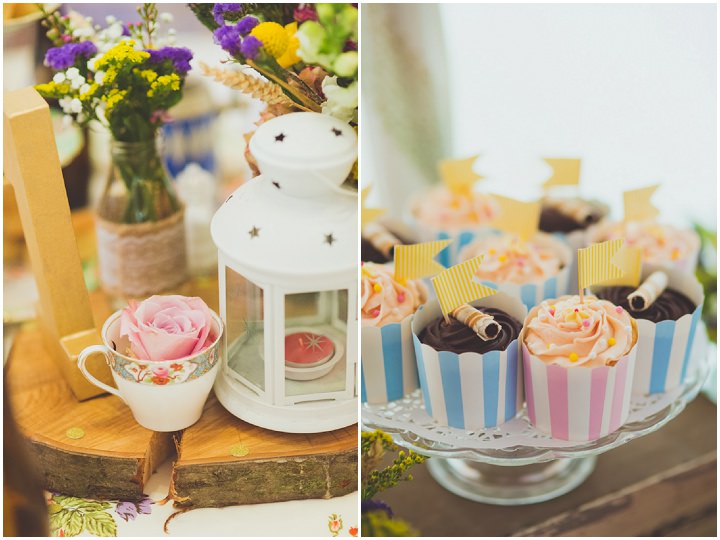 Decoration
On the outside of the marquee we had lots of pom-poms, these were dotted around in the woods and in the trees, as well as handmade bunting that my mum made with different coloured tea lights hanging from the trees. Then in the inside of the marquee we hired 100 metres of festoon lights and hung white Chinese lanterns from the lights which were draped from the ceiling and around the marquee. Over the years I have always been the type of person to take lots of photos of friends and family so we knew we definitely wanted to have photos everywhere old and new so we had bunting made out of photos hanging on one side of the marquee, so when our guests turned up some saw themselves in the photos. Then we had lots of wild flowers dotted around on tables and outside. On the main tables we had a log slice in the middle which was on top of floral table runner made by my mum. We wanted the table to have a rustic look so my mum collected a lot of vintage tins from auctions and online. For the table numbers we had paper Mache numbers 1-10 and then I painted them gold and to finish it all off we had a white lantern with a tea light.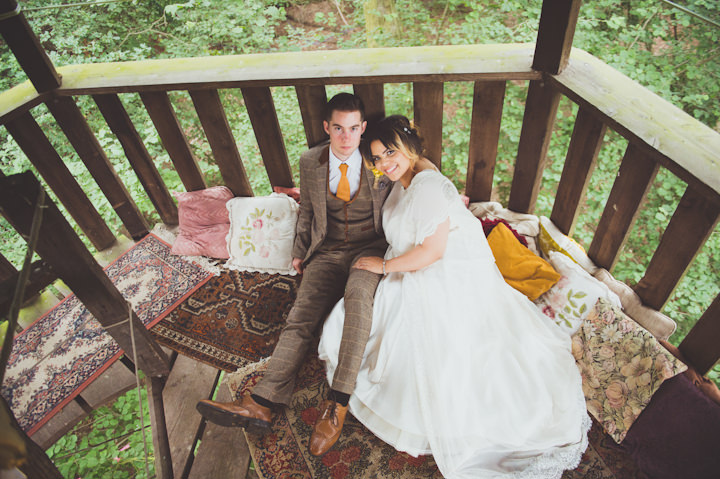 Food
Due to the surroundings and everything being in the woods, we didn't think a fancy 4 course meal would have suited the venue. So we had a selection of delicious canapés served to our guests then we had a gourmet BBQ with vegetarian options and because I am a massive fan of afternoon tea we had that for dessert served on vintage cake stands that my parents made with homemade scones chocolate éclairs and fruit tarts all made by my lovely mum and sister. Then for the evening guest there was a selection of buffet food with a hog roast, which went down well
Wedding Cake
The wedding cake was AMAZING, it was actually made by a good friend who offered to do our wedding cake. We knew it wouldn't be an easy job so we were very grateful! It was a naked cake with a 12inch chocolate sponge, 10inch banana and carrot sponge, and then an 8inch vanilla sponge then it was covered in fruit and flowers and sat on top of a thick log piece with flowers dotted all around it.
Entertainment
Justin and I are really into our music so we did want to make sure our DJ from HYBRID Entertainment played chilled music while eating and then quite a bit of classics straight after the first dance. Then the night ended with awesome house and RNB- It was a bit of a rave in a tent but that's exactly what we wanted and everyone was on the dance floor.

The Stationery
We made our stationary our selves. We had old vintage hard back books and sectioned the book into 3parts and PVA glued the pages together. In the sections there were the main invite then the address/maps then the menu then the gifts and RSVP on the last section. I wrapped the books up with brown paper and twine ribbon and hand delivered them. For the wedding favours we had brownies wrapped in brown paper and ribbon with a 50ml bottles of everyone's favourite spirits, attached to the bottles we had a luggage label with each guests names stamped on it.
Personal or Handmade Touches
We did A LOT of things ourselves which I am really glad we did because it made things more fun! We had a cake table with tones of cake and cup cakes all made by friends which all tasted amazing, but we did have a traditional fruit cake which we brought from Sainsbury's and on top I had my mum's sugar flowers from her old wedding cake which have lasted all this time but obviously not edible! We had a very close friend who made us a photo booth, it turned brilliant and it had handmade props and a wall effect back drop. It was a good laugh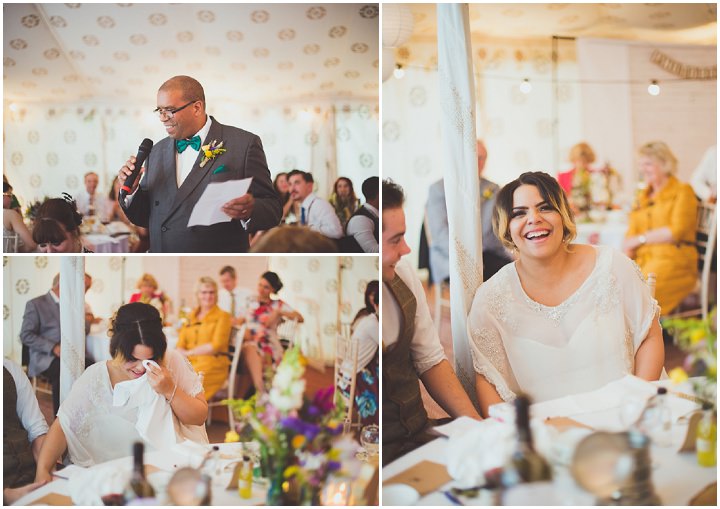 Special Moments
Doing our vows and our wedding talk from our Uncle Richard, of course I was an emotional wreck so when my uncle mentioned very lovely personal things it really hit the spot. Listening to all of the speeches was also a very special moment, my step dads was funny and really sweet, and the ushers speeches were hilarious and genuinely lovely. Lastly Justin speech had me sobbing my heart out! Wasn't too cheesy, so it was perfect, he did good. The Highlights of the day was when we had our first dance, we weren't sure we was definitely going to have one, but we were so glad we did, even though we find it a bit cheesy. The other highlight was being with our best friends and amazing family all day.
Advice to other couples
DO NOT stress too much. There is no point! Both you and the groom and your families work so hard for your day, you can at least enjoy it! And definitely delegate jobs to your ushers, that's what they are there for
Biggest surprise
Our biggest surprise was on how perfect our day went, people always say that you will always get problems or mistakes happening, but in our eyes that just didn't happen or even if it did we didn't notice haha! We loved every second of it.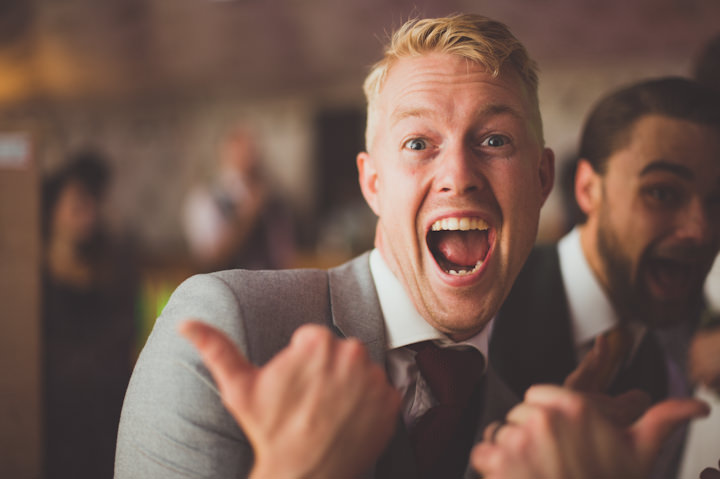 Supplier Shout Outs
For more information on Sasha's work please go to:
www.sashaweddings.co.uk / [email protected]  / PINTEREST / FACEBOOK