Happy Friday everyone and congratulations on making it to the end of another busy week. How has it been for you? I don't know about you but these dark nights are not my favourite time of year, so to brighten up your Friday we are heading off to Croatia for this sun drenched elopement from Mario at Paparela. It's a simple wedding with little fuss but the most amazing view over the ocean and so many smiles from the bride and groom. Happy Friday everyone, enjoy the weekend ahead!
It was the best day of our lives, so relaxed and so much fun with our close pals to sing, dance and laugh with from start to finish. There was no pressure on any of it or on the event itself, we just all had a ball and the venue looked unbelievable and the Raddison Penthouse was the best hotel room we've ever stayed in
Rona and Mark were married on 5th May 2015. The Ceremony was held at St Jerome' Church, Split, Croatia. The reception was held at The Penthouse Apartment at the Raddison Blu Resort Hotel, Split, Croatia and The Family Party at was Home RAF Shawbury. 'Mark knew I wasn't too keen on us having a big white wedding, I love going to friends weddings but due to us not being very formal or traditional people I just never felt like it was something I'd do so just presumed we'd be together forever but would never get married. Mark asked me to get married on my birthday at the start of the year and said he was glad I'd said yes because he'd already planned the whole wedding! We kept it quiet from almost everyone apart from our parents, sisters and really close friends so not many people even knew we were engaged as we didn't want anyone feeling they had pay to fly out to join us. We were going on holiday to Croatia with 4 really close pals (who are both couples) in May so Mark planned it all for day 3 of our week long holiday out there. One of the couples knew as we needed witnesses for the wedding, the other couple found out the night before we flew to Croatia. We then had a party back in the UK at the end of the summer so that our parents, sisters, family and friends could come to and celebrate with us then. A lot of these people found out we'd got married when we sent them a Croatian post card inviting them to our 'We've just got married' party at the end of the summer! We had 4 guests in Split and 150 at the RAF Shawbury party. Mark had already planned it all with Ivana at Promessi Weddings & Events in Croatia, he asked me in January and we got married at the start of May so we had 4 months to get everything sorted.'
How they met
We met in St Andrews in Scotland outside a nightclub called the Lizard in a January blizzard! Mark is a helicopter pilot in the RAF and was based at Leuchars Air Base at the time and I was the Student Sports Development Manager working at the University of St Andrews at the time.
The Proposal
It was my birthday on the 2nd of January this year and we we'd been mountain biking that day on the trails at Campbelltown on the West Coast of Scotland. We headed back to my parents lovely cosy cottage in Inveraray and put the fire on to warm up and Mark asked me if I fancied getting married this year! I was a bit puzzled at first as Mark knew I never wanted the big white formal wedding but as soon as he showed me where he had planned in Croatia with Promessi weddings and said we could keep it all secret so no-one had to make a fuss, I was in! We then went to the George hotel in Inveraray and had a lovely steak dinner and they have live music in the George and as a break from the live music a Scottish man came into the pub in a kilt and played the Croatian horn pipes which was a very strange coincidence and why we decided to have them at the wedding in Split.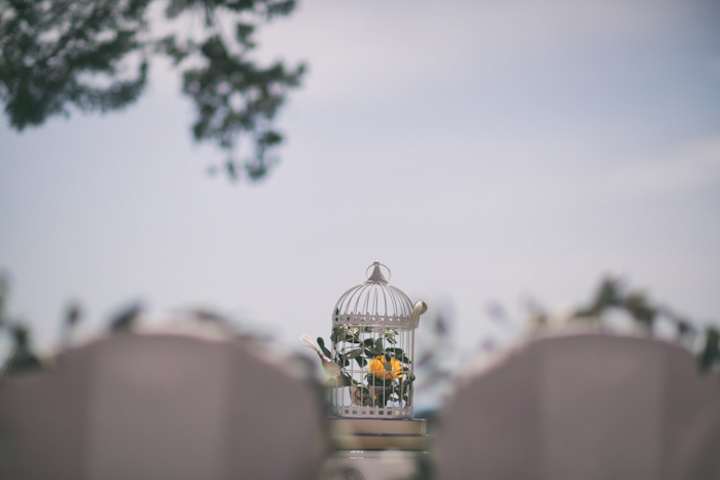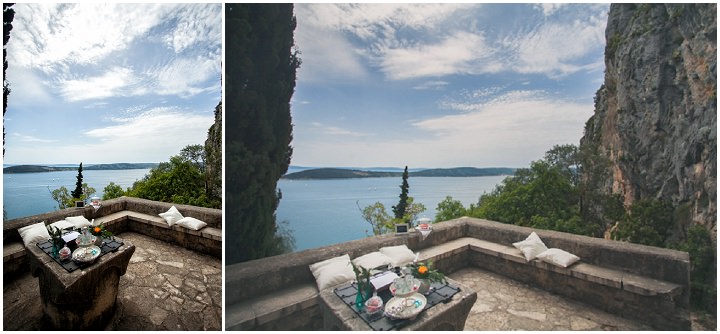 How did you allocate your budget
We didn't really allocate a budget but we spend around £5000 on the Croatian wedding including the photographer, venue, decor, wedding organisers, vehicle, Croatian bagpipes, a night for 6 of us, three course meal delivered to the appartment and drink at the Raddison Penthouse in Split.
We then spent around the same again on the party in RAF Shawbury for around 150 people including the venue, staff, food, the ceilidh band, DJ, live music in the bar, free drinks for everyone at the bar for most of the night and the bucking bronco sheep/bouncy castle dual platform as well as all of the decor.
Where did you splurge and where did you save
We saved a lot of money going away to get married, Promessi weddings were really reasonable and although our night in the penthouse was the main splurge, it was worth every penny!
We then had a 'We've just got Married" party at the RAF base in Shawbury that we now live at and it was a party from 5pm-4am and we put on food, music and drinks for everyone but the RAF rates are really reasonable so we saved a lot of money there. We also saved a lot of money by decorating the hall completely by ourselves with IKEA table runners, glass bottles with sunflowers and orange flowers on the tables.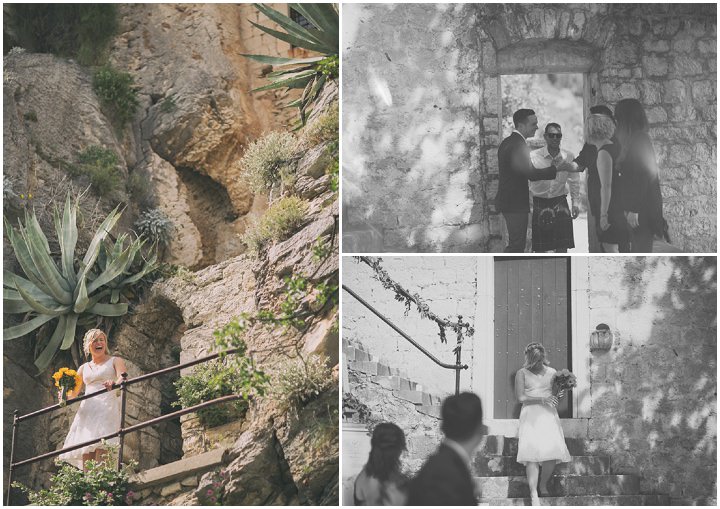 How did you choose your photographer
We went with Mario because Ivana and Promessi weddings recommended him and he was absolutely brilliant. We did't have a photographer at the party in Shawbury
The Dress
My sister bought me the dress, she was working in Rio and I was in Glasgow and she told me to pour myself a glass of wine and we got our iPads out and searched online together. I was just going to go for a white summery dress but my sister thought I should go for a summer wedding dress and thats what I went for. It was a summer wedding dress by Phase8 and we just bought it online so the first time I tried it on was once we'd bought it. The shoes were just white Rainbow wedding shoes and I got them died bright green in John Lewis to match my sunflower stalks.
The Suit and Bridesmaids
Mark just bought a navy jacket and grey trousers and white shirt, he wanted to be relaxed because he has to dress pretty formally in his job in the RAF a lot of the time.
I didn't have any bridesmaids, just two of my really close pals.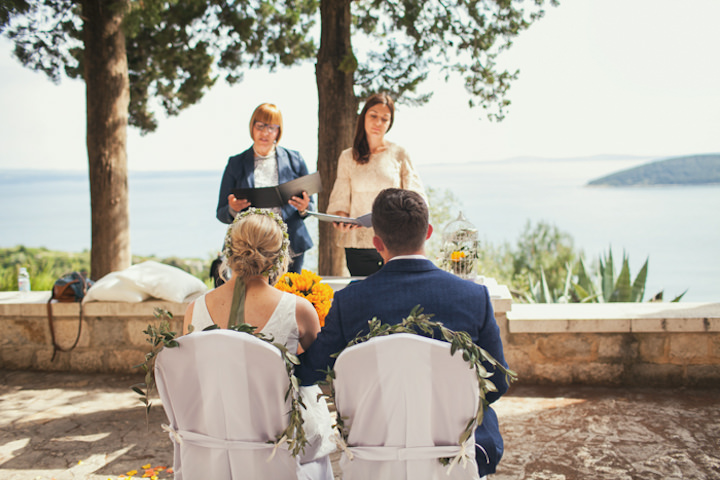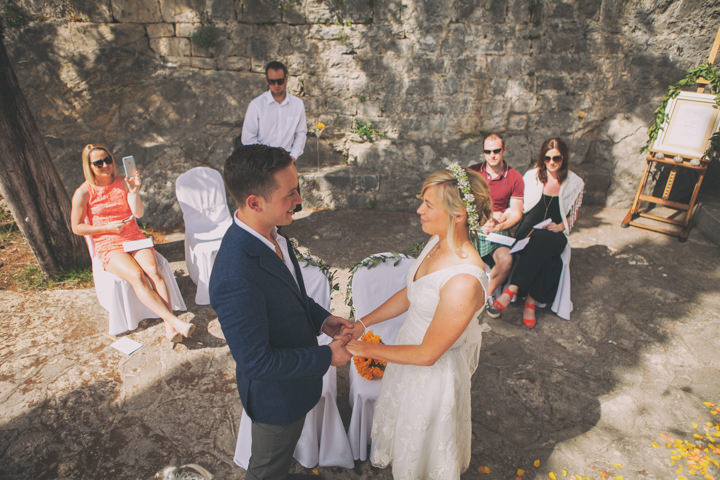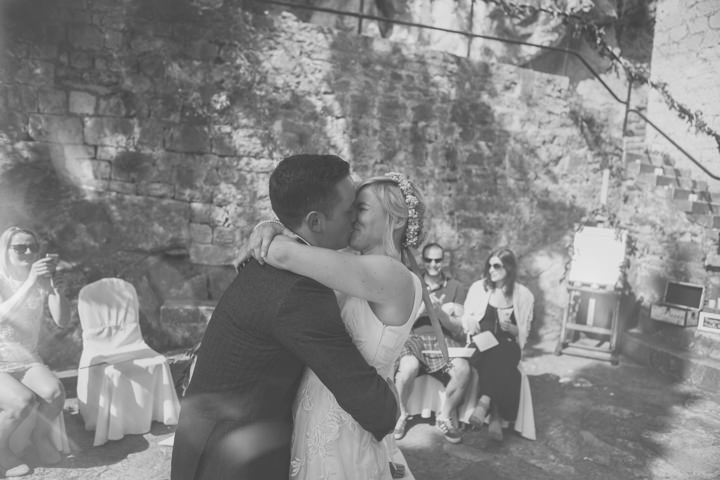 Theme or Colour Scheme
Sunflowers and bright green shoes!
Flowers
Sunflowers, olive and laurel branches garland along the fence and Spartiumjunceum, a wildflower typical for Dalmatia, especially Split area.
Decoration
The Promessi team decorated the outdoor venue with flower petals on my walk down the aisle; it was really nice, bright and colorful. They have created a nice little lounge with an ancient typewriter for our guestbook, sweet corner with fresh fruit; local chocolatier's sweets and pastry, champagne station for toasts. The whole set up was in white with a beautiful vintage ceremony table and flower decorations. There was also an ancient easel with Welcome notice decorated with candlelight's and laurel garland. Our guests were handed out handmade fans with ceremony programs and confetti cones, everything matching the style inspired by the venue, Mediterranean and us.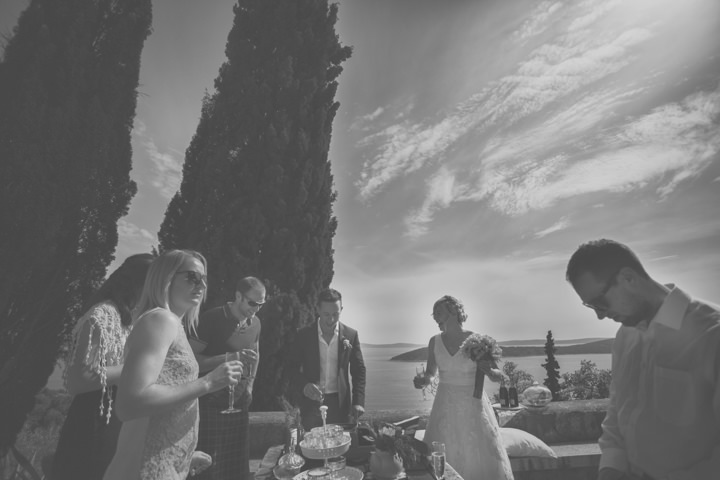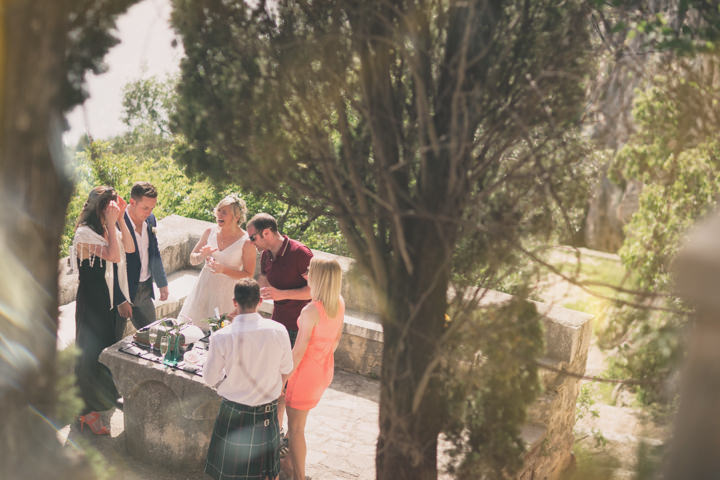 Food
In Croatia we had – a fresh tuna carpaccio starter, a lovely steak dinner and a trio of puddings at the penthouse – to be honest I can't even really remember the food because we were all too excited, I just remember it tasting like one of the best meals I've ever had! At our party in RAF Shawbury we had a choice of meat or veggie lasagna or chicken stroganoff and banoffee pie or lemon tart
Wedding Cake
We didn't have one – we didn't really want any traditional stuff
Entertainment
In Croatia we just had our wedding play list we'd made up, our great pals and a hot tub and we had a cracking night of dancing, laughing and hot tubbing in the penthouse!
At the party in RAF Shawbury we had a ceilidh band called Jim Jam Ceilidh Band, they also DJ'd for us from 12am-4am, we also had a Busker from the streets of Glasgow called 'Gary the Busker'. Mark also organised a bouncy castle duel platform and a bucking bronco sheep at the party!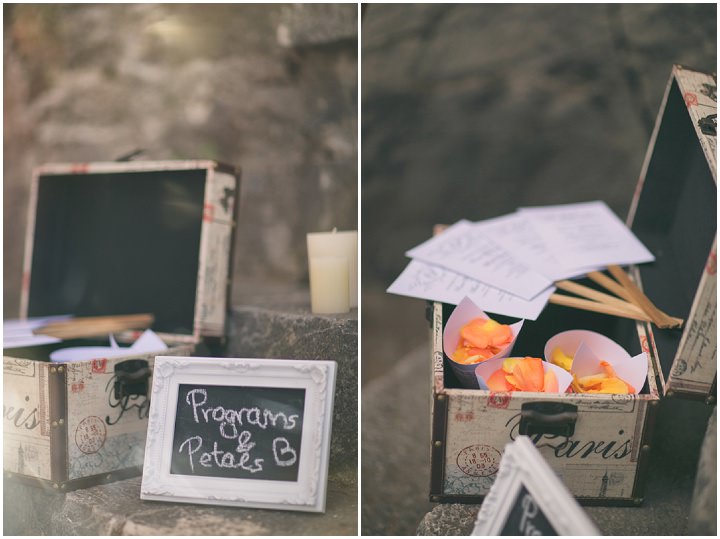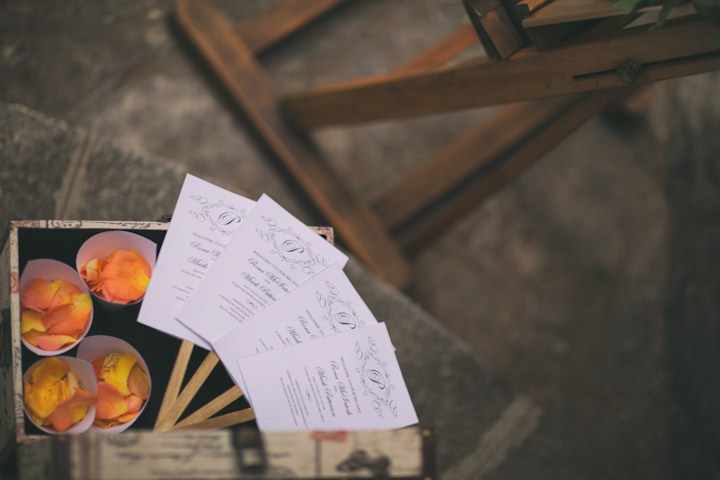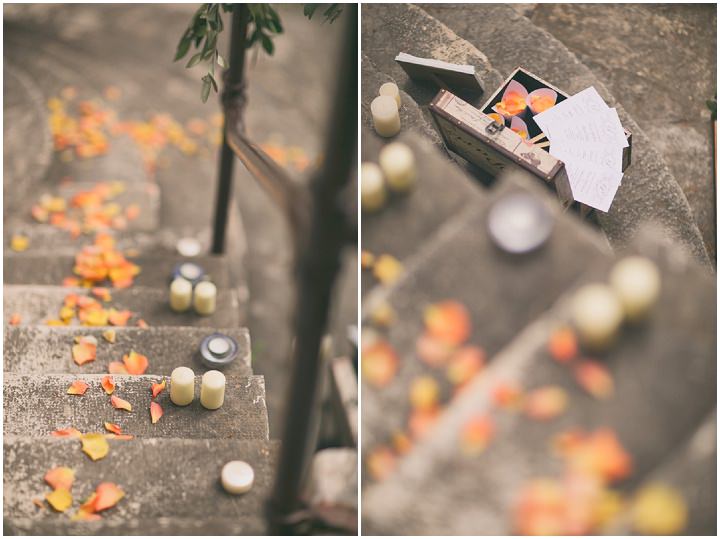 The Stationery
Ceremony programs where hand made by Promessi W&E
Personal or Handmade Touches
In Croatia Promessi did it all.
At RAF Shawbury 'we've just got married party' we did it all ourselves after a few visits to IKEA!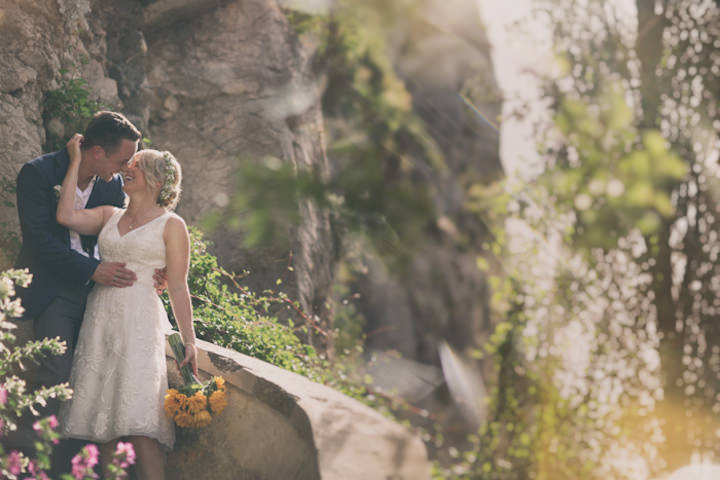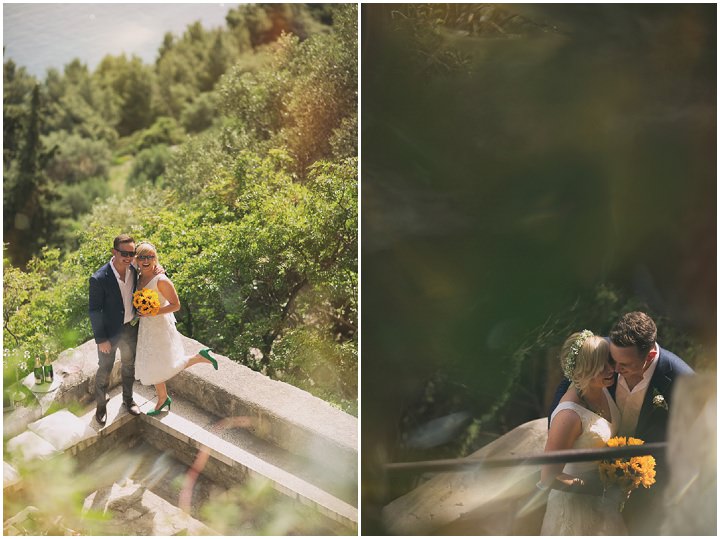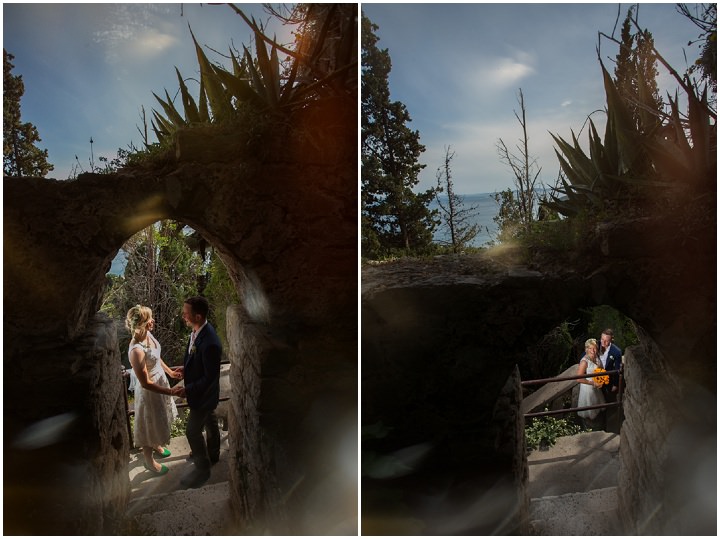 Special Moments
The whole day was really special in Croatia, from us arriving at the penthouse apartment in Split and not believing what we were seeing to us all going to the venue in an old transit van with Tina driving! It was so relaxed and great. I really remember the moment Mark spotted me up near the old chapel in the cave, our friend Tim trying to play the Croatian pipes as I walked down the aisle and the moment we said our vows a big boat on the water down below us tooted its horn, it was amazing!
Advice to other couples
Do whatever feels right for you both, it doesn't need to follow the standard traditional wedding prototype if you don't want it to! I say just do whatever's going to make you both really happy and give you the best day of your lives and you can't go wrong!
Biggest surprise
Getting into a blowup dingy on the beach at the Raddison at Split and getting my dress completely soaked but loving every minute of it as Mark set us sail and took us out to sea!
Our wedding day in Croatia was the best day we've ever had and the party at RAF Shawbury was the best night we've ever had. Mark organised the majority of both parties and I honestly wouldn't change anything about either, they were both absolutely amazing and everyone involved had an absolute ball!!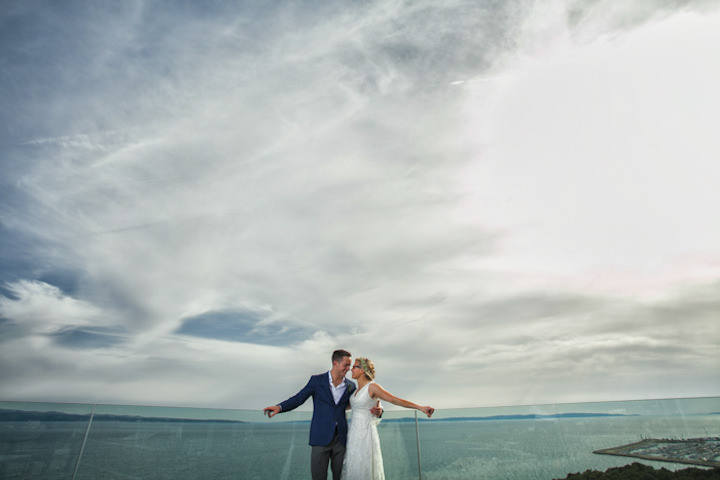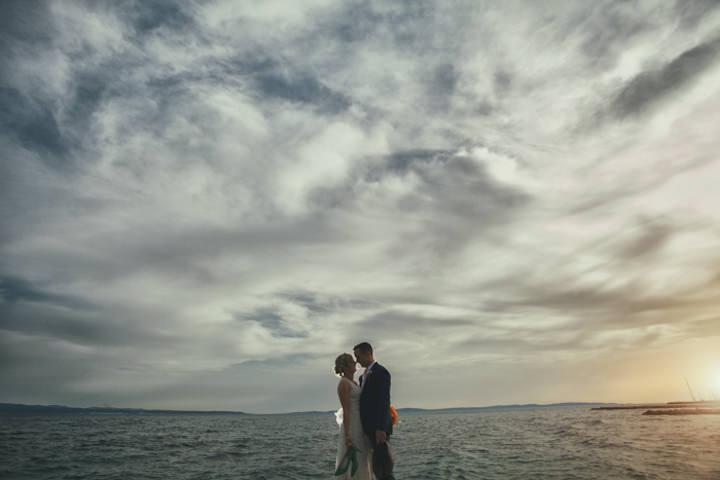 Supplier Shout Outs
Promessi Weddings and Events – www.promessi.com.hr
For more information on Paparela's work please go to:
www.paparela.com / [email protected]
'I am a destination wedding photographer based in Split, Croatia. Many things define my work, most of them related to my personality. I am a headstrong optimist always searching for new challenges and ways to capture emotion, love being the most unique one of them, in my work. To be able to meet so many beautiful people in the most intimate moments of their lives and to witness love makes me grateful. My photos reflect me personally, my life and the place where I am from, sunshine and bright colours of the world around me, my beloved hometown and my family'

[jprel]