We all made it to Friday, woo hoo! Today and tomorrow is all about Halloween for us in the Hood household as I'm sure it is for most of you. I hope you have some fun things planned? To end the week I have some Florida sunshine to brighten up this cold and dull October day. It's always lovely to see an outdoor wedding full of sunshine and smiles at the end of the week and this wedding from Florida is going to make you feel all warm and sunny I'm sure of it. A beautiful outdoor wedding with the most perfect first look. Thanks to Sadie and Kyle Photography for the photos. Happy Friday everyone and have a good Halloween.
'An intimate outdoor event with thoughtful details emulating a southern family holiday. Delicious southern food, unique and tasty drinks, great dance moves and laughter coming from every corner of the property'
Madison and Christopher were married on 9th May 2015 at Both- Palmetto Riverside Bed & Breakfast (Palmetto, Florida). 'A beautiful historic, victorian home turned bed and breakfast nestled between southern oaks and palm trees in front of a 100foot dock on the Manatee River. The location was in great proximity to airports, hotels and non-wedding entertainment and promised a great guest experience especially for friends traveling from out of town. But the most important factor for us was the inn keepers, Wim and Mieke, they are the warmest and most accommodating people I have ever met. This was incredibly important planning a wedding 2500 miles away. We had a total of 80 guests. We were engaged for almost 18 months. We choose our venue 16 months prior to our wedding day. It took the entire time to collect the unique silver serving ware.'
How they met
We met on Match.com. Our first in-person date was on a tennis court, we stayed talking hours after they turned the court lights out. We went on a second date at North Beach Bistro (Jacksonville, Florida) a week later and became nearly inseparable thereafter. After a year of dating, Chris took a job in Seattle, Washington. I graduated law school and moved to Seattle 7 months later. We lived together in Seattle for a year and half before we were engaged in November 2013 and married 18 months after the engagement.
The Proposal
November 15, 2013. Chris planned a fly-fishing float trip through the Yakima River Canyon. We had plans to stay with our friend, Jay, on the east side of the canyon and Jay had asked us to get dinner on our own before coming to Yakima, later I would learn he was in on the plan. Chris recommended the Canyon River Grill, a new restaurant connected to a beautiful vacation condo complex and our fly-fishing complex. An employee told us about the beautiful lodging that recently became available and recommended that we look at the showroom after dinner. We enjoyed some amazing food and perfect service and then headed to the showroom. Chris attempted to put in the code and open the door twice without success, then he asked me to try. As I opened the door, I immediately noticed that the lights were dim, the fireplace was on, the radio was playing "cowboy take me away" by the Dixie Chicks and thousands of rose petals were scattered throughout the whole condo. As I turned around, Chris was on one knee with a beautiful ring clutched between both of his hands and saying incredibly sweet things. I cried and said "yes". A moment later, our chocolate lab, Mico, came running in with a new collar that read: "Will you Marry Me?" We had the condo for the weekend. Everyone at the fly-shop had known about the surprise, except me.
How did you allocate your budget
Chris and I sat down and had a meaningful conversation about how much we wanted to spend on our wedding, after that we talked to our families to determine how much they were willing to contribute to the wedding. Once we had a firm number, I used the tools online to help manage the budget. I found the recommended percent allocation helpful in eliminating some vendors and "wedding wants" from my list early in the planning process.
Where did you splurge and where did you save
I saved a lot of money on flowers, by purchasing bulk flowers from fiftyflowers.com, hydrangea and begonia bushes from a local publix and reusing the bridesmaids flowers as centrepiece arrangements on some of the dinner tables. But what really made this possible was a small army (3 creative and talented friends) that dedicated their afternoon to turning bushes into décor. They did a fabulous job of making small, medium and large floral arrangements in the extra silver pieces my mom had collected for the wedding.
I splurged on hair and makeup, I knew Kyle was going to be taking thousands of photos and didn't want a single frizz or smudge. I also spent more than the recommended 20% on venue. The B&B was so beautiful, I felt like it needed less decorations and was worth the extra spend.
How did you choose your photographer
Our moms attended the Sarasota Wedding Show a year before our wedding to get some vendors names. They fell in love with this couple and were excited to tell us all about them. I immediate trusted Kyle because he had so much experience as a journalistic photographer. I was less interested in the posed photos and more interested in someone that wanted to take one step away from all of the love and happiness happening everywhere and capture that. I love the photos and love my choice in photographer.
The Dress
I purchased my dress from Brides Against Breast Cancer, a philanthropy near to my heart- my mother is living with breast cancer since 2007. All of my bridesmaids, my mother, grandmother, future mother-in-law and future aunt-in-law joined me at the Sarasota showroom to pick the perfect dress. It was exactly what I had always pictured. To make the ceremony feel more traditional, I asked a Seattle dressmaker to make me a custom lace popover jacket to match the dress.
My shoes were a "something borrowed", the shoes my bridesmaid, Katie, wore on her wedding day about 2 years earlier. Earrings: Kate Spade. Sash: came attached to the dress, but was removed by my tailor and turned into a belt.
The Suit and Bridesmaids
The groom wore a Tommy Hilfiger sharkskin blue suit (purchased at Macy's); Labrador silver cuff links and a custom Liberty of London tie in Betsy by Tana Lawn. The ring bearers wore bowties handmade by a friend in matching fabric.
The groomsmen wore the same suit pants without the jacket and mismatched cornflower blue ties.
The bridesmaids could pick any pink knee length dress, with the exception of the maid of honor who wore a tulle embroidered dress that included all of our wedding colors.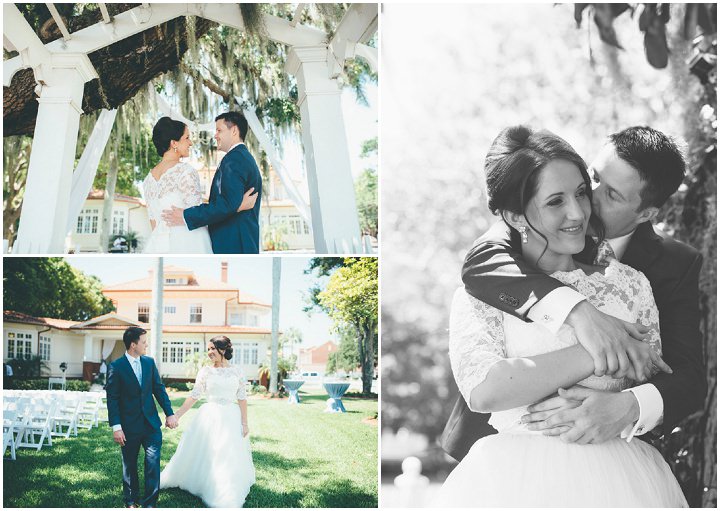 Theme or Colour Scheme
The official colours were cornflower blue, blush, and deep raspberry. I wouldn't say it was chocolate lab themed, but we did try to incorporate them as much as we could – they are our family!
Flowers
Queen Anne's Lace, pink garden roses, blue hydrangea, pink begonia, peonies, ranunculus, hypericum berry, sweetheart roses, and blue thistle.
Decoration
We did not spend much on decorations. The venue was already so beautiful, and I wanted the wedding to feel more like a huge dinner at grandma's than an "event". My mother spent months collected silver trays, casserole dishes and serving ware. We did a family style dinner so the tables would be filled with delicious and colourful food on fine silver platters. It looked beautiful watched the trays of food come out from the kitchen and onto all of the tables.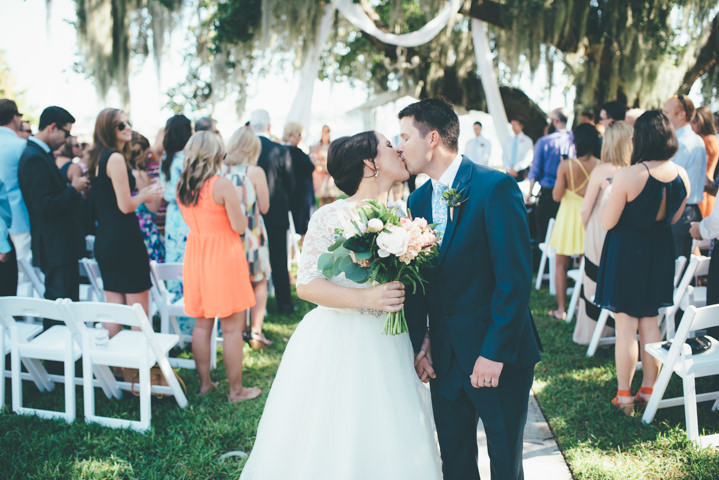 Food
Cocktail Hour: Darwin's Brewery Pirata Pils and Summerdaze IPA; Washington Wines, Southern tomato pies, shrimp and grits buffet station, bbq pulled pork cornbread cups
Dinner: Beer, Wine, Lemonade, Sweet Tea, Bulleit Bourbon and Ginger Beer, Jalapeno Mojitos. Fried Green Tomato Salad, Beef and Vegetable Kebabs, (the world's best) Fried Chicken, Mashed Potatoes and Brown Gravy, Grilled summer veggies, Garlic Cheese Biscuits
Dessert: Coffee and Chocolate Covered Strawberries, Chocolate Cake, Funfetti Cake, Lemon Chiffon with Raspberry Buttercream, Hummingbird Cake
Wedding Cake
Selection of 3 traditional southern cakes: chocolate cake with fudge layers and chocolate buttercream frosting, 5 layer hummingbird cake, and 3 layer lemon chiffon cake with layers of raspberry filling and lemon buttercream. AND; A two-layer naked funfetti cake with buttercream frosting, topped with garden roses and thistle.
The cakes were topped with custom made laser cut brown lab toppers, and a "Mr & Mrs Teofilak" topper on the two-tier cake.
Entertainment
DJ Jamall kept us dancing all night with great tunes and lots of energy.
The Stationery
DIY, supplies from Paper Source and Hobby Lobby. I printed watercolored palm trees on linen paper and hand glued each of the envelope liners. Our suite included our custom logo design, featuring a chocolate lab – our way of incorporating our two labs, Mico and Grizzly.
Personal or Handmade Touches
We really wanted our two chocolate labs to join us on our special day but were concerned about them travelling so far on an airplane. We ultimately decided to leave them in Seattle in safe keepings, but still incorporate them into the wedding creatively. We had custom made Peterbrooke chocolates added to the welcome bags, a custom logo that was printed onto the ring bearer's flag and on the invitations and coozies, of course!
Advice to other couples
Spend less time on pinterest and more time thinking about special ways to capture your relationship in the details and special moments. Once the day begins, let go of the plans and enjoy every moment. It will never go perfect but every couple chooses how they react to the imperfections.
Biggest surprise
Our last song: All of our friends circled around Chris and I dancing while we all sang along to Bon Jovi- I'll Be There For You. I will remember that moment for the rest of my life, it was so much fun.

Supplier Shout Outs
For more information on Sadie and Kyle's work please go to:
www.sadieandkyle.com / www.sadieandkyle.com/blog / [email protected] / 1 (941) 276-4187
FACEBOOK / T: @sadieandkyle / I: sadieandkyle

Sadie and Kyle are a husband and wife photography duo based out of Southwest Florida. They shoot in a magazine editorial and journalistic style. Kyle's background includes a decade long career as a photojournalist covering news, sports, and assignments, while Sadie is a self-taught artist and enjoys crafting and drawing. Together they love photographing spontaneous, creative couples who have a passion for each other and want to have some fun with their photos!

[jprel]