Todays wedding has so many amazing elements that all go together to form one big fabulous wedding day. It was sent into me by the wedding planner Kimberly Hensley Events who did a wonderful job of planning this wedding and keeping our couple Amanda and David nice and relaxed! Split between two very different venues, a chilled out beach ceremony and an urban style brewery for the reception this wedding brings with it not only lots of love and fun but a great amount of style as well. Our gorgeous couple chose a first look in the brewery which make some amazing photos and then traveled to the wedding in an open to bus, even their dog Guinea was there to take part in the celebrations. Big thanks to Sadie and Kyle for the images.
'Our wedding was a joyous celebration of our partnership with all the unique personal touches that make us; from the intimate first-look session within the brewery, the romantic beach-side ceremony complete with our pup- Guinea suited in a bow tie in the role of ring security, a ride on an open top-double decker bus that treated our guests to organic fruit pops post ceremony, to the party that ensued at the reception fuelled by an open bubbles + brews and live music. In a word, blissful.'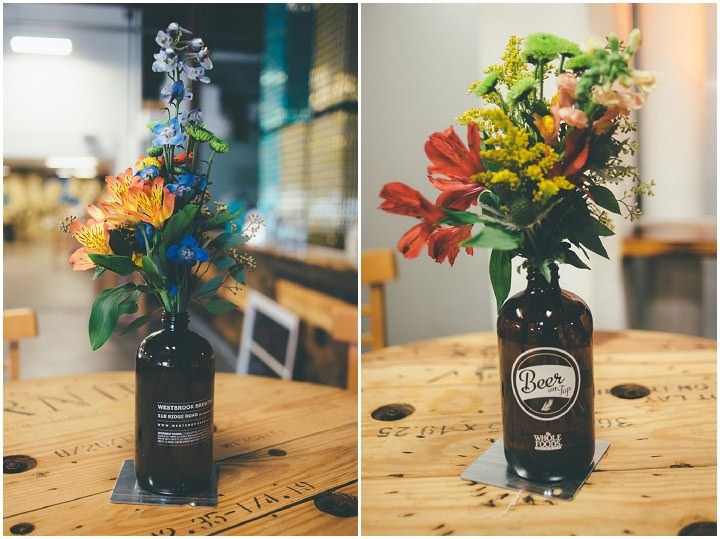 Amanda and David were married on 14th September 2014 at Pass-a-grille Beach, Florida and the Reception was held at 3 Daughters Brewing, St.Petersburg Florida
David and I both share a passion for craft beer, the beach and of course our hometown- St. Petersburg, FL. Having the opportunity for a romantic beach-side ceremony and an epic reception at a stunning brewery, all in St. Pete of course- was a dream for the two of us! We wanted to keep our wedding small and intimate, 50 guests was just the right mix of friends and family to celebrate with. Being a bit of a procrastinator, six months was our time frame but worked out perfectly with the saving grace that is Kimberly.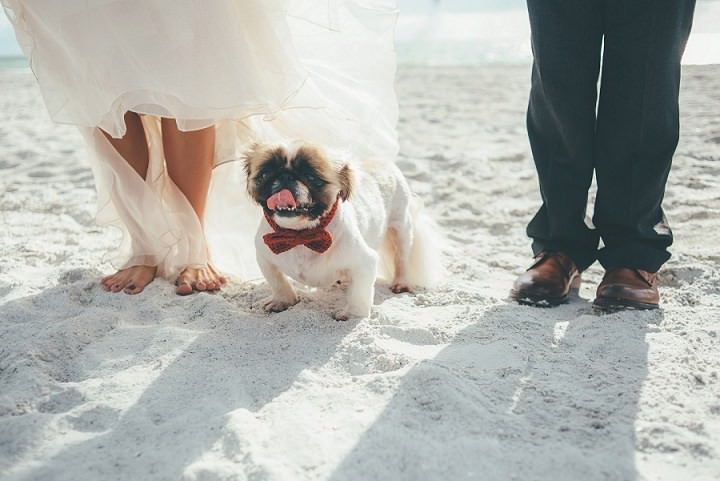 How they met
David and I met at the Hard Rock Casino by chance four years ago. We were both out with our own set of friends and happen to strike up a conversation that we had to be pulled away from. The next day he called after church and we met up for dinner, the rest is history.
The Proposal
Last fall, David and I ventured across the pond, the first time for both of us, for an eleven day adventure in Italy and Greece. David and I had toured the sights in Rome, made friends in Venice and got wonderfully lost in Florence. Santorini was our last stop, two days of wine, beaches and sunshine to rest before heading home… On our last night after dinner, we came back to our suite and David was on bended knee on the balcony, flute of bubbly in hand when he proposed.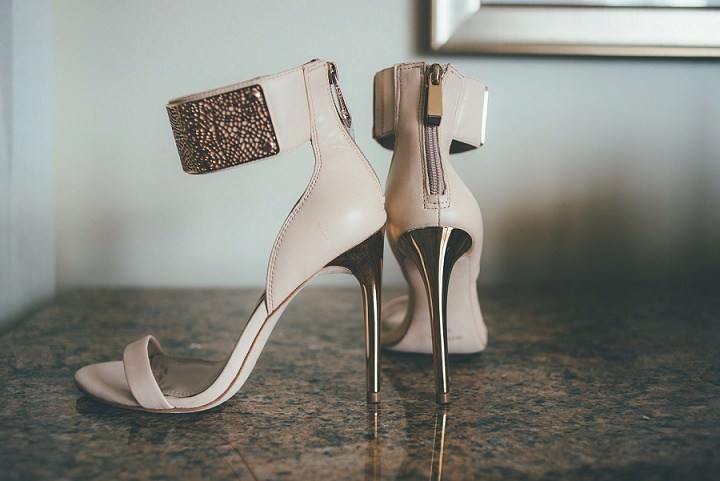 How did you allocate your budget
Oh, the budget- always a sly one! Thankfully, and with the help up our wedding planner we asked her to line the budget up for us with the most important spends being the live jams, photographer and booze. We wanted to be certain to throw a spectacular party for our friends and family, and of course- to capture those moments.
How did you choose your photographer
We met Sadie & Kyle at the one and only Bridal Show we went to; as a married couple- their chemistry was spot on, their photographs all told a story and they were a pleasure to be around.
The Dress
Dress was Anne Barge, purchased from Malindy Elene in Tampa, FL. Shoes from BCBG. Accessories – Earrings from Etsy, Necklace borrowed from my bother, a watch a vintage rolex, handed down to me from my mother. Tanzanite Ring A gift from my parents. Wedding Bands/Ring from Tacori my bracelet was Love Bracelet from Tiffany's and a Charm Bracelet from Tiffany's
Theme or Colour Scheme
With a light pink dress wedding dress myself, and no particular color scheme- we just asked that every one have dress in muted-brights; peaches, light teals, grays, etc. Certain pops of colors were requested also; deep burgundy, violet, etc.

Flowers
Eclectic mix of Gerber daisies, spray roses, snap dragons, baby's breath, caspia, salidago, blue delphinium, blue thistle, button poms, mini carnations, crespidia
Decoration
Ceremony: Vintage bottles with flowers, locally made programs and shoes optional wooden sign. Reception: The brewery itself is beautiful, so very little décor was needed. Below are items we brought from our home to decorate as well:
Vintage, white patio glide, Vintage green tea cart, Sheet-metal table, Vintage mail box, Wash tub on castors and with burlap seating, Rail-cart coffee table, Vintage letter bar sign, chalkboards everywhere; a-frame, serving tray, old window, etc.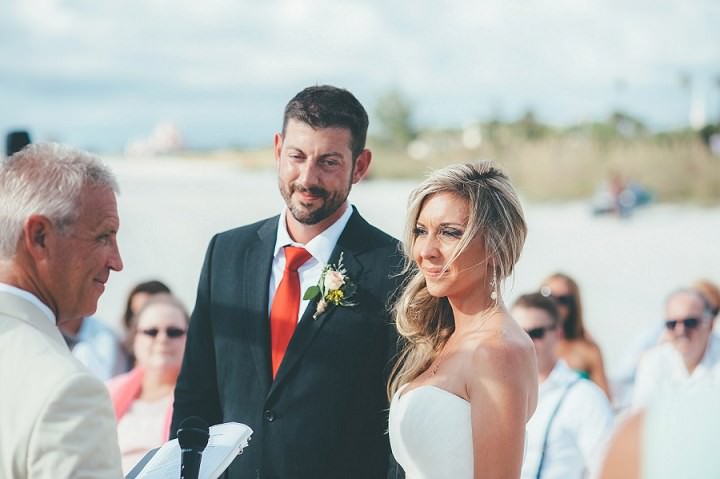 Food
Mouth-watering BBQ from a local Craft Beer + BBQ spot in St. Pete that we find ourselves at more often than not; Urban Brew + BBQ.
Wedding Cake
We opted for a naked wedding cake (really naked since we forgot the fruit); three tiers from a local bakery, Icing on the Cake- Champagne + Raspberry, Rum + Coconut and Amaretto.
Entertainment
The brewery itself has lots of games; corn-hole, table shuffle board, ping-pong, etc. For music, Who Rescued Who out of Jax Beach, FL kept the party rocking!
Buy or DIY your Stationery
We purchased our invites from Forever Fiances and our wedding day programs and honey tags from a friend of ours, Jessica Pecoraro Designs.
Personal or Handmade Touches
DH & I were blessed to have a day full of personal touches; From the bulk of the décor being from our home, a special memory we are blessed to be around each day as a reminder of our wedding. Home-made honey jars- my mother's side of the family had been in the honey business so she sourced local honey from a family friend and filled 75 jars! The girls and I placed the tags on them the night before the wedding.
Special Moments
Our first look- David and I opted to see each other before the wedding. The two of us met at the brewery and were able to spend an hour together before being whisked away to the beach. Our time together was incredibly intimate, romantic and joyful.
Walking down the aisle- for both of us. Seeing our friends and family all gathered to join in the celebration was such a tender moment.
The risk of sending a toddler and pup down the beach, even when no pups are allowed. Gemma + Guinea Pig stole the show and were an absolute delight.
David's father's blessing of our marriage
Dancing with my father, something about "A Pirate Looks At Forty" gets me every time.
The lighting and sending off of the balloons with all of our friends circled around us and doing the same!
And last, but certainly not least- our first kiss when seeing each other the day of. It was thrill to know we were on our way to getting married, but first able to enjoy the time with each other.
Advice to other couples
For planning? Invest in the right vendors- choose people who are a joy to work with and that the two of you can connect with on a professional and personal level.
Trust your instincts, and go with what makes the two of you happy. We both have a bit of a unique taste and went with off-the wall vendors and ideas. To all the beautiful brides and handsome grooms- relax, smile and enjoy the day with one another.
Smile- someone is always taking your picture! Stick with clear liquids- heaven forbid the glass tumbles and spills on your dress as it did in my case (Yet no one was the wiser- thanks to the shade of bubbles matching my dress perfectly!)
If you can, choose a first look or allocate an hour after the ceremony for time and pictures with each other. You will cherish those moments. Trust your vendors- leave the party in their hands and celebrate, they have the details covered and it makes for a stress-free day. Have fun! Join the party and celebrate with your loved ones!
Biggest surprise
The number of friends and family who travelled for our day, it was wonderful to be surrounded by such great love.
Supplier Shout Outs
For more information on Sadie and Kyle's work please go to:
www.sadieandkyle.com
www.sadieandkyle.com/blog
FACEBOOK
INSTAGRAM