Happy Tuesday everyone and how are you all? Did you have a good bank holiday weekend? If you're anything like me you will have spent all of yesterday thinking it was Sunday.  Very odd which makes today Monday when it is actually Tuesday. It will be the weekend again in the blink of an eye! To carry on this week of superb weddings, which we starting off yesterday with this most gorgeous wedding from Matt Parry Photography. I have this totally stunning Devon Wedding from the hugely talented Cotton Candy. The venue for this wedding is out of this world, and somewhere I'm sure the guests will remember for a long time. A beautiful beach side location with the most gorgeous of views that make for the best wedding photos you could wish for. With a blue and white theme and a whole load of homemade pin wheels this wedding is the perfect way to start of this Tuesday. Have a great day everyone.
'A fun filled beach wedding spent with amazing family and friends'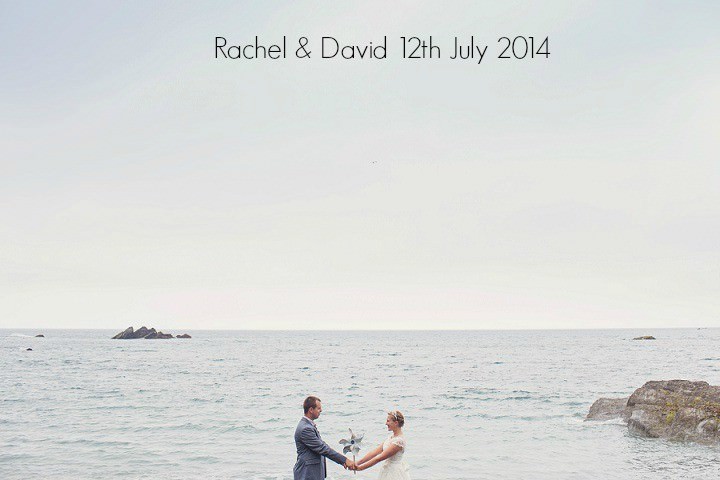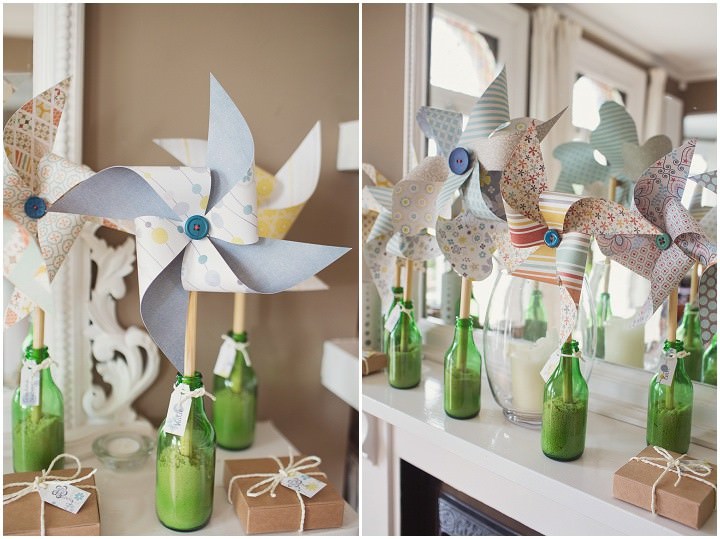 Rachel and David were married on Saturday 12th July 2014 at Tunnels Beaches, Ilfracombe in Devon. 'We wanted to get married as near to the beach and sea as possible. We met at university studying Marine Biology and both have a real passion for the sea. Also David really wanted a BBQ for the wedding breakfast – I'm surprised he resisted the urge to help the chef cook. We had 78 guest in total to the wedding. The planning took just over a year. We were engaged at the end of May 2013.'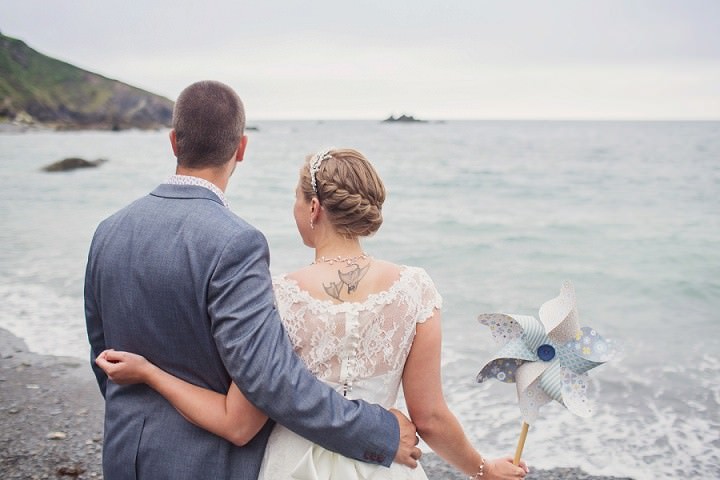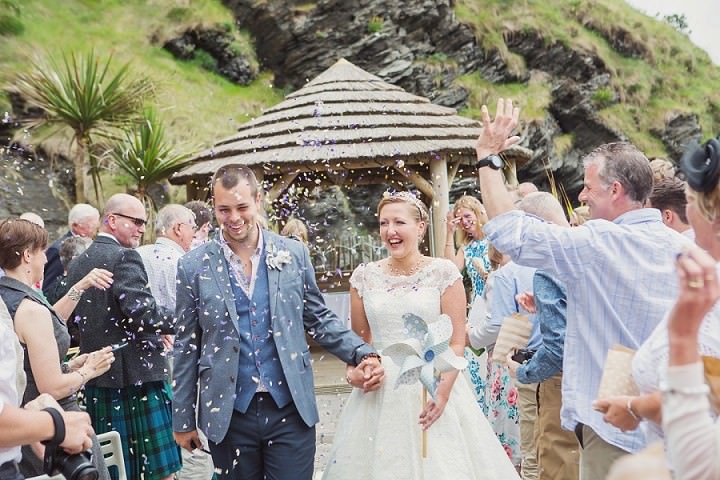 How they met
We met on the first day of university when we were 18. We became best friends. David always seemed to have sweets in lectures. We started seeing each other half way through second year, by which time we were straight into a pretty serious relationship after being best friends for 18 months. We got engaged about 5 ½ years after first starting our relationship, and married after 6 ½ years.
The Proposal
We both knew at some point, when the time was right and we had the means to pay for a wedding we would get engaged and get married. We were both adamant on not having a long engagement, so we didn't get engaged until we could afford to get married. Therefore the proposal wasn't a big romantic surprise. At the beginning of May 2013 we went to Hebden Bridge in Yorkshire and visited Element Jewellery and David told me to pick one. We picked a ring by the designer Anthony Blakeney, who designs his bands on rose roots. We then picked it up a couple of weeks later and went on holiday to the Lake District where the official proposal happened – which involved putting the ring on my finger and then going to dinner at 'The Cottage in the Woods'.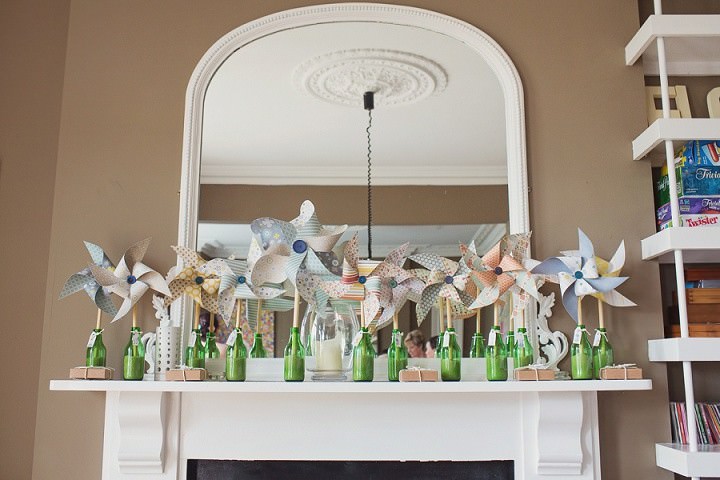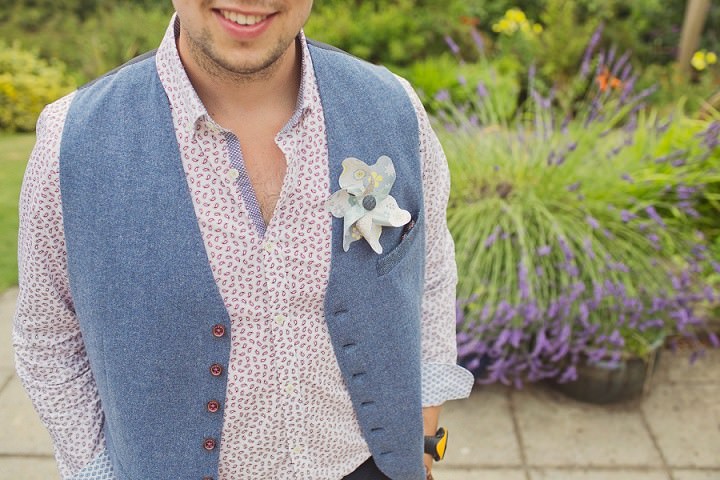 How did you allocate your budget
Just over half the budget went on the venue hire and the food and drink. The venue was the venue of dreams and was extremely important to us. If we hadn't fallen in love with this particular venue I think we'd have done a wedding on a budget and had a good old knees up at the pub.
How did you choose your photographer
As budding photographers ourselves, who are just starting out in the wedding industry (All Elements Photography), the photographers were crucial. We wanted two photographers, being a duo act ourselves we understand how valuable two photographers can be. I loved Cotton Candy's documentary style with a feminine touch. I actually found Cotton Candy and liked their work even before I was engaged, and it was through their work that I found Tunnels Beaches.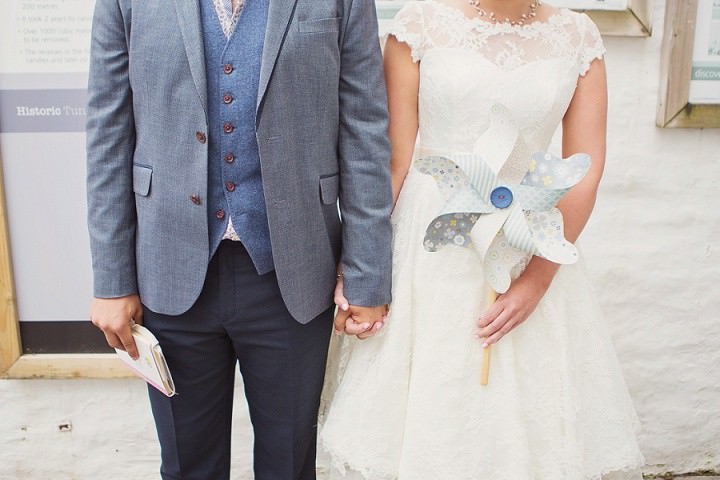 The Dress
I knew I wanted a tea dress. That style of dress suits me and I wanted to be able to go on the beach. My Dress was from 'The Dress' in Teddington. Sassi Holford Gown 'Martha'. The ladies in 'The Dress' were absolutely fantastic and respected the budget and were very open and honest about the price of the gowns – unlike my first experience in a wedding dress boutique. My shoes were Rachel Simpson – Mimosa Ivory. I absolutely loved my shoes and even though they weren't too high and did get some lace Toms for dancing in the evening. I didn't wear a veil but I wore a tiara, and my pearl jewellery was from Azendi. I loved every element of what I wore on the day, and wish I could wear it all again.
The Suit and Bridesmaids
David wanted to wear flip flops! We found some beautiful beaded flip flops from Aspiga. We then bought 'off the rack' at Ted Baker. David didn't want a formal suit and it wouldn't have suited our theme or style on the day. David didn't even wear a tie.
We didn't have any bridesmaids or a best men/ushers. We wanted to keep everything nice a simple. David and I walked down the aisle together and spent most of the morning together taking our springer spaniel (Rupert) for a walk. Rupert did have a snazzy bow tie which I suppose is the closest we came to a bridesmaid dress as he stood with us at the front with David and I during the ceremony.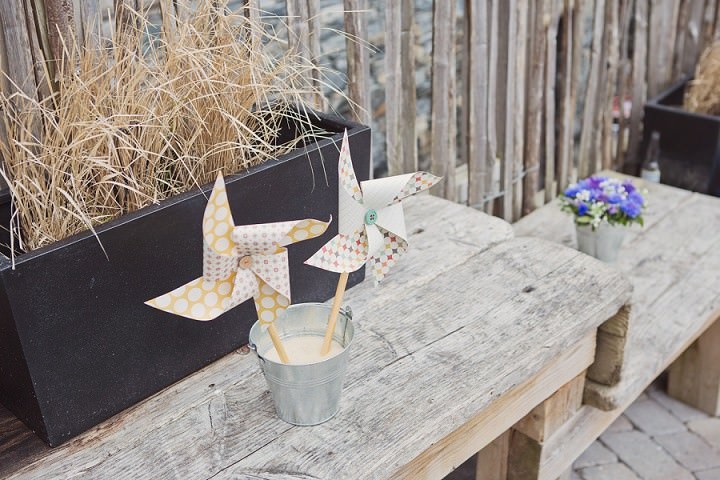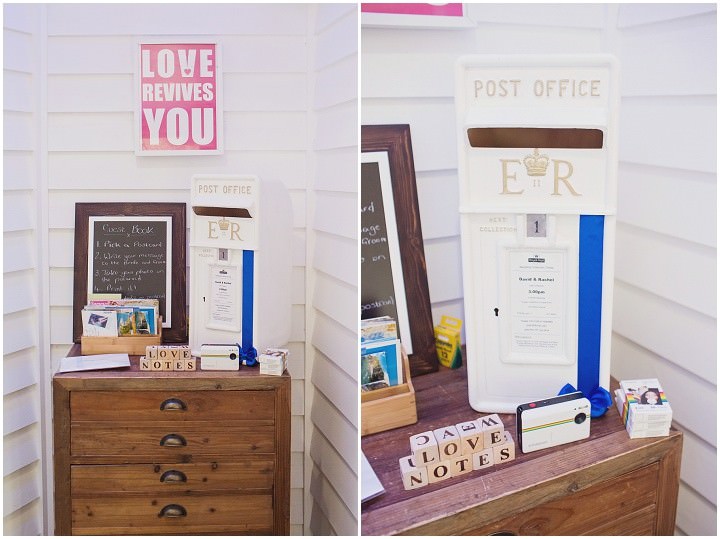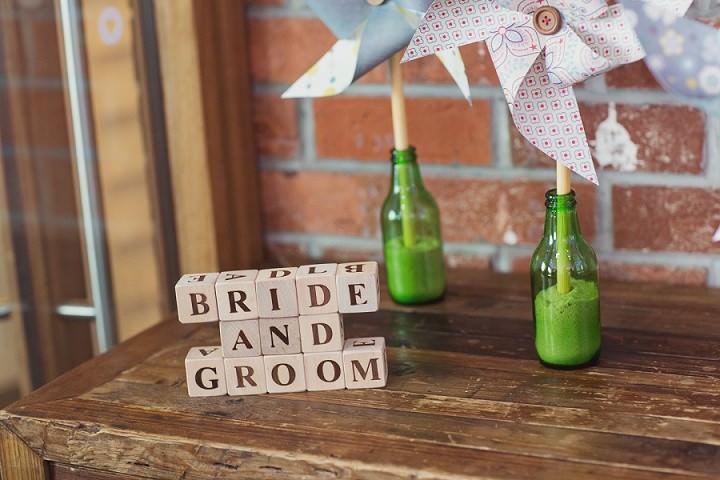 Theme or Colour Scheme
Not an intentional colour theme, but in the end blue and white were the most predominant colours. David's suit was blue, the flowers were blue and white, and my pinwheel bouquet and David's pinwheel buttonhole was blue and white.
Flowers
Flower Buckets – the flowers were home grown in Cornwall in my aunt's garden and brought to the wedding and arranged the day before into aluminium buckets. My auntie being the better flower arranger oversaw my mum, grandma, mother-in-law and anybody else that wanted to help. We made 9 buckets to decorate the aisle and then used them in the middle of the tables when eating. I left my auntie to choose which flowers to grow on a blue and white theme.
Decoration
Tunnels Beaches is an absolutely beautiful venue and stunning natural scenery. The only decoration we added to it were Pinwheels (see DIY section below) and the flowers.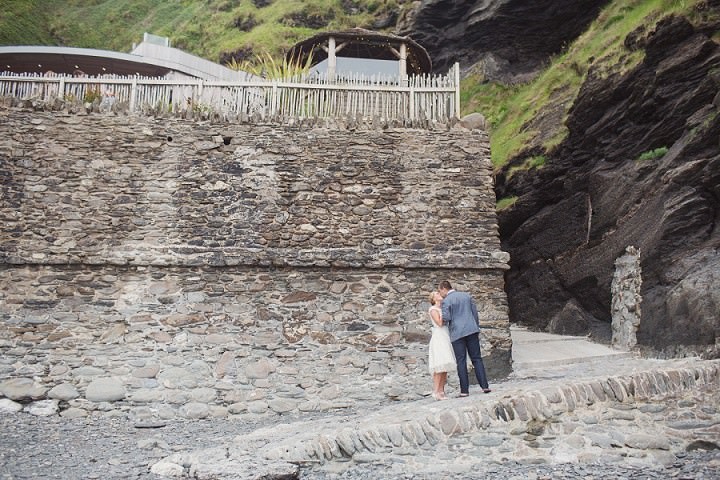 Food
Gourmet BBQ (by the venue) – it was absolutely fantastic! We had burgers and sausages and then some amazing fish and salads. We had tapas for evening food but I was so full and so busy dancing I never got any.
Wedding Cake
The main cake was from 'the cheese shed'– the cake was called Lormona. Our second cake (because you can't have cheese without fruit cake) was made by my husband's grandma. We bought chutneys and crackers and grapes etc. to go with the cheesecake and used the cake as dessert (as well as the ice cream tricycle from the venue).
Entertainment
David and I spent weeks setting up all our playlists. We wanted a magic venue which meant things like DJs and musicians were not really in our budget. We both love music and put together hours of music. We had a playlist for the meal before, mingling before the ceremony, the ceremony itself, building up to dancing and then a giant dance playlist. David mixed some of the tracks together so it wasn't just music playing with breaks in between songs. We got pretty much every genre of music into our wedding from rock to electro to blues to an ultimate cheese hour (a crowd pleasing favourite – who doesn't love the Macarena!). It sounds like something simply but we had great fun doing the music and it went down a storm. We were able to save serious money and every song meant something to us and our families.
Buy or DIY your Stationery
We DIY'd our Save the Dates. We already had the idea of a beachy theme when the save the dates went out. We also wanted to have a play on words on "tying the knot". We created a card that each guest needed to complete. We got people to tie a love knot (a heart shaped knot) which, once complete, hung in a heart shaped aperture in the save the date. This kept everyone busy for weeks. It really was a tough knot and actually ended up in a bit of competition with people trying to tie the best knot. We kept getting photos of completed knots sent to us. We designed the cards ourselves and sent them off to the printers, then we cut a heart shaped aperture out of the middle of the cards and cut a piece of string for people to 'help us to tie the knot'.
Personal or Handmade Touches
Pinwheels – To make the pinwheels we used double sided patterned paper. This was expensive but meant that the pinwheels had good structure but also interesting and captivating patterns on both the inside and outside of the pinwheel. We started trying to make the pinwheels using cheaper tools but this made an inferior product and whilst the paper was strong enough the grommets that were at the centre were simply breaking apart. To do the pinwheels justice and to ensure they lasted we spent extra money on a professional punch and steel grommets (an extra £30). This gave the pinwheels strength and meant they span round far better than the cheaper hobby built version. For the handles we took standard doweling from B and Q. We then cut them to length and David sanded each end into a nice rounded finish. We then went through the process of staining the sticks with linseed oil which sealed them and brought the grain out in the wood. Then we used a glue gun to secure the whole lot together and hey presto. My pinwheel was a little different using a more complex design and was bigger. This set it apart from everyone else's whilst allowing the theme to carry through. To stop people having to put them on the floor we had a big bbq and drank 50 stubby beers, washed them, removed the labels and filled them with play sand. This allowed people to have their own little stand throughout the day and meant that they stayed protected. At the end of the day we wanted people to be able to take something away to remember our day. They made great favours and were a really personal gift. It's also a great reminder of the day for us. Every time we go round a grandparent's or aunt's house we see our pinwheels still standing in their original bottles. It's a little piece of the day.
Buttonholes – David wanted to carry the pinwheel idea through to the buttonholes. They were essentially mini pinwheels. They fitted the casual theme really well. David's buttonhole used the same design as Rachel's big pinwheel to keep the bride and groom's pinwheels different from everyone else's. We didn't want to have safety pins going through anyone's nice jackets so we used super strong magnets. These worked perfectly – although we had to be careful not to let them get too close to anyone's phones!
Guest Book – instead of a guest book we bought postcards from Ilfracombe which we asked our guests to pick, take a picture of themselves on our polaroid camera, stick the picture onto the postcard, write a message and post it in the post box. After the wedding we put all the postcards into an album.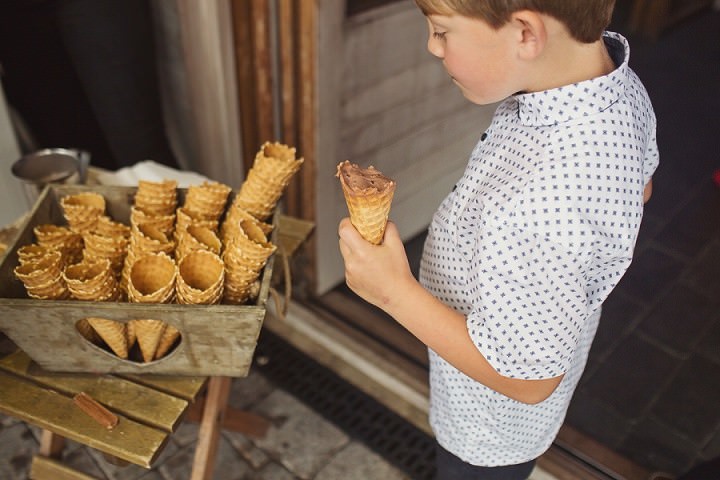 Special Moments
Breaking with tradition and being together for more of the day. Taking Rupert for a walk in the morning before the wedding. Having Rupert at the wedding! Wouldn't have been the same without him. The ceremony itself was just so emotional. My grandparents choose and read readings for me and David, so what they said was a total surprise and had everyone in tears. I and David also personalised the civil ceremony with our own vows, which again resulted in a lot of tears. And then party time – dancing until the early hours of the morning.
Advice to other couples
Be organised before the day but as soon as it comes to the day let it just flow and happen, nobody will know or care, and neither should you if the time plan is running 15 mins behind.
Just enjoy every single moment because the day goes way too quick.
Don't compromise – doing a DIY wedding meant I could have everything I had visioned in my mind and let me save some money too.
I read loads of blogs on 'real weddings' to see what worked and didn't work and to see what I really liked. Having a theme throughout the wedding from the very beginning when you send out Save the Dates is really worth the time. A theme really gives everything more affect and meaning.
Biggest surprise
Receiving a wedding card from Stereophonics. My new father-in-law arranged for the band to sign a card to me and David. They are my favourite band and our first dance was 'You're my Star' by the Stereophonics.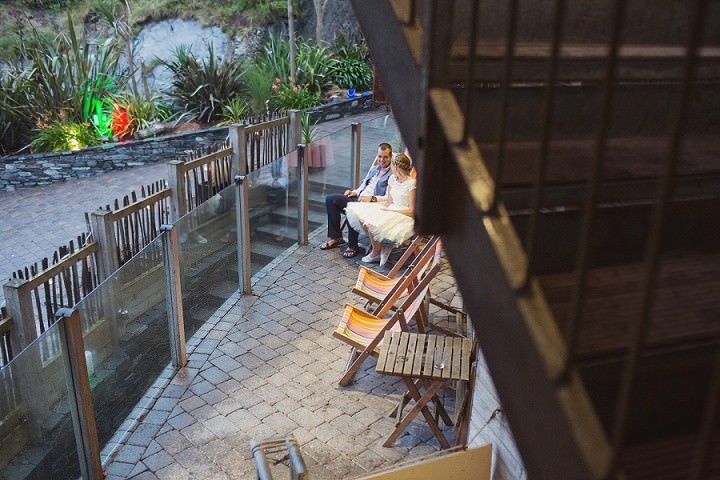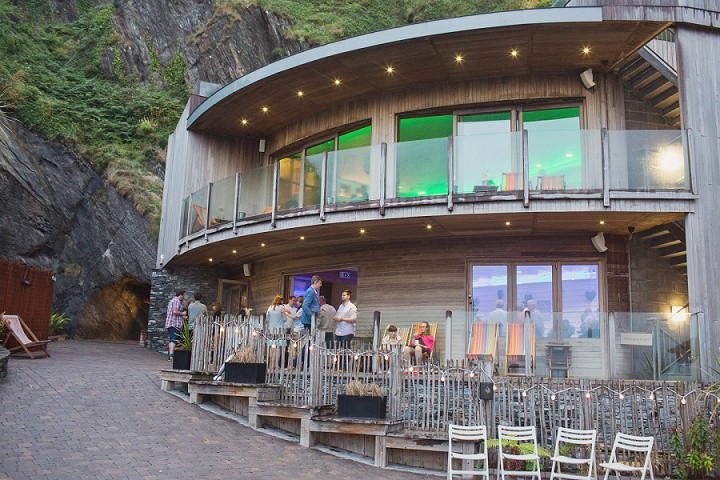 Supplier Shout Outs
For more information on Cotton Candy's work please go to:
www.cottoncandyweddings.co.uk / www.cottoncandyweddings.co.uk/our-blog/ / FACEBOOK / @CCandyWeddings

[jprel]