Well hello Monday and how are you all today? I hope you had a good weekend? I am currently sunning myself in Ibiza and having a lovely time with my two boys, never the less I still have a lovely wedding to share with you today. A bright, multi-coloured affair, full of amazing blooms and lots of pretty colourful details. The photography brought to us by Toni Darcy Photography is just lovely and rally captures the colours perfectly. I just love the bouquets and the centre pieces, oh so pretty!
'As cheesy as it sounds, it really was the best day of our lives. It was a surreal whirlwind of fun, laughter, tears, friends, family, sunshine, food, drink and dancing. There is no way to describe it.'
Jen and Johnny were married on 2nd October 2014. The ceremony – St Peter's Church, Salesbury and the reception – The Shireburn Arms, Hurst Green. 'Although I no longer live in Lancashire I always knew that I wanted to come home to get married. My parents were married in St Peters Church over 30 years ago so it was special for us to be able to follow in their footsteps. The Shireburn Arms was the perfect venue – we wanted a venue that was beautiful but not overly formal. Somewhere that our guests could feel relaxed. I think we had about 90 guests in the end. It took about 18 months in total to plan the wedding, but we just did a bit at a time.
How they met
We met in a bar in Australia in January 2008 – so I suppose we have been together for about 7 and a bit years. Johnny tried to chat me up by telling me he was a photographer (he wasn't – he was a carpenter). Why he thought I would be more impressed by photographer that carpenter I don't know – haha??! Whatever his reasoning, it obviously worked because within two months we were inseparable and travelling around Australia together before coming home together later that year.
The Proposal
Johnny proposed on Christmas day 2012. We were at my family home in Lancashire. I had just rolled out of the bed, still in my dressing gown and looking anything but glamorous. We were stood in the kitchen and I don't actually remember what he said – I just remember crying a lot and laughing because the ring was too small and I wouldn't fit on my finger.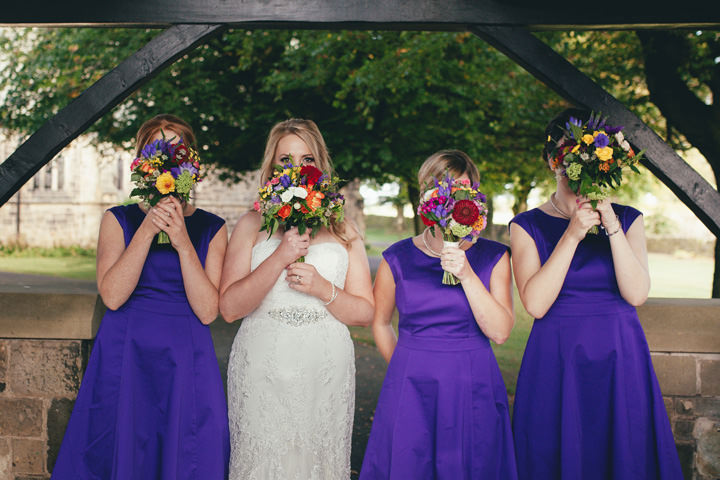 How did you allocate your budget
The majority of our budget went on the reception, venue, food etc. We got married on a Thursday which did allow us to stretch the budget further. We would not have been able to afford our venue had we got married on a Saturday. Initially we were worried that a lot of people would not be able to come, with it being mid-week, but that turned out not to be the case. The money we saved on the venue allowed us to afford other things that were important to us, such as a live band and a good photographer.
How did you choose your photographer
Finding a photographer was harder than I thought it would be. We wanted a relaxed documentary style of photography in the hope that the emotion of the day would be captured in the pictures. I spent a lot of time researching online and finally found Toni. Her style of photography perfectly matched our vision and after meeting her for a glass of wine and a chat we knew she was the one for us!
I think it is important to remember that you will be spending a lot of time with your photographer on your wedding day, so it is vital that you choose someone that you actually like and who is not just good at taking pictures. We were so lucky to find Toni who is lovely as well as talented!

The Dress
My dress was San Patrick by Pronovias. I had the veil made with the lace trim to match the dress. My shoes were a bargain buy – £15 from Dorothy Perkins.
Theme or Colour Scheme
We didn't have a particular colour scheme. I knew that I didn't want everything to be very uniform and matching, because that's just not my style. I wanted the flowers to be the main focus of colour – beautiful, bright and multi-coloured!
Flowers and Decoration
My florist – Linda at The Flower Shop was the genius behind my flowers and decorations. I met with Linda two or three times to discuss my ideas and she understood my vision perfectly and suggested things that I would never have thought of. Each table was individually decorated with different nik-naks (books, jam jars, candles, old weighing scales, sweetie jars, old lace table cloths (which belonged to my grandma). No two tables were the same. I couldn't even begin to name all the different flowers used – we just had a mixture of everything colourful!
Food
Canapés on arrival – mini bangers and mash, chilli prawns, mushroom tarts,
Starter – Vegetable soup
Main – Lamb
Dessert – Sticky Toffee Pudding! Yum
Wedding Cake
Our wedding cake was made for us by my very talented sister in law, Emily. It was beautiful – both to look at and to eat, A madeira sponge with buttercream, jam and fresh fruit.
Entertainment
We had a Irish band from Manchester – Hot Green Clover. And the DJ (Frank) who worked for the Shireburn Arms. They were both brilliant – the dance floor was never empty!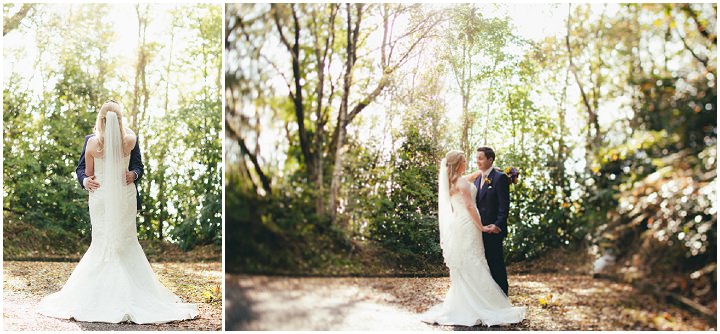 Personal or Handmade Touches
I made the table plan myself. I couldn't stretch the budget enough to have a professional table plan made so came up with the idea of using photo frames to display the table plan. Each table was named after an Irish whiskey.
Some old lace tablecloths that belonged to my grandma were used as part of the table decorations as well as a few bits a pieces (candles and jugs) that were my own.
Special Moments
Being in the church and saying our vows was such an emotional part of our day. Even though there were so many faces staring at us it really felt like it was just us two in that moment. It was so special!
Advice to other couples
To other couples my advice would be to savour every second of the day. Everybody says that the day goes so quickly and it really does. Remember to enjoy the day and not worry too much about what everyone else is doing – everyone else will just be happy to see you having a good time.
Take some time on the day for just the two of you. I loved the time we spent together taking pictures after the church. It was lovely to just breathe and take it all in before going to the reception.

Supplier Shout Outs
Florist – www.theflower-shop.co.uk  My wonderful florist Linda! – People still comment on how beautiful our flowers were and I am always quick to tell them it was all down to Linda. She is so creative and truly talented at what she does. She also came to my rescue when we forgot to bring the pedestals from the church to the venue. Linda and her husband Jim drove to pick them up for us.
Photographer – www.tonidarcy.co.uk  Our amazing photographer Toni! – One of our favourite parts of the day was driving back from the church to the Shireburn and stopping for our little photoshoot with Toni. Toni made us feel totally relaxed and made the whole experience so much fun. She really understood us as a couple and the photographs still make me cry (with happiness) every-time I look at them.
Also – (don't think I ever told you this Toni) Toni saved the day when I forgot to put my perfume on before leaving the house. When we got to the Shireburn she came up to my spritzing me with Jo Malone – a smell that will now forever remind me of our wedding day…. Thanks Toni ☺ xx
Hair and Make Up – www.flossyandleigh.com  The talented Phoebe and Sam , my hair and makeup artists – Pheobe and Sam were fantastic! The morning was spent in my mum's house getting ready with my bridesmaids. Phoebe and Sam helped to make the morning so much fun and left us all feeling truly beautiful.  
For more information on Toni's work please go to:
www.tonidarcy.co.uk
FACEBOOK
PINTEREST
TWITTER