So it's Tuesday my least favourite day of the week.  However, I have a fabulous wedding for you today courtesy of one of my favourite photographers Nicola Thompson Photography to brighten up the day. This stunning wedding takes place in Yorkshire Sculpture Park, one of my favourite spots in this part of the country. A wonderful modern venue with amazing views and some amazing land (and lets not forget the sheep!) Sally and Adam chose the venue as it was somewhere they visited as children and held a special place in their hearts. They combined the modern articular with colourful DIY details some fantastic designs from Sally who is a graphic designer, lots of lovely bright colours and the most amazing cake! I do love a modern wedding, especially when it is full of fun, laughter and so many gorgeous details like this one!
'A beautiful day in the sun, filled with lots of love, family and friends. We made memories that will last a lifetime, it was perfect from start to finish'
Sally and Adam were married on 9th August 2014 at Yorkshire Sculpture Park 'When we started looking for wedding venues, we were trying to find somewhere that held some sort of significance to us as a couple, and lots of the venues we looked at were very 'wedding-y', which wasn't something we were really interested in. We used to walk our dog Milly in the grounds of YSP, and we both used to go there as children with our families, so when we found out they did weddings there, it seemed like the perfect place to get married. When we looked round with Sally the wedding coordinator, it had everything we wanted and more. There is a lovely calm feeling about the place, and the restaurant, food and its view are amazing! We had 115 guests in total. We got engaged in May 2013, started planning in the August, so about a year to plan.
How they met
We have been together for about six years, and have shared two homes, one dog and one beautiful little girl. We met through friends of friends in Sheffield, actually, at a party Adam only spoke to me because he thought I was someone else!
The Proposal
It was Saturday 4th May (may the 4th be with you!), and a couple of days after my birthday, we were having a birthday/house warming party in the evening with lots of our friends coming, and we went up to my mum and dads to take Milly for a walk. We walked along the crags, a trail close to my house, and we walked to my 'rock' (a flat rock that I used to play on with my sister when we were little!) and were looking at the view and I turned round and Adam was on one knee! I laughed the whole time as I thought he was joking! Turns out he wasn't and the first thing I did (after saying yes!) was call my best friend Jackie, who was on the train to Sheffield for the party. The party then turned into an engagement/birthday/house warming, it was brilliant.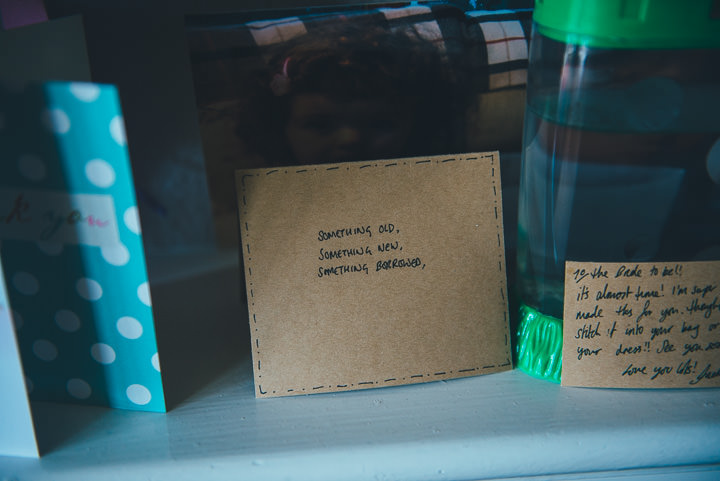 How did you allocate your budget
We made a very big spreadsheet, and used lots of guidance from wedding magazines and online 'average budgets'.
How did you choose your photographer
I found Nicola's website by chance and LOVED her images. Photographs are something that both Adam and I love, and we wanted a photographer that would capture our friends and family as much as us on the day. As it turned out, Nicola was also recommended to us by a friend of Adam's, who is also a photographer, it was a done deal!
The Dress
My dress was from Blushes in Sheffield, and by Mori-Lee by Madeline Gardner, and we added some beautiful sequinned sleeves. Shoes by Jimmy Choo, and earrings from Sainsburys.
The Suit and Bridesmaids
The suit was from Slaters in Leeds, shirt from House of Fraser, Hugo Boss shoes and ties from Next. The bridesmaids dresses were by Dessy and from Mirage Couture in Sheffield.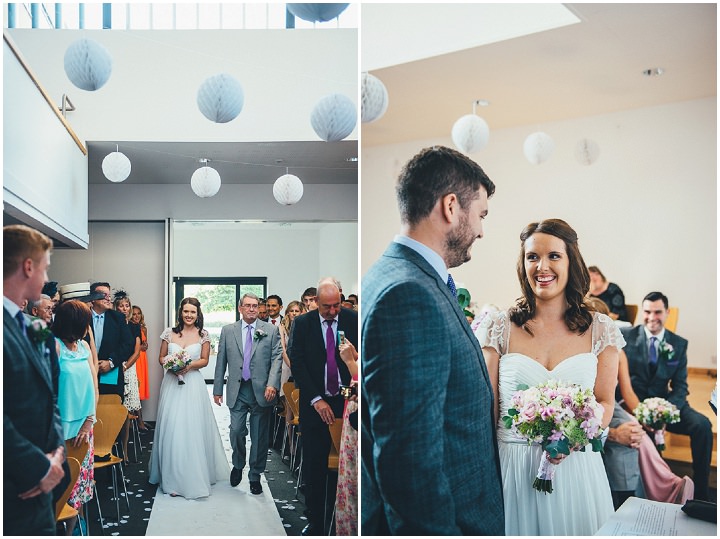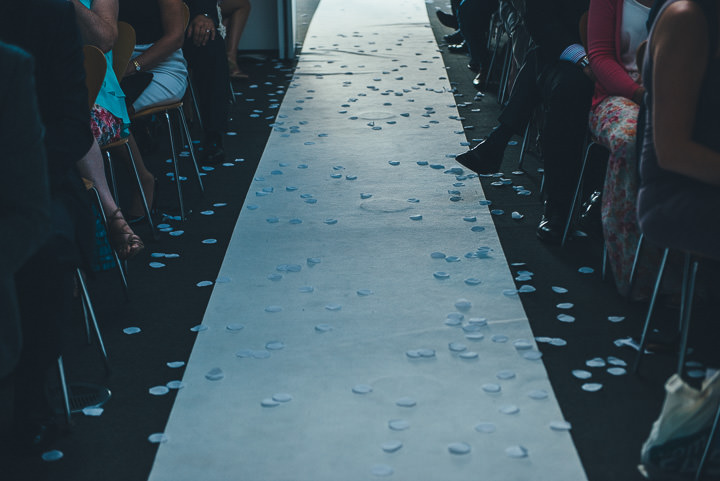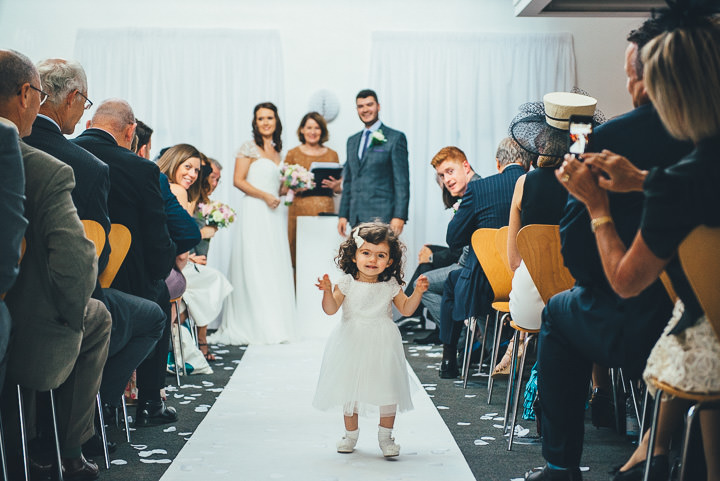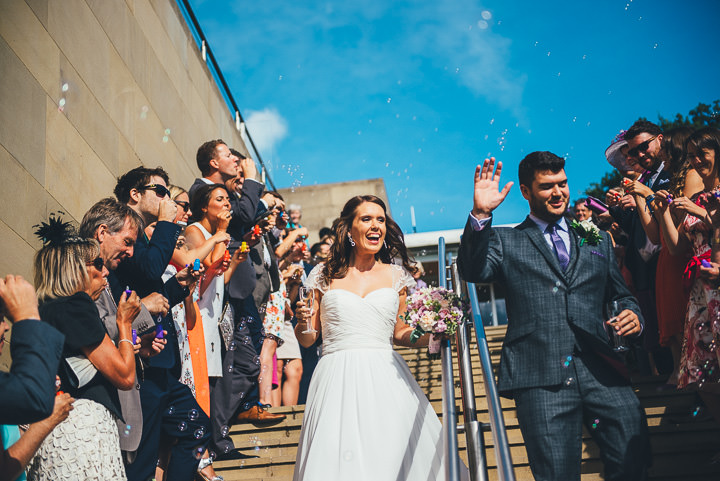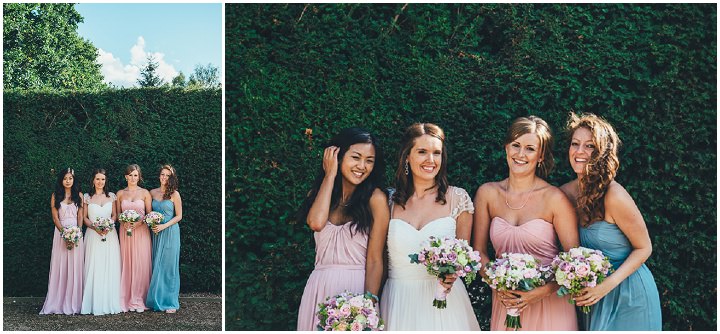 Theme or Colour Scheme
We sort of had a multi-coloured theme! Everything was different colours!
Flowers
Our florist Jo Price, did some stunning arrangements! Beautiful posies for the bridesmaids and myself, button holes for the groom and his men, huge pale blue plant pots full of flowers for the ceremony, and on the tables for our reception we had glass cake stands full of flowers. They smelt beautiful all day.
Decoration
In the ceremony we tried to keep the decoration simple, the auditorium is a blank canvas and we strung white pom poms across it, a white aisle runner with white petals on it, and our flowers added a splash of colour. The reception room was much more colourful, with the view, the coloured ceiling beams. Our tables had our glass stands with flowers on with a clear balloon filled with coloured confetti.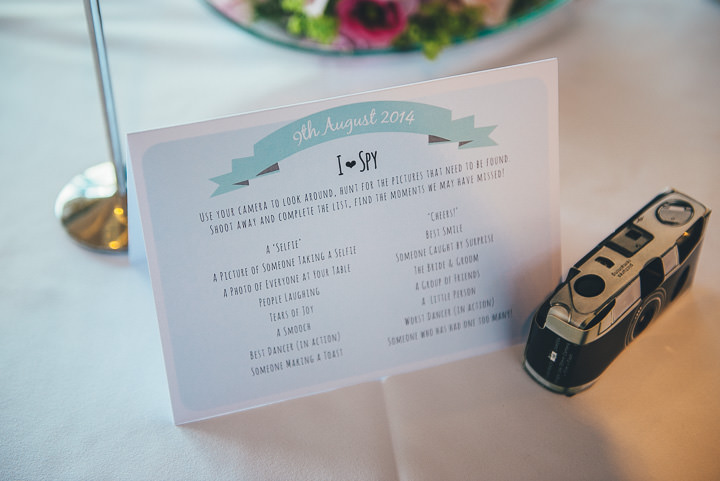 Food
The food at YSP is incredible, we had Ham Hock to start, Roast Beef and Yorkshire Puddings as our main and a Summer Berry Prosecco Jelly for pudding!
Wedding Cake
Our wedding cake was by Fancie in Sheffield, neither of us were too fussed about having a traditional wedding cake, or cutting the cake either. However, we do both LOVE cake, so went for something more fun, as our cake was covered from head to toe in multi-coloured sprinkles.
Entertainment
We used Lance Gold as our singer in the evening and he was fantastic! I had actually seen Lance Gold performing whilst I was on a night out a couple of years before and decided then and there that he was perfect for my wedding (should we ever get married!) I took Adam along to one of his gigs at a local pub on a Wednesday evening and he had everyone up dancing! His voice is amazing and he gets everyone up and dancing along to Motown and soul classics.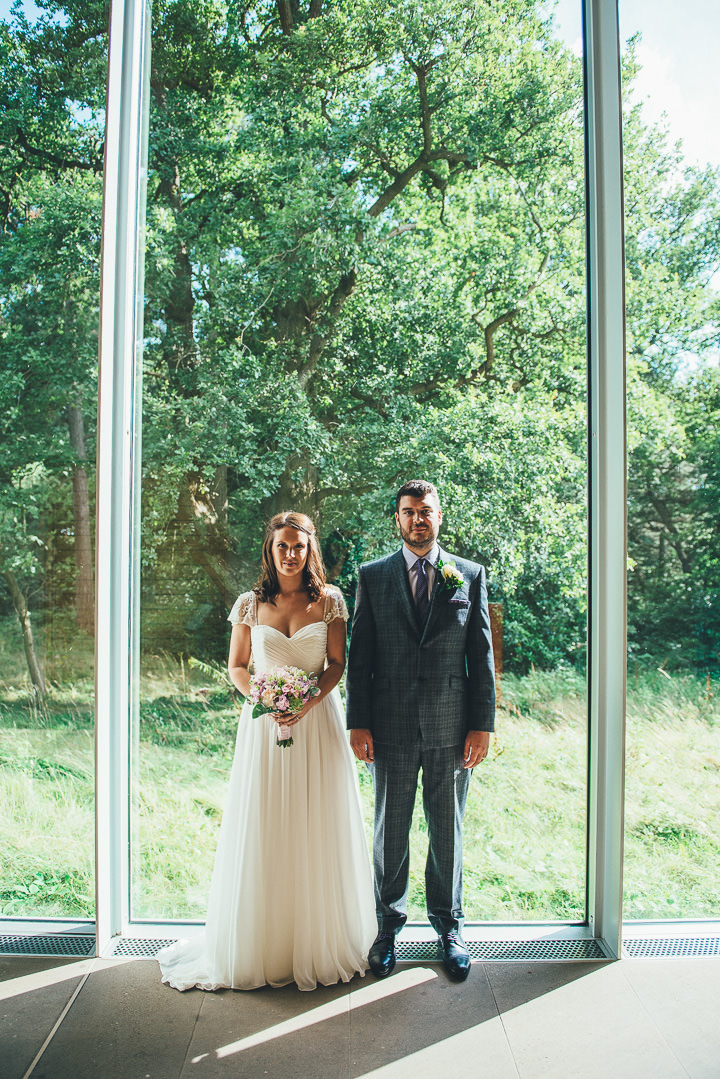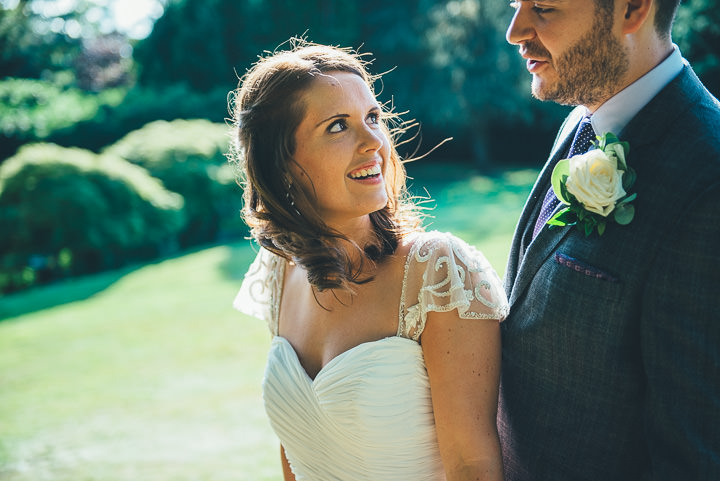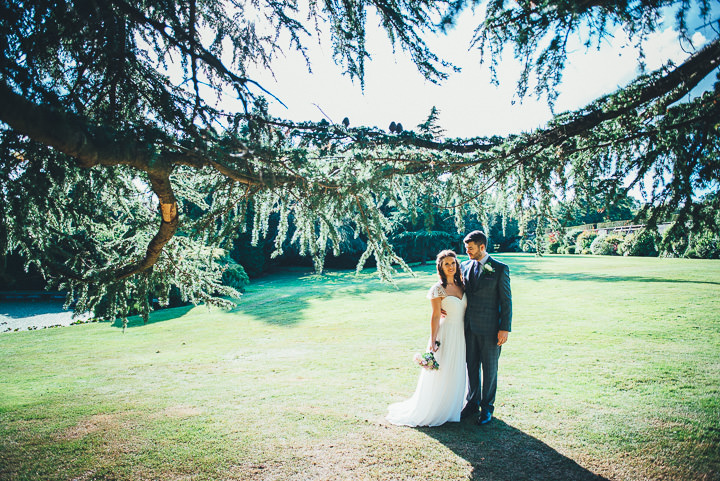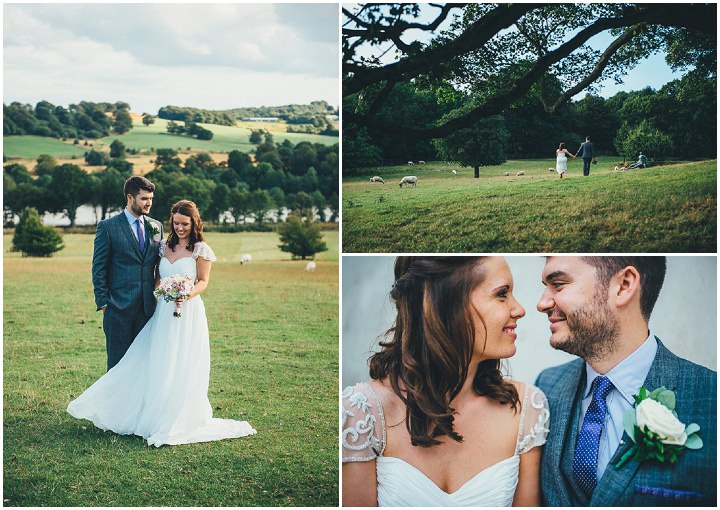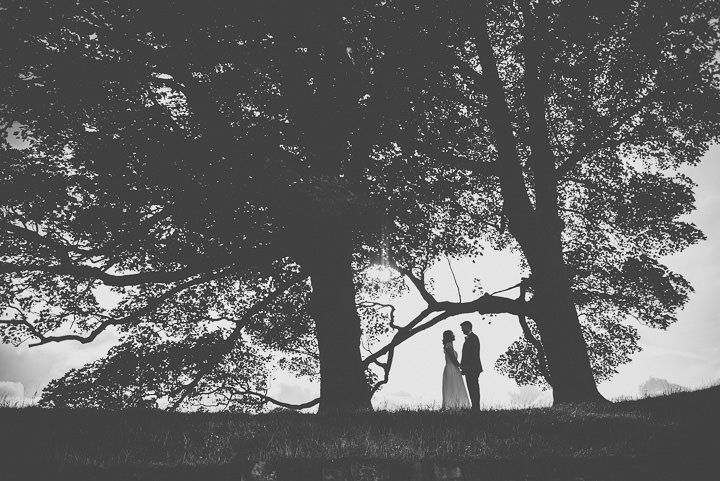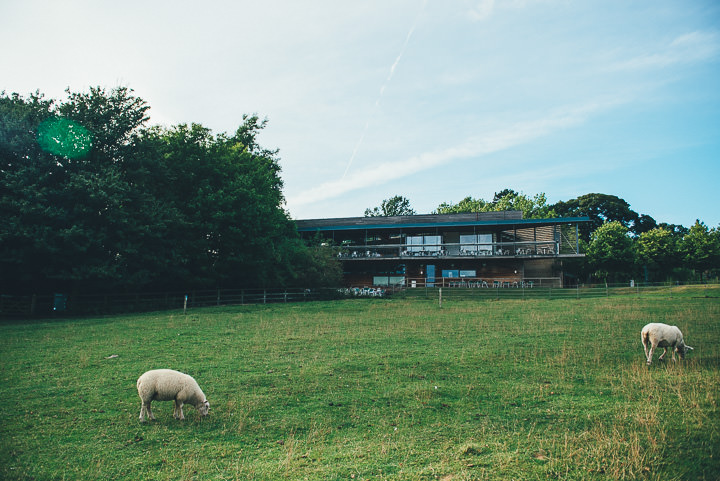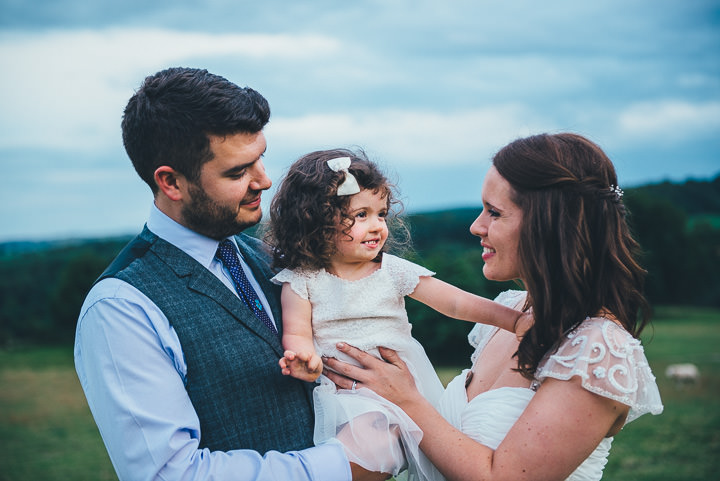 Buy or DIY your Stationery
I'm a graphic designer and did all of our stationary.
Personal or Handmade Touches
-We decided to write our own vows to make the ceremony more personal, I am so glad we did, it made our promises to each other much more significant to our lives and our family.
-As part of our stationary, I drew little characters of Adam, Lucy and myself that we used on our invitations etc, Adam suggested it would a be cute idea to draw everyone who was coming to the wedding to use on the place cards…. Many hours, days, weeks and months later, we had 115 characters to use on our place cards. They looked great, and everyone thought they were really funny.
-Instead of traditional favours, we decided to make a donation the Alzheimers Society, and gave each of our guests an Alzheimers pin to wear.
-We put disposable cameras on each table and a list of photo moments that 'we may have missed'. We asked for photos such as 'selfies', 'everyone on the table', a 'cheers', and the results were hilarious!
-As a gift for my bridesmaids and best friends to wear whilst we were getting ready, I bought us all floral dressing gowns from Etsy and I can't recommend them enough!
-Adam and I bonded in the Forum in Sheffield over a love of the 'dance off'… so we felt that this had to be in cooperated into our wedding somehow, for our first dance we devised a secret synchronised dance that we had practiced in our living room for weeks, and told no one about! It was so nerve racking, that we managed a minute, surprised everyone and then forgot the rest of our routine and invited everyone up to dance with us! It was so much fun.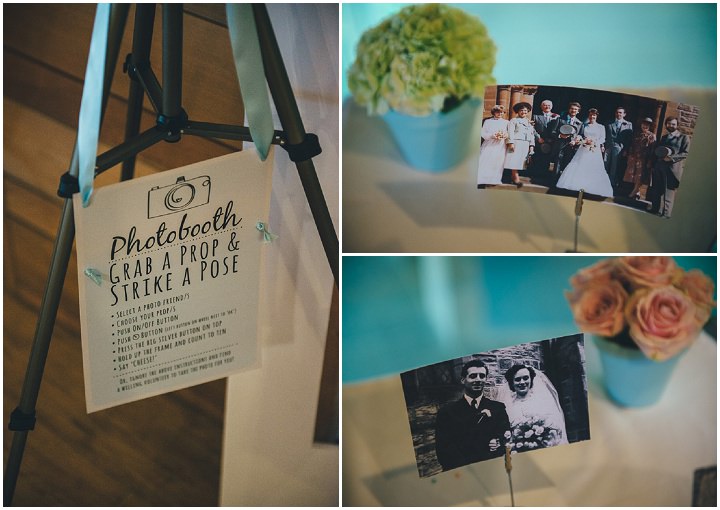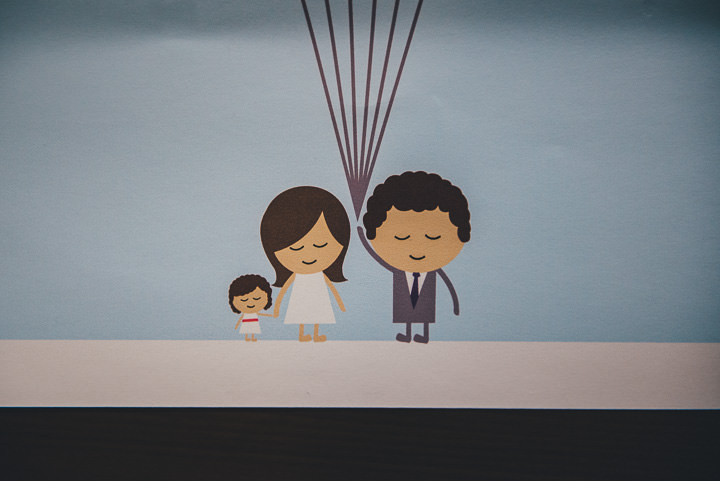 Special Moments
A very special moment was when the best men rolled out a video that they had created as part of their speech… it is incredible and so thoughtful. They had spent so much time doing it, and it means so much to us. (watch it HERE)
Advice to other couples
Adam's advice would be "say 'yes' to everything" (I think he means in regards to the bride's ideas?!) and we both agree that not getting stressed over the little things, which no one would be any the wiser is a good tip. And to enjoy the day, it flies by! Oh! And if you are having a band or entertainment, we didn't want to pay for a disco afterwards so we used an iPod playing a Spotify playlist we created, it was great!
Biggest surprise
The video from the best men.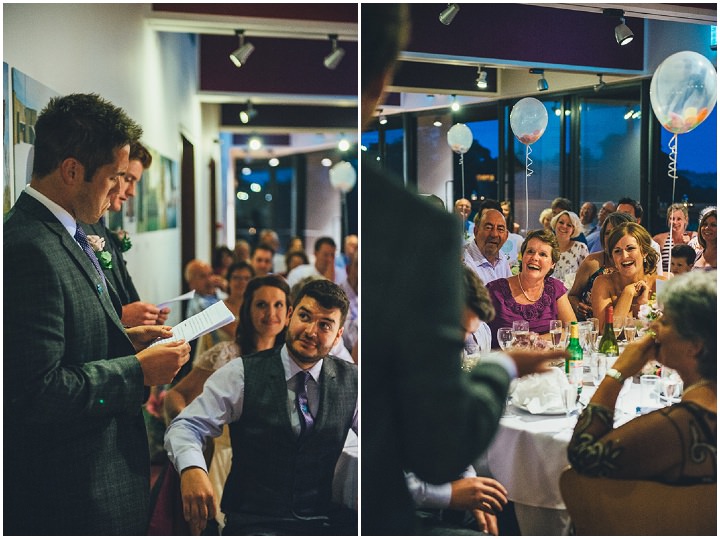 Supplier Shout Outs
For more information on Nicola's work please go to:
www.nicolathompsonphotography.co.uk
FACEBOOK
PINTEREST
@nicthomphoto