Happy Monday everyone and welcome along to another jam-packed week at Boho Weddings, did you have a good weekend? Mine was lovely, I spent it with my mum who I don't get to see very often as she lives on Cornwall, but she came up for a couple of days to see me and Dexter.
Talking of Cornwall, todays wedding takes us to the beautiful beaches of Cornwall for this gorgeous wedding of Ros and Simon. They decided to have a wedding in two parts the day would be spent with a vintage tea party at their local village hall, and the evening as at their local beach cafe for dancing and dinner. A full on day of fun, relaxed, chilled and filled with love. Thanks to Captured by Katrina for the images.
'A jam packed, busy, varied day, hopefully showcasing our interests and lifestyle. A relaxed, informal, village beginning with a sophisticated beach side evening'
Rosalyn and Simon were married on 14th March 2015 at St Stythian's, Stithians in Cornwall. There was an afternoon tea party at the Village hall, Stithians, Cornwall and the reception was held at Gylly Beach Cafe, Falmouth in Cornwall. 'Well, choosing the Church was easy, we live next door, a grassy meadow separates us from it. When we have our breakfast in the morning, we look over our cottage garden to the church spire and clock. We knew that view would always remind us of our wedding day. Gylly Beach Café was also an obvious choice for us, in fact us wanting it dictated a lot of our wedding plans. Simon runs a water sports business (Gylly Adventures) off the beach and I train there regularly (with Fitness Wild). We love the sea. We love Cornwall. We wanted our guests, many of whom travelled from out of county, to experience an evening on the beach.
Gylly Beach Café don't do private functions as their regular, loyal customers are of high priority to them, but they very kindly accommodated us, if we had our wedding day out of tourist season: hence our March wedding, and at 6.00pm: allowing for their regular day time customers to not be turned away. So that meant we needed somewhere for our guests to hang out before 6.00pm. The village hall was perfect. Right beside the church, it enabled us to have a relaxed, informal tea party for many guests to mingle. We had an adjoining room which we filled with toys of the children.
I'm not sure how many actually turned up but around 120 at the church ceremony and vintage tea party, of which 70 were invited to the formal sit down diner at Gylly Beach Café. Many of the church guests then joined us for dancing at Gylly after diner. In fact, they managed to catch the speeches too which was great! We sent out the save the date about a year a head of time, we have family and friends scattered all around the world so it was important to us to give them plenty of notice. We booked our music about 6 months ahead and I was collecting vintage tea cups at car boot sales for the year. However after that we didn't really do much planning until a couple of months before.
How they met
We met in Ireland through mutual kayaking friends. I'm Irish, Simon was working there for 3 months for the summer season. We fell in love very quickly. Simon returned to Cornwall and I followed. No turning back. We were together 8 year and decided to try for children. Along came Sullivan. We then wanted to officially declare our love and bind our family so decided to get married. We have been together 10 years.
The Proposal
On a visit back to Ireland, Simon took me on a walk up to a ruined monastery I played around as a child. He got down on one knee and asked. He had asked my father the night before. We returned to England that night, where Simon had booked us into an extravagant hotel and went ring shopping the next day! Simon had chosen the jeweller and design but wanted me to have the final say.
How did you allocate your budget
We needed the church and venues. We wanted the bands. So we spent money on those. Everything else was chosen, made, bought and borrowed to save money.
How did you choose your photographer
Simon did the photography for Kat and Jimbo. We had a look at Kat's website and loved her style. It seemed a lovely idea to have a friend take our photos. Katrina was the perfect choice.
The Dress
Dress by Victoria Jane, dress for kayaking was from a charity shop! Hair accessories were borrowed, earrings were my own.
The Suit and Bridesmaids
Bridesmaid own dress. Suits my Moss Bros.
Theme or Colour Scheme
Purple, vintage tea party followed by sophisticated diner dining.
Flowers
I went for lissianthus, freesias, some funky green chrysanths and a few stunning delicate lilac roses. With lots and lots and lots of gyp.
I went to a flower wholesaler directly. Cutting costs I wanted to arrange the flowers myself. the day before I did the pew ends, bouquets, button holes and vases. In the end I had emergency help from a good friend and her daughter and surprisingly – the best man – who decorated the church arch beautifully.
Decoration
Two very different feels: the village hall – vintage, quaint, DIY and pretty, verses Gylly Beach café – modern, sophisticated, minimal
Food
The tea party fodder was kept British and simple: Cucumber and egg mayonnaise sandwiches, scones with strawberry jam and Cornish clotted cream, chocolate cake, carrot cake and Victoria sponge. Then our guests had a choice of three meals from Gylly Beach Cafe.
Wedding Cake
As we were having 20 cakes for our tea party and a choice of three incredible deserts for diner, we deemed it unnecessary to have a formal wedding cake.
Buy or DIY your Stationery
So much of the wedding was DIY
Personal or Handmade Touches
So much of the wedding was DIY, invites, order of service, flower arranging, origami flowers, bunting, favours (homemade jams and chutneys – from fruit and veg grown in our allotment) and place name setting (which were jigsaw pieces, photos of us and our son on one side, guests names on the other. if guests wanted to re assemble the jigsaws, they had to mingle and find the other pieces.)
Special Moments
We both were presently surprised at how wonderful the church service was, made special by the collaboration of our friends and family: reading, singing and performing science experiments! The highlight was kayaking into Gylly beach café wearing our wedding apparel (or second wedding dress) It had the potential to be cancelled and potential to go wrong so when we landed through the surf, and walked under an arch of paddles successfully, we were both ecstatic!
Advice to other couples
I don't know. We just planned and planned up to the day, then delegated, then just enjoyed it. We were flexible and knew aspects could go wrong, but at that point, it didn't matter. The day would still happen and we would still be married by the end of it.
Biggest surprise
Simon's biggest surprise of the day was seeing his best men stand up and sing their speech. It was hilarious, unique and utterly memorable. My biggest surprise was seeing our plain village hall transformed into a pretty tea party. I had collected and made the decorations but left the actual decorating to Simon and his best men and our neighbour Louise. Oh Oh… can I have another one, We were both really surprised by all the music, we had booked an Irish trad band for the tea party and a rock band for the evening – both of which were awesome. But the surprises came from our friends who preformed during the signing of the register and from the best men singing their speech.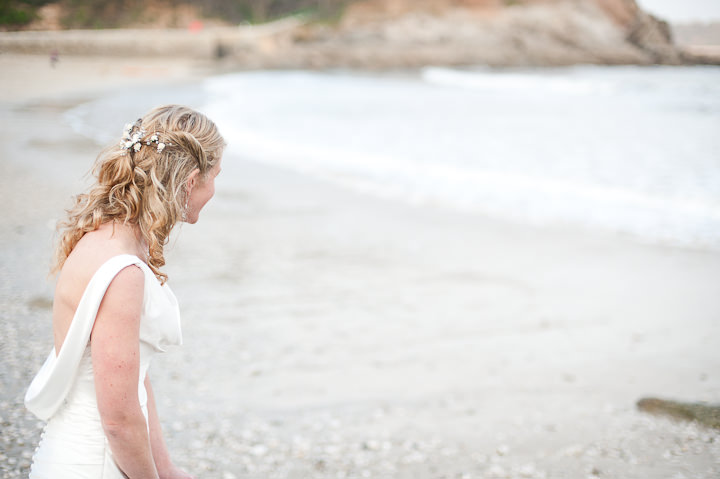 Supplier Shout Outs
For more information on Katrina's work please go to:
www.capturedbykatrina.co.uk
FACEBOOK
TWITTER
[email protected]
07973 249858