We are half way through the week already, where is the time going? I hope it is turning out to be a good week for you, all is good here at Boho HQ! Today I am whisking you off to Prague for the wedding of Jessica and Philip. When they met Jessica and Philip lived in the UK and the states, when they decided to live together they decided that Prague was the place to do it, so what better place to hold their wedding. They took on a 'no fuss' approach with their planning and focused on the important parts, bringing friends and family together to share their love. With a loose black and white theme they held a gorgeous outdoor ceremony and then held a great party with wonderful food and lots of dancing! Thanks to Jacqui McSweeney Photography for the lovely images.
'Absolutely Perfect'
Jessica and Philip were married on July 12, 2014 at Cerny Kohout in Prague, Czech Republic. 'It's much cheaper to put on a wedding in the Czech Republic than in either the States or the U.K, and as this is where Phil and I actually live, it made it a lot easier to plan from here. Also, I thought quite a few of the guests would enjoy the trip and seeing Prague. We had about 90 guests and it took about 10 months to plan.'
How they met
Phil and I met playing an on-line medieval war game, actually. We were in the same "alliance," and though he was in England and I was in California, we started dating (digitally) a few months after we met in the game. It was clear early on that we were both serious. We met in person a year later (2012) in England and made plans that summer to move to be together the next year. Because I have family here in Prague, we decided this would be a good spot to start our life together. We moved to Prague in July 2013 and he proposed a month later.
The Proposal
Our agreement was to live together for at least 6 months before getting engaged, but we bought the engagement ring together in Brighton before we even moved to Prague. Once we were here, my father came to visit and Phil thought it would be nice for my Dad to see me get engaged, so he proposed at our housewarming in front of about half of my family! I was very happy to say yes and to get the ball rolling earlier than we'd said.
How did you allocate your budget
The most important part of the wedding to us was venue/food/drink. I hate weddings where you get kicked out at 10! I wanted a pleasant location where we could stay as long as we wanted, and which had good and affordable food and drink. We spent relatively little on all the rest.
How did you choose your photographer
I am lucky enough to be friends with the wedding photographer Jacqui McSweeney and was delighted she was able to come out to Prague to shoot the wedding for us. I could not be happier with the results. She was SO easy to work with and had so many great ideas. She even did a second shoot with us two days later, hitting a few key Mala Strana (Lesser Town) scenic spots. Jacqui is amazing!
The Dress
I had my dress made by a local seamstress, Jana Doubnerova. I showed Jana what I was looking for– something a bit 50s in style– and she helped me tweak the design. We went fabric shopping together and I picked out the lace, but she took care of everything else. She also made Phil's vest. She was lovely to work with, and she always cooked something for when I came over for my fittings. I made the pin I wore from a clasp I found at a local sewing shop and glued together. In my hair I wore a barrette I've had for ages and no other jewelry.
I had three pairs of shoes for the wedding. The red ones were from David's Bridal. I also had a second pair of heels– black and white striped with a red bow. (Those appealed to my inner Beetlejuice goth and went with the striped theme.) The third were a simple pair of flats I predicted I'd want for the dancing. And I was right!
The Suit and Bridesmaids
My seamstress made Phil's vest. We bought his shoes, trousers, shirt and hat at local stores.
It's not traditional in Czech weddings to have bridesmaids, so I just had my sister-in-law (and friend) as my witness. She chose her own dress, and went with a 50s style to go with mine a bit. My flowergirls and the ring bearer wore their own outfits.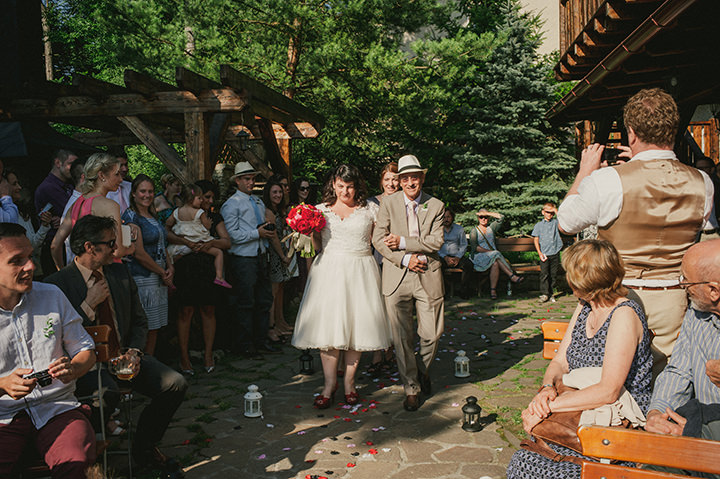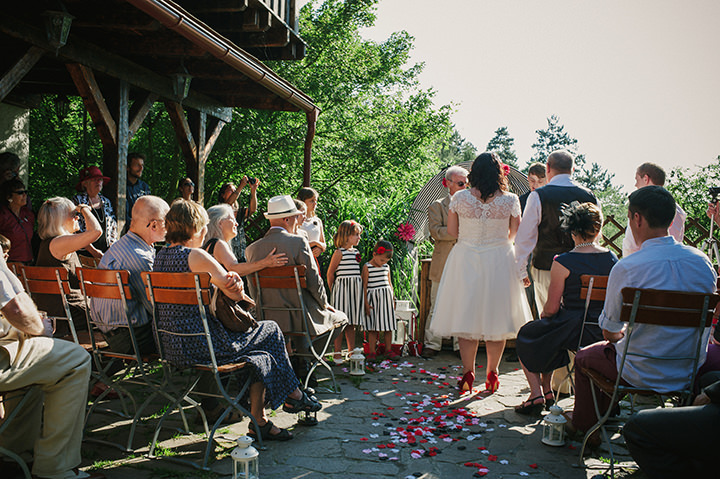 Theme or Colour Scheme
We didn't focus much on a color scheme, but we did try and incorporate black and white stripes and red or pink accents in small ways. They appeared on our invitations, the ribbon on my bouquet, on the candle holders, my parasol, straws, and various other small things.
Flowers
We didn't do flowers other than my bouquet and the boutonnieres for Phil and his son, who was his witness. They came from a small shop in Prague. I adored my bouquet. It was exactly what I dreamed of. I added a small charm with a picture of my mother, who passed away 14 years ago.
Decoration
Our decorating was minimal because Phil and I loved the look of the venue as is. We did buy some black and white lanterns to create our aisle, as well as black and white striped fabric for our arch. We added large pink and white flowers to that for the overall look. I DIYd some simple glass jars with leftover ribbon from my bouquet and fabric flowers. That was about it!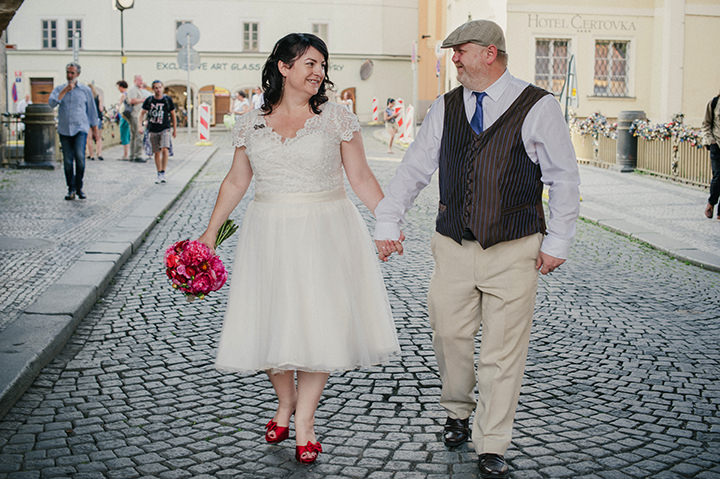 Food
The restaurant catered everything and the food was amazing!
It was buffet. First there were cold meats, roast beef, chicken, cheese and fruit. The mains: chicken with herbs, smoked pork leg (which they roasted outside at the venue), Bavarian sausages, baked potatoes and grilled veggies. Later that evening they brought out a goulash soup.
Wedding Cake
The cake was made by my cousin Rachel. We bought the cake topper from Affectionately Yours Wedding & Gift Boutique and my cousin created a cake castle for it. It was chocolate with a sort of chocolate ganache.
Entertainment
We used a laptop and had different playlists for different parts of the day: arrivals, ceremony, pictures, dinner, and dancing. In the end, one of my brothers, who used to work as a DJ, took charge of the playlist during the dancing. The music was a hit!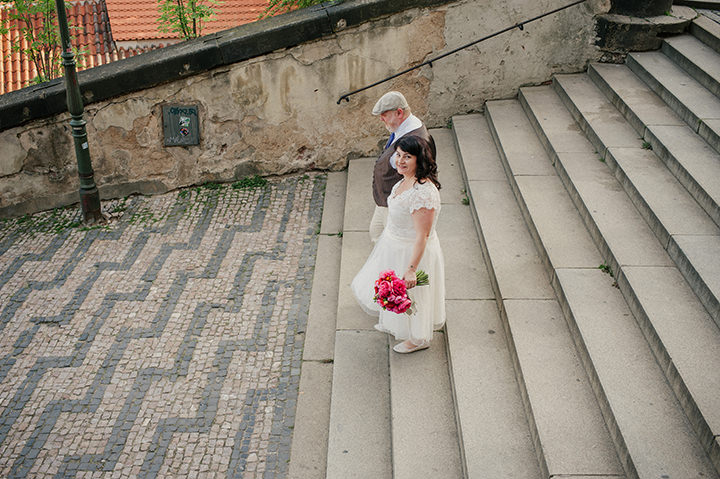 Buy or DIY your Stationery
My sister-in-law is a graphic designer and created gorgeous bespoke letterpress invitations for us. Our thank yous were made by Phil's mother, who is quite an avid and talented card hobbyist.
Personal or Handmade Touches
We did quite a few things DIY: our wedding website, our ring box, the decorations, our card birdcage, envelopes for the wishes, and I did my hair myself (mistake!). Luckily a friend did my makeup.
Special Moments
Being with so many people we love in the same place! I wish it could have gone on for a week!
Advice to other couples
In terms of planning, my advice is to keep it simple. Focus on your priorities and don't try to make everything over-the-top original/magical/wowza. People just want to see you and celebrate with you; they won't remember uplighting or chair covers.
My advice for the day is the same as that which everyone gave me: make sure to savor the day! There will be so much going on, and so many people you really care about around you that it can be a bit overwhelming. Make sure to slow down and look around you every once in awhile. (Also, don't do your own hair unless you really know what you're doing.)
Biggest surprise
I have to say the perfect weather! It had been raining off and on all week leading up to it, and as I walked down the road to our venue on the morning of the day, there was nothing ahead of me but blue sky.
Supplier Shout Outs
For more information on Jacqui's work please go to:
www.jmcsweeneyphotography.co.uk
[email protected]
FACEBOOK
TWITTER