Both Kelly and I are HUGE fans of Tipi's, there is nothing more unique than a Tipi as your ceremony or reception venue, It's such a great talking point and makes for the most beautiful pictures. Today I would like to introduce you to Big Chief Tipi's, A family run business who bring with them years of event experience.
The best thing about Tipi's is that they are a blank canvas so you can style them in any way you like, they look amazing with huge or minimal details. Big Chief Tipis have an amazing selection of Tipis that are perfect for any size wedding or event. I absolutely love the idea of the Baby Tipi that Big Chief provide, you could kit it out to make a fantastic chill out area. I hope you love Big Chief Tipi's as much as we do here at Boho, they would be the perfect tipi solution to any wedding or event.
'At the heart of Big Chief Tipis are a father, son and daughter team who have a passion for perfection and putting on memorable events.
Gary, aka Big Chief, has over 30 years of experience within the outdoor shelter industry and is the brains behind our custom-made Accessories and special weather kits – so whatever the weather, or questions you may have, we will have the answer. Hayley, on the other hand, has worked within the Events industry for the past 10 years and has the planning skills and dream contacts to ensure you have the time of your life at your party! Hadley is our Onsite Chief who turns your dreams into reality and makes sure your event runs smoothly and without a hitch. The three of them, alongside the rest of the team have all bases covered, so that rain, snow, wind or shine your event is one to remember for all the right reasons.'
We asked Hayley from Big Chief Tipi's to tell us more about these amazing Tipi's
About Hayley
I'm 29, from Lancashire, living in the centre of Manchester and have worked in the events industry for over 10 years. I can safely say that I was born to do what I do now and I love it! I'm a complete workaholic and perfectionist, with an addiction to the finer things in life and I love making time for those who I love and travelling round the globe to get inspiration! On the side of Big Chief Tipis, I run (with two other ladies) my own networking company for Manchester based PA's – called the Manchester PA Network and we have over 480 members! I'm also a keen fundraiser for The Christie Cancer Charity and love raising money for them – to date I've raised over £42,000 for the charity thanks to our PA events and sporting challenges. And on that note, I'm starting to get really into my challenges – last October I climbed Mount Kilimanjaro, and this year I'm doing the London Marathon in April and then cycling from Vietnam to Cambodia in November. My friends say I'm crazy and I'm starting to believe them!
What made you start your business
My family have been manufacturing outdoor structures for the events and motorsports industries for over 30 years now. A few years ago, we started building tipis for the tipi hire industry (our big brother brand is The Tipi Company and has recently been awarded the Made In Britain marque) and organically we've built a base of hire customers that we've worked with on some amazing events with. 2014 was a very exciting year for us as we officially launched the brand 'Big Chief Tipis' to the public to a great response – within two months we had 20 weddings booked for this year which is testament to our great customer service, attention to detail and professionalism. We pride ourselves on knowing the 'technical stuff' behind the scenes better than anyone else, so there is no problem / issue we can't find a solution for! We are also a family run firm, with its roots firmly in the UK, but we don't' say no to an event abroad as we love working with new and exciting venues (and we like getting a sun tan!)
Where are you based
We are based in Manchester
What sort of geographical area do you cover
We primarily focus on Lancashire and Cheshire, however we work with a number of clients based throughout the UK and Europe, such as James Martin the celebrity chef!
What were you doing before you started the business
have a degree in Marketing from the University of Leeds. Once I graduated I worked for a London based luxury lingerie company in the PR & Events team, organizing their product launches, film and photoshoots, press nights and magazine editor burlesque evenings. I then went onto working for a big magazine house as a journalist but felt a little like a caged bird stuck behind my desk all day and I wanted to move back to the sunny North! I went onto working for the Radisson Edwardian Hotel chain in Sales & Events before my most recent role which was setting up and running the Sales & Events office for Caesars UK Manchester. My next step was to 'go central' and set up the Events Office in London for the whole Caesars UK chain, but with all the blood, sweat, tears and long hours, the penny finally dropped and I realized I'd rather work for myself if I'm going to do that! Since leaving, I've never look back!
How would you describe your style
Excitable, helpful, passionate and professional.
What is your biggest achievement so far
Working together with James Martin the celebrity chef to create a unique space for a high-profile event he hosted at his home in the South of England – his guests, who were all highly successful business owners and company directors, were all blown away with our Big Chief tipi. Another highlight this year will be providing tipis for the 'We Are FSTVL' festival in May for the artists, press and VIP areas – we can't wait!
What makes you different to your competitors
Organizing an outdoor wedding / event is a big task – there is no denying it. It's not the 'standard' option as far as a white walled square hotel room goes as comparison and it takes passion and excitement to make it happen. The biggest fear with anyone organizing an outdoor event is the 'what if' factor. With our background and brother company being the manufacturer of tipis for the hire industry, we know all the answers to the 'what ifs' and 99% of the time, we can find a remedy to ensure we can make your dreams into reality.
What do you enjoy most about your job
Our customers and my team! We have the benefit of working with the most lovely people out there. 80% of our bookings are weddings and all of my brides have been so fantastic, its been a joy to work with them to create their dream day! Our team of 'Little Chiefs' is growing all the time and they share my enthusiasm for the brand which is great to see!
What kind of couple do you attract
Those who want to do something different, be unique and throw the best party of their lives. I know I'm biased but I can honestly say a party in a tipi is a truly magical experience and it leaves all guests wow'd when they leave. You can really go to town with the decoration or you can keep it simple – the beauty of the tipis lit up with fairy lights is stunning enough!
What would be the Ideal wedding to work on
I'd love to work on an irish celebrity's wedding such as Colin Farrell or Gerard Butler – I think they'd really show us how to party in a tipi!
What is your ideal way to spend a day off
At the moment I'm training for the London Marathon so I have really got into my outdoor running – it gives me a great time-out from the world where I can reflect on what has happened that day and organize myself for the day ahead. So on my ideal day off, I'd go for a nice run, followed by a walk in the countryside in my wellies with my dogs (crazy Westie & Labradors!) and I'd finish it off with a big Sunday roast with my family or friends.
If you were not running your business, what would you be doing
I would be working in London setting up the central Events office for Caesars UK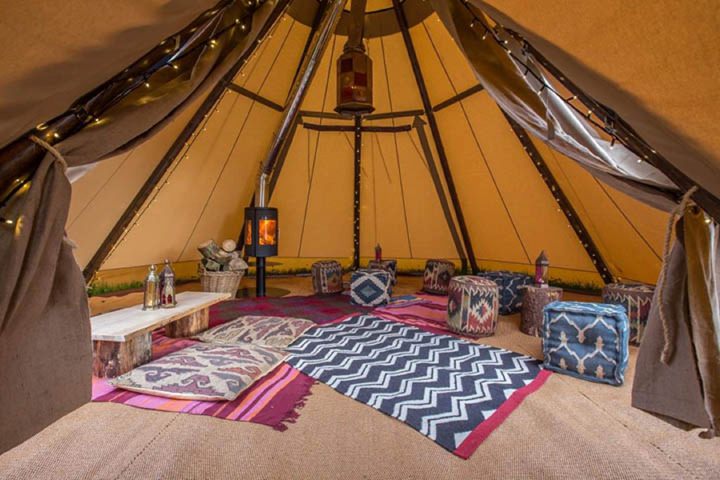 What can you never leave the house without
I've learnt to embrace the British weather, so I never leave the house without an umbrella! But I also always have my notepad & pen, a large bottle of water and some Elizabeth Arden 8 hour cream too.
What would you do if you won the lottery
Spend it wisely with a few Chanel handbags and diamonds thrown in there for good measure!
Your 5 Dream Dinner Guests
Marilyn Monroe, Robin Williams, Gerard Butler, Prince Harry and Heidi Klum
Pricing structure
All of our quotes start on how many people you are planning your wedding for. Up to 120 people is 2 tipis, 120-150 is 3 tipis, 150-250 is 4 tipis and up to 320 people is 5 tipis. We start with the number of tipis and then you can add what you like from our Accessories brochure. A must for any event in a tipi is the fairy lights to all the poles – daytime it looks stunning, while during the evening the tipis are transformed.
New Products
We are excited to have had manufactured a smaller tipi to add to our range called the 'Baby Tipi'. This is only 7m in diameter and can be added onto a main configuration, along a covered walkway, or it can standalone – its perfect for the use of a chillout space or childrens play area and we can put in a toasty log burning stove or Moroccan themed furniture to make it really cosy. Unlike our competitors, we have also had manufactured a Rain Kit which ensures the use of the tipis in colder / wetter weather, as you enter via an enclosed walkway with hand-crafted wooden doors and protector panels.
For more information on Big Chief Tipi's please go to
www.bigchieftipis.com
www.bigchieftipis.com/blog
[email protected]
FACEBOOK
TWITTER
01204 544 906