I have an oh so pretty wedding for you today which has been sent into me by Jacqui McSweeney. The bride describes her theme as 'Rustic pretty' and it is full of baby blue and pink details, as well as a few sparkles, all mixed in with this fantastic barn location that give it it's rustic edge. The decoration is all gorgeous and all the little details are just lovely, the bride and her family really went to town on making this rustic barn look as pretty and wedding like as possible. I am loving the blue theme that runs through it, from the amazing wedding car, to the grooms suit, to the bridesmaids, even the shoes and socks! And what a stunning couple! Just gorgeous.
'The best day ever, absolutely brilliant fun. Anything that went wrong could not stop the day from being perfect and filled with love and laughter'
Carly and James were married on 4th May at St Thomas of Canterbury Church, Mayfield East Sussex and The Great Barn in Rolvenden, Kent. 'We knew straight away that we wanted a barn wedding not too far from London and after seeing quite a few we fell in love with the location and character of the Great Barn. The church is in the village where James grew up and his mum still attends there every Sunday. There was a 45 minute drive between the two so we figured it was just about close enough to do both. We had 100 guests and it took a year and a half to plan'
How they met
We met through friends and have been together for 5 and a half years.
The proposal
James organised a surprise weekend away in Windsor, we stayed in a gorgeous hotel overlooking the castle. In the evening we went for dinner with all the romantic clichés (overlooking the river, sunset, violin music), James got down on one knee and started giggling and that was it. We spent the rest of the night trying and struggling to get phone signal to tell our parents.

Why did you choose your photographer?
I read so many magazines and blogs and kept narrowing down shortlists from images I liked. I must have contacted several dozen photographers but Jacqui was the first and only that we met. We loved that her images were colourful and relaxed as we didn't want anything too formal. Talking to her about wedding bugbears we realised she was on our wavelength and we could trust her to capture our day exactly as we wanted.
The dress
My dress was bought at Pronovias on Bond Street. My hairband was by Jenny Packham, bolero from Etsy, veil from eBay, shoes from Kurt Geiger and jewellery was a gift from my lovely mum.
The suit and bridesmaids
James wore a 3 piece blue suit from Reiss. He looked amazing! He accessorised it with a personalised vintage pocketwatch, Hugo Boss tie, Pied a Terre boots and very jazzy socks. The bridesmaids all looked absolutely stunning. They wore light blue prom dresses from Debenhams which we had tailored to fit them, with silver shoes which I customised with blue bows to match the dresses and freshwater pearl bracelets that I gave them as a thank you gift.
Theme or colour scheme
The theme was rustic pretty with a bit of sparkle in keeping with the venue and hopefully reflected us as a couple. The colours were baby blue, baby pink and white (this was stuck to religiously including the car and sweetie buffet!!)
Flowers 
All my favourites! Pink peonies, blue hydrangea, sweet avalanche roses, white lisianthus and lots and lots of gypsophila. We had lots of compliments about the flowers, they were stunning.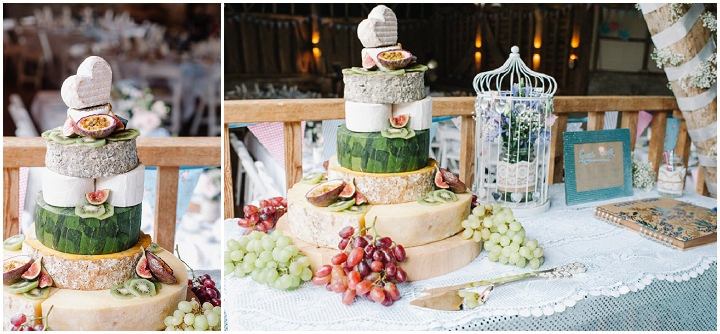 Food
We had canapes followed by a posh barbeque with 4 types of meat and salad. The food was delicious and served grazing style so they just kept bringing out more and more, followed by amazing profiteroles. We also made bags of pretzels for the bus between the venues and a cheese buffet, popcorn and candyfloss in the evening. There was no danger of anyone getting hungry at our wedding! We hoped this might soak up some of the booze but that didn't really work!
Entertainment
We had garden games, table football and a photobooth in the evening. We also had a fantastic band called the Rockpins. They even offered to learn a song for us and probably weren't expecting us to request Girls Aloud but they did a brilliant version.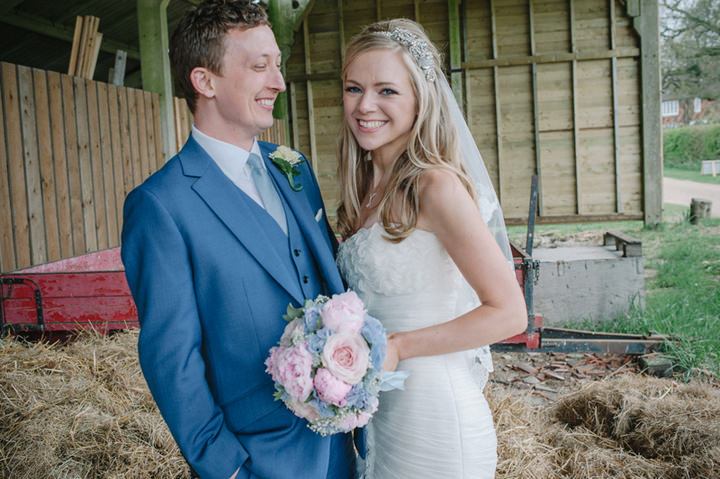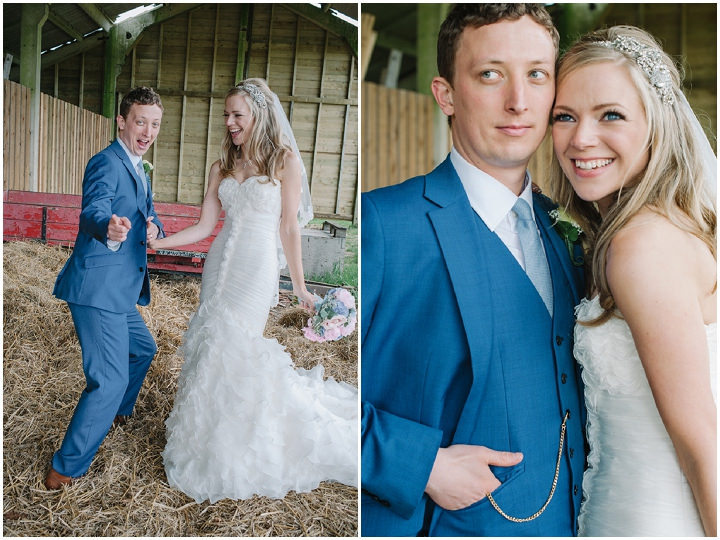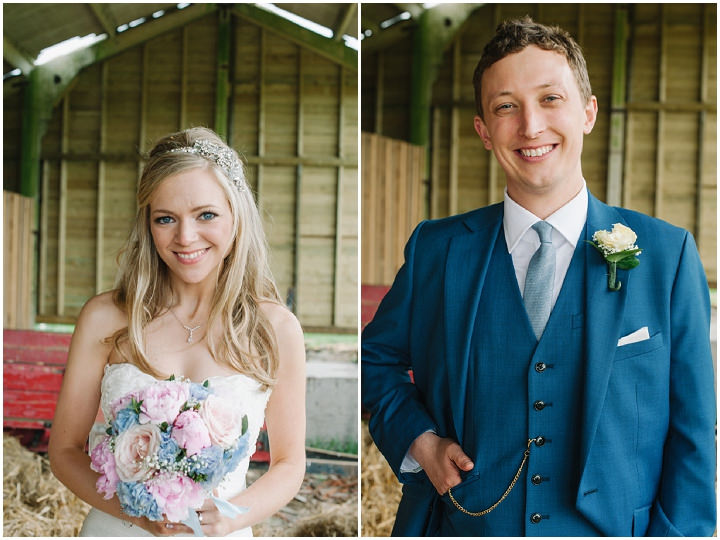 Personal /DIY touches / Decoration
• We made over 100 tissue paper pompoms
• 150 meters of bunting
• Striped and polka dot table runners
• fairy lights everywhere
• Centrepieces made from various containers collected over the past year
• A sweetie buffet displayed in a vintage dresser.
• I designed and made the invites myself, they took forever and the final version involved components sourced from 12 different suppliers!
• We invented a cocktail for the reception drinks called "Golden Delicious" which was made using apple juice from the orchard at the Great Barn.
• The favours were a real labour of love, we gave our guests homemade sloe gin and decanted into individual bottles, their name tags were made from salt dough and attached to the favours.
• We also had cigars for the guys and flip flops for the girls for party time.
• We made our table plan out of a vintage suitcase
• Made lots of little signs dotted about.
• We should also give a big shout out to the bridesmaids for their help with the bunting as it was an epic task!
(We're now looking to hire out some of the decorations that we bought and made)
Special moments
So many highlights throughout the day! Walking down the aisle and seeing everyone we know there. The comedy of my garter flying off as I sat down at the front of the church. James crying as he said his vows. The journey from the church to the barn in our amazing Cadillac. Doing our "entrance" before dinner to whoops and cheers from everyone. Best man Dave discovering a comic timing ability none of us knew he possessed. Having an impromptu last dance as everyone gathered around us in a circle and the confetti machine finally went off which we hired for the first dance but didn't work.
Biggest surprise
James' dad drove over to the hotel where I was getting ready to deliver a gift of a necklace from James. It also rained just as I was leaving to go to the church but we had a gorgeous sunset – it just shows no matter how meticulously you plan you can't possibly control everything.
Advice
• Everything takes longer than you think – making bunting is fun for about an hour!
• Don't worry if you don't have time to finish things as nobody notices details that aren't there except for you.
• On the day all that you will notice is the love that you feel for your new husband and family and friends that are there to share the special day with you.
• Remember that everyone will have an opinion on what you should and shouldn't do – it's just because people want to be involved.
• Pick a couple of aspects of the day that are important to you and splurge on them and save money elsewhere.
• Oh, and give your bridesmaids a hard deadline to be ready by – we were 20 minutes late to the church!!
Supplier Shout Outs
For more information on Jacqui's work go to:
www.jmcsweeneyphotography.co.uk
www.jmcsweeneyphotography.co.uk/blog
[email protected]
FACEBOOK
@jacquimacphoto