Many of you will know Jon form S6 Photography, he is the one who did 'that' wet weather wedding that went viral last year. He has also appeared on the blog on numerous occasions over the past 5 years. On a personal level I have worked with Jon on many weddings over the years within my role as a wedding planner, we even went to Ibiza to work on a wedding together. He is the supplier I met first when starting up in business and he has photographed me on a number of occasions. He took my trash the dress photos, my maternity shoot and he took Dexters new born photos. If I could go back in time I would have booked him for my wedding! (Are you getting the message that I think Jon is a photography genius yet!?!)
What you may not know about Jon is that he also carries out photography workshops, and you know what he's even bloody brilliant at doing that!
(photo by www.oacphotography.com)
About The workshop:

 
The remaining 2015 workshops are sold out, so the next one you can book onto is January  2016. This January Jon was joined by the awesome Willinghams who also took part of the workshop (as well as modeling.) They will also be back over next January for the one. Details will be announced in the summer but you can pre-register for details by emailing [email protected].
The 12hr workshop is priced at £400 and takes place in Sheffield in Jon's studio in the middle of the Yorkshire countryside. The last one sold out in just 1 day, so you need to get in quickly! The workshop covers all areas of wedding photography, from everything to do with running a photography business to posing, as well as working with light and processing. Food and drink is included throughout the day.
(Photo by: TopLeft / Top Right / Bottom left / Bottom Right)
My Experience of the workshop
The last workshop was a few weeks ago in January. Jon asked if Nik and I would come and Model (again I use the term loosely) and while I was there if I could give a little talk on blogging and the best way to work with bloggers and get your work featured. Never one to be shy away from the camera I jumped at the chance and Nik and I had a ball.
The weather was kind to us (well the photographs not Nik and I) as we had sunshine mixed with a very cold and windy snow flurry during the shoot, it was freezing but the results of the photos are totally worth it.
I thought it would be interesting to show you a few of the photos that were taken that day, to show you how different photographers can interpret the same subject matter. There were three shoots that day. Charis and Owen Warrell, The Willinghams and myself and Nik.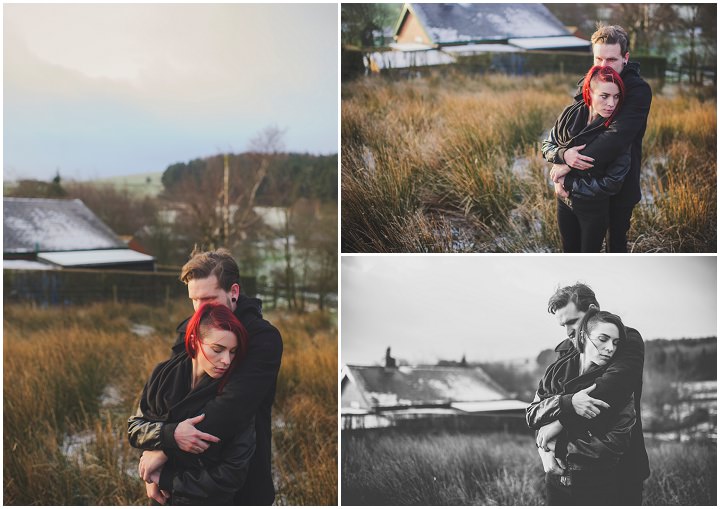 For more infomation on S6 Photography go to
www.s6photography.co.uk
www.s6photography.co.uk/blog
FACEBOOK
@s6photography