My goal in 2016 is to bring you an abundance of amazing real weddings. I started off with a corka yesterday and I have another beauty for you today from Penny and Cam at Mckinley-Rodgers Photography. Jo and Jon wanted a laid back wedding, one that would last all weekend, full of music, good food and where their friends and family would feel totally relaxed. They achieved this to perfection by hiring The Clophill Centre and created their own woodland wedding with outdoor games, an open mic and lots of camping. They held a beautiful humanist ceremony and then danced into the early hours. A wonderful celebration of love I'm sure you will agree.
'Our wedding was a wonderful weekend of love and laughter in the beautiful fields of a fruit farm. We built it with our friends and they filled it with celebrating, singing, dancing and camping'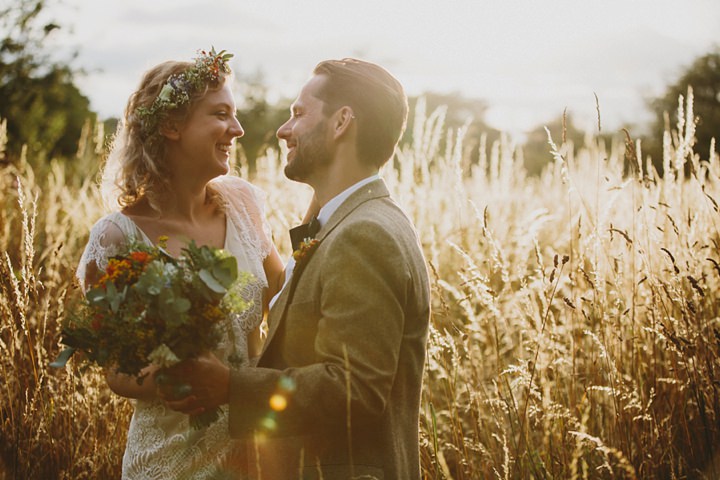 Joanna and Jonathan were married on 25th July 2015. 'We had a Humanist ceremony in a clearing in the woodland of an old fruit farm at The Clophill Centre, Clophill, Bedfordshire. After the ceremony we walked through the woodland to the reception in the meadow. We ate and danced in a marquee with a campfire outside. We camped in bell tents in the camping field for the whole weekend. Soon after we met we talked about what would be each of our perfect weddings and we both agreed that it would be an outdoor ceremony and a picnic. After we got engaged we saw over fifty farms, village halls, hotels and wedding venues and this was the only place that ticked all the boxes and had the atmosphere we had been looking for. There was also lots of space for our guests to camp which was an absolute must for us. It was really important to us not to be restricted with how many people we could invite as we wanted to include everyone who has been important to us over the course of our lives. The grand total came to 150 adults and 28 children! We were engaged for 18 months. We started looking for somewhere to get married soon after and this took about 6 months. So we spent about a year planning the wedding once we fell in love with Clophill.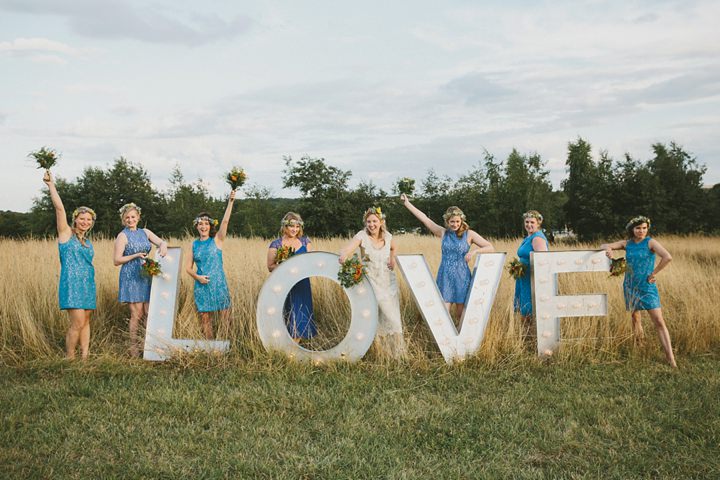 How they met
We met in Pizza Express! Jon was a waiter there and he served Jo her pizza along with a hefty dose of flirting and dry wit. Jo left her number and they met up later that night and went dancing. That was nearly four years and many pizzas ago
The Proposal
Jon planned the proposal under the guise of his own birthday plans. We went to The Reliance bar for a birthday breakfast and then Jon totally surprised Jo by producing a ring and getting down on one knee. Jonathan had chosen the antique ring with a friend while Jo was asleep after a night shift. For the rest of the day we floated around Leeds visiting lots of our favourite places and had a lovely day. That weekend, as an extra celebration Jon had also planned a birthday gig which actually was a surprise engagement party, bringing lots of our friends from all over the country. It was such a thoughtful way to start the journey of our engagement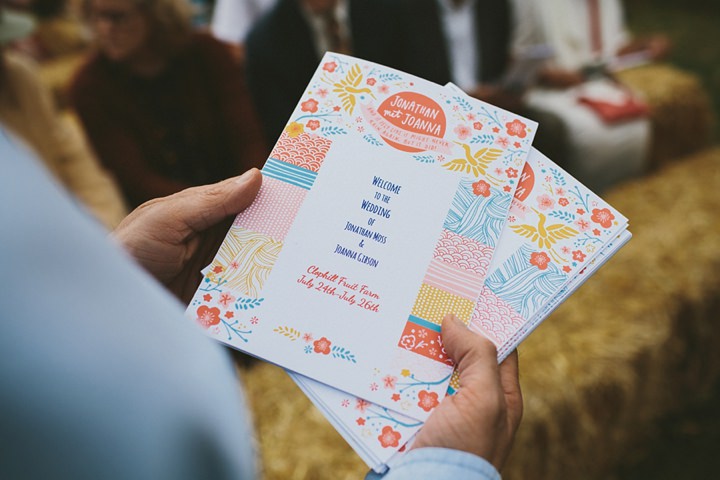 How did you allocate your budget
We discussed which aspects of the wedding were most important to us and then allocated money appropriately. The farm is rarely used for weddings therefore we needed to add in quite a lot of infrastructure which took some planning and budget allocation. Being in charge or everything was great but we also really didn't want this to affect the wedding day so asking Sama from Utterly Wow to be an 'On the day co-ordinator' was an easy decision; she was brilliant and it worked really well
Where did you splurge and where did you save
From the beginning we knew our main splurges would be the photography and the marquee. Photography is really important to us as we knew the actual day would be so busy and we really wanted to remember everything with photos that were true to the atmosphere of the day. The marquee was also important as it was to be our only indoor space on the farm which could accommodate our guests in case the English weather let us down on the day. We tried to choose local, independent companies as much as possible. We were also very lucky to have very generous friends and family who helped us out so much before and on the day. There was such a community feel and it felt like such an accomplishment when the guests started to arrive on the Friday afternoon.
As a wedding gift, a good family friend who is also a caterer provided salads for the paella and some of her serving staff to help. This was invaluable as we had totally underestimated the importance of this as the guest list increased in size. She also made our amazing cake which was served alongside the cakes and desserts which our guests brought. Another friend made food for the evening buffet to go alongside the huge cheeseboard. We are lucky to have lots of musical friends who played in an open mic session after dinner before the band played, who are also our friends.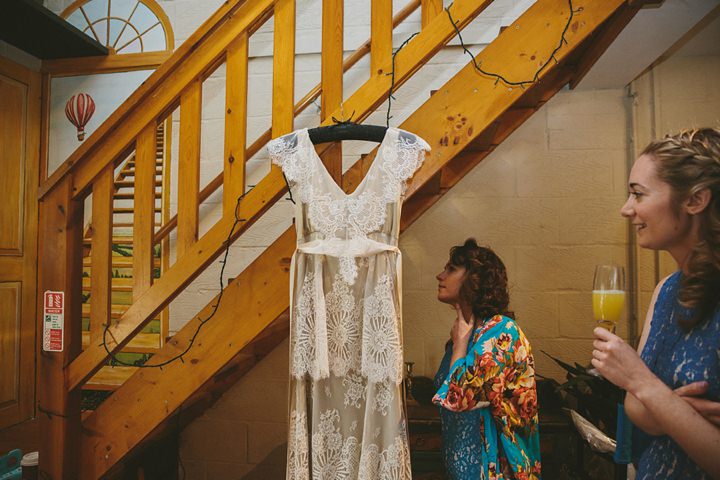 How did you choose your photographer
We were drawn to McKinley Rodgers immediately after seeing some of their photographs on a wedding blog as their style of photography was perfect for us. They make wedding videos alongside their photographs which are so heartfelt and seemed to fit in perfectly with our wedding. They are a husband and wife team and are two of the most wonderful people we have ever met. We had a "Beloved" shoot on the beach in Newquay before the wedding. This gave us a chance to meet Pen and Cam, hang out on the beach with them and have some lovely relaxed photos taken
The Dress
My dress was made by Kate Beaumont. We adapted one of her capsule collection dresses called Wild Lupin just for me! I saw Kate's dresses online very soon after getting engaged on a friend's recommendation, but at that point I still thought I would be able to buy my perfect dress on the high street. I wanted a pretty but comfortable dress which would not get in the way on the day, which I could wear outside and that I could dance in. I loved Kate from our first meeting in her attic studio in Sheffield and didn't hesitate in finally choosing her to make my dress.
Working with Kate to adapt the design to work for me was so much fun I am thrilled with my dress and loved wearing it on the day, I really didn't want to take it off at the end! Kate ordered me a veil from Helen Martin which I wore with my flower crown. I wore some gold sandals which I had already, changing into my white Converse for dancing later on in the night.
Katie Dear did my hair and make-up and the bridesmaids hair. Katie was amazing and gave me the natural look I wanted.
The Suit and Bridesmaids
Jon wanted a vintage look, so did a lot of searching on eBay and found an old Yves San Laurent suit which he then had tailored to fit.
We didn't really have any fixed ideas about what our "teams" should wear, but we wanted them to be comfortable in something they could wear again. It made sense to use the colours from the invitation and the girls chose different blue dresses from the high street on a group shopping trip. Jon didn't want a uniform look for his team, preferring instead for them to express themselves as they wished, so he gave them vintage bowties as a gift for them to wear with their outfits.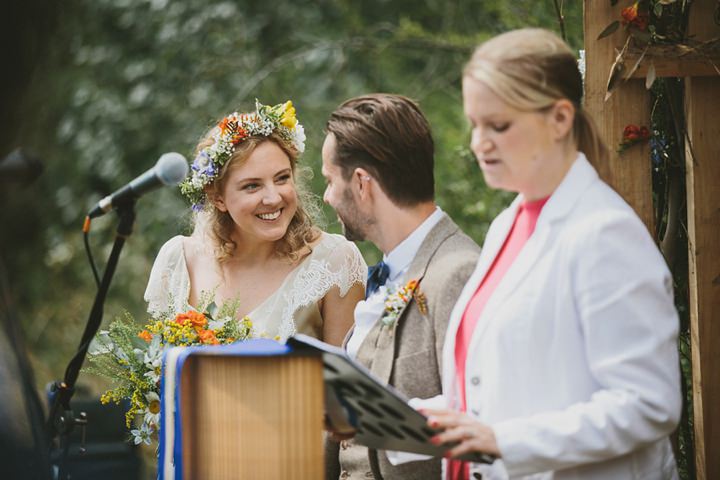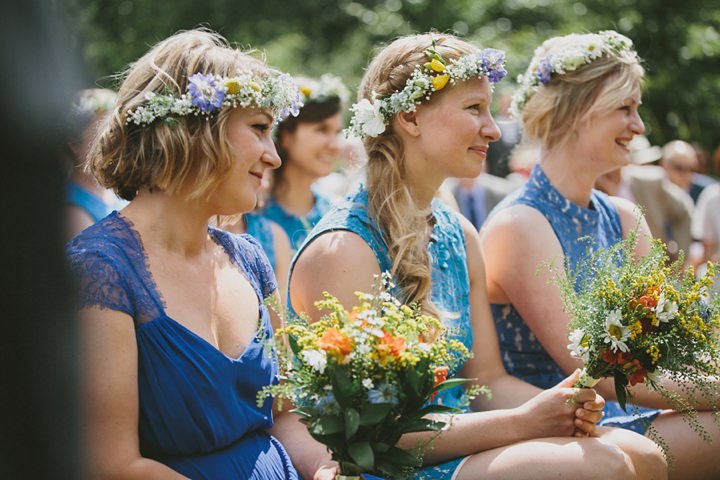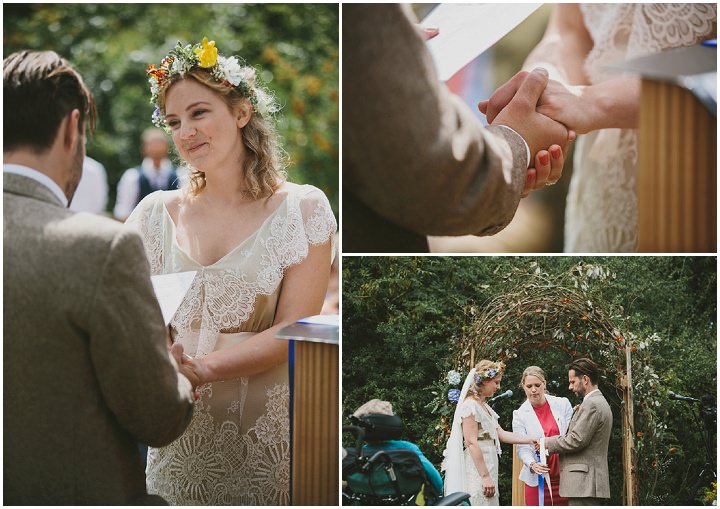 Theme or Colour Scheme
We wanted bright colours which complemented the outdoors so searched on wedding blogs and Pinterest for ideas. Jo worked in Japan when she was younger so we thought it would be fun to start there for our inspiration. We also loved the bright 70's prints, especially prints of birds and flowers. I remember giving our friend Char the phrase "Japanese 70's folk" to help explain how we would like our invitations to look and she designed them from there.
Flowers
We loved the idea of having an abundance of flowers to complement the woodland surroundings. To do this we asked The Basement Florist to create the flower crowns and buttonholes and the rest came together with a lot of help from our friends. The day before the wedding we attended a local wholesale flower market to buy our flowers. Loosely following the colours in our invitations, we chose seasonal flowers which also worked with the flowers which our florist has suggested. Our friend John who used to be a florist led a bit of a workshop with the bridesmaids who had never arranged flowers before!
Decoration
In the marquee we continued the "70's Japanese folk" style which incorporated the bright colours of the invitation. For the celling decorations we hung handmade tissue paper fans as garlands and suspended tissue paper honeycomb balls. On the tables we used cut logs to put the jars of flowers and blackboard table names on. We used our favourite albums with one word titles as our table names.
The table plan and campsite map were made from pinning luggage tags and paper fans to a hessian board. Using wood from the farm we built and painted the signs to help guide people around the different areas of the farm. We hung festoon lighting from trees around the edges of the field. We also had large 'LOVE' letters that stood in the long grass. We hired deckchairs and blankets to relax on, along with large wooden games to play outside.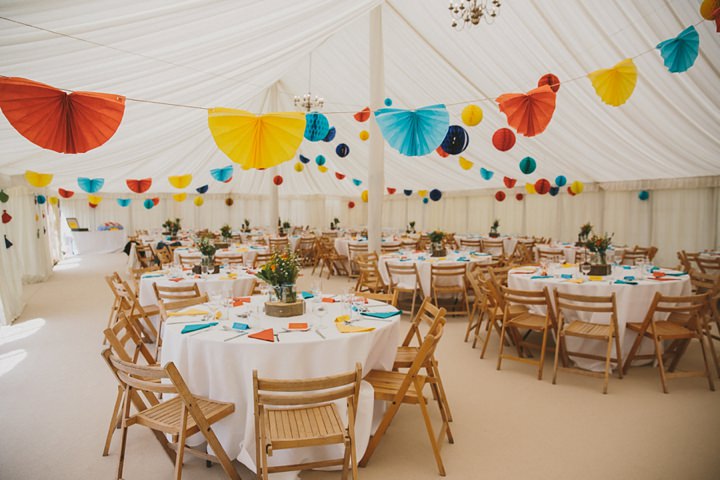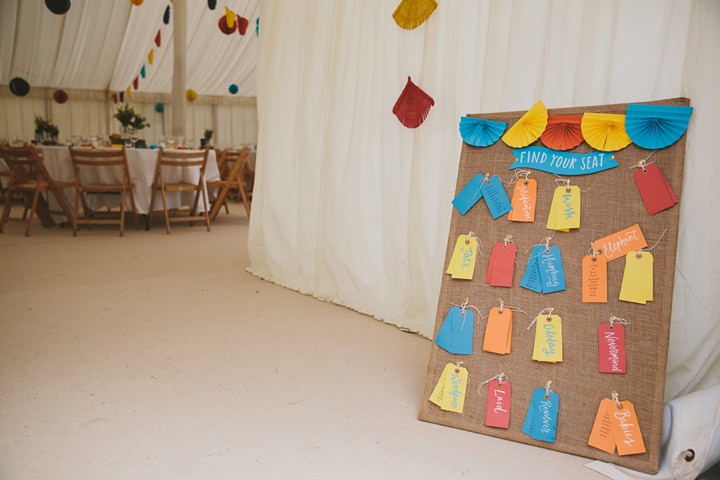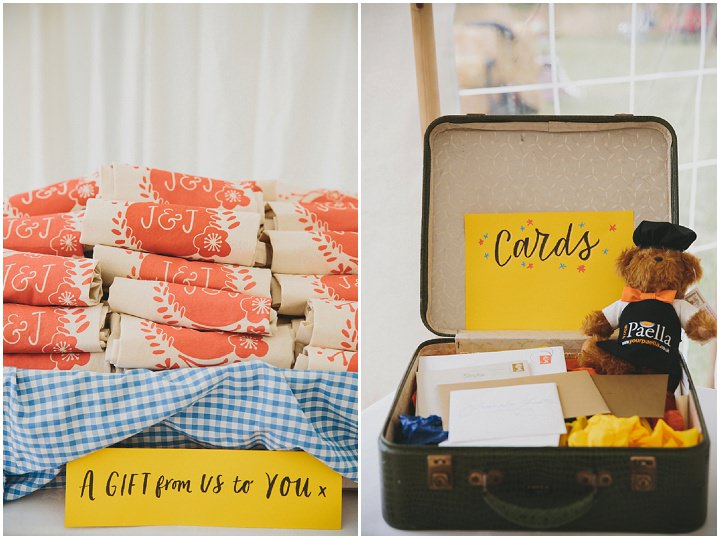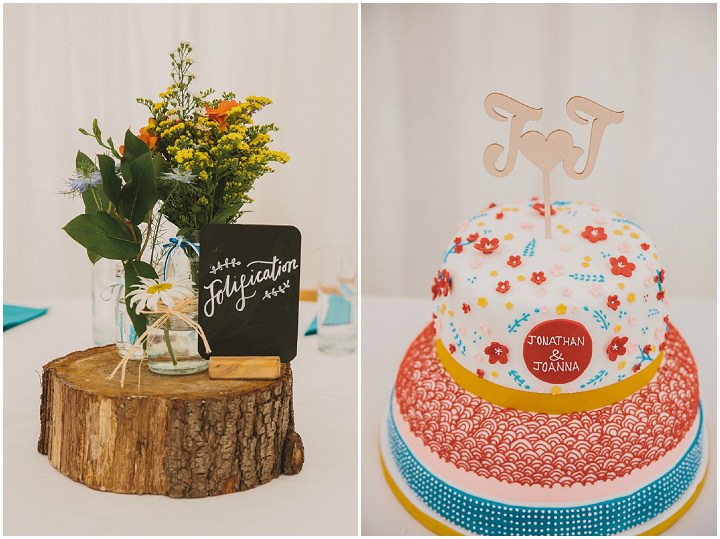 Food
We wanted something fresh, simple and informal for our wedding breakfast. We were attracted to the large pans of brightly coloured paella and loved the idea of tapas style canapes so it was an easy choice really. Our family friend Cathy and her team provided olives, salads and bread to have on each table to accompany the paella
Wedding Cake
We had already planned to ask our friends and family to bring a cake or pudding for our dessert but then our family friend Cathy came up trumps again offered to make one for us, so we had the best of both worlds! Our friends made some amazing desserts too and it all worked well together after the paella
Entertainment
We had a number of friends and their children perform at the open mic which we set up outside the marquee. This worked really well and it was lovely that so many people got involved. We were really excited that we could have The Turnarounds kick off the dancing. They are a great band and bring so much energy and atmosphere to their performance. Two friends DJ'ed afterwards and carried on late into the night with the Silent Disco.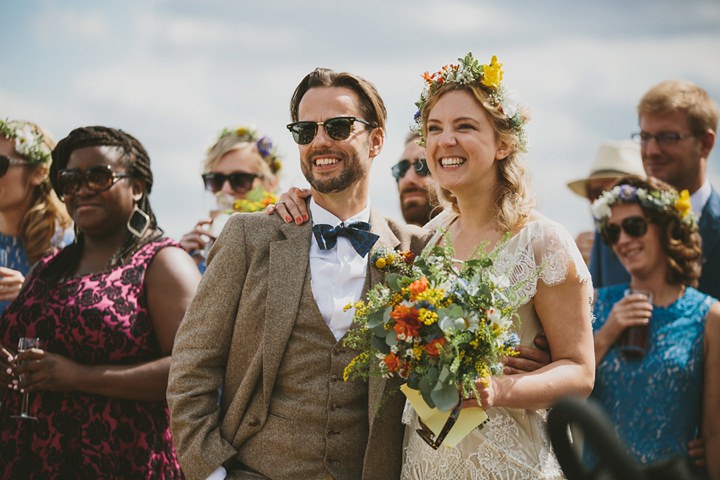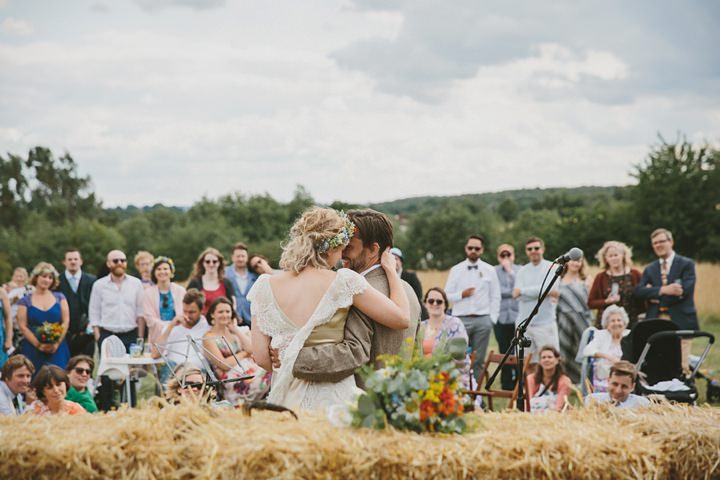 The Stationery
Our friends Jonny & Char Akers. We were so thrilled with them and whole-heartedly recommend them
Personal or Handmade Touches
Clophill gave us the opportunity to do everything our own way and we are so lucky and grateful that our friends and family were so generous with their time and talents. The weekend was so incredible because of their invaluable help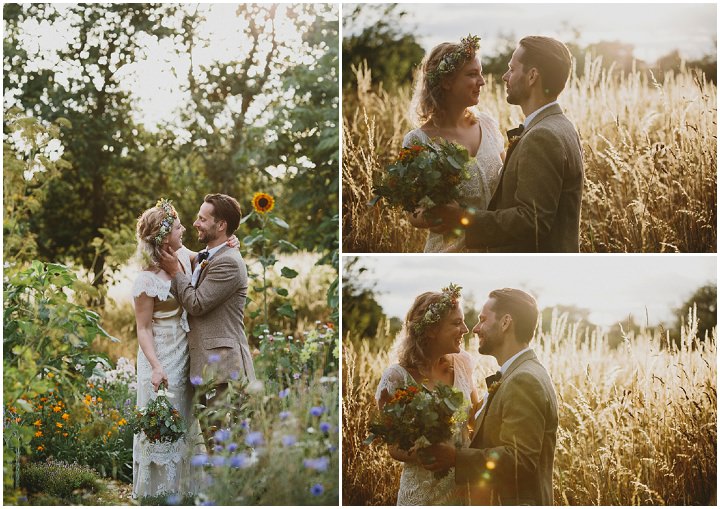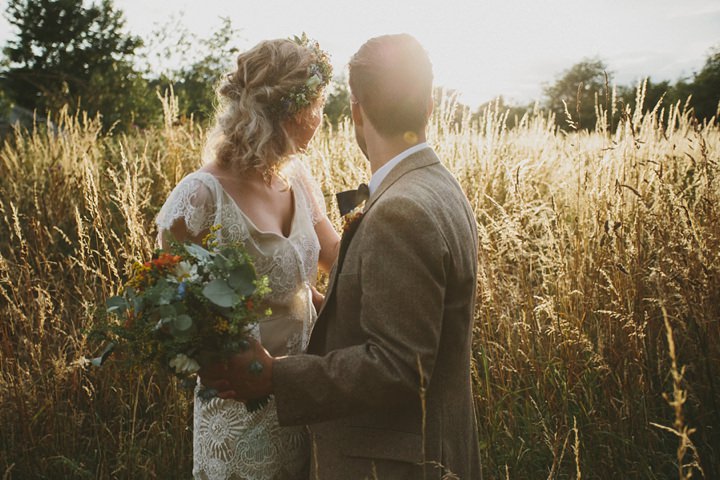 Special Moments
There are too many to mention but working with our friends in the week before added such an incredible dimension to the experience. To be able to spend this time with them and work together with them in building the wedding weekend.
Listening to the speeches was a wonderful experience because they were one area we had very little input into. We didn't know what to expect and it was great listening to them unfold.
It was really wonderful to work with our amazing Humanist celebrant Liz to develop our ceremony and vows to be personal to us. It came together perfectly and to hear everyone singing 'Here Comes the Sun' together was very magical.
To stand next to each other, look around and see everyone having such a fun time; our friends laughing, children running and playing in such a beautiful place that we had worked so hard to build.
Dancing under the stars to the silent disco and camping with our friends without having to worry about curfews or taxis was the perfect end to our wedding day.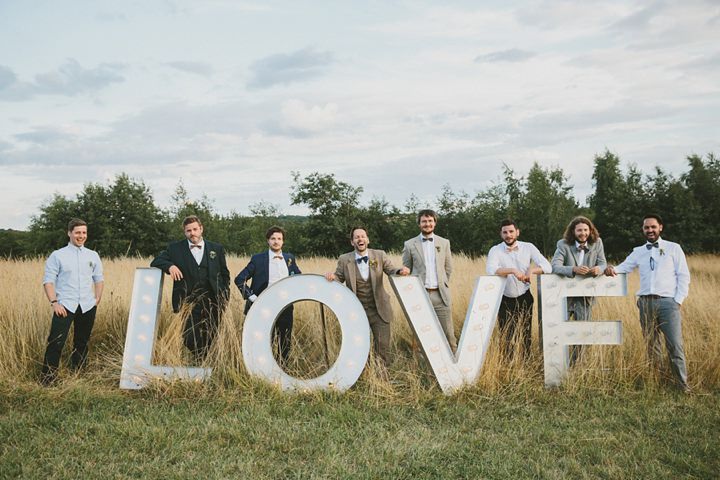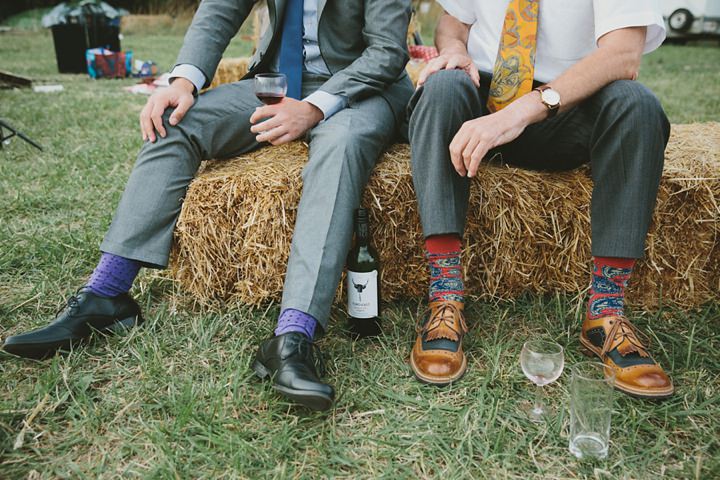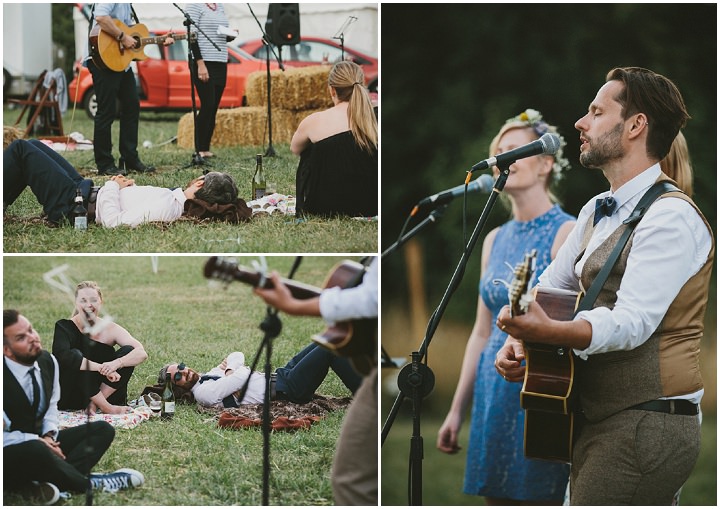 Advice to other couples
It was great to have the freedom to design and plan everything ourselves without being bound by the rules of a traditional venue. It was a great deal of work though and do not underestimate the usefulness of spreadsheets and detailed planning – including, a lot of internet searching, budgets & timetables and contacting of suppliers. Our 'On the Day' co-ordinator Sama was an invaluable part of this because it took all the pressure off us on the actual wedding day.
Stick to your guns to find the dress that you want even if it takes some searching for. Jo totally underestimated how important finding the right one was until she found all the wrong ones. If you can think of it, it can be done so don't lose sight of what you really want from your wedding
Biggest surprise
Jo was unprepared for the emotions she felt as she arrived at the clearing before walking down the aisle with her mum and dad. It was such an potent mix of excitement, nervous energy and happiness which was completely overwhelming
Jon was surprised by how emotional and special it is to read his personal vows and to hear Jo's to him– it's worth taking the time on these because it is such a wonderful moment.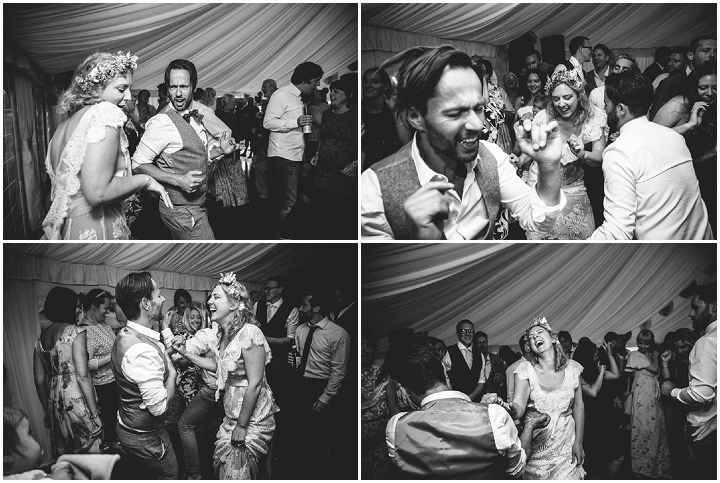 Supplier Shout Outs
For more information on MCKinley-Rodger's work please go to:
www.mckinley-rodgers.com / www.mckinley-rodgers.co.uk / [email protected] / FACEBOOK /
07909 851428
Due to an email issue if you have emailed me between the 2nd & 9th of December, please resend it.
X