Hello you lovely lot and happy Tuesday to you all! I have a cracking wedding for you today and a good one for me as it comes from my home town of Sheffield. It's a gorgeous wedding with vintage influences, lots of homespun details and a gorgeous couple. Aiden and Hayley decided to keep things as simple as possible and not go all out on fuss for their day. They held a lovely ceremony and reception at one of their favourite pubs in Sheffield with a chill out zone in a tipi erected in the gardens. The rain came but they didn't let it get in the way of their fun, they simply embraced it and made it part of their day. With some stunning portrait shots this wedding is beautiful from beginning to end. Big thanks to John Anderson for the images.
'Our wedding day was intimate, relaxed and personal. It had a vintage/homemade feel and we wouldn't have changed anything'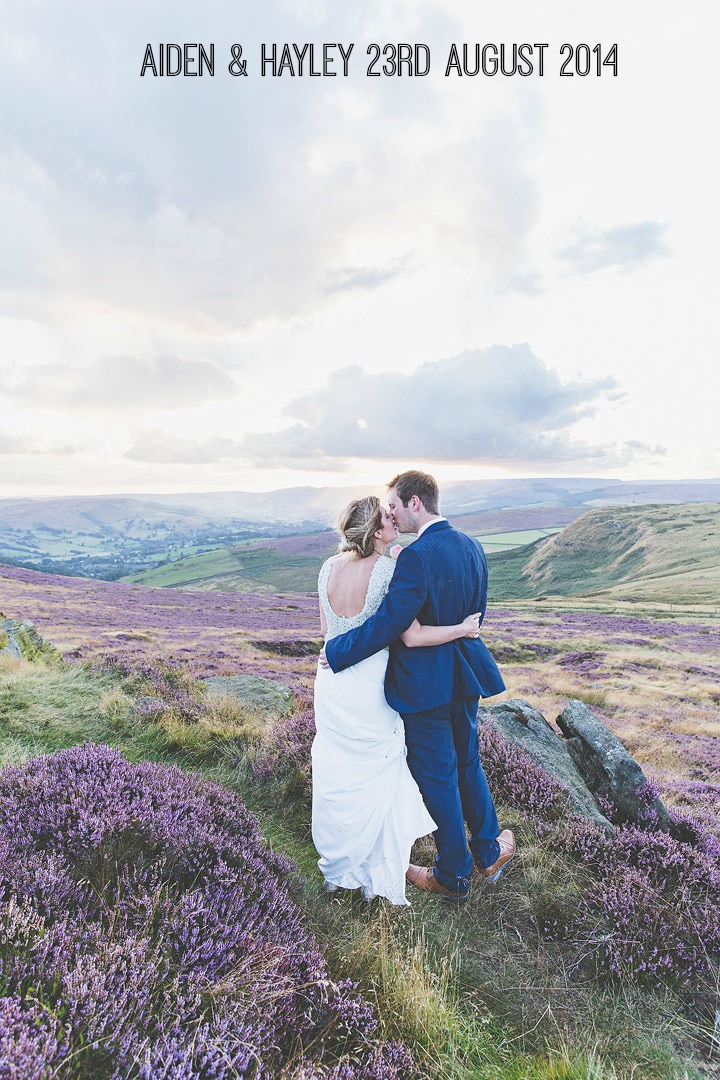 Aiden and Hayley were married on 23rd August 2014 at The Norfolk Arms, Ringinglow Road, Sheffield. 'I am originally from Sheffield and a lot of my family still live there. We both went to University in Sheffield as well, so it has a pull to us both. The Norfolk Arms came about after my Nan mentioned that they did weddings. At the time, we were looking for a field to put a Teepee on to act as our venue, but this proved quite difficult. We had visited the Norfolk Arms on numerous occasions over the years, for family meals. Both my mum and dad along with their parents years ago. When we visited the venue, I fell in love with ceremony room with its charming fireplace and wooden beams. I saw its potential and knew I could make it look great and the setting was perfect with the gardens looking the whole of Sheffield. We had 70 guests in the day, as this was the maximum that the venue could hold for the ceremony and meal. We then had around 30 more arrive for the evening. Because of people leaving early, there was probably never more that 90 people at any one time which made it nice and intimate.
We decided to do as much as we could ourselves to make it personal to us so it was an ongoing planning process! We got engaged in March 2013 and booked the venue around September time so I guess we started to get to work from then.'
How they met
We met at school. Year 10 (aged 15) to be exact. It took a while for me to come round (but so glad I did!) We have been together for 10 years through Sixth Form, Uni and now we even work together.
The proposal
This wasn't your typical 'get down on one knee proposal'. Being together as long as we have, one starts to veer towards ring shops on everyday outings! We saw a ring together and decided to go for it. Aiden picked the ring up (without me knowing) and put it on my bedside table. Perfect for me. Not soppy at all.
How did you allocate your budget
We saved as we went for the wedding, sorting different things each month. We very kindly received money from parents and grandparents which helped with the venue and food-which were the main two costs. We did make all our own invitations and save the dates (even down to the envelopes) favours, menu cards, confetti cones etc. Aiden is an accountant so he kept an eye on the budget while I spent away.
How did you choose your photographer
We met John through mutual friends. We were passed his contact details and had a look at his pictures and they looked perfect, so informal and natural -which is what we wanted. He worked with us to determine what we did and didn't want to achieve. We didn't want any formal photos but John suggested we tried to get an some portraits of us as a couple. He then told us about a place 5 minutes up the road from our venue called Higger Tor which we could drive to, to get some really nice photos with great scenery. We were a little apprehensive at first when planning as we didn't want to leave our guests so we left it that we would decide how we felt at the time on the day. We decided to go for it and I am so glad that we did. The pictures he took from it were some of the best of the day….And he made us look quite good too!
The Dress
My dress was from Lulu Mae in Oughtibridge, Sheffield. They were very friendly and helpful. My shoes were in the sale from Dorothy Perkins. I wore a small hair comb which I bought from Etsy.
The suit and bridesmaids
The grooms suit and shoes were from Next. The groomsmen outfits were from a number of places H&M for Shirts and braces and the trousers and shoes were from next.
The bridesmaid dresses were from a shop called JOY. We had to be careful in getting high street dresses in case any of the guests wore the same ones. JOY was good because it doesn't have many stores so less of a chance that someone else would be wearing them.
The theme/colour scheme
We really didn't want a colour scheme of any sort. Originally, the bridesmaids were going to be wearing different colours. Yellow, red, coral & mint. We tried for so long to find the right dresses. We eventually found the yellow dress and when comparing to other colours, it just out shone, so the decision was taken to have them all in yellow! The boys had a bit of yellow in their button holes to tie in but apart from that, we had all different colours. We decided that we wanted a vintage feel and so we started collecting mis-match crockery. We found it quite difficult to buy everything so in the end, we rented quite a bit of crockery from The Vintage Tableware Company on Sharrowvale Road, Sheffield. Vicky was so helpful, especially on the day when we realised we hadn't ordered enough. She even refused to charge us for the additional stock.
Flowers
We had very natural looking flowers, all different colours. My auntie did them for me and we worked really closely with her to get the right look. We picked the flowers from the warehouse the Thursday before and spent half the day putting together bouquets and button holes so she could go from there. On the day my Auntie and mum both spent hours putting random picks of flowers into jam jars. They looked amazing.
Decoration
Our decorations were mainly flowers and fairy lights. We had bunting outside and petals all around. We wanted it to be as natural as possible. As well as our main venue room we also had a Teepee outside which we used as a chill out zone. The guys at Totally Tipi could not have been more helpful and provided all of the benches, chairs, fairy lights and fire pit to go inside as well as sourcing the natural looking tables and chairs we wanted in our main room for the reception and meal. Laura and Jay at Totally Tipi were so personal and listened to everything we asked of them, they even Face-timed us during set up as we don't live in Sheffield to make sure everything was to our liking.
The Food
We decided early on that we didn't want a traditional three course sit down meal. We spoke to the venue and they were happy for us to present them with ideas and they would do their best to accommodate. We liked the idea of sharing platters and so came up with different things to have on them that hopefully everyone would enjoy. We had canapés outside as starters and came in to sit for the platters which were steak, salmon-en-croute, stuffed mushrooms, sweet potato chips, salad, stuffed peppers, breads. We decided to have cake stands with scones for desert and each person had their own cream and jam in pots.
Wedding Cake
The wedding cake (and the scones) were made by a lady based in Sheffield, again we found out about her through a friend. We had a chocolate and fresh cream 'naked cake'. We sent her a picture of what we wanted and it looked identical- it tasted pretty good too!
Entertainment
We didn't want to have a DJ. We wanted a band to play both outside and in, but not a typical wedding band. We started looking at Tramlines on the internet and watched a few videos. We came across a few good bands and enquired. One manager came back and gave us so much help and a list of bands. We chose a local band called The Gentlemen who were brilliant, although it turned out to be their final UK gig as their time together was coming to an end. They did covers and mash-ups as well as some of their own stuff. We were so lucky they were free and willing to perform at our wedding. After they played both sets, we had mixed some music ourselves for both the main room and the chillout Teepee, which worked really well.
Buy or DIY your Stationery
We DIY'd everything we could. So save the dates, invitations, menu cards for the table, seating plans and table displays, confetti cones, message book.
Personal touches/DIY
Pinterest was a big help in finding great ideas. I liked the idea of having flip flops for tired dancing feet, blankets and garden games. We bought some black boards and wrote things like 'Dancing Shoes' and 'Pick & Mix'. It was a big job, but really worth it. We made our favours, which were chocolate lips and moustache lollipops with edible glitter. These took a lot of work but the family were happy to help 'destroy' the failures.
Special moments/highlights of the day
My special moments were listening to the speeches made by my dad, groom and brother (best man). These were so funny and touching at the same time.
It decided to rain on and off through part of the day, but this made the day better. We had a giant teepee in the garden and it forced everyone in, in front of the fire. It was nice and cosy inside and made it a lot more special. Similarly, at the end of the evening, the last few standing gathered in the teepee around the fire and listened to chill out music and chatted. It was so nice to get to spend quality time with friends and family, which rarely gets to happen at hectic weddings!
Advice to other couples
I would say, try to do things yourself. It is much more of a personal touch, even if it is stressful at times! Try to involve your family if you can, but not too much. It is nice to keep some things as a surprise. Try not to settle with anything you aren't happy with. It seems petty at the time but you will be glad of it on the day. Delegate! I am awful at this and found it hard to give control to the bridal party/family like things such as music and timings. You just have to let it go, enjoy yourself and trust them! Don't worry about the weather, just make a Plan B. If it rains, it doesn't necessarily make it a worse day, in fact I think mine was better! Finally, enjoy yourself and every hour, try to step back and take it all in!
The biggest surprise of the day
There were a few surprises throughout the day and after. Our lovely friend, unbeknown to us, had been filming bits of the day. When we came back from our honeymoon, he sent us a video. It was amazing. He had filmed from him leaving the house in the morning, leaving the hotel and throughout the day and evening. We were on such a downer after the wedding, we just wanted to do it all again and this let us do just that. It was so nice to see different aspects and views of the wedding. If a friend can do this for you, or a few friends, it is definitely worth it. So nice to have.
My very thoughtful husband was able to keep a couple of surprises from me until the day, one being that he had invited one of our friends from uni, without me knowing and surprised me on the day. He also led me out to the back room to give me a wedding gift. He had gotten the date of the wedding and my new initials on a registration plate. Such a good idea! Wish I'd have thought of it!
Supplier Shout Outs
For more information on John's work please go to:
www.johnandersonphoto.co.uk
blog.johnandersonphoto.co.uk
[email protected]
TWITTER
Tel: 07738 228 928
I am based in Sheffield and love photography. My wedding photography is about telling the stories of the day and capturing moments and emotions