---
---
---
---
This afternoon we have another fabulous edition of Ask the Experts and James & Lianne are here as resident photography experts to talk about unplugged weddings! As technology, smart phones and tablets have taken off over the past few years, this is something we are seeing more and more of! Here on the blog we have found unplugged weddings to be quite the talking point, and has raised quite a few discussions over the past few years. James and Lianne make quite a few very valid points, so we would love to hear your thoughts on the subject. Have you had an unplugged wedding? or are you planning one? We would love you to join in the discussion.
Unplugged weddings – it says it on the tin, weddings without the distraction of modern gadgets. No phones, no iPads, just all your guests attention on you. Perhaps a little self-indulgent, maybe a tad narcissistic, and a slight whiff of bridezillaism? Telling your guests what they can and can't do seems like you could be killing the fun but there's perfectly good reasons and benefits to being a bit of a diva.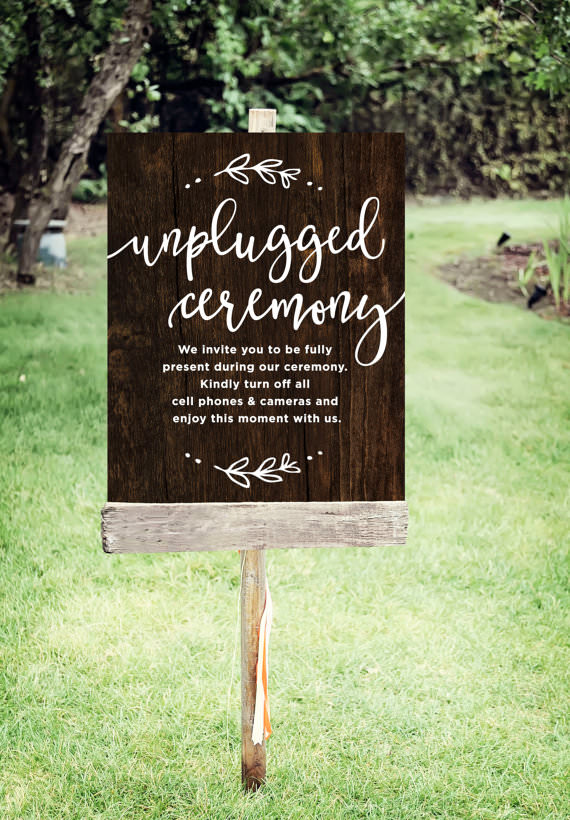 #1: Keeping your guests 'in the present'.
It's nice for your family and friends to actually witness your wedding, enjoy the speeches and just have their attention during the day. If they're busy trying to decide whether Valencia or Juno would be a better filter for that photo they took of you from the very back of the church, they may as well not even be there.
#2: You've hired a professional photographer.
As professional photographers ourselves, we know that many of our couples value the photos their guests took, at least to begin with. They're uploaded instantly and you can see them immediately. But, the vast majority of those photos are just what the professionals took but from a worse angle… at a more unflattering moment… and then a filter applied… and they're just nowhere near as good. Then we, the pros, get you a few previews up within a day or so and then you've got the whole gallery within a few weeks making those photos your work friend took of you eating a miniature Yorkshire pudding during the drinks reception seem less flattering. You've paid someone to do the job properly, tell your guests to enjoy themselves, party and scoff canapes. You don't need their bad photos!