Happy Friday everyone! Are you as excited about the weekend a I am? We are off out for dinner with friends this evening, it's an early one as Dexter is coming with us, but none the less there will be wine and food so I am excited! Today we are back with Lisa and Alex from 2 people 1 life for wedding number 57 in Switzerland. Last time we saw them hold wedding 56 in Austria, with some of the most spectacular scenery. For todays wedding we see Lisa and Alex get married in a miniature village, they even get to travel on a miniature train! Lisa is wearing the most gorgeous red dress and looks as stunning as ever!
(In case you have missed the whole story, Lisa and Alex have spent the last two years travelling round the world getting married in every country they visit, you can read more about their adventures HERE.)
With the memory of the stunning drive into Switzerland from Austria our heads were still in the clouds as we prepared for wedding 57 in Lugano, Switzerland! The lakes there are similar to the Italian Lakes such as Como or Maggiore but with the Italian style and the Swiss charm and efficiency. Everything ran to a clock, was perfectly clean and ridiculously polite, we loved it from the second we arrived!
We spent the morning having coffee with Fabio the manager of the Swiss Diamond Hotel and Sabrina from Lugano Wedding . He was thrilled that we had taken our adventure to his town and welcomed us profusely. Sabrina told us how sad Robert was that he couldn't be there to meet us but assured us we were in safe hands!
We were collected by Morena from Be Unique who was in charge of getting us to our dress fittings and also would be doing my make-up. She was so excited to have us and we all talked constantly all the way into the centre of Lugano where we met with a dress making genius at Vogue Sposi . Alex was taken one way and I was ushered behind a curtain. With one look at me the dress maker exclaimed in Italian and within seconds returned with a beautiful red dress. She could tell by my face I was happy and she was just thrilled. A very modern Italian cut with one shoulder strap and Swiss flag red, it was perfect for me and for this wedding!
We laughed all afternoon with Morena, once my nails matched my dress we wandered the beautiful pristine streets of Lugano, past the most expensive clothes shops EVER, past the museums, picked up slices of great pizza and walked along the lake in the park nearby before heading back to the Hotel to wait for wedding 'o' clock. We had another half an hour in the spa to calm our nerves and when we returned to our room we found a bottle of champagne waiting for us with a card from Fabio and his team wishing us all the very best!
5pm soon arrived as did Morena and her team and Milo who would be taking our pictures. The press came along too to capture a few images of us getting ready and ask a few questions about our wild wedding adventure! The champagne went down smoothly as we were pampered and preened and as we laughed and chatted and began to get those good old wedding nerves! The last step was for me to climb into my red dress and we were ready to go!
The ceremony itself was to be held in a very unique location. One would expect a wedding on the Swiss lakes to be held on the lake, in the mountains or even maybe in a chocolate factory but we were heading for Swissminiatur!  More than 120 models (at scale of 1:25) representing the most important buildings, monuments and transportation means in Switzerland have been created with love and run by one family over the last 55 years. Every piece lovingly crafted and painted by hand! Swissminiatur had invited us to be wed there and it was so unique we just had to accept! Fabio drove us there and dropped us at our next mode of transport, a miniature train that would take us through the entire village and to the altar, which was an arch made with balloons in the swiss colours.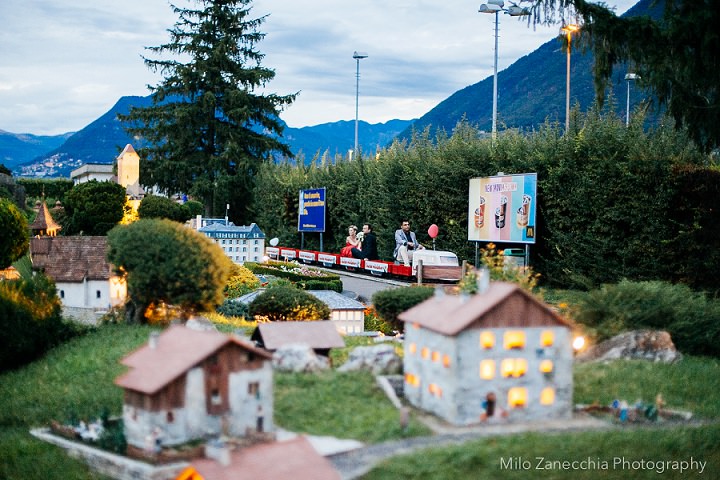 We walked along a red carpet as the sun completely disappeared and the entire miniature village became lit with a thousand twinkling lights, it was surprisingly beautiful! We were welcomed at the altar by the Pastor and the large crowd that had gathered swayed along to the sound of the horns. The ceremony was a very modern one with Pastor Donato Anzalone asking us to repeat vows to one another but the most beautiful thing about it was that he thanked us for spreading across the world the importance of marriage. He explained that he thought that marriage was being forgotten in the modern world with more and more people choosing not to 'tie the knot'. He expressed his love and respect for marriage and how important it is for family, for each other and for the future.
Once we were pronounced husband and wife everyone in the crowd around us clapped and shook our hands and kissed us as we were shown into a small hall nearby where there was an enormous buffet! Everyone joined us in a toast and we made our way around the small groups of people thanking them for coming along and talking about our story and their story! We had SUCH a great time and were made so incredibly welcome by everyone!
Everyone wanted to toast with us so we had no way of keeping a track of our wine consumption but by late in the evening when we made it to the last table where Marian was sat we slumped into the seats she had saved for us and she introduced us to her friends at the table. We truly had such a great night. The wedding was so simple but the unique setting, the fact that so many people had come to wish us well and the fact that, as always, we had made some lovely friends made it so incredibly special.
We were taxied back to the Swiss Diamond and collapsed suitably exhausted into our enormous bed looking forward to our photo shoot and dinner with friends the next day but already dreading the hangover!!!
Thank you so much to everyone who made everything possible on the day, our only regret is that we didn't get to meet Robert after all of these years of emailing! Maybe next time!
Supplier Shout Outs
To follow Lisa and Alex's journey go to
http://2people1life.com/blog/
http://2people1life.com/blog/the-whole-journey
FACEBOOK
@2people1life
If you have missed any of the previous weddings you can catch up HERE