It's Friday! Woo Hoo! I am super excited for the weekend as tomorrow I am off to a wedding…as a guest! not as a planner but as an actual guest. I am sooooo excited! It's going to be a wonderful day! I'm hoping I'll be able to feature it on the blog so I won't tell you too much about it! Today though I have this cracking outdoor festival wedding for you courtesy of  Bridson Photography. Claire and Darren decided on a relaxed 2 day wedding that they called Wedfest. They took on a country fete theme and filled the weekend with yurts, flowers, bunting and lots of music and smiles! A fab relaxed, chilled out wedding with a super happy bride and groom…perfect for any Friday!
'Casual, relaxed, fun, crazy and free. Many guests after the event said that not only was it the best wedding they had ever been to, but one of the best experiences of their lives!'
Claire and Darren were married on 8th June 2013 at Camp Katur, Camp Hill Estate, Kirklington, North Yorkshire. We wanted an outdoor festival style wedding with options for comfortable accommodation for guests that were unable to camp. It was important to us that we had free run of a large site, allowing all guests the ability to explore in their own time over a couple of days. We didn't want to be limited by noise and time restrictions and needed it to be safe for the kids to play without supervision. Also when we visited the site Kerry and Dave were really lovely to deal with and very enthusiastic about our ideas. We were the first wedding to be held there, that felt really fun. We got engaged in November 2012, went to view locations in January 2013, put a deposit down in February and then started planning from there, so it probably took about three and a half months to plan! Considering the amount of work that was going to have to go into a self planned and run wedding it was rather ambitious, but we pulled it off. We had 200ish guests, another reason for choosing the site. We didn't want to be restricted to numbers.
How They Met
We met at our friends Clare and Robs' wedding, Claire knew the bride and Darren knew the groom – that was also a camping wedding! 3 years before we got engaged, we got a lot of inspiration for our big day from theirs.
The Proposal
We had a romantic meal booked on a secluded beach in Egypt. Unbeknown to Claire who was in the gym, Darren sneaked off to make special arrangements with the waiters, organising flowers, candles, exclusive service and the perfect spot with the waves lapping near our feet. The food was amazing but we couldn't eat the dessert after the proposal as we were so excited, which says a lot for Claire to lose her appetite! It was really perfect.
How did you allocate your budget
We figured out which bits were most important, booked those (site fees, yurts, marquees) and then spent the rest on booze, ha ha. Being serious we knew we needed to prepare for wet weather, we really wanted a wedding in the great outdoors but had to be realistic and have lots of cover with 200 expected guests. This along with the site is where the vast majority of the budget went. As it happened we didn't need any cover but the yurts made a stunning backdrop.
How did you choose your Photographer
Wendy is one of Claire's oldest and best friends, and as it happens her and her husbands are amazing photographers. We had seen their work develop over the last few years and really loved their relaxed, natural style of photography.

The Dress
I don't recall who the designer of my dress was but I bought it from a lovely wedding dress shop in Ramsbottom called the White Gallery. It was in the window, nothing like the style I expected to go for that was the one, first dress I tried on, same dress that hung in the window. There were no shoes, barefoot, totally connected to the earth.
The Suit and Bridesmaids
The 'suit', or rather smart trousers and waistcoat was from river island. For Darren a suit is his worst nightmare, Claire had a specific idea of how to combine his rock hippy style with something smarter that would keep it 'Darren', so we teamed it with a loose thick cotton shirt opened at the top with rolled up sleeves, flip flops from all saints and Darren's endless supply of beads. The Bridesmaid Laura was 7 months pregnant, we found a gorgeous dress in Ted Baker that worked perfectly and her Daughter Lily Mae who had just turned 2 had a dress from TK Max.
The Theme and Colour Scheme
We had very much a country fete style going on so there was every colour under the sun!
Flowers
Claires Aunty Carol is a florist so it was pretty much left to her. A lovely part of the weekend was Carol teaching a group of people including Claire, how to make the floral arrangements, these were all used on the tables and gazebo.
Decoration
As we went with mostly a country fete style theme, friends made us bunting, and lots of it, we bought lots of miss matched floral patterned fabric for the tables and hey bails, and had lots of lovely hearts and lanterns of various shapes, colours and styles hanging from anything we could hang things from. Friends collected jars that we decorated with ribbon and lace and put tea lights in and placed all around areas that we wanted to emphasise. We also had a collection of random items, like Franchesca the elephant, just to brighten things up, oh and lots of balloons for the kids tent.
The Food and Cake
The budget wouldn't stretch to feeding that amount of people so we asked our guests to donate food to a collection instead of buying us wedding presants. We worked out what we needed and dished it out to provide an afternoon tea for after the service and a bbq and buffet for later, followed by cheese and biscuits, not forgetting bacon and sausage butties for the following morning. The cake was bought from good old M&S and lovingly decorated by Claire's Aunty Karen.
Entertainment
We had a harpist for during the service and the drinks reception if you can call it that. In the afternoon three of our friends performed separate acoustic guitar sets and sang whilst those of us that wanted to chill out sat around on hey bails. In the evening we had a brilliant band that did a 45 min swing set followed by a 45 min set to suit the crowd, topped off with our friend Paul DJing into the early hours. For the Kids (young and old) the biggest open bouncy castle in the country, space hoppers and bubbles.
DIY or Buy your Stationery
DIY, big mistake, too time consuming and probably spent more on product than getting them made.
Personal and Handmade Touches
We planned the entire celebrations ourselves, every guest that was willing had a job, it made people mix and gave people a purpose and feel involved, it worked very well. We wrote our vows ourselves and had a very pagan influenced handfasting with two of our very spiritual friends performing the celebration. Our guests were all stood in a circle with the harpist under a highly decorated floral canopy as the focal point and the bride and groom in the centre.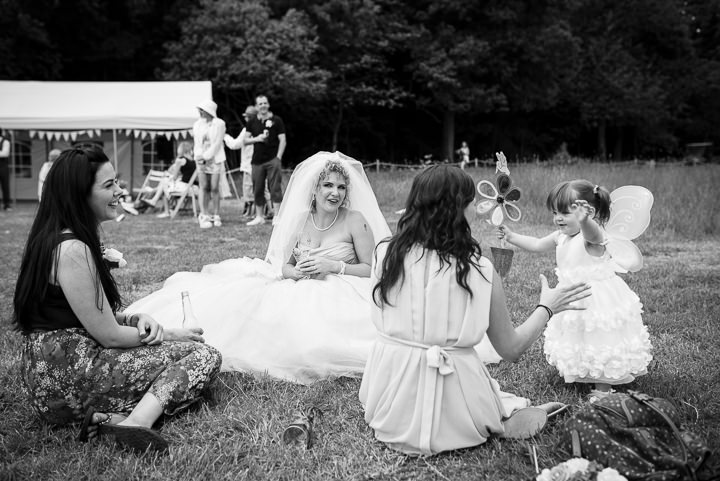 Special Moments or Highlights
It was really a two day event so Claire's highlights were the hot tub with the some of the girlies the night before the wedding, getting ready outside the bride and grooms yurt with her best friends, the first dance (a very unusual collaboration made to shock and amuse the crowd whilst be meaningful to the bride and groom), Our friends playing their music in the afternoon, and the last dance of the evening.
Darren's highlights were the giant campfire the night before the wedding, walking into the circle of wedding guests with his best mad and page boys (who were in fancy dress, their choice, not the best man, obviously) to Pearl Jam given to fly, high fiveing each of the guests in turn, and the first and last dance. We would both highlight the last dance as the highlight and most emotional point of the celebrations if we had to choose just one. It was to somewhere over the rainbow by Iz Kamakawiwo'ole, those that were still remaining on the dance floor, which was a surprising number, gathered into a circle around us, all singing and swaying, it was really specia,l magical moment, totally unplanned, it made the most perfect end to the perfect day.
Biggest Surprise of the day
Claire's biggest surprise wasn't on the big day itself but the day of the registry office (at that time Camp Katur wasn't licensed for weddings), it was a lot more emotional than she had expected and was equally as lovely as the big day itself in its own way. That could also be a bit of extra advice for couples having a separate registry office ceremony, don't under estimate its importance and significance.
Advice to other couples
Don't take it too seriously or loose sight about what its all about. Have fun, relax, it's a celebration of love to share with your favourite people, not about every detail being perfect, if something isn't quite right, it doesn't matter, no one will notice, let your hair down, party and soak up every second.
Supplier Shout Outs
Photographer – www.Bridsonphotography.com
Wendy and Damion our photographers, totally got us and worked so hard to capture the essence of our big day, very professional, enthusiastic and friendly. Also the least demanding of any wedding photographers we have come across.
Venue – Camp Katur – www.Capkatur.co.uk Kerry and Dave at Camp Katur were amazing, so helpful through the whole process and a joy to work with.
Yorkshire Yurts -www.Yorkshireyurts.co.ukTom and Helen at Yorkshire yurts, if you are planning an outdoor wedding they are the best by far, very affordable, professional and efficient.
For more information on Bridson Photography go to
www.Bridsonphotography.com
www.bridsonphotography.com/blog
FACEBOOK
@bridsonphoto