Today I am delighted to welcome back one of the most popular features on the Blog, the DIY Tutorials. The Tutorials took a bit of a break when I was away on maternity but today they are back in full force and I have some lovely projects to share with you over the next few weeks.
Today I am pleased to welcome back DIY regular Download and Print with this super cute 'Doodle Wedding Invitation Set'. Download  and print have proved to be one of the most clicked through sites on the Blog, with hundreds of you downloading their amazing free printables each week. This gorgeous project is no exception and I just know you are going to love it!
I'll pass you over to Anna……….
Hello lovely Boho brides, Anna Skye here from Download & Print. I hope you have all had a fab summer. I have been lucky enough to see some amazing places this summer, as well as prepare for a cross-county move (which happens this weekend… yikes!), and in between I've been finding inspiration in all sorts of places for gorgeous wedding stationery. A big congratulations to Kelly for her own amazing summer.
I dubbed this summer the summer of fun, so I'm re-launching our monthly DIY invitation series with a fun doodle design that I call Doodle Love. The three piece set includes the invitation, RSVP, and a belly band. The templates print in black and white which make reproductions super cheap. Print on white or cream card for a classic look, or get a little crazy and print on any colour or patterned paper that takes your fancy. As always, the templates are free and can be downloaded here.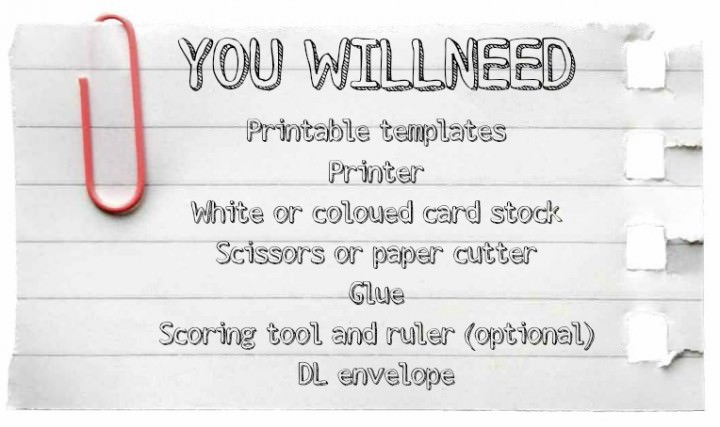 STEP 1) Download and Print – Download the templates and open in MS Word or Mac Pages. You will end up with the invitation, RSVP, and belly band. Add your wording. The fonts used are The Skinny and KG Eyes Wide Open, which can be downloaded at the links provided.  If you don't have these fonts installed on your computer Word will substitute fonts and this could make the formatting look a little funky.
The doodle designs are sitting in text boxes just like the text. You can move the doodles around and resize them to fit with the text that you have. If you need more space you can delete doodles and really make the templates work for you.
Print the templates on the paper of your choice.
TIP: These templates print in black and white which makes reproductions super cheap, both on your home printer or at your local copy shop.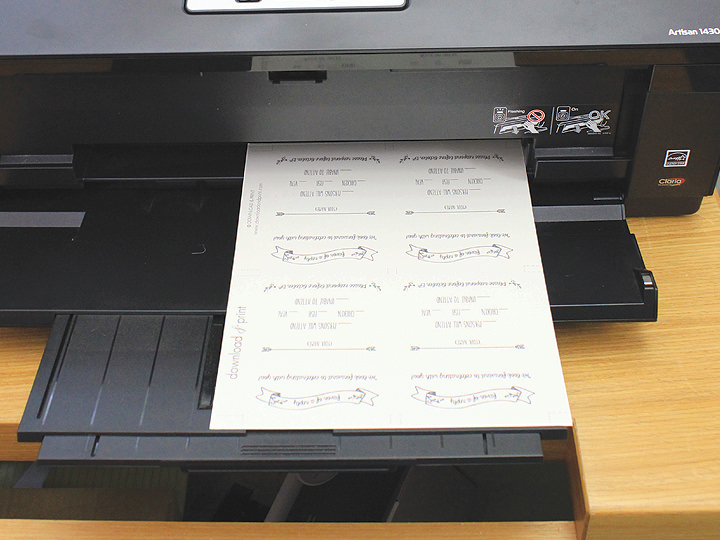 STEP 2)  Trim – The invitation and RSVP print three per page, and the belly band prints two per page, so trim along the cut lines using a paper cutter or scissors.
STEP 3) Belly Band – You are now finished with the invitation and RSVP… pretty simple stuff.
Score the belly band on the score lines either side of the doodle design. You can use a scoring tool or the blunt side of a utility knife as I am. Don't cut! Scoring the lines will give you nice sharp creases in the next step.
Fold the flaps back.
Place glue or double sided tape on the outside of one flap. Fold across the other flap and secure in place to make the band.
Insert the invitation and RSVP into a DL envelope and slip the belly around the outside. Step back and admire your work.
Fore information on download and print go to:
www.downloadandprint.com
www.downloadandprint.com/Blog
FACEBOOK
@DownloadPrint
PINTEREST
Due to an email issue if you have emailed me between the 2nd & 9th of December, please resend it.
X