As we reach the middle of the week, we are taking you off to beautiful Derbyshire for todays wedding. Hargate Hall, near Buxton is a wedding venue I have been to on many an occasion, I have planned quite a few weddings there and even did a photo shoot there many years ago! So I was delighted when this gorgeous wedding from Cassandra Lane Photography dropped into my inbox! Nadya and Dave chose Hargate Hall, as it gave them the flexibility and freedom they were looking for, along with the option for having the place to themselves for the full weekend. With many friends and family helping out, they filled their day with wonderful homemade projects which made the wedding day even more personal. A wonderful day from beginning to end, enjoy!
Lots of hard work and lots of fun!
Nadya and Dave were married on the 13th August 2016 at Hargate Hall, near Buxton in Derbyshire. 'We wanted somewhere that would let us do what we wanted. We could hire Hargate Hall from the Friday to the Monday and it was a blank canvas, so we could decorate how we wanted, feed people how we wanted, and most importantly we could provide our own alcohol and there was no curfew! We had about 100 guests in the daytime and 130 in the evening. We started planning in January 2015, so it took just over a year and a half to plan.
How they met
We met through friends in 2009, so have been together for 7 years.
The Proposal
Neither of us are very good at being the centre of attention so the proposal was a fairly quiet affair! It was Christmas Eve and we had just been to my (Nadya's) sister's house for some drinks. We came back home and were getting ready to go to the pub to meet our friends, and Dave had put a pizza in the oven. Dave shouted me down to come and eat the pizza, and then unceremoniously plonked what was obviously a wrapped up ring box onto the sofa! We went to the pub and told our friends, and as there was no prosecco in the pub we had to have celebratory Sambuca shots!
How did you allocate your budget?
Initially our budget was small and we didn't want to have a big wedding. However, when we realised what it was we really wanted (a big party with good food and drink) we realised it wouldn't come as cheap as we initially expected. We still saved money in a lot of areas, but the main cost was the venue.
Where did you splurge and where did you save?
We prioritised the venue, photography and food. Most other things we did as cheaply as possible, as we are lucky to have some very talented friends and family who helped us out. Dave's mum made the cake, my bridesmaid Louisa designed the stationery, our friend Livvy was our makeup artist and another friend Shauna took the photos for the moon booth that we (well.. Dave's dad) had made. Many of our friends are musicians so they were our evening entertainment.
Why did you choose your photographer?
I spent a lot of time looking at blogs to decide on the style of photography would most suit us. We decided we wanted a relaxed style of photography, and Cassandra Lane's style was perfect. When I saw she was local to us I was over the moon!
The Dress
My dress was Ettia by Maggie Sottero. My shoes (daytime and evening) were from Irregular Choice, and my headpiece was from Etsy. My engagement ring was from Susanna Hanl and is very unusual, so I went for a simple recycled gold band that I got from etsy for my wedding ring.
The Suit and Bridesmaids
Dave's suit was from Slaters in Manchester. The bridesmaids dresses were from Virgos Lounge.
Theme or Colour Scheme
We didn't really have a set theme or colour scheme but certain things kept cropping up, such as stars and moons, and deep blues, reds and oranges.
Flowers
I was recommended Freedom Flowers by a friend, who also had a Derbyshire wedding. I didn't really know what I wanted, but asked for deep reds and oranges, and bits of wheat and twigs. I am really happy with how our flowers turned out! They are one of my favourite things from the day.
Decoration
In the marquee we kept the table centres fairly simple with the flowers in vases by Ringtons (my mum collects them) and potted herbs, on tree slices that my cousin made. I wanted paper lanterns but wasn't a fan of any of the colours I could find, so instead I got some previously used ones and covered them (with help from friends) in tissue paper in colours and patterns I actually liked! We hung them on branches that I had spray painted. My parents bought wall hangings from a festival and we hung them in the marquee too. In the hall we hung paper stars with fairy lights inside. Another friend brought back metres and metres of prayer frags from Nepal and we used them to decorate around the place too.
Food
Mode For.. did our daytime catering, and it was my absolute ideal food. Mode For.. is run by a couple who also got married at Hargate Hall, and we found them on the venue's facebook group. We went round for tea at their house and were sold! We had Italian style nibbles after the ceremony, and when we arrived in the marquee for the meal our sharing platter starters were already out. These were Greek and Italian influenced, so lots of cheeses and meats and olives and bread and dips. Our main courses were meat, haloumi, and vegetable kebabs and salads. For pudding we had chocolate tarts and lemon tarts. In the evening we hired a pizza oven and so had freshly prepared pizzas.
Wedding Cake
Dave's mum made the wedding cake, it looked amazing! And it was all gone so it tasted amazing too!
Entertainment
We hired an accordion player to play on the patio after the ceremony, and he played French café style music. Many of our friends are in covers bands, so they formed a band for the evening and played two sets. Dave is a bassist so he joined in for most of the second set!
Stationery
My friend and bridesmaid Louisa designed the stationery. I am so happy with how everything looked! Me and her spent a long evening glittering and using heat guns on the invites to get the glittery final touches on them!
Personal Touches
Most of the day was made up of personal touches and DIY (as I have mentioned!). The confetti was made from roses from our garden that I dried out. Our table setting display was a pair of ladders that we painted, and on the back we hung pictures of our parents and grandparents, which was nice as many of our grandparents have passed away.
Our favourite thing we did together was picking the table names. We are both fans of sci-fi and fantasy so we each chose our five favourite sci-fi/fantasy books or films, and then picked a character from each one to become our table names. We had table names such as Dick Jones, Barry the Sprout, The Rancor and Lyra Belacqua. I'm not sure what everyone else made of it, but we enjoyed it!!
Special Moments or Highlights
There were so many special moments. I loved waking up with my girls and getting ready with them, playing games and chatting.
During the planning process we both were more interested in the party than the ceremony, but on the day the ceremony was so special – it is one of our favourite memories from the day.
Surprisingly me and Dave both enjoyed the photography after the ceremony, as it was fun and relaxed and it gave us a chance to be together instead of whisked off to chat to everyone! A very special moment was when the band were playing and me and Dave got picked up by everyone and were crowd-surfed around the room!
We had a fire pit outside the venue, and staying up under the stars chatting and singing is also a wonderful memory.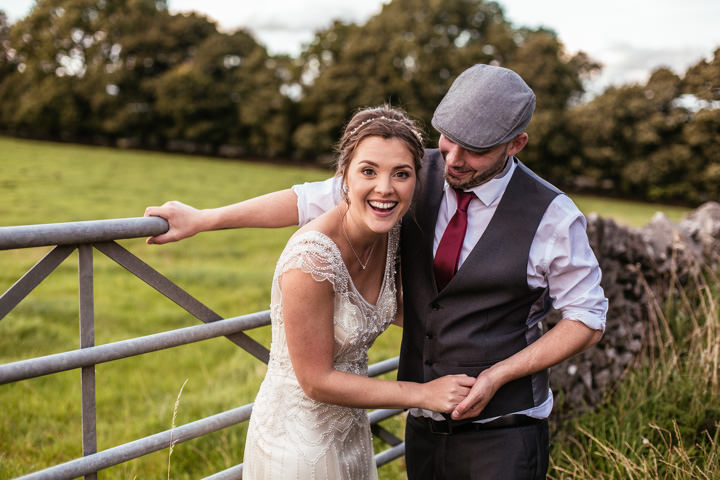 Advice for Other Couples
Because we were at Hargate Hall for the whole weekend, we had a second more laid back party on the Sunday. I know this isn't always possible, but I think having something planned for the day after the wedding is a good idea. On Sunday morning I wanted nothing less than to do it all again but it was really wonderful to recover with everyone and laugh about everything that had happened. The wedding day also went so fast I didn't get to catch up with everyone, so having something the day after was good for that too.
Staying organised in the planning process was key. Every few days we sat down together to see where we were up to and what we needed to do next. If we'd have left things until the last minute I would have been so stressed and wouldn't have been able to enjoy the run up (instead in month beforehand I went away for two weeks with work, and snuck in YNot festival too).
That said, on the actual day I didn't worry too much whether everything went to plan. By then it didn't matter if something we'd DIYd was left out or forgotten, I didn't notice.
Let other people help!! People are excited to help and it really makes a difference on the day when it has felt like a team effort.
Biggest Surprise
Dave says his biggest surprise was my Star Wars shoes and the Star Wars cake toppers! I had kept them a secret from him until the day.
My parents had also got barrels of beer in and had designed a beer logo with mine and Dave's faces on, and called it 'Cool & Hippy'. That was fun!
The biggest surprise I think was how relaxed and happy we felt on the day. I expected to be a bundle of nerves, but having all the best people around us just made it perfect and enjoyable.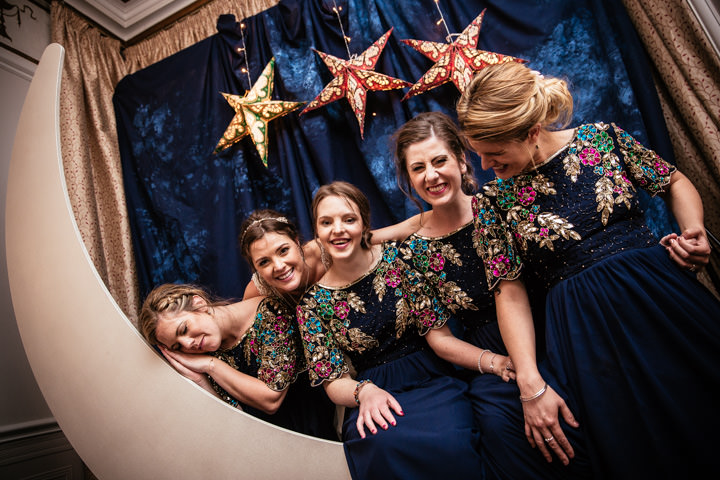 Supplier Shout Outs
FOR MORE INFORMATION ON CASS AND HER WORK GO TO
www.cassandralane.co.uk / www.cassandralane.co.uk/blog/ / [email protected] / FACEBOOK / T: @_cassandralane  / 07851 509473