Happy Friday everyone, and how are you all? This week has gone really slowly for some reason, is it just me, or do you feel the same? Anyway I'm looking forward to the weekend and spending some time with my gorgeous baby boy and husband! Before that though I have a fab wedding for you. It's the wedding of Katy and Naresh, who chose a festival theme for their big day, mixed in with an Anglo-Indian theme. With 2 ceremonies, 3 costume changes , a picnic as well as an Indian feast and a whole load of dancing, this wedding is full of bright colours, fun and lots of laughter, perfect for any Friday. Big thanks to Rob Tarren for the images and to Elmore Court for the submission.
'An Anglo-Indian fusion festival inspired country house wedding. And bloomin' great fun!'
Naresh and Katy were married on the 12th of July at Elmore Court, Elmore, Gloucester. 'We went to see Elmore Court and fell in love with it. Not only was the venue beautiful but the team were ace, really enthusiastic which we needed in the midst of planning 2 ceremonies, 3 outfit changes, a picnic, an Indian feast and a bangra/90's Indie party! We really wanted a day that reflected the best of our lives together the Great Hall was perfect for an elegant, formal civil ceremony and the front lawn provided a great backdrop for our outdoor Indian blessing. There was plenty of space to the side of the house to pop up an Attwools marquee decorated with lots and lots of handmade Laura Ashley bunting for the picnic (to protect it from our very unpredictable British weather!). Finally, the Gillyflower with its brilliant sound system and soundproofing housed our Indian banquet followed by a very rowdy dance off. Those that needed to cool off headed outside to toast marshmallows over the fire pit. We wanted everyone to go home full of food, ale and bonhomie, feeling they'd really shared in our love. We had 150 guests and we got engaged in the November and married the following July- we don't hang around (except for the 5 years prior to the engagement)!'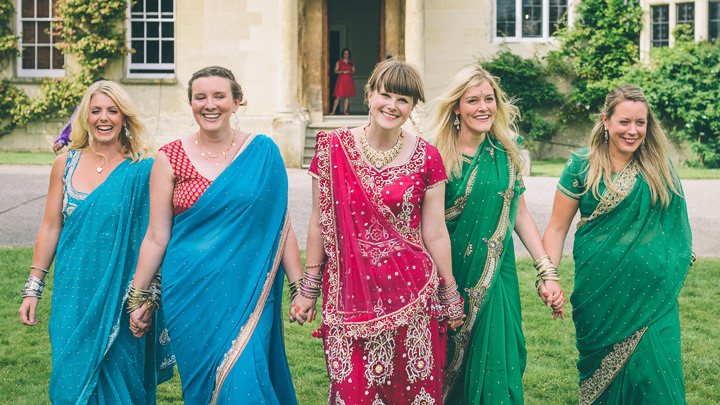 How they met
We've been together for about 6 years, ever since our first jobs out of Uni. We worked together and have been inseparable ever since.
The proposal
I think it's fair to say Naresh is the romantic one in our relationship. Aston Hall in Birmingham light the whole property in candlelight during the evenings in winter- He'd planned a really beautiful trip and even organised for us to sneak into the garden so he could propose with the house twinkling in the background. I, however, was having none of it- who would want to roam around outside in the dark when it's minus 1?! So he eventually managed to pop the question post dinner in the hotel suite he'd booked to celebrate! I'm very lucky he's so patient!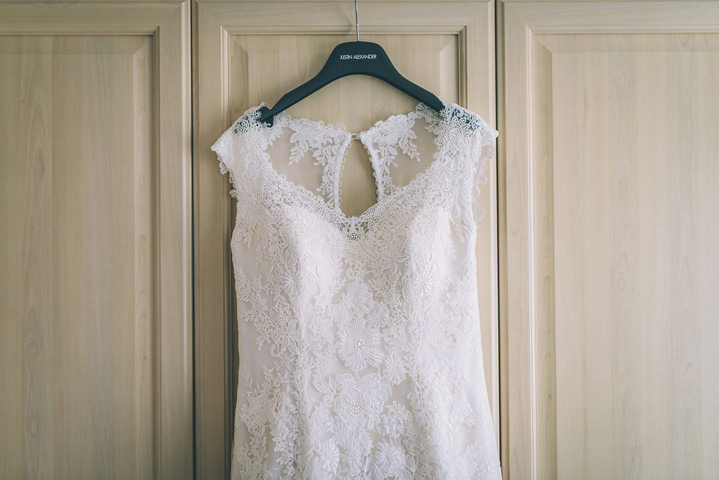 How did you spend your budget?
We spent money on the things we knew would make a potentially stressful day run smoothly- the venue, the caterers (Mahirs Birmingham, who created delicious English and Indian food with ease) and the 'emergency' marquee (in case the outdoor ceremony was rained off). We homemade pretty much all our decorations (ribbons, floral arrangements, cake, table plan) which evened things out financially.
How did you choose your photographer?
Rob Tarren became our new best friend! We found him via google, we wanted to stick to Gloucestershire suppliers where possible. Both Naresh and I were a bit nervous about formal photography so we really like Rob's relaxed style. We were also really taken by what a genuinely nice bloke he is. We knew that there was going to be lots of dancing and Rob was keen to stay well after the first dance to take some awesome "action" shots. He was there for well over 15 hours and smiled all the way through!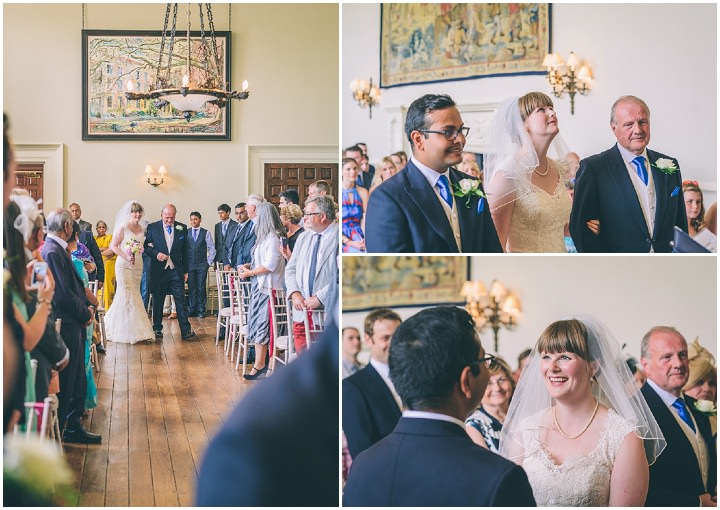 The dress
Fiona Davis of Emily Eve Bridal in Birmingham made dress shopping the joy it should be. Her whole team were professional, knowledgeable and the alterations were great. I came away with a beautiful lace Justin Alexander gown that I loved and fit like a glove. I made some savings with BHS shoes and I wore my mums pearls and simple pearl drops. My bridal Lehengha was from Kiran's on Soho road, Birmingham.
The suit and bridesmaids
The suits were from hired from Austen Reed, Birmingham. Mathew Enstone and his team worked very hard to get all the boys kited out and looking smart. The bridesmaids dress were also organised by Fiona of Emily Eve, and expertly altered to tea length in the case of my 10yr old bridesmaid who grew an inch!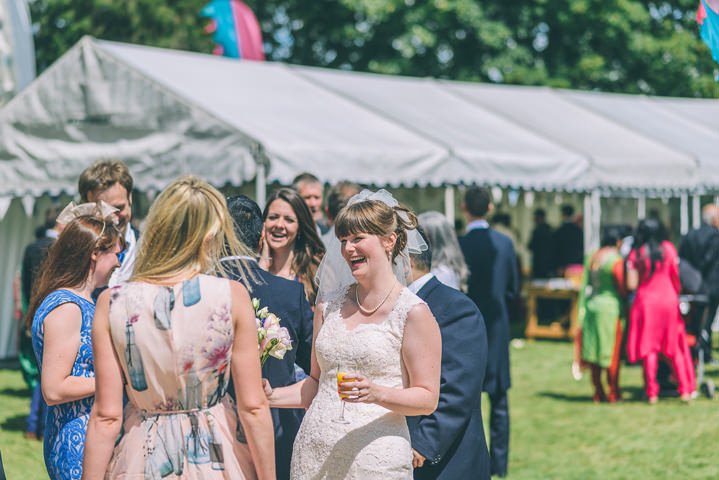 Theme or colour scheme
We had a shortlist of things we wanted- a nod to our love of festivals (big flags outside) and our tables were named after areas of Glastonbury. We also wanted our fusion of cultures represented in both the ceremonies and the food. And lots of colour! We ended up with 'our big fat anglo-indian country festival wedding!'
The flowers
Hand tied bouquets for myself and the bridesmaids- bright peonies and roses. If you look closely there was also an Iris and a Lily in my bouquet as a nod to my late grandmothers (their names). The boys had white rose button holes. The flowers came from Wendy and her team at Sunflowers florist in Cam, Gloucestershire.
The decoration
Elmore is lovely without dressings, but we did have some ribbons tied to the chairs in the great hall, along with leafy arrangements made from my parent's garden. The tables were decorated with Karahi stands for the food, with miniature trees wrapped in fairy lights to help create our 'magical festival forest' reception. The table names were made from photos we'd taken at a very rainy Glasto the fortnight before the wedding, which were dutifully laminated by my primary school teacher bridesmaid!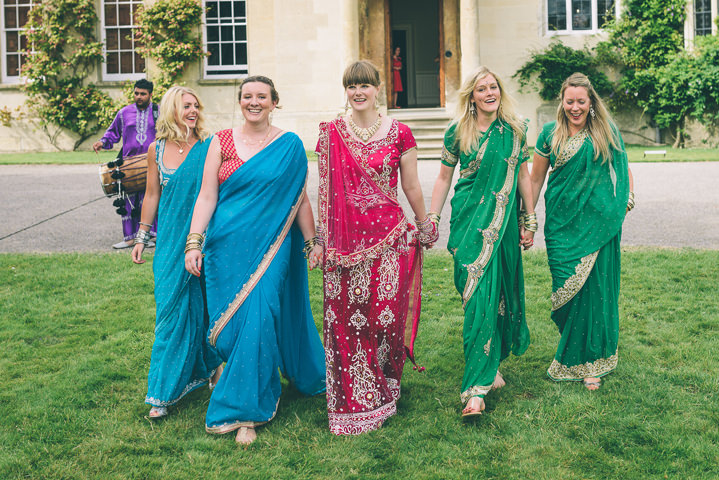 The food
We had a big picnic after the civil ceremony washed down with bucks fizz and chai. Then later in the evening there was an Indian feast with dozens of different dishes along with freshly cooked naan and free flowing beer!
The wedding cake
The wedding cake was homemade and decorated by Katy's mum (who never wants to see an icing petal again!) The cake toppers were made by Kate Swinscoe (loveontop.co.uk) from photos we sent her- we loved them!
The entertainment
We had an DJ called Amma who runs a Saqi Roadshow (www.saqiroadshow.com )with his brother Manj. They were brilliant and not only kept the guests entertained during the evening with an awesome mix of English and Indian music, but also supplied all the PA equipment for the outdoor Indian ceremony and the equipment for music during the picnic.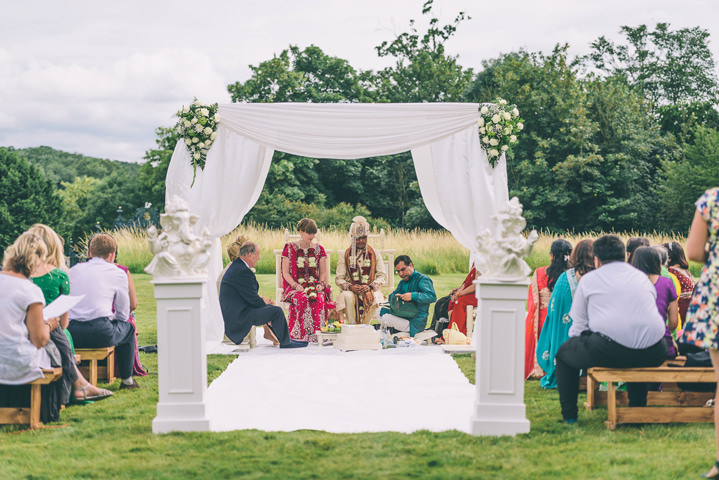 Buy or DIY your stationery?
Bought- too many guests for DIY we decided! www.weddingpaperdivas.com.
Personal or handmade touches
The cake and the table plan were our labours of love.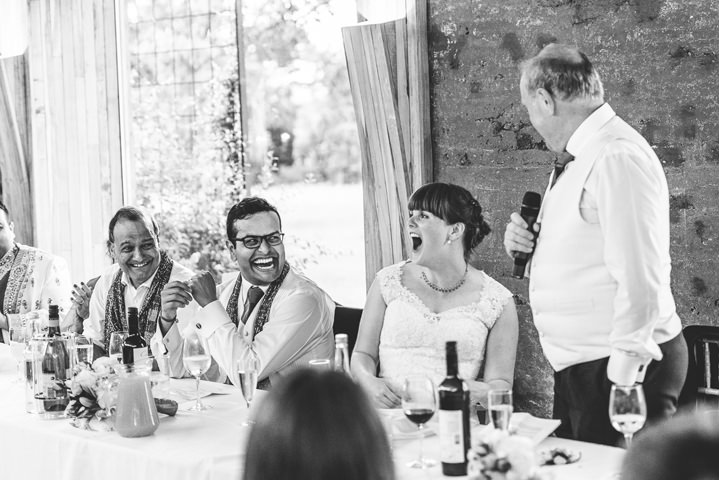 Special moments or highlights
The day was genuinely jam packed with special moments. Arriving to see the Mandap up and ready for the Indian ceremony and the sun shining was a great start! Watching Naresh barter for his shoes back post Indian ceremony was priceless (my little cousin Isaac, as per tradition had stolen them, and did very well with monetary negotiations for their safe return!). We stayed at Elmore overnight and sat drinking port with our wedding party pre bed. We were feeling very relaxed and loved by this point.
Biggest surprise
My dad's father of the bride speech. For a man not renowned for his memory, he certainly pulled some stories out of the bag…..
Advice for other couples
Enjoy yourselves, it's too easy to get bogged down in details. And delegate, remember your only job is to look great and have fun. Make sure someone else is clock watching!
Supplier Shout Outs:
For more information on Rob's work go to:
www.robtarren.co.uk
www.robtarren.co.uk/blog
07590 529883
[email protected]
For more information on Elmore Court go to
http://elmorecourt.com
www.elmorecourt.com/blog
FACEBOOK
@elmorecourt
07540098488