When you think of festival weddings, you may automatically think about summer sunshine, tipi's, outdoor dancing and all things music related. However, festival weddings don't have to be reserved for the warmer months, you can hold a festival wedding in the winter time as well. Think dark nights, sparkle, lots of layers and you are halfway there. Elmore Court love planning winter weddings and their speciality is festival style weddings, adding a winter twist on the traditional summer festival celebration, turning it on its head and making it their own. So today I have enlisted their expertise to give you their top tips on planning a winter festival wedding.
Elmore Court is an unusual wedding venue nestled in a bend of the River Severn in Gloucestershire. The 'unusual' aspect comes from the team running the venue… Team E (as they're affectionately known by couples) have a strong background in festivals, parties and events. Most notably owner Anselm Guise founded Glade festival, and his wife Sarah helped bring Secret Garden Party to life.
Since opening the doors to their family home in 2013 they have brought a little festival magic to thousands of weddings in all seasons- Just because it's cold/ raining or snowing outside doesn't mean you can't party like it's midsummer's eve.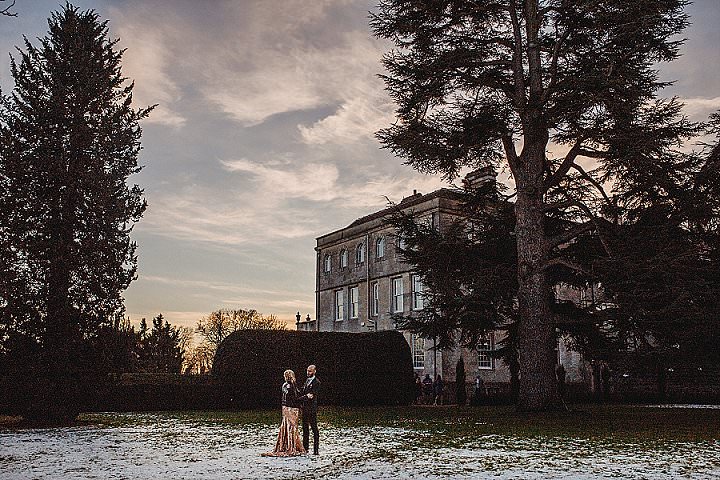 (Photo by flemming photography)
Here's Team E's top tips to bring a little festival magic to your winter wedding
Winter magic
Winter brings with it a magic that no other season possesses. The sparkling frost, the excitement of Christmas, the thrill of the pantomime, the New Year revelry. You can draw on all of this to create a truly magical Winter wedding. An old stately home like Elmore Court is the perfect setting for a winter wonderland wedding. Old houses look particularly magical in candlelight and a palette of silver and white creates the perfect snow queen palace… Our wedding reception space, The Gillyflower, already twinkles with hundreds of droplets of light in the form of our Bruce Monro light installation. All you need to add are sparkling winter trees or branches to tables, tea lights or silver candelabras, Christmas roses or white ranunculus for a magical winter wedding reception.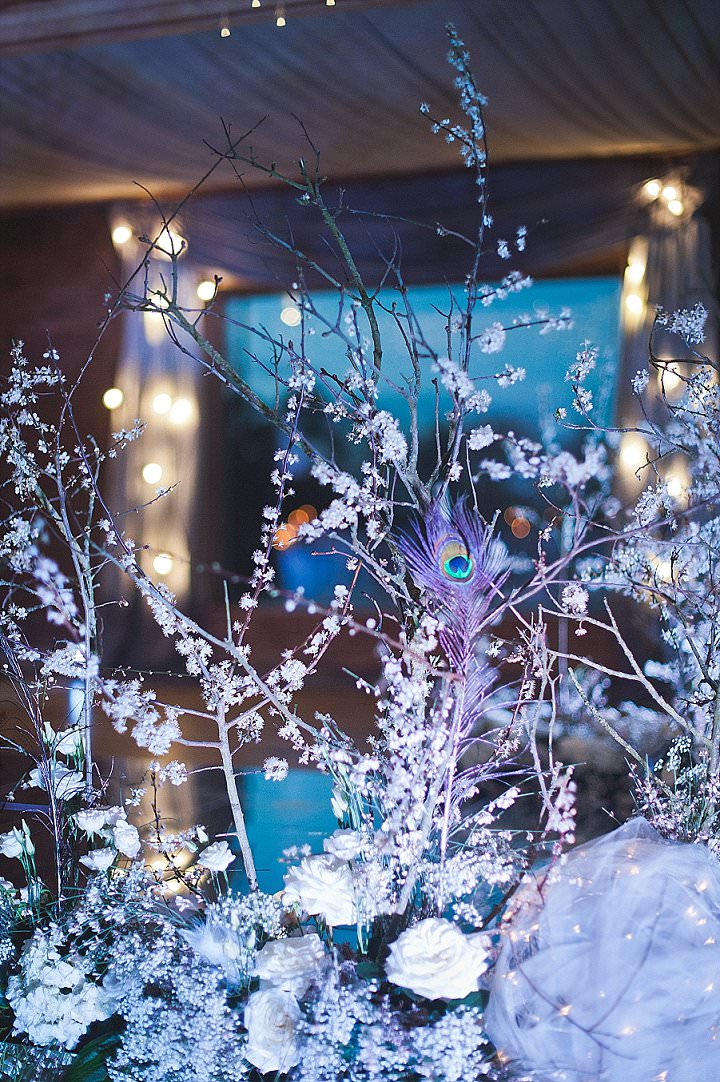 Late night revelry
What better way to keep warm than to dance late into the night? Choose a live band or DJ who knows how to keep guests on the dance floor and gets people interacting – if you haven't heard them play before it's important to check them out live before booking, being a brilliant recording artist is a very different skill set to keeping an audience entertained and dancing even when their feet ache!
Dancing fuel
The dark winter evenings mean you can start the party even earlier so make sure you have some late night snacks planned for your guests to keep the energy upbeat.
We love pizza at midnight, a hog roast that keeps on serving, cheese boards and port at the side of the dance floor, sweets and treats (or a dessert table) to pick at, or mini pies (which we can brand with your initials in the Elmore kitchens!)
All that glitters
Winter is the perfect time to get sparkly. Why not give your guests a sequin dress code? Or hire a (biodegradable) glitter bar to give everyone a little sprinkle of dancefloor magic.
Sparkler exits (when every guest is given a sparkler to hold to see the couple off after the party) are always popular and make for the most beautiful and natural group shots.
(Photo by flemming photography)
(Photo by flemming photography)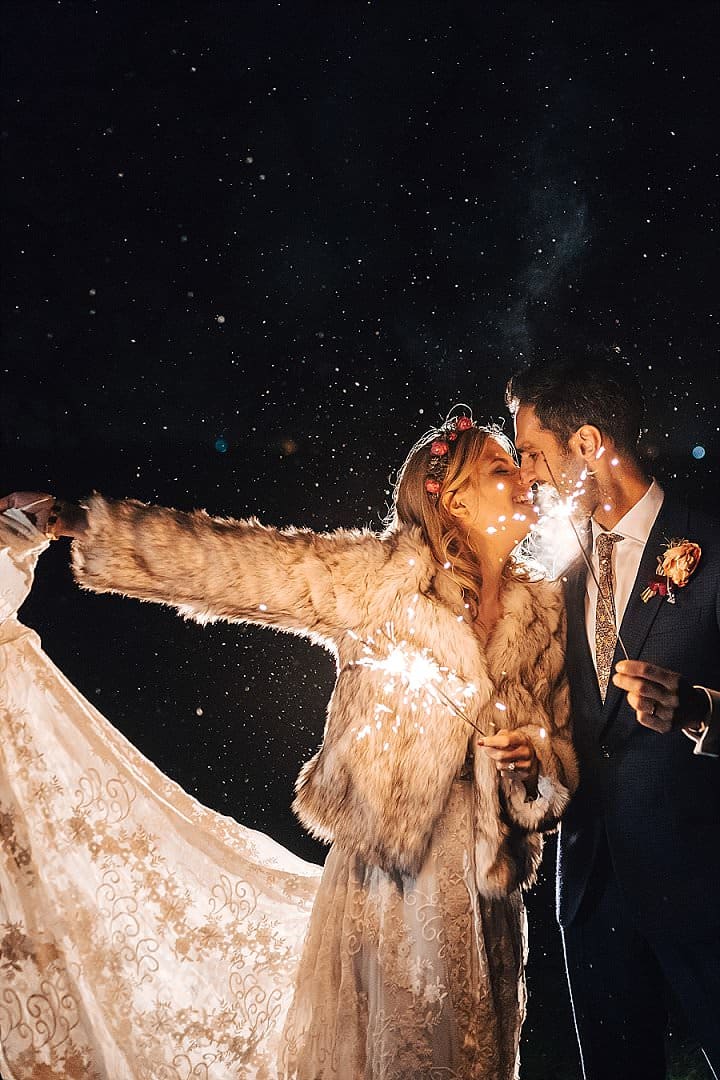 Fairy tale wedding theme
A fairy tale theme works beautifully at Elmore Court at this time of year. Light the way to the magical mansion with lanterns along the path. Think ball gowns, 'glass slippers' and gold candelabras, a wedding feast with 7 courses laid out on long banqueting tables and dancing until midnight…Fairy tale favours of tiny bottles of liquor or miniature boxes of Turkish delight can be left on the tables for guests, or if you're staying at Elmore, why not pop them on the pillows for a really magical surprise?
Light up the darkness
The dark winter nights are the perfect backdrop to have fun with lighting. Using uplighters on the trees outside the gillyflower and hanging a disco ball in the branches lends a truly enchanted feeling to the grounds. Or you can hold a light projection show on the main house for the ultimate way to kick start the party!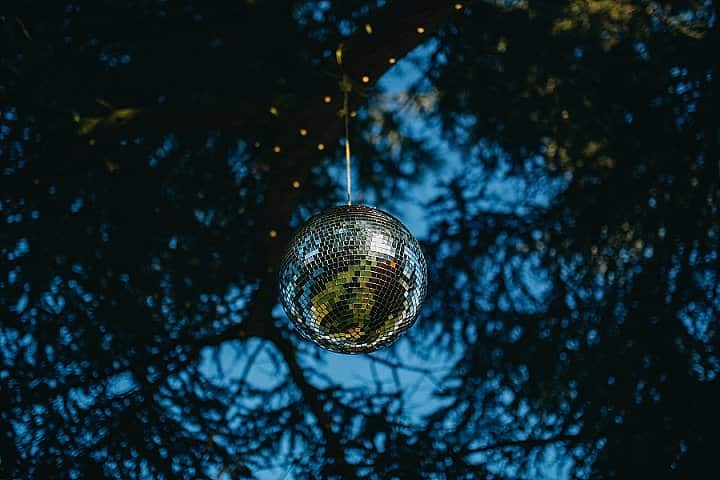 (Photo by flemming photography)
Getting Hygge with it
We love to embrace the Danish concept of Hygge in the winter. Creating a cosy and intimate wedding is easy with low lighting (candlelight is perfect) blankets, sheep skins and comfy corners for guests, songs and marshmallows round the fire pit, warming drinks like rum hot chocolate or mulled cider and lots of delicious comfort food. You could even serve up a totally Scandinavian menu; smørgåsbord anyone? And of course huge amounts of cake and coffee.
Keep cosy
A coat rail of snuggly faux fur coats and hats is a lovely Narnia-esque way to keep your guests warm. You can pick up some brilliant bargains at charity shops and it's a good way to give back too.
Baskets of blankets, roaring fires (inside and out) and mugs of hot chocolate are also good additions to up the cosy factor.
Deck the halls with boughs of holly
Seasonal flowers are not so plentiful in the UK in the colder months, but avoid importing flowers from a long way and have fun with other décor options instead…
Play with foliage, branches and feathers on your wedding tables to create a beautifully rustic winter setting, or bring in the spirit of Christmas and forage for holly, mistletoe and berries.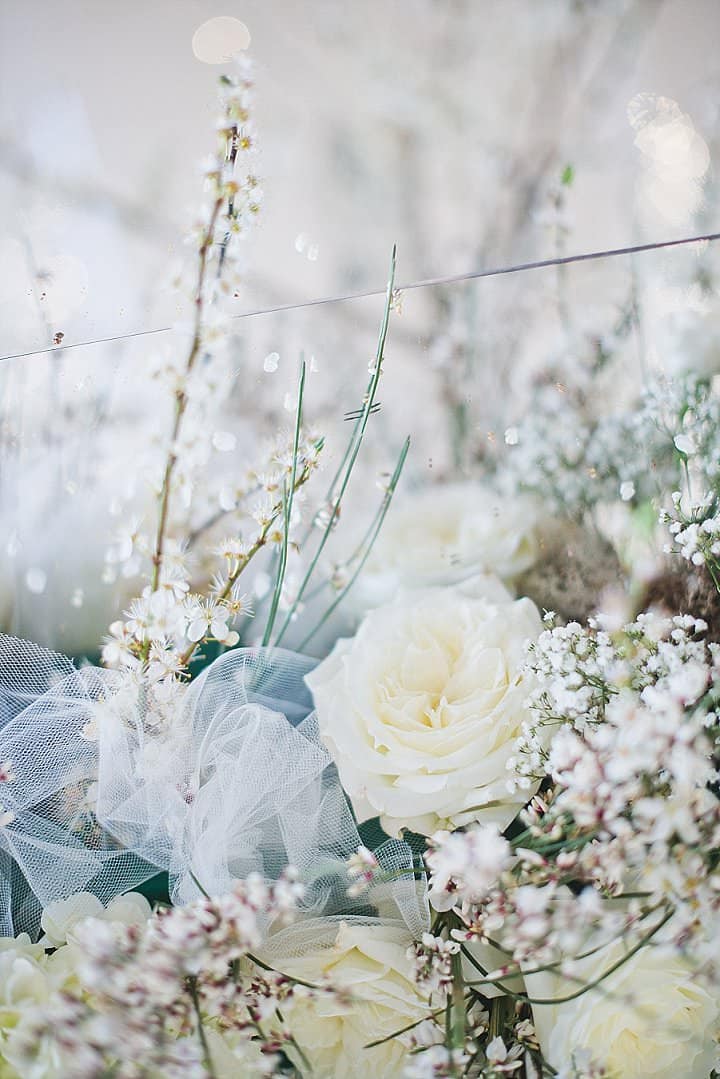 Keep the surprise alive
Magic is all about the element of surprise, make sure you don't give away all the details to your guests- or even your other half! And plan some little surprises throughout the day.
These could be simple gifts for your bridesmaids or groomsmen, a heartfelt love letter to your fiancé, personalised wedding favours that convey how much each friend and family member means, or larger surprise elements like walkabout performers, a magician, secret areas that are unveiled later in the evening, a mind-blowing first dance routine, or an epic outfit change…
For more information on Elmore Court go to
www.elmorecourt.com / www.elmorecourt.com/blog / FACEBOOK / INSTAGRAM
An unusual wedding venue nestled in a bend of the River Severn and surrounded by Cotswolds countryside. Elmore Court is a 750 year old family home run by festival founders who like to do things differently. Outdoor weddings, hall and church weddings are all possible here as well as infinite other options- all you have to do is ask!
this is a sponsored post