Today we are back with Lisa and Alex from 2 people 1 life for wedding number 56 in Austria. Last time Lisa and Alex were in Transylvania with a traditional Romanian ceremony. This time we see them surrounded with some absolutely amazing scenery, with forests and superb views a plenty! It does look like something out of the sound of music, I can just see the Von Trapp family running over the hills!
(In case you have missed the whole story, Lisa and Alex have spent the last two years travelling round the world getting married in every country they visit, you can read more about their adventures HERE.)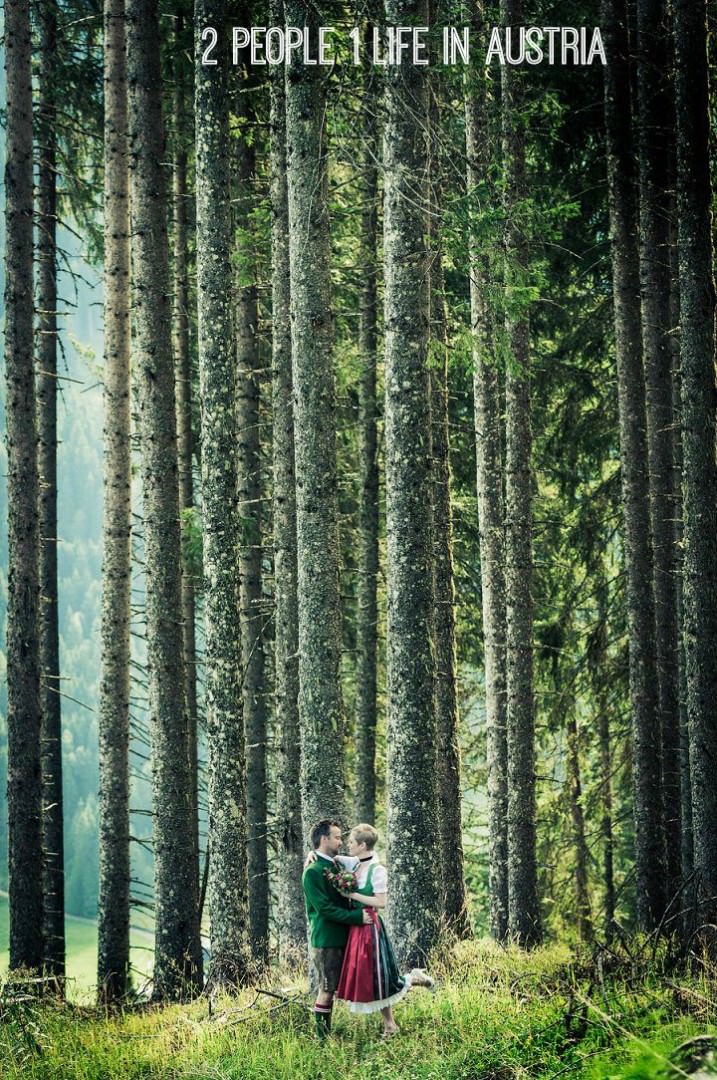 Austria HAS to be the most perfect place to recoup and reinstate sanity. The fresh air, the great produce and the feeling of being surrounded by some of the most spectacular scenery is so uplifting that I would suggest to anyone feeling a little under the weather to book a cheap last minute holiday deal and just go and soak it up. Massages, drinking amazing wine at a snip of a price, wandering beautiful village streets and feeling cocooned by the clean, warming blue sky is the best medicine around. We felt ready to get our wedding on again and just in time too.
We met with our amazing wedding team in Sankt Johan at a gorgeous shop which specialises in traditional Austrian clothing. Andrea and Silvia our wedding planners from Pura Magia had come all the way from Italy to help us and had come in convoy with friends, our wonderful photographer Stefano and her husband Max. Everyone had a great laugh as Alex and I fumbled our way into fitted lederhosen, fitted blouses and rather unusual shoes. It took no time for the owner of Nagl Mode to fit us out with complementing outfits in green and red which are the traditional wedding colours in the region. Afterwards we enjoyed an afternoon meal with the team and got to know everyone a little bit better before grabbing an early night in preparation for a 6am start for wedding 56!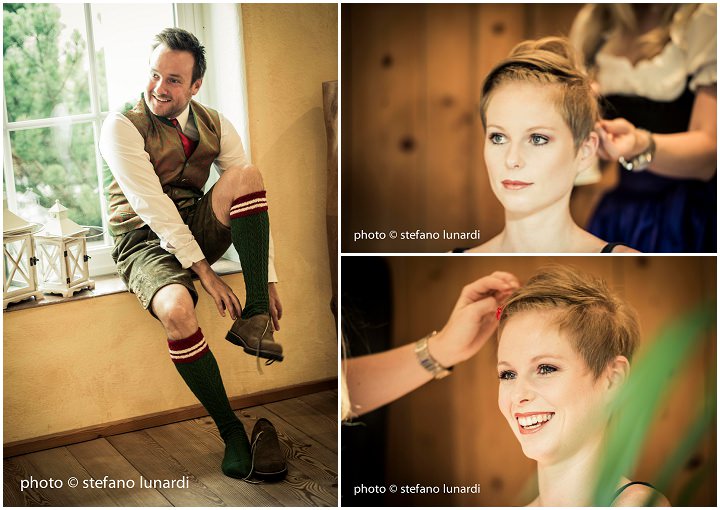 Austria is so amazing and just cram packed with beauty. Andrea drove us along the narrow winding lanes into the mountains at the speed of light and we arrived at the hotel as the mist started to lose its grip on the pine trees climbing up the vast hills. Hotel Hanneshof Kleinarl is set in the most idyllic location on earth. We drank coffee and ate the most delicious pastries while we had hair and make-up done in the wood scented spa and were driven up a loose gravel track with some hairy bends and mind numbing drops to the hotel owners family cottage.
Our next adventure was all in the name of getting THE picture! I desperately wanted a picture in the gorgeously smelling pine forest but it meant (as per usual) scaling boulders covered in a bed of pine needles in a pair of heels. I sucked it up and got on with it and for the first few moments of climbing convinced myself that the tickling and nipping sensation all over my feet was that pine needles were getting in the stylishly placed holes in my shoes. However, the pinching quickly became more frequent and I looked down to find that my feet INSIDE MY SHOES were covered in a thick layer of HUGE ants! Panic kicked in and I unfastened the shoes and stood on one foot kicking wildly to get rid of the biting creatures. It wasn't working, they were biting and clinging on for grim death, I literally had to pick them off and throw them. I was clinging onto Alex flailing wildly and all the time poor Stefano was trying to take pictures! He was shouting can you just go a little to the left, up a bit further, back a bit and I was jumping around like a lunatic.
We waved farewell to the lovely hotel and its owners and set off to the church for our traditional Austrian ceremony. Buchbergkirche, the church, is in the most beautiful setting. The church is first mentioned in documents in 1370. Romanesque wall remains and the round-arched entrance portal on the south side suggest, however an origin around 1200. We met with Mr Ernst Reppnig, the Deacon, and he introduced us to his church in an incredibly calming and soothing voice. He told us a little about the history of the place and of the paintings that have faded over the thousands of years. He asked us about our journey and implored the importance of us both remaining individuals in our quest. He thought that the name 2people1life suggests that we may become the same person following the same path. We assured him that we definitely remain individuals each of us with our own goals, but all of those goals are for our life together.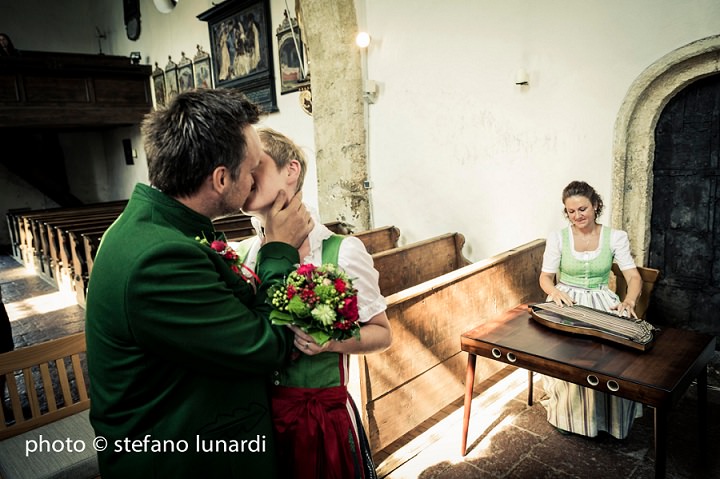 He invited us to enter the church with him as Christina played an unusual looking but beautifully sounding sitar. The strings vibrated an almost haunting sound all around us and we sat and listened until the song had finished. The Deacon began his sermon by telling a story that held so much resonance with our own that we couldn't help but grin stupidly the entire time he told it. The story was about a couple who went out into the World in search of the place where the heaven met the earth. They travelled the globe in search of this place and eventually they found a door. They stepped inside and found that they were in their home. This is where they realised that their home WAS the place where heaven met the earth.
We lit a candle together as a symbol of our unity and Mr Reppnig completed the ceremony with the most beautiful blessing in his soothing voice that could lull anyone into a trance like state, and tears rolled silently down my face as he pronounced us 2people1life. We stepped out of the cool church into the warm sunshine and drank Prosecco and ate canapes with the team and talked more about our upcoming adventures. We couldn't leave the amazing church without fulfilling the opportunity to skip through the long grass singing the hills are alive at the top of our lungs, luckily we had Stefano with us to capture it all. All of this and with true precision, we were back at Peggy by 2 in the afternoon!
Such an incredible day, thanks so much to everyone that made it possible!
Supplier Shout Outs
To follow Lisa and Alex's journey go to
http://2people1life.com/blog/
http://2people1life.com/blog/the-whole-journey
FACEBOOK
@2people1life
If you have missed any of the previous weddings you can catch up HERE