There's something quite magical about a wedding in the woods. Emma and Daniel celebrated their union with a handfasting ceremony in amongst the trees of Cannock Chase in Staffordshire. Their special day was caught on camera by Jay Morgan and as you read through today's real wedding, it's easy to see why Emma and Daniel chose such a beautiful place. There's an abundance of DIY projects and special handmade touches and the couple were lucky to have a sunny day to celebrate with their friends and family. A day later and this wedding may not have even taken place, due to massive thunderstorms! I particularly love the first dance routine, complete with piano keys to dance on!
'A magical party in the woods full of love and laughter.'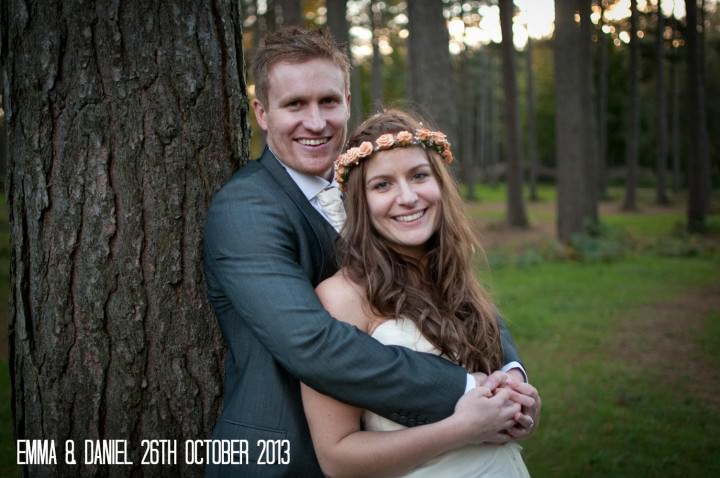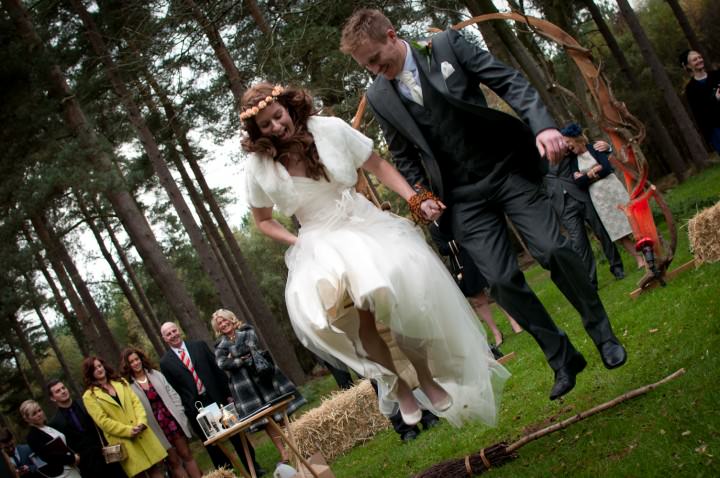 Emma and Daniel were married on Saturday 26th October last year at the Tackeroo Camping ground in Cannock Chase. Amongst the tree's. "We love autumn, we love the colour of the leaves and the smell in the air……and Dan could not bear the idea of being in a 3-piece suit over the summer months! Far too hot for him. It was a big one- 175 guests in all, but the setting and atmosphere made it incredibly intimate."
How they met
We are not sure of the age that we met. We met when we were kids through our parents who worked together, as young as 4 and 7. We would see each other once a year at an annual camping weekend. We both remember butterflies when we saw each other and as we grew older those feelings became stronger. We got together when we were 21 and 24 and went out for a year but life pulled us in different directions. It was after six years apart but keeping in contact and knowing how we felt that we finally sorted ourselves out. We went for a meal where I (Emma) told him that there was no one else for me and I only wanted him. The rest, as they say, is history. We had been together a year when Dan proposed and got married the year later.
The proposal
It was October 2012 and Dan took me away for the weekend. We went to 'our place' which is Talybont, Snowdonia where we met as children. We booked into a campsite and had a brilliant time walking on the beach and up Cadar Idris. On what I thought was our last day there, after we packed away the tent, Dan abandoned me at the site leaving me in reception with the owner Lynn who said she didn't know what was happening but that Dan had left me something- a box with a bag, a bottle of water, a coat, a fiver and 2 pound coins, a map and my first 'clue'………. I then went on a 4 and half mile walk searching for 8 different clues and completing little tasks before being given a lift from a woman in the local bar (The Last Inn in Barmouth- awesome place) up to Barmouth Slabs. I eventually found the last clue and then Dan presented himself, got down on one knee and proposed with a Haribo ring. When I said yes he almost instantly called the ring shop and gave the go ahead to make the ring he had designed!!
How did you spend your budget?
We went off track here and didn't really have a budget. Now we're not made of money we just did what we had to, to have the day we wanted.
Why did you choose your photographer?
We met Jamie and Jason at a wedding fair. We liked their attitude and the fact they took very discreet and informal photos. Really nice guys and quality work.
The dress and accessories
Dress was from a wonderful little dress shop in Lye called Georgina Scott Bridal. I went in for fitting and ended up there for 3 hours with a lovely woman who listened to our ideas and our proposal and pulled out an Augusta Jones 'Jane' the wild card dress right at the end of the fitting. It was love at first sight albeit I made a lot of adjustment choices to it to make it perfect for what I wanted. Shoes were from Debenhams and my jewellery was my mums and my Grandma's.
The suit and bridesmaids
The suits were from a place in Birmingham: Slaters. The Bridesmaids dresses were from Oasis and the shoes, a Primark special!
The theme
Rustic woodland was our theme so very autumnal: oranges in particular.
The flowers
I went to Tesco's on the day before the wedding and bought 4 bouquets worth £17, a collection of flowers including lilies and carnations. My Grandma arranged them in two pumpkins and we had them on the head table- they looked incredible- vibrant with blues, reds and oranges in there. My bridesmaids had white bouquets of roses and gypsophellias. I didn't have a bouquet as I would have only kept putting it down or getting my mum to hold it.
The decoration
Rustic and natural. We picked leaves, acorns, chestnuts and little twigs and put them on the hessian table clothes. We then put a pumpkin on each table that had been carved by Dan and his ushers two nights before the wedding- he paid them with beer!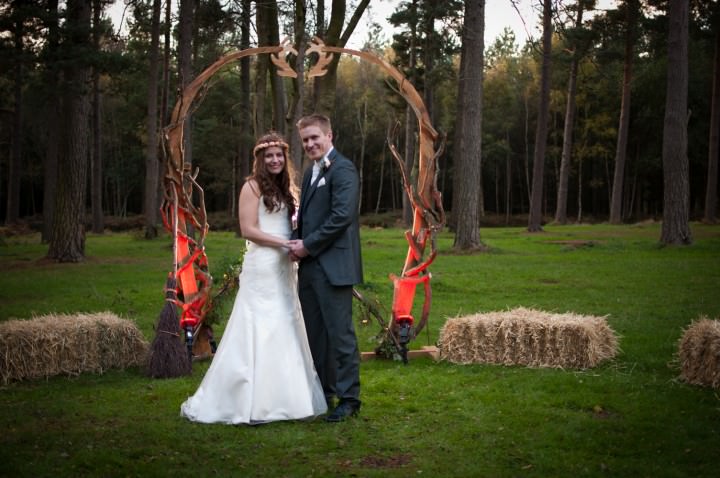 The food and wedding cake
We had a hot and cold buffet that was serving beef in red wine, five bean chilli and Thai green chicken curry to name but a few things. We had three wedding cakes! My mum made the fruit cake which was absolutely divine. She started making the two tier cake in June and then decorated it with a leaf garland (edible) and a little man coming out of a tent whilst the girl sat, reading a book and drinking a cup of tea- very apt. I'm a coeliac which means I have a gluten-free diet so my almost godmum made me a very special gluten-free sponge cake that was covered in berries- so she had made it the day of the wedding. Our final incredible cake was a sponge, covered in white Belgian chocolate and decorated with his n her owls that my textiles friend at work made us.
The entertainment
We had WDC Entertainment: a DJ called Dominik Sobanski. He was awesome and kept the dance floor full all night.
Buy or DIY your stationery?
D.I.Y: we traced an oak leaf and Dan then drew a little woodland in the corner and handwrote all of the details which we then scanned into the computer and printed. We then drew pumpkins with a smiley face or sad face to send as the RSVP. It was a lot of cutting out but well worth it.
Personal or handmade touches
Our wedding was very D.I.Y: I made the headpiece I wore, it cost about £5 to make. We did our own table designs and seating plan. The table places were the favours for people and we collected pebbles from Talybont and wrote the couples' or individual's names on them. People could have them as their keepsake and a number of people have taken them back to the beach at Talybont and left them back there. The flowers on the head table were my Grandma's craftsmanship. We had a vase full of chocolate bars for dessert.
Special moments
It was a special day from start to finish. We had a beautiful handfasting ceremony over in the woods and some of friends were a part of it- they had the points of the compass to represent and had lines they had to say. The fact that they each did it in their own way and we had a giggle about it was a particular highlight. We had one of Dan's friends 'Slug' aka Michael Smyth singing two songs: a woodland song and Ava Maria, he is an opera singer so it was just astounding. My friend Lynsey Baker did a beautiful reading of a poem called 'I Like You', she had learnt all the words and delivered them with a huge smile on her face and little cat ears on her head (she went for a theme- animalistic).
All three speeches were incredible and it was during those that everyone on the head table got to witness all our friends and family together. The best man's speech came with a number of quirky photos and a song to Mambo number five complete with a dance routine. The final highlight was the first dance; we danced to Mr Big 'Be with You' as when we were younger Dan would leave me voicemails singing this song to me. This then turned into the piano song music from the film 'Big' and we did a routine on a piano mat we had painted and practiced on!!!
Advice to other couples
It such a special day that you must make it for you pair. Don't let other people stress you out and stick to what you would like. Take the time throughout the day to grab little moments together, we had a little walk in the woods where we chatted and laughed about things. Keep in sight why you are doing it though- it's very easy to throw a lot of money at a wedding and panic buy in the two weeks beforehand- keep in sight the reasons you are doing it and do not panic buy- not worth it!!!! Make sure you have a chat before you go in head first about why you two are getting married and what you see as your wedding day, do make sure the groom has his say in the matter as it's his day too.
Biggest surprise
It was October so the weather could have been awful. With such a large group of guests we needed the weather to be ok for us so we could have the handfast ceremony outside. It was better than that; the sun shone throughout the ceremony and picture taking. As soon as everyone was inside it absolutely belted down. Over night storms set in and the marquee and site was on evacuation lockdown the following day- had the wedding been a day later and it wouldn't have been happening!!!




Supplier Shout Outs:
For more information on Jay's work please go to:
www.jaymorgan.co.uk
www.jaymorgan.co.uk/blog
FACEBOOK
@jaymorganUK
Tel: 01902 331898
Mob: 07725 592 593

[jprel]