Happy Friday everyone, wow that came around fast didn't it! To make this Friday even better is the fact that it's the start of a bank holiday weekend  Yay! I think we are all praying for some good weather! I'm looking forward to taking a couple of days off, so I'll be back after the weekend rested and rejuvenated. To welcome the weekend I have this super cute festival wedding, complete with outdoor ceremony and hand fasting ceremony. Pretty much everything was DIY, but the best bit is that it was all planned in 8 weeks!…..yep 8 weeks! Thanks to Anna Morgan Photography for the photos.
'An amazing day full of friends, family, music and laughter. It was completely mad and perfect and we got to share it with those we love and hold dear'
Lea-Anne and David were married on 22nd September 2012 at Folke Manor Farm, Sherborne, Dorset. 'As we decided to plan our wedding in the short space of 8 weeks we were rather pressed for time and finding a venue proved very stressful and difficult! We knew we wanted to get married out in the open as we had a festival theme in mind and finding any available venue at such notice would have been difficult enough let alone one which would allow camping! We spent a good week solidly scouring the internet for ideas and I even called up local camp sites just in case they'd be mad enough to let us invade them for 48 hours. Eventually, through perseverance and sheer luck I stumbled across the website for Folke Manor Farm and immediately fell in love with the place – weeping willow trees, a lake, lush manicured lawn and a separate field to camp in! We called up John and Carol, the owners, and after a few conversations about what we had in mind and what budget we had to work to they agreed to let us use their stunning venue for our wedding. Folke Manor Farm is a holiday getaway location and has a collection of cottages and a B&B. This was fantastic for us as we were able to book one of the cottages for the duration of the wedding to get ready in the morning and relax afterwards. We had 60 guests'
How they met
We met on a night out at a local pub through a mutual friend of ours in 2008. We kept in contact online and occasionally bumped into each other out and about but it wasn't until summer 2010 that we really got chatting. We started having coffee together regularly as we discovered we shared a caffeine addiction and soon realised we clicked together. We made each other laugh and most importantly shared the same sense of humor, so that was a big winner for us. One night we ended up on a middle-of-the-night walk in the woods and kinda 'fell' into this whirlwind romance that never stopped! We got married just before our 2 year anniversary of being officially in a relationship.
Why did you choose your photographer?
We chose Anna Morgan to be our photographer because we received a stunning recommendation through a friend of ours who's worked with her before. After taking a look on Anna's website and meeting her at our local pub for a chat we decided she was the photographer for us. She's a really down to earth character and really unobtrusive which is exactly the kind of person we were looking for – not to mention her excellent eye for photography and photojournalist approach which keeps you feeling completely at ease. I just can't sing her praises enough!
The dress
My wedding dress was a bit of a miracle in all honesty. Given the 8 week deadline I could only go for something 'off-the-peg' which completely reduced my options. Sassy Brides gave me great, friendly service and just happened to have my dream dress hanging right there. Unfortunately it was 2 sizes too big for me but they had on hand Sylwia, a seamstress and an angel, who made my dress fit perfectly. The lovely ladies who served me in Sassy informed me that my dress was by Pronovias.
My necklace was from H Samuel and my shoes were flat ballet style pumps by Début, in Debenhams.
The suit and bridesmaids
David's suit was hired from Austin Reed and was also a bit of a last-minute miracle. David has always loved the Nehru style suit, and they are very tricky to find. Austin Reed turned out to be the only place in Dorset we found to hire one in black.
The groomsmens' suits came from Moss Bros and the bridesmaids dresses were by Coast, in House of Fraser.
Theme or colour scheme
We initially had a colour scheme of pink and white but we were really flexible with it. After we agreed on bridesmaids dresses and I had my gown we changed to ivory and a peachy pink to match. The theme of the entire wedding was a festival, even the invitations were festival tickets entitled 'Dowland Fest' and the guest accommodation was a field!
Flowers
Calla Lillies by Penn Hill Flowers in Poole.
Decoration
We didn't focus too much on decorations as the venue was so stunning it really did speak for itself. The hay bales we used for seating also served as decorations in a way as they really added to the feel of the wedding.
Food
We decided to have a BBQ as, who doesn't love a BBQ? Being both vegetarians David and I wanted to do something everyone would enjoy, without being forced into a vegetarian main meal or us sacrificing our food choices to appease the meat-hungry masses.
Entertainment
Being both musicians and David being from a family of musicians our entertainment was like a festival line up – which is how the theme was born to begin with. We had an assortment of bands put together including: ourselves for the first shred (we much preferred the idea of being on the stage than the dancefloor): Deep Red (a functions and wedding band that David plays in): Men From Uncle (a mad rocked up bluegrass band playing everything from the Eagles and U2 to Europe and AC/DC) and any combo of people who wanted to jam.
Personal / DIY touches
I would say that our entire wedding was pretty DIY. Our friends and family all pulled together to help us make the day happen.
• The ceremony itself was a Handfasting written around exactly what we wanted to be said and was delivered beautifully by a good family friend who is ordained as a pagan priestess
• The whole day was videoed by a friend
• The marquees were hired through a friend of a friend
• The alterations for bridesmaids dresses were all done by relatives and friends
• My hair and the bridesmaids hair was masterfully done by my chief bridesmaid Kayla who also works for Tony & Guy
• The entertainment was provided ourselves through the sheer amount of musically minded friends we have who wanted to get involved
• The P.A was supplied by Absolute Music – a huge music retailer and recording/rehearsing complex in Bournemouth where David works
• One of my closest friends Steph and her partner Matt took charge on the BBQ front and my mother chipped in with some veggie buffet items too… there's so much more to list I'm losing track!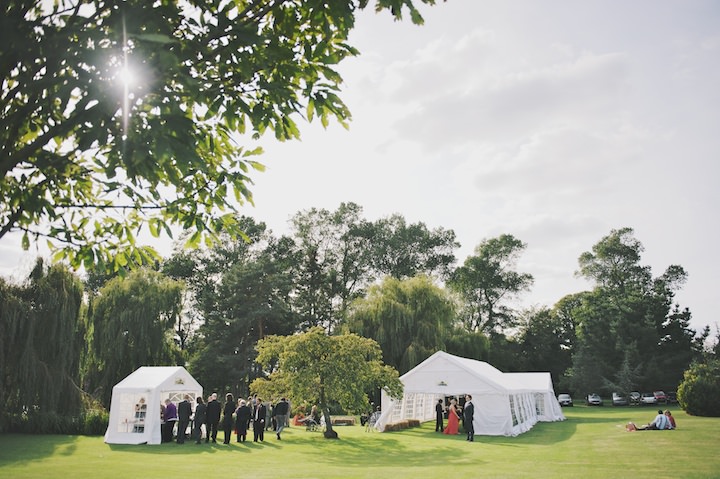 Special moments
We both agree that the wedding vows were a particularly special part of the day. The wedding speeches were lovely and highly amusing and the most touching thing of all was the support we got from everyone on the day. One of the groomsmen even graced us with a special appearance in his skin tight skiing onesy whilst playing the drums which got many laughs and I definitely won't forget any time soon.
Biggest surprise
The weather! The week running up to the wedding it was stormy and the day after it rained solidly all day so we were amazed to find bright sunshine on our big day.
Advice
Keep it real. The biggest challenge we had throughout planning our wedding was choosing what was a priority to us and what didn't really matter. When we started planning we were so worried about finding the money for nice tables and chairs, seating charts, place names, table cloths, hiring a bar, flooring for the marquees, flower arrangements and center pieces on each table etc. When we really thought about it we realised quite how much pressure wedding magazines and planning booklets put on you to do things the 'done' way – and you really don't have to. Once we got our heads around the elements that mattered to us we found ourselves saving a fortune on little bits and bobs we didn't need and got to spend out on the fun things that made a difference to us. We replaced a bar with bring-a-bottle, we had people sat on picnic blankets with paper plates, hay bale pews and a free for all on seating etc etc. Make the day about you and what you really want.
Oh and delegate lots…wedding planning is stressful! (A big thank you to Kayla, my chief bridesmaid here)
Supplier Shout Outs
For more information on Anna's work go to
www.annamorganphotography.co.uk
www.annamorganphotography.co.uk/blog
FACEBOOK
@annamorganphoto
07788971070