It's clear to see that today's couple has bucket loads of personality and style which was stuffed into their wedding day! Beautiful, intimate images by Paul Joseph Photography of their moments at the church and then a right royal knees up vintage-style, complete with afternoon tea, as much cheese as you can eat and the most beautiful, handmade finishing touches using hessian, buttons, vintage crochet and lace. There are miles and miles of bunting and a silent disco, which I have never had the pleasure of being part of, but judging by this, is going to be the next thing on my list of must-dos. Today's wedding is a feast for all of the senses!
'A whirlwind of gorgeousness and a feast of lovely people in lovely places; Lace, hessian, buttons & a tea party with a silent disco!!'
Hannah and Sam were married on Saturday 21st September last year at St Michael and All Saints in Linton, North Yorkshire & The Craven Arms Cruck Barn in Appletreewick. "We were recommended the reception venue by a friend; we fell in love with it when we saw it. We went on Easter Monday and impulsively booked it for the next available date in the September! Giving us only six months to prepare. We then manically phoned around to find an available church nearby! Luckily the super lovely vicar of Linton Church, David Macha, was up for taking us on. He even let us bring our own Vicar! It was also a bonus that the church itself was absolutely stunning. All in all, we had just over 100 guests. 60 for the sit down meal and 40 more who joined us for the ceremony and the evening do. Because we only had 5 and a bit months from initially booking the venue to the actual wedding. I got a bit overwhelmed with the whole process as we were making most things ourselves. The last six weeks especially were intense, lots of late nights crafting."
How they met
We have been together for 5 years now. We met through mutual friends of ours who were also a couple. My friend thought it would be a marvellous idea for us to get together so kept inviting us both round at the same time. With only the faintest notions of why she needed us round. About a year later her plan came together.
The proposal
(Sam) I had heard Hannah wax lyrical about how much she loved Paris and how she and her best man (we both had best men) made annual pilgrimages there on a shoestring budget. I thought where better than the city of love and somewhere she already loves so much. I decided to propose on the Eiffel Tower. The first night I had the ring box down my sock all evening. After we had dinner but the tower was closed (ouch). The second night it all went to plan.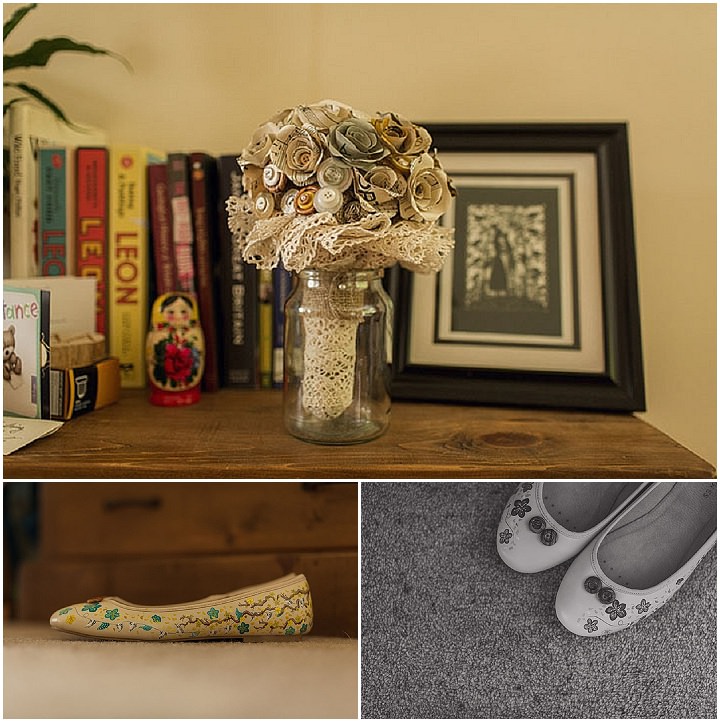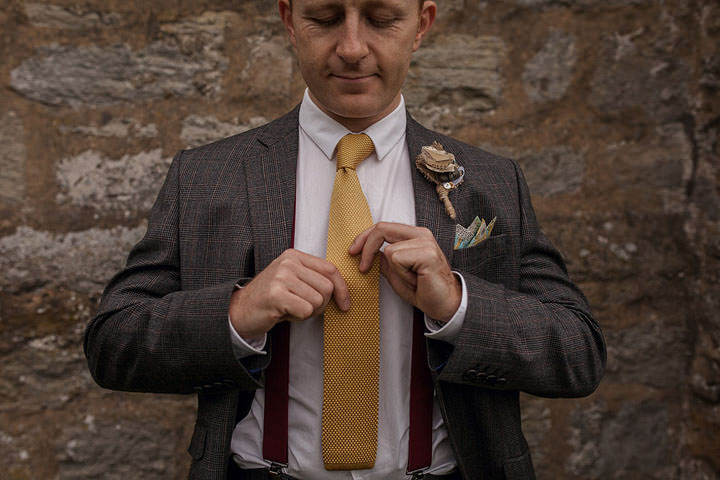 How did you allocate your budget?
We are both useless with money so it was tough. We had most of our budget very kindly gifted to us by a family member and then once that was spent up we just paid for things as and when on our paydays!! As long as the main things were covered (the venues, photographer and food) we could afford to be a little more relaxed about the rest.
Why did you choose your photographer?
Again, the photographers at Paul Joseph Photography were recommended to us by a friend and my goodness, we were very glad she did!! They are the coolest, creative wedding photographers and we had an instant connection with them. We loved everything about them from their work to their personalities! It was literally like having two extra friends present (with big cameras). They also provided a 'Funky Booth' style shoot complete with props.
The dress and accessories
My dress was called 'Caroline' by Phase Eight, straight off the shelf; I have size 10 feet so I couldn't find any wedding shoes that I liked or were flat (I am also 5'10). I had to buy some very plain cream pumps and send them off to an amazing lady called Kat at electricheels.co.uk who hand paints bespoke designs on shoes. The only accessory I had was a beautiful pearl bracelet my Bridesmaid gave to me.
The suit and bridesmaids
The suit was a lovely Ted Baker number. Traditional flair with sharp modern fitting. It was accessorised with burgundy braces and a mustard knitted silk tie. The red colour was also picked up in some 'Delicious Junction' Upsetter oxblood brogues with much talked about mustard laces! Hannah's best man rocked a bow tie with mustard braces and burgundy chinos. The Bridesmaids dress was the bargain of the day at £15 from Topshop! It really fitted with the day and she teamed her dress with a pair of gorgeous brown heeled brogues with lacy ankle socks, a tweed jacket and the cutest mustard satchel.
The theme
Our theme was vintage, handmade afternoon tea party and our basic colour scheme tied in teal, mustard, and cream with lace, hessian, buttons and wood materials.
The flowers
Because flowers are so crazy expensive and don't last very long (which makes Hannah sad) we didn't really have any. Instead, the bouquet and button holes were handmade from paper flowers, buttons and hessian and the table 'flowers' were potted plants.
The decoration
The church and cruck barn is so gorgeous we didn't need to do too much so we didn't have any decoration at the church and we dressed the cruck barn with bunting and all the awesome detail that went into the table decoration.
The food and wedding cake
The Craven Arms have great, local, traditional fare, all seasonal and beautifully prepared. Sam's family are all foodies so it was important to get this right and boy did they.
Because of the number of fine cheese loving foodies around a cheese wedding cake was essential. We were bowled over by the enthusiasm and knowledge of the guys at The Courtyard at Settle who helped us choose the perfect pyramid of cheesy loveliness.
The entertainment
We were going to have DJ mates help us out, but after that fell through our photographers Paul and Kelly mentioned silent discos. The thought of a bit of tech was irresistible to gadget man Sam and the guys at silentdiscouk.com were really helpful and friendly. We would thoroughly recommend it for anyone wanting something a little different; where young and old appreciate the music and the peace and quiet all in one room! It surprised us just how successful it was actually. Two of our guests also did some live singing with acoustic guitar accompaniment in the church and the barn.
Buy or DIY your stationery?
Apart from the 'save the date's, which were teatowels that we had made from 'The Original Wedding Teatowel' company, DIY everything, all the way. Hannah and her bridesmaid Zoe are super perfectionist crafters and stationary aficionados so the stakes were really high. The finish and detail to all the stationary was incredible. Having access to a modern fully equipped school (Hannah is the librarian) complete with laser cutter helped too.
Personal or handmade touches
Gosh where to start: Handmade, laser cut and hand stitched invites complete with envelopes and matching 'Order of Service's. We opted for lavender buds with rose petals for confetti as it smelled delish and bubble guns for the kids because Sam's late Granny loved bubbles so that was special for us. The wedding car was a lovely surprise being decorated in buttons and ribbon by our family friends, they also had made some bunting with our names on for the reception venue which we loved! Each 'diner' got a personalised laser etched drinks coaster (doubling up as a name place) made from sliced branches from our garden. They each received a little favour of Sam's mums delicious homemade jam and also a little pack containing details of the day as we were without a MC. We had our own cotton napkins that we wrapped ourselves and bound with twine in the wedding colours. The kids received their very own jam jar drinking glass to take home and an activity pack. We also printed mini pop art style 'Hannah' and 'Sam's and littered them around the place for the kids to find. The table plan and the 'order of the day' board was designed by my graphic designer bridesmaid. All the puddings were handmade by Sam's talented family. All button holes and the bouquet were handmade using paper flowers that a friend hand painstakingly made in massive amounts, buttons, hessian and lace. We also had the huge open fire mantel piece dressed with pictures of us during our time together framed with charity shop finds. Our rings were also hand made by Sam's dad who is a jeweller so that was really personal.
Special moments
Having one of our good friends (almost like family to Hannah) actually marry us was very, very special, It was so personal and unique. The other highlight was having everyone special to us who could make it all under one roof, it really made us appreciate how much we love them and how lovely they are!
Advice to other couples
Give yourself longer than five and a half months if you are doing it yourself. One big tip is to try to book a morning wedding. Ours started at lunchtime and although we had the best day ever we wish it could have gone on longer, forever ideally!
Biggest surprise
Hannah's best bit (apart from getting married to her best friend, of course!!) was the personal video message that her best man had organised, from Pat Sharpe (of Fun House fame, Hannah's favourite childhood programme) and Dr Karl Kennedy from Neighbours (her favourite TV show, of all time, ever! Sad but very, very true). Paul and Kelly captured her reaction which is something to behold in itself. Z-list celebrities aside. We think the biggest surprise of the day was just how relaxed we felt. Because I (Hannah) had such a huge role along with my bridesmaid in making almost everything, I thought my perfectionism and all-consuming need for everything to go right would get in the way of me enjoying every moment. I couldn't have been more chilled, even when some things didn't go to plan!!








Supplier Shout Outs:
For more information on Paul's work please go to:
www.pauljosephphotography.co.uk
pauljosephphotography.co.uk/blog
FACEBOOK
@paul_PJPhoto

[jprel]