Happy Monday everyone and welcome along to another week, was it just me or did the weekend fly by?? I had a good one as it was Nik's Birthday yesterday so we spent the weekend celebrating. A lovely meal on Saturday night and then on Sunday we had his family found for brunch and then we went across to Manchester so he could have a go at the velodrome, he is a keen biker (and got a new bike for his birthday) so he was in his element! What about you? did you have a good one?
I have a GORGEOUS wedding to start the week off courtesy of Mark Tierney. It's a beautiful Tipi wedding, set amongst the amazing Derbyshire countryside on the brides family farm. With some stunning countryside and quite a bit of snow, Mark has done a fabulous job of capturing the day as well as the surrounding scenery. With some beautiful handmade details this wedding is brimming with personality and charm.
'A relaxed and fun wedding, with lots of handmade and vintage elements.'
Hannah and Chris were married on 6th April 2013 at Hannah's family's farm in Ashover, Derbyshire. 'We always wanted to get married somewhere that had meaning to both of us…and the farm seemed a perfect fit. In fact, it was one of the reasons we went with a Humanist wedding as there is much more flexibility with location. We had 80 guests for the ceremony and another 50 for the reception, it took a lazy year to plan.'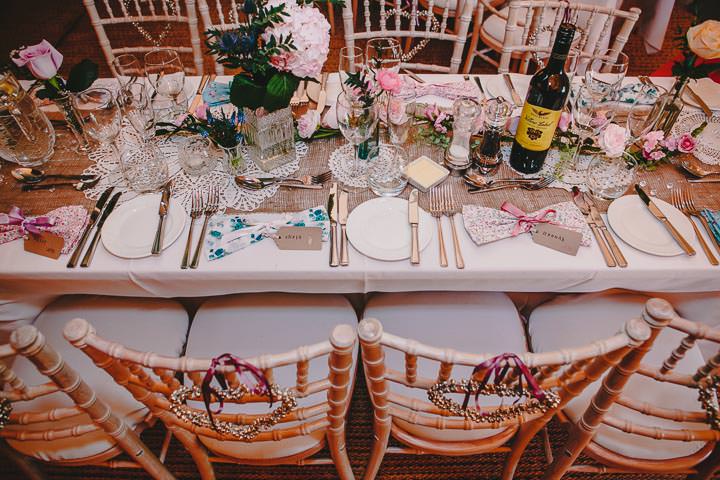 How they met
We've been together for 7 years. We met at Chatsworth House where we both worked in the catering department.
The proposal
We lived in Vancouver at the time and had gone away for the weekend to nearby Kelowna to celebrate my 30th birthday. The day of my birthday, we went to some vineyards to do some wine tasting. We then went on a (rather tipsy) walk up Knox mountain, which had an amazing view of Lake Okanagan. We stopped at a bench where Chris got down on one knee and asked me to marry him! He'd picked an amazing antique sapphire and diamond engagement ring, it was perfect!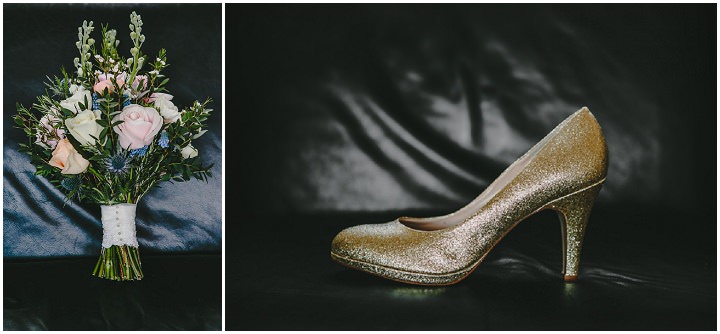 Why did you choose your photographer?
We chose Mark Tierney after stumbling across some of his images on the internet. He was actually the first thing that we decided on for the wedding. We loved his relaxed and contemporary style, and the fact that his photos seemed very natural. We also loved the spontaneity of his photos, as he takes you to locations you wouldn't normally imagine going to in a wedding dress (thoroughly soaked feet and a muddy dress were a small price to pay for such amazing photos)
The dress
I had quite a lot of trouble finding a dress. I never had 'the feeling', never got emotional trying dresses on, and never found anything that came close to what I had in my head. For that reason I started looking at alternative options. On a friend's recommendation I went to the Lace Market Bridal Boutique in Nottingham, where they handmake dresses using fabulous laces…a lot of them traditionally made in Nottingham. I tried on various silhouettes of dress, but went for a style that fitted to just below the hips before slightly flaring out to a small train at the back. The lace I chose was a very textured couture style, with so much detail! It turned out perfectly and I loved being part of the design process. My shoes were from Kurt Geiger and my headpiece was from an amazing company that designs vintage-inspired pieces – DC Bouquets. I wore a bracelet that Chris bought me many years ago, and sapphire earrings he bought me for Christmas.
The suit and bridesmaids
Chris's suit was one of our wedding bargains! We bought it from the Charles Tyrwhitt back catalogue. His groomsmen wore their own grey suits and we bought them white shirts, braces and bow ties from Bow & Tie London. The bridesmaids dresses were actually one of the hardest parts of the wedding to organise. I wanted them to have a dress that they would be able to wear again, that weren't 'matchy matchy', and made them look hot! In the end, I went shopping with them all individually and they picked a dress that fit in with the general theme (lace, short, and in dusky pastel shades, champagnes or golds). I was so happy with all their choices, and thought they looked amazing.
Theme or colour scheme
We didn't really have a theme as such, or even much of a colour scheme. It was just a collection of things that we liked put together in one room! That said, the general tone was muted pastels with some floral fabrics and lace thrown in.
Decoration
Most of our decorations were handmade (see below!), but we did buy a few things. We bought some blue hurricane lamps to line the aisle for the ceremony. We lined the walkway from the barn to the tents with tall plants in colourful pots, as well as tealights in paper bags.
In the tents, we bought some artificial flowers to decorate the tables, and fairy lights to dot around the bar area. We also filled old sweet jars with marshmallows to toast in the open fire.
Flowers
I couldn't have been happier with our flowers from Robert Young's. The bouquets were made up of anemones, roses, muscari, hydranger, stocks and herbs. We collected lots of antique vases and crystal decanters for the tables, which the florists filled with more loose flowers. In the ceremony barn we filled jam jars with a selection of different flowers, bought from a supermarket the day before! My mum also made some lovely arrangements for the barn.
Food
Food is very important to us, so this was a big part of our wedding. We weren't sure about having canapés as we often find them a bit too fussy. But our catering company (the absolutely outstanding Red Olive) provided us with some more rustic style canapés that fit in a lot more with our relaxed wedding (canapés such as mini lamb burgers, quails egg scotch eggs, mini cheese toasties and stuffed roast potatoes). For the wedding breakfast we had a starter of sweet potato gallettes topped with warm goats cheese and homemade tomato chutney, followed by a main of slow-cooked pork belly with apple mash and a juniper jus. For dessert, our family and friends baked a massive selection of different cakes, tarts, and puddings, which we served buffet style. I was so amazed with the effort everyone put in, and we ended up with some of the best desserts I've ever tasted!
We also had a rather impressive 7-tiered cheese cake, provided by our good friends at Coleman's Deli.
In the evening, we had a local Indian restaurant serve different curries, rice and naan bread. A perfect accompaniment for alcohol!
Entertainment
We had a barn dance, which was one of the highlights of our day. It got everyone up dancing really early on, even those who normally hate joining in! We then had a DJ until about midnight. When we swapped to an ipod until everybody was finished dancing!
Personal / DIY Touches
I don't know where to start!
• Jars decorated and filled with flowers
• We also made loads of salt-dough hearts to hang from the back of the chairs.
• We filled clear plastic bags with dried rose petals and lavender from my mum's and grandma's gardens.
• I wrote the menu on my living room mirror and hung that above the drinks table in the barn.
• The table plan was an old wooden picture frame with a wrapping paper background, which I stamped with the guests' names.
• Probably the most time consuming were the paper birds, which were hung on the back wall of the barn. They took hours of bridesmaid labour, but I think worked really well in the end.
• I also painted lots of signs to direct people around the farm, which we hung in various locations.
• By far the best decoration in the barn was my mum's bunting, which she spent hours making from old pillow cases, dresses and scraps of fabric!
• In the teepees, I made photo bunting which we hung from the beams.
• We also made loads of white paper pompoms, which were surprisingly cheap, easy and effective!
• We cut the table runners from a roll of hessian, and covered this in lace doilies my mum collected from charity shops.
• My mum (yes, she was about as wedding-obsessed as me) also made 100 serviettes out of different floral fabrics, which we tied into bows and attached nametags to (hand-printed on luggage tags and stamped with a bird design).
• The cake table was decorated with lots of pottery birds that I had collected over the year, as well as some beautiful fabric birds that my friend made.
• My proudest part of the wedding was the invitations, which I hand-painted and then had made into postcards. I think they looked amazing! We used leftover invitations to make the table numbers by just covering up the writing side with a printed number on card.
Special moments
I loved our personal Humanist ceremony. It felt so honest and relaxed, and exceeded our expectations in every way.
I also loved the time immediately after the ceremony, when Chris and I went into the teepees on our own before the drinks reception, It gave us a few minutes to take in everything that had just happened before going back to mingle with guests!
Biggest surprise
The weather! We had been snowed in at the farm a week before, so were quite worried about guests being able to get there. But it was one of the few sunny and warm days of the year so far! I loved the surprise of being able to do our speeches outside in the courtyard before dinner (they were planned for after the wedding breakfast). I think they worked really well and felt much more relaxed than they would have been in the teepees.
Advice
I would say don't let anyone tell you that you are being too ambitious or taking too much on. Some people were a bit concerned that we were giving ourselves too much to do for the wedding, but I am a very creative person and loved every second of all the crafty bits (well…almost!).
I know this is said a lot but it's so true. Try and make sure you actually get to spend some time with your new husband/wife at the reception as you can kind of lose each other will all the socialising to be done!
Supplier Shout Outs
Fore more information on Mark's work go to
www.tierneyphotography.co.uk 
tierneyphotography.co.uk/blog 
[email protected]
FACEBOOK
TWITTER
07981 347019