Good morning! I am delighted to share this wedding with you today. One that is full of family, full of fun, full of laughter and crazy dancing into the night. The accents of peaches and cream throughout the decoration and in the abundance of flowers used for the bouquet and centerpieces, give a really warm feeling to what looks like an incredible day. All captured perfect by Nicola Thompson. Barn wedding = happy Tuesday! Off you go!
"A big old room full of love, happy tears, laughter, great food, more happy tears, more laughter, drinking, even more laughter, even more drinking, and then a few hours of sweaty, over-the-top dancing. It was by far, the most unbelievable day of our lives."
Laura and Greg were married on 26th April at Shustoke Farm Barns in Warwickshire. "In the eight months after getting engaged we looked at a tonne of different venues – we booked a field in Leicestershire, a village hall in the Cotswolds, and a cricket club in Birmingham, and cancelled them all. Shustoke Farm Barns was the first venue we looked at and although we absolutely loved it, we were dead set on keeping costs low and doing it all 'DIY'. It wasn't until we started looking at the costs and getting quotes in, we found that once you've hired in caterers, a mobile kitchen, a bar, furniture, a dance floor, staff, toilets, a generator, a backup generator (yeah, you need two) that we realised how pricey it was going to be – the same cost as Shustoke but with a hell of a lot more stress. So we made a call, had a second viewing and booked there and then. Shustoke is a beautifully restored barn in the Warwickshire countryside. We loved the menu which includes BBQ ed food served to the table and shared out by the guests, they have a late license (until 1am) and we were able to put our own stamp on it – from decorations to guest ales. We had so many compliments on the venue, especially the food, and we know we made the right decision for us. We invited 106 guests to the day, with an additional 20 guests to the evening. We got married just over a year after getting engaged. We spent a long time choosing the venue (8 months) but as the venue we chose took care of all the important things we were able to spend our time planning all the fun things like music, decorations, and a quiz. All these things were all done in the last 3 months before the wedding."
How they met
We met at an art exhibition in Birmingham. After countless nights gallivanting around Digbeth's finest 'old man pubs' we became official and have been together for three years.
The proposal
I (Laura) was very vocal in 'reminding' Greg that I was keen on being engaged before turning thirty. I didn't think he was listening but was proven wrong… For my thirtieth birthday I was whisked away for a weekend in London and approximately eight hours before turning thirty, Greg proposed in the hotel room not long after we arrived. I had no idea that as I was leafing through Take a Break, he was mentally preparing to pop the question. He had thought of everything – champagne hidden in a jumper (he even remembered to bring the glasses), my favourite crisps, and of course the ring, which he designed himself using stones from his Nanny's engagement ring (hidden in his shoe).
We had the best day ever – loads of champagne, cocktails, mega steaks and giddy phone calls to family and friends!
How did you allocate your budget?
The bulk of our budget went towards the cost of the venue. We more or less kept to budget with the help of a detailed spreadsheet and a money-conscious attitude towards wedding planning.
How did you choose your photographer?
We trawled through wedding blogs and online photography sites in search of a photographer who would capture the day truthfully, but balance that with a sense of occasion. We were immediately drawn to Nicola Thompson's documentary-style photography and loved the lighting and colour in her images. After our initial Skype meeting we knew we had made the right decision – Laura was nervous about having her photograph taken and Nicola put her right at ease. She also gave us lots of brilliant advice in relation to other aspects of the wedding too, she has seen it all afterall…
The dress and accessories
The Wedding Club in Edgbaston was a one-stop shop for all things bridal – it was the fifth shop I visited and I felt so relaxed trying on the dresses; the staff were absolutely amazing.
The dress was Pronovias – with Benjamin Adams shoes and a hand-made headpiece, which incorporated lace from the dress by Tallulah's Trinkets.
The suit and bridesmaids
The groom and best man bought their suits from Reiss – the staff were so helpful and tailored it to fit perfectly.
The bridesmaids' dresses were from Coast – with five bridesmaids we went through a number of options, until we found a style they all agreed on. We really loved the indigo colour and were lucky to find five in the right size in the sale!
The theme
The colour scheme was very loose and changed throughout the planning process. There were times my mum and sister lost faith in the colour scheme but there was definitely method in my madness. I didn't want to be too rigid with the scheme and complemented the indigo bridesmaids' dresses with peach, nude, cream, white, and pink.
The flowers
My mum is a qualified florist (although she has a day job in the NHS) so I was very fortunate to have access to her flower knowledge and know-how. I knew right from the start that I wanted tall vases filled with white delphiniums for the table centres, which looked absolutely stunning on the day. The loose-colour scheme meant that it was easy to incorporate lots of different flowers; the bouquets included peonies, lisianthus, runuculus, stock, David Austin roses, viburnum, carnations and white hydrangea in loose arrangements.
The decoration
We had originally wanted to make a big thing of lighting but Shustoke had it covered so we went all out on the flowers instead.
The food and wedding cake
We had a mixed charcuterie board to start, BBQ leg of lamb with goose fat roast potatoes and green beans for main, and Sticky Toffee Pudding with thick cream for dessert. It looked so delicious, Greg was so nervous he barely had a taste!
My sister bakes as a hobby and so made us the wonderful cake. It was five tiers – vanilla, chocolate, lemon, latte and chocolate chip, with hand-made petals covering the bottom two tiers. Neither of us got to try any and there wasn't any waiting for us the next day so it must have been good!
The entertainment
We hired a David Bowie tribute band called Aladdin Sane. We handpicked the set list which was super fun.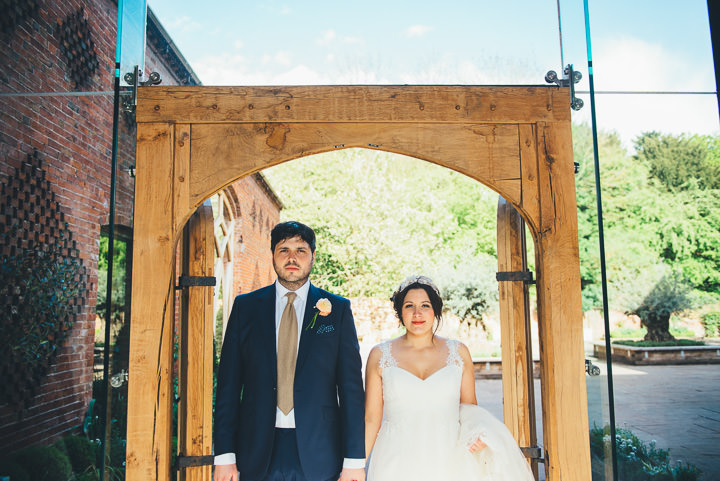 Buy or DIY your stationery?
We bought our invitations from Little Posie Print. We attempted designing our own but ran out of time!
Personal or handmade touches
– We gathered photographs of each guest and had them printed into Polaroids, which doubled up as a name card too.
– We also constructed a paper/ pom pom chandelier, which introduced some of the colours into the venue. Making the pom poms was a real bore!
– Greg and the best man devised a 'between courses' quiz based on facts about us.
– instead of favours, we made a donation to Cancer Research and gave guests special Elizabeth Stewart pin badges, in memory of Greg's dad.
– we really agonised over the playlist. We picked our favourite songs to determine the mood for various sections of the day, and made sure the evening was a balance of music for parents and music for friends (which inevitably tipped in favour of music for friends). We're lucky that most of our friends like the same kind of music.
Special moments
Laura was so nervous about the ceremony beforehand – about walking down the aisle and everyone staring (her dad pointed out our guests would hardly be 'staring'), public speaking, etc etc but it went so quickly and was so emotional. She instantly wanted to do it all over again to take it in. Another highlight was walking into the meal after the drinks reception – the room was so full of love!
Advice to other couples
Just the usual, whatever the venue make sure there's some personality in the room – it's all about the little things; and they're the cheap/free things more often than not. For the day itself, make sure you spend the odd 10 minutes alone and savour every second, because it's true what everyone says, blink and it's all over.
Biggest surprise
The ceremony was incredible. We spent so much time thinking or worrying about everything else like the music, food, timings, place settings, clothes etc, we didn't realise just how massive that moment would be when we actually became Mr & Mrs (not that we entered into marriage lightly.









Supplier Shout Outs:
For more information on Nicola's work please go to:
www.nicolathompsonphotography.co.uk
Due to an email issue if you have emailed me between the 2nd & 9th of December, please resend it.
X