I'm not too familiar with handfasting ceremonies personally, but have seen a fair few on Boho since I became a big fan of the site. So it's extra special for me to post this celebration with Jani & Paul today. Partly because it's my first handfasting ceremony since taking over the reigns from Kelly, while she is otherwise engaged (come on Boho Junior, we're waiting to meet you!) but mainly because it just looks so natural and organic, not only because it's held in the depths of the New Forest, but also because the day seemed to be so spontaneous and responsive to everyone involved. Plus everyone loves a bit of facepainting, no?  The couples' friend Az from Lemontree Photography captured the day beautifully.
So creative and spontaneous!
Jani and Paul (Bik to his friends) were married on 2nd August at the Minstead study centre in the New Forest "It's Lammas, the harvest festival. Beltane or Spring is a more traditional time for handfastings/weddings, but we are older and more in our 'early harvest' years than Spring chickens, so it felt right!" It took the couple just 6 weeks to plan for their big day.
How they met
We met through our mutual love of music and have been together five years
The proposal
As this wasn't a conventional marriage, there wasn't really a specific proposal. We decided that it would be lovely to celebrate our relationship with friends, but didn't want a legal marriage, so we planned a traditional handfasting, where vows can be renewed if both choose to each year.
How did you allocate your budget?
We didn't really set a budget, as this was never going to cost a fortune – it wasn't about the money, but about what our friends could create together. The biggest allocation of money went on the photographer, as it was important to us to document the day, as it was likely the only time so many of our friends would be together in one place! The next biggest expense was probably the venue.
Why did you choose your photographer?
No contest! Az is a friend and has been involved with our not-for-profit arts cafe since we formed it, and is a brilliant photographer and a lovely person.
The dress and accessories
I bought my dress from a fair-trade site online and hand dyed it to the colour I wanted, made my headdress myself and didn't wear shoes. My friend Donna made my necklace.
The suit and bridesmaids
Bik's waistcoat was made by a friend of ours. We didn't have bridesmaids, the people who helped conduct the ceremony (all friends of ours) wore their own ceremonial dress so we had druidic robes, cloaks…..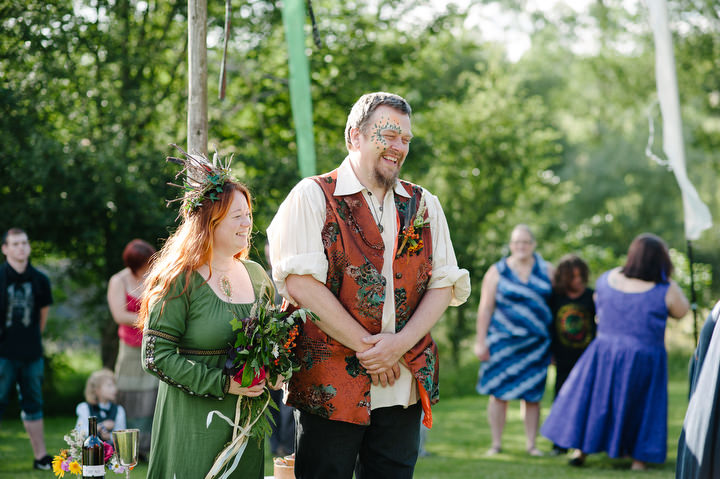 The theme
We didn't plan a theme, but we ended up with green and burnt orange, completely accidentally. Didn't really notice this until we saw the photographs!
The flowers
My goddaughter picked some of the wildflowers from the garden at Minstead just before the ceremony and made me a little posy and a bunch for the altar.
The decoration
The venue was decoration enough, and the blue sky above.
The food and the wedding cake
Everyone brought a vegetarian dish to share and placed it on the table.
The cake was made by a friend who was just starting out a vegan cake business.
The entertainment
Most of our friends play instruments so everyone brought along something to play and we just jammed all afternoon and into the night, when we moved into the roundhouse and sat around the fire.

Buy or DIY your Stationery?
We used 'Paperless post' which meant no trees were harmed in the making of our invitations and thank you notes!
Personal or handmade touches
We did pretty much everything ourselves, from designing the ceremony to playing music afterwards. Friends pitched in and made food, played music, facepainted, conducted the ceremony itself, took photos, led a circle dance into the ceremonial space and were just lovely. Everyone was involved in some way.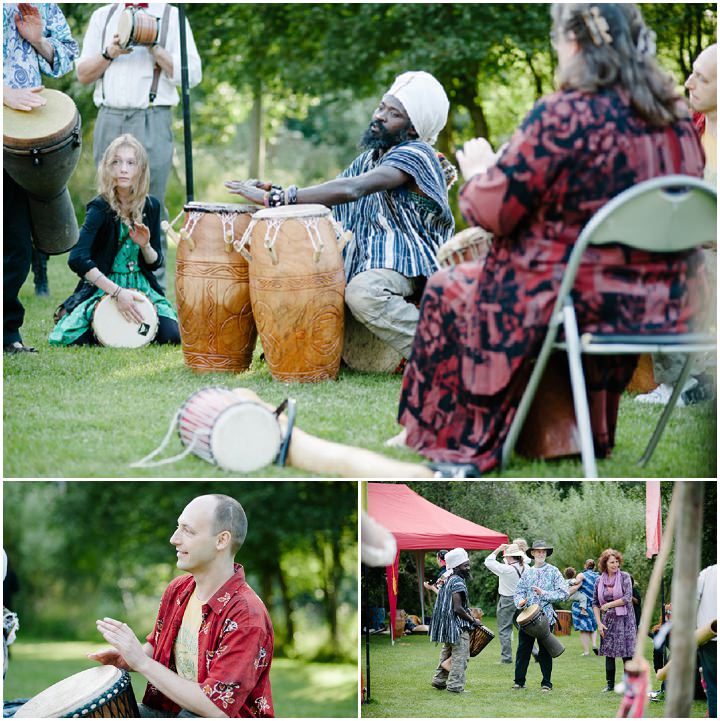 Special moments
The whole day was a perfect synergy of gorgeousness! We are blessed with a community of very creative people, and the day was as much a celebration of that as it was about us as a couple.
Advice to other couples
Make it unique to you, never worry about what is 'right' and 'wrong' for your day according to the rules laid down by society or family. You will regret the compromises you make, you will never regret taking risks and letting it be personal to both of you! Let your friends and family bring their own talents to the day, this will not only save you money (yay) but also make it about love, togetherness and community – which is what it should be about, after all!
Biggest surprise
The whole thing! We really had no expectations, it was a great exercise in just letting things develop organically – and it worked so well. When I think how stressful many weddings can be (including my first one!) I think this is a better way to do it. All of the important things were still there, even on a low budget with very little planning – but the superfluous nonsense which costs so much and causes undue worry wasn't there at all.

Supplier Shout Outs:
For more information on Az's work, please go to:
lemontree-photography.co.uk
FACEBOOK
@lemontreephoto

[jprel]