I have a fab DIY tutorial for you today and it comes from the equally fabulous Candice from Cloud Parade. If you are looking for a way to jazz up an old pair of shoes or add a bit of glitter to a pair that needs livening up then look no further, this DIY tutorial is just for you. Whether it's for a day out, or as a guest at a wedding or maybe even a bridemaids outfit, this tutorial will give your old tired shoes a new lease of life.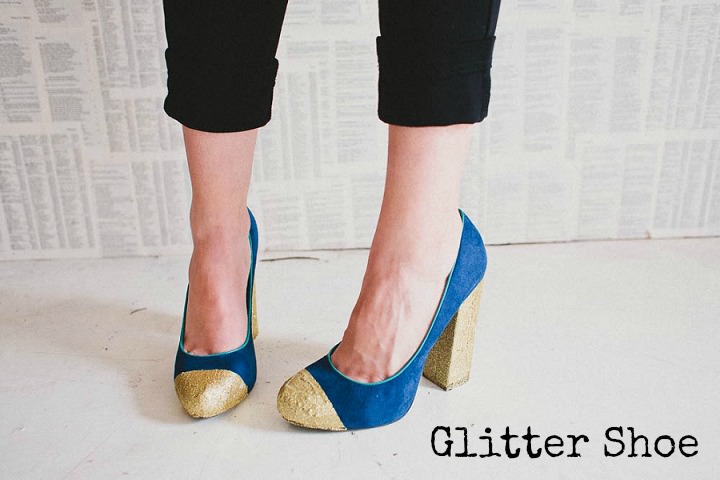 I'll pass you over to Candice……….
We love a good DIY every once in a while. The Your Cloud Parade team came up with this shoe tutorial to rock out on any of our old shoes that are hiding in the back of our closet. It's a great way to be ready for all the spring weddings that are in our 2014 calendar.
Steps for Glitter Shoe
STEP 1) You will need paint brushes, any color glitter, and decoupage glue.
STEP 2) Tape the area off that you want to make sparkle. We high recommend you do the heel to add balance to your glittery toe.
STEP 3) Mix glue and glitter together to make a "paste" like paint.
STEP 4)  paint in on thick. It won't look fully glittered until the paint drys.
STEP 5) let dry for over 3 hours.
Steps for Black Tip Shoe
STEP 1) Find an older pair of shoes or some shoes that need a little extra loving'
STEP 2) Pick out some paint colors that you want, grab a paint brush, and a some masking tape.
STEP 3) Tape off the area that you would like painted. Use darker paints on lighter shoes so that it does not turn out "streaky".
STEP 4) Paint taped off area and put on a 2nd coat when dried.
For more information on Cloud Parade go to
www.yourcloudparade.com
http://yourcloudparade.com/shop/typologie-co
@yourcloudparade
Pinterest
Cloud Parade is the first online marketplace where a wedding couple can shop and design their wedding all in one spot. From your wedding dress, to invitations, to your engagement ring, it's all there and ready to be purchased. Cloud Parade is dedicated to bringing couples amazing and hip wedding items