Yay it's Friday, now hasn't the week gone super fast! More 4 day weeks please! The good news is we have another bank holiday in a week's time, so happy days! To end this wonderful week I have an equally wonderful wedding from Matt Brown Photography. This marquee wedding takes place in the groom's parent's back garden and is jam packed with handmade details. I am loving the square tables and all the eclectic bits of decorations that make the wedding so personal. The overall feel is laid-back and relaxed, just what you need for a typical English garden wedding. Just perfect!
North meets south in a white tent surrounded by flowers; first to drink tea, then ale. Our best friends gawping at a pig on the spit.  Inside, square tables and china, but no chintz, and more pork – this time in a pie, followed by dancing.  Lots of dancing and a rocking bride. 
Kim and Duncan were married in Hambleden, nr Henley on Thames at their local family church and then at the family home on 3rd August. In little over nine months they had the wedding of their dreams in front of 145 guests. "The church is Duncan's family church where his parents are active in the local community so it felt right it should be there, it also helped that is beautiful! The reception was a marquee at Duncan's parent's house which has the quintessential English garden feel that we were looking for."
How they met
We met in a bar in Newcastle-under-Lyme. It's my home town and Duncan had just started his first journalist role at a local paper. I was on a girl's night out in town when Duncan's friend started chatting me up at the bar as I was buying a round of shots. I saw Duncan and thought he was gorgeous so I promptly turned around and handed him the shots I couldn't carry and told him to follow me! From that day he still complains about the impractical size of my hands. We've been together 10 years this year.
The proposal
There wasn't one! We had a three-month sabbatical in the summer of 2012 where we spent every day in each other's pockets and after living together for almost eight years I had decided it was time for us to get married! I'm an organisational freak and being a teacher I knew it had to be a summer wedding so I told Duncan I wanted to get married in 2013. He asked if he could have until Christmas to think about it…I said he had two weeks. We then booked the wedding before telling anyone we had got engaged! Duncan hates organising so his reticence wasn't so much being married; more the fuss of a wedding. I also know he's a terrible liar so I couldn't imagine a time when he would actually be able to sneak about and plan a proposal and get away with it!
How did you allocate your budget?
We decided the key things we wanted to get right – the food, the band and the photographer. We made sure they were the priority and did lots of research and didn't cut on costs. We knew that we wanted to be smart with the budget and set about planning what we could make ourselves and where we could spend the budget sensibly.
Why did you choose your photographer?
We instantly loved the photos on Matt's website. We wanted a relaxed and informal feel to the wedding and didn't want to spend hours posing with various groups of people. Matt's photos felt very natural, but also had some more of the traditional elements. We had an engagement shoot and we all got on really well which was great. So many people have said how Matt's photography has really captured the day and we absolutely love all the pictures.
The dress and accessories
My dress was by La Sposa. I had the sleeves made and added to the dress by the wonderful seamstress at The Bridal Lounge in Newcastle-under-Lyme; they were brilliant as I really couldn't decide what I wanted. The shoes were from Next and the earrings were 'something borrowed' from my Mum.
The suit and the bridesmaids
Duncan's suit was from Ted Baker and the bridesmaids dressed from Monsoon.
Theme or colour scheme
We wanted soft creams and pale pinks, all alongside a traditional idea of an English country garden. We had bunting, old books and candelabra's to create an eclectic feel but the flowers were very much to soften the look. Also Duncan's parent's garden is so beautiful we used as much as we could on the day!
The flowers
Peonies, roses, hydrangeas as the main flowers .We wanted a soft and delicate pallet of colours with greenery in to balance it out. At the church we had white hydrangeas in silver plant pots hanging on the end of the pews which looked really pretty along with larger displays in the church. The flowers were absolutely stunning at the reception as they were arranged in jam jars and tea cups throughout the marquee.
The decoration
We had a chill out marquee with bunting and hay bales for an informal country feel. The tables had tea cups and jam jars with the flowers alongside old-fashioned books; a nod to the fact that Duncan is a writer! We had candelabra's on the tables alongside mismatched crockery so each table was slightly different. It meant that the tables looked informal but really beautiful. Within the marquee we also managed to showcase some of Duncan's mums flower patches which was great! We had a walk way through a courtyard showcasing the wild flowers that Duncan's parents had tended so carefully. We hung over 200 jars with candles to create a really romantic atmosphere around the barn, trees and garden surrounding the marquees.
The food and the wedding cake
We had a cream tea and Prosecco reception instead of canapés to go with the theme. Dinner was a Hog roast and a buffet of fresh salads and vegetables. We had meringues and creams (Duncan's childhood favourite) and Lemon Possets in tea cups for pudding all organised by the lovely Sharon at The Wicker Restaurant in Henley. Later in the evening we had Staffordshire Oatcakes with bacon and cheese as a snack…a nod to the Northern element of the wedding!
We had a cheese and pie cake made by Sharon. The base was Chicken and Ham pie, then cheese rounds on top with a top-tier of a pork pie! Very early on in the relationship we discovered a mutual love of pork pies and it's become a running joke between us and our friends. My Mum also made a wedding cake for us to please the traditionalists…it was very boozy!
The entertainment
We had Junior Guevarra who are a band local to Henley, they were amazing and kicked the party right off! On our RSVPs we asked everyone to list three songs that would get them on the dance floor so my brother compiled a play list from this and using a DJ app he DJ'd through his iPad. It was brilliant as the dance floor was full the entire night and well into the early hours.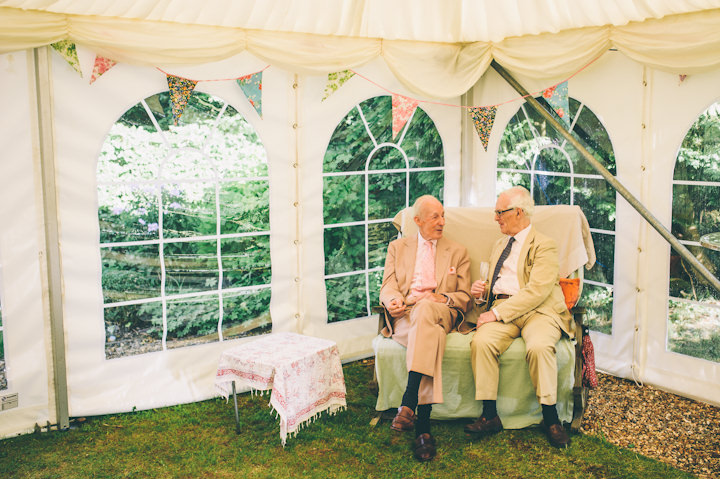 Buy or DIY your stationery?
I designed and made the Save the Date and the Order of Service. We had stationers for the invites as we wanted a very traditional style.
Personal or handmade touches
The whole thing was very personal!
– Duncan's parents were brilliant and spent months making the house and garden look unbelievably pretty considering what flowers and plants would complement the theme of the wedding. They also spent hours making it look immaculate!
– Duncan's Mum made all of the lanterns and his sister hung them all around the house and garden. My Dad organised all of the logistics of generators and such things and engineered a seating plan which I hadn't seen before, massive square tables really worked!
– My brother made the playlist for the disco and the running order of the songs. He then DJ'd most of the night fending off drunken requests!
– Everything paper based we made. I designed and made the Order of Service, the Save the Date and I made cards for guests to take away with our CapsuleCam details so they could share their photos with us. My mum made the confetti and confetti holders out of vintage map wrapping paper, and we also used this to make the 'guest book'.
– A friend had a miniature Royal Mail post-box which we used as the guest book. People wrote their messages to us on postcards made from the maps.
– I enlisted the help of my friends at work to make the seating plan which was a Perspex sheet with the Stoke-on-Trent skyline on with the names of the pottery companies typed out using a label maker. My mum made all of the table names and Duncan's Dad wrote out all of the place names on the luggage labels we ordered from ebay.
– I loaned some old suitcases from work to hold any cards we received and we had the wedding photos of our parents and grandparents enlarged to hang up.
– My mum made the traditional wedding cake alongside chocolate truffles for the bridesmaids and speakers.
– Three different friends helped to source the bar with local beer and ale, good value wine and a selection of spirits.
– My friend Nikki did my hair and I did my own make up.
– As we had rented a house nearby lots of our friends came down the day before and helped with the decoration of the house and marquee, which was very kind of them and a lot of fun!
Special moments
Walking into the church for me was a special moment. I hadn't realised how exciting it would be to see everyone you love in one room and then seeing Duncan's face when he saw me for the first time was really special. Another highlight for us was seeing all of our friends from different places meet each other, it was very North meets South! Everyone got on brilliantly and when the Northerners inducted the Southerners to 'Oops upside your Head' on the dance floor it was a brilliant. And of course the speeches, my Dad's speech got rave reviews as the gentle mocking of Duncan was quite a hit, and Duncan got a little emotional…which was unexpected!
Advice for other couples
When planning, be open to suggestions from other people but also be firm if there are any points that you feel are non-negotiable. Ultimately you are having this day as your celebration so be sure it is what you want. Imagine your perfect wedding and then take elements out and see if you would actually miss it; keep it simple. Also enjoy the planning and get family and friends in on the making and helping out; people are really happy to be involved.
On the day don't rush too much, enjoy the lead up spending time with everyone! Lots of people say this but it's true, take some time together to catch up and enjoy the party. It really does go by so fast.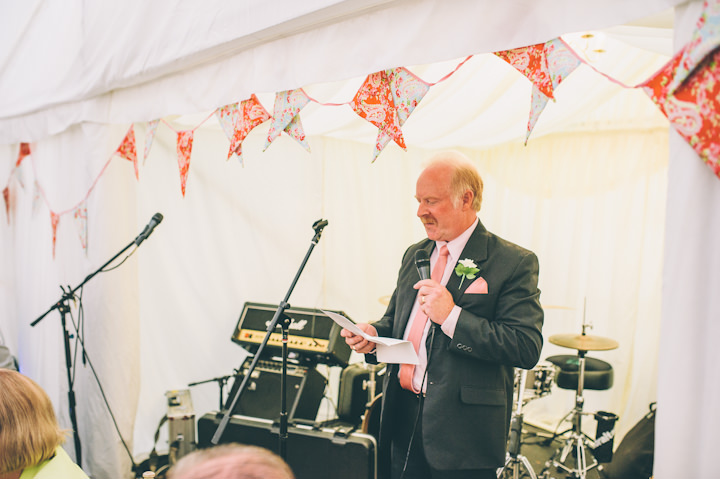 Biggest surprise
Duncan says seeing me as he wasn't expecting my dress to be as it was! He says the enormity of it all hit him and he was surprised how emotional he was. Some finishing touches we didn't know about were the surprises too! Duncan's parents had the entrance of the church and inside the church decorated in flowers which we had no idea about. My mum had also made cards with bells on that she sneaked onto the tables! When we walked into the marquee everyone rang the bells, our faces on the photos show our surprise! Finally, we were surprised how much fun it all was! Don't get hung up on small details being perfect, just concentrate on having fun and enjoying the day.
Supplier Shout Outs:
For more information on Matt's work please go to:
www.mattbrownphotography.co.uk
www.mattbrownphotography.wordpress.com
[email protected]
07921 852340
FACEBOOK
@photomattbrown