Today's wedding sees us head across to Zakynthos in Greece for this beautiful sunshine filled Greek Wedding by Robbins Photographic. The wedding is simple, elegant and full of Greek charm and isn't that light just beautiful? Georgia and Roy chose Greece as it was halfway between their two homes of Israel and the UK, it made more sense for them to have it somewhere completely independent than try to hold the day in either of their two homes! The results are beautiful, with this stunning Olive Grove as a ceremony backdrop and the beautiful sea view reception venue. Everything is just so chilled out and relaxed, just perfect!
The coming together of three cultures, traditions, languages and alphabets in the presence of simplicity, beauty and love. The wedding was very inclusive with so many friends and family getting stuck in to make things for the wedding and to make things happen; they made it what it was and we could see their faces in every tiny detail – it was amazing!
Georgia and Roy were married on 6th August, in front of 80 guests and even a few local villagers, during their ceremony which took place in the beautiful resort of Zakynthos in Greece in a family friend's olive grove. With just over a year to plan, they paced themselves, little and often.  "After we got engaged, we faced a hard choice about where to get married as we're from two different countries: Roy is from Israel and Georgia is from the UK. As far as we saw, we could either organise one wedding in the UK or Israel, meaning that one side's relatives and friends would all have to travel to distant lands, or to hold two weddings, one in Israel and one in the UK, and have one of us missing the presence of our loved ones at each. Neither of those scenarios seemed great to us, so we eventually decided on a third option – to hold the wedding at a midway point between England and Israel – on Zakynthos island, Greece! The more we thought about it, having the wedding in Zakynthos seemed like a very natural option. Georgia's family has been going to Vasilikos village every summer since she was a child, and have consequently made firm friends with the Tsirigotis family (Yiorgos, Sofia and their children) who are like a second family to Georgia – so getting married in their olive grove would be very meaningful as well as very beautiful. And what with great food, gorgeous beaches and plenty of sunshine, our guests could combine our wedding with a fab holiday – making all the travel doubly worthwhile!"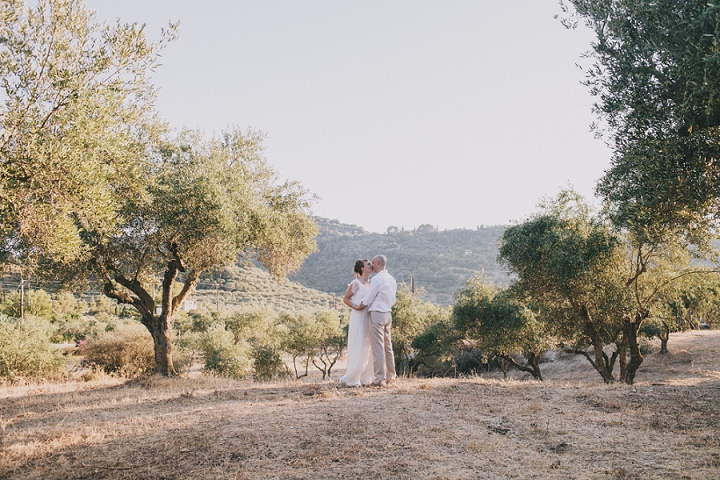 How they met  
We met on the tube in London. Roy says I smiled at him, I think that I rolled my eyes at him when the driver announced delays on the line… That was four years ago now.
The proposal
It was at Hampton Court Palace the evening before celebrating my 30th birthday. Roy had taken me to an outdoor concert there as a birthday present but we were early so were drinking Pimms and eating posh hot dogs in the gardens. He started saying all sorts of cheesy stuff, and I thought he'd had too much Pimms, but then lo and behold he produced a lovely ring from his pocket! It was a happy time and a VERY BIG party the next day.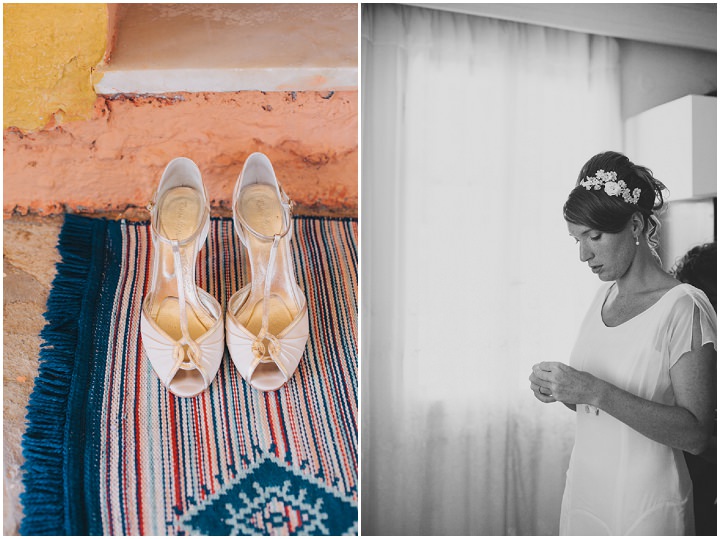 How did you allocate your budget?
The whole time we've been together at least one of us has been a student, so needless to say our budget was not very large. We tried to keep costs down by making things ourselves – so a lot of our decorations were made of things that others would consider rubbish, like empty bottles, cardboard boxes and tin cans! We also didn't have a gift list and invited guests to design and contribute things for the wedding instead– for example, a friend did my hair and make-up on the day, and another good friend designed and printed out the table plan. Their contributions not only saved us cash but were also really touching, and we were very moved by how much effort people put in for us.
Another thing that helped keep costs down was getting married in Greece…everything is cheaper there even after you've paid for flights and accommodation. So one thing we would say is that if you're considering having a "destination wedding", don't be put off by thinking it will be super-expensive – do your research first as it may actually end up being less expensive than staying at home (and you get to go on holiday with all your family and friends at the same time!).
How did you choose your photographer?
Lee was the photographer at a friend's wedding and just took the most incredible pictures that really captured the day, despite the fact that we even couldn't remember there being a photographer there!! We wanted to have great photos that we could remember the day by, but at the same time not to have the day marred by an intrusive photographer…so Lee was an easy and natural choice, and we weren't disappointed. He's ace!
The dress
It was the Belle dress in silk chiffon by London designers Belle and Bunty, but slightly modified by the excellent stylists and tailors at Miss Bush Bridalwear in Ripley so that the detail on the dress matched the Richard Designs floral headpiece I was wearing. My shoes were Mimi by Rachel Simpson. Those were all new, so to complete the old-new-borrowed-blue tradition, I also borrowed earrings from my Mum, was given an old bracelet from Roy's grandmother, who was sadly unable to travel to the wedding, and fastened a blue "evil eye" that a Greek friend, Katerina, had once given me as a name-day present to my bouquet: it's a charm to ward off evil spirits who may be jealous of your happiness and be compelled to put a curse on you. You see these charms in Israel as well as Greece so it seemed more than appropriate for our wedding!
The suit and bridesmaids
Roy bought his outfit in Israel, where there's a wider choice of nice things to wear in hot weather. It was also a great way to get his parents feeling involved in the wedding as they went with him to help him choose. He wore some lovely Italian linen trousers, a shirt from H&M, and moccasins by GEOX. The rule was not to be hot, so no tie or suit jacket – in fact the dress code was quite low-key in general: lots of the male guests wore shorts and T-shirts and most of the villagers turned up in their dusty farming gear!
I didn't have "official" bridesmaids, though my sister Hannah and best friend Libby stepped up to those roles on the day. By chance they both had chosen to wear dresses in similar colours and similar styles, so they ended up looking somewhat co-ordinated!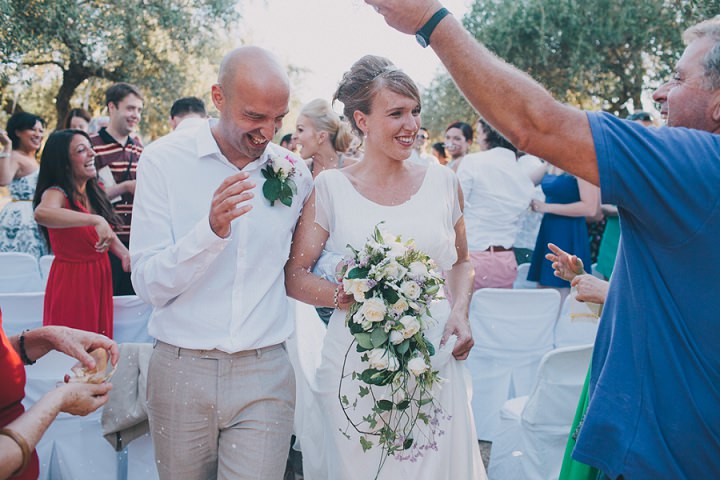 The theme or colour scheme
We didn't have a theme as such, but we were both very keen that the wedding really reflected the pair of us and both of our backgrounds and cultures. One of the first things we did in planning the wedding was to sit down and say "what does a wedding mean for you? What things do there absolutely have to be in it to make it feel like a wedding?". For me, it was things like Roy not seeing me on the day until I walk down the aisle, vows and readings during the ceremony, and speeches after dinner – none of which you have at Israeli weddings. For Roy, it was the chuppah (the canopy under which the couple is wed), the breaking of the glass, and a massive party. So we sat and talked a lot about what things were important and settled on a few goals – that the wedding would be inclusive, with guests getting involved and feeling a part of the wedding rather than just spectators at it; that it would be intimate; that it would feel homemade; and that it would be unique to us and reflect the histories and heritage that we have both grown up with and that have made us who we are today.
The flowers
For decoration, we had wild flowers in bottles and tall jam-jars that we'd been collecting over the year. For the bouquet, we asked the florist to recreate a hanging bouquet of white flowers that Georgia's mum had found on Pinterest, but adding in a few island touches such as stephaniotis flowers and olive leaves. We also asked the florist to include rosemary in the bouquet and wild flower arrangements. There was double symbolism there because Roy's surname means "rosemary" in Hebrew, but also rosemary was traditionally used in English weddings in the Middle Ages as the scent was said to aid memory and help you to remember your vows.
The decoration
For the ceremony – The stand-out decorative item was our beautiful chuppah. A chuppah is the traditional Jewish wedding canopy which the couple gets married under. It represents a home, and symbolises that just as the chuppah is open on all four sides, so our home will always be open to our friends and family. The poles are held by the people closest to you –we chose our siblings to take on this role. In the spirit of the two families coming together, we asked Georgia's mother Briony to make the chuppah for us. What she came up with was absolutely gorgeous and truly meaningful.
In addition to the chuppah, we dotted plants and jars of wild flowers about the place, and placed white stones around the base of the olive trees as a finishing touch. As an afterthought, we also tied the remainder of the silk ribbon amongst the olive branches. Although not planned, these ended up being some of the most striking decorations: in the evening breeze they fluttered about catching the soft sunlight, which was really pretty and also fascinated our infant guests.
Sofia also planted lots of extra flowers round the garden where guests collected for welcome drinks, and decorated the terrace of the house where Georgia got ready with tulle of various kinds.
For the reception – The beach location with its backdrop of craggy rocks and a sunset over a mountain was so spectacular in itself that it didn't warrant much decoration, but nonetheless we had some anyway…
• Tables: For the table centrepieces, we had bottles of wild flowers and raffia-tied jam jars with tealights nestled in sand inside.
• Table plan: We asked our friend Frank, who works in advertising, to design this for us as a wedding present. His "brief": – something that 1) had a London underground "tube" theme; 2) could be transported to and assembled in Greece, and 3) could be changed at the last minute as many of our Zakynthian friends work in the tourist industry and weren't sure whether they'd finish work in time to get to the dinner. The results were amazing!!
• "Guest book"/postcard tree: We used postcards from Israel, London and Zakynthos as namecards at people's tables, with a stamp asking them to write us a message.
• Miscellaneous: We're glad to say that we took inspiration from Boho weddings DIY tutorials and made dozens of tin can lanterns that we dotted around the place! Having sprayed them with pastel colours, they looked lovely even in daylight, but after the sun went down they really came into their own with their butterflies and stars and hearts sparkling out through the darkness.
The food and wedding cake
We had a buffet meal of several traditional Zakynthian dishes, carefully selected to make sure that guests who kept kosher or were vegetarian would have a wide variety of choice. It took some puzzling over on our side, and some detailed explaining to the caterers, but they did us proud!
We didn't have a wedding cake; it was Roy's mum's birthday so we got her a birthday cake instead
The entertainment
One of Georgia's friends from the village, Sakis, owns the local supermarket but also sings Greek music professionally on the side. So he arranged a small band of three musicians: himself, a bouzouki player and a guitar player, who mingled amongst the guests singing Greek folk songs as everyone arrived for welcome drinks, and also afterwards to keep people entertained while we were having our photos done. They also "played us down the aisle" as is traditional in Greek weddings.
In the evening we had a DJ who played songs from a playlist we compiled ourselves from our favourite Israeli and English tracks. We asked specifically for a Greek DJ as we thought he'd understand the Israeli music better as it's so similar to Greek hits! The playlist went down spectacularly well, and to our surprise we found out the following day that an impromptu second "dance floor" had arisen in the sea for those who had got too hot kickin' their moves on land.
Buy or DIY stationery?
We DIY'd it, and it was so much fun!! First of all, we asked an artist friend, Helen, to design a print for us that we'd use for the invitation. She came up with a beautiful image of two lovebirds nestling in an arc of rosemary, and sent us various prints in different colours so we could choose the one we liked the best. The image became the "logo" for our wedding and ended up on everything from invitations to signposts to favours to thank you cards….it was like we had our own brand!
Personal or handmade touches
Oh my gosh – oh so many… Some of them we have already mentioned (Helen's print, Briony's chuppah, Frank's table plan, the olive oil favours, the bonbonieres favours, the rosemary motif, the tin can lanterns/bottles/jam jar decorations), but there are more, still more!! Here are the remainder….
• Roy's dad officiating:
• Three customs: As we weren't restricted by any legal proceedings, we also had free reign over what customs to include in our wedding, so we could really mix up the Greek, Israeli and English traditions to make a wedding that was truly unique to us.
• Translation: We wanted to make sure that everyone understood what was going on at all times, but had several guests who spoke only Greek or only Hebrew. So we structured the ceremony to swap between Hebrew and English, which was surprisingly straightforward as there is generally a lot of repetition in a wedding ceremony anyway, with the bride and groom promising the same things to each other.
• Readings and songs: Uriel, one of Roy's school friends, did a reading in Hebrew, and Libby, one of Georgia's university friends, did one in English. Libby and Uriel both chose their own reading, in discussion with us. Another friend, Jen, sang a beautiful interpretation of a Hungarian folk song, accompanied only by her ukelele.
• Wedding jeep: Georgia's cousins Roy and Sandy, who have a second home on the island, loaned us their open-topped white jeep as a wedding car to take us from the ceremony to the reception.
• Hair and make up: My friend Naomi did my hair and make-up. It was very special to have someone close to me making me beautiful for the day, and I felt a lot more trusting of and comfortable with her than I would have done with a stranger. She did an amazing job!
Special moments
The ceremony itself was just magical. What's fantastic about a chuppah is that you are facing your guests, rather than having your back to them as at a standard English wedding. Standing under the chuppah – so lovingly made by Georgia's mum-, encircled by our siblings who we'd grown up with, hearing Roy's dad's speech, looking out on everyone with their faces shining back at us with so much hope and love for us, while we said our promises to each other to stay united for life…it was all incredibly moving and something we will never forget.
The drive from the reception to the ceremony was amazing in itself. We were standing up in the back of our fabulous wedding jeep, with Yiorgos as our chauffeur. Our families followed behind in a convoy of silver taxis. In true Greek style, all of the cars blared their horns continuously to alert the village that there was a wedding going on. Scores of villagers came out into the street to throw rice and wish us well, and many (bemused but delighted!) tourists also cheered and shouted their congratulations. We felt like a king and queen – a real celebrity moment for the day!
Advice for other couples
• Planning: Get your family and friends involved – they feel more part of it, which is more fun for them, and you will just be bowled over by the effort people are willing to make for you. Never will you feel more lucky or more loved!! One tip, though – if you are going to ask people to make things for your wedding, make sure you give them some inspiration/ideas as to what you'd like at the outset
• The day: Enjoy the process, not just the day. The wedding day is just the culmination of a thousand little conversations, discussions and activities that will bring you closer to your partner and closer to your families and friends. Inevitably the day itself will pass by in a flash, so appreciate the whole as well as those 24 short hours.
Biggest surprise
Not so much of the day – but the feeling that not only had our marriage brought us closer together as a couple, but that we both now feel wedded even closer to our family and friends. Nobody tells you about that bit
Supplier Shout Outs:
For more information about Robbins Photographic, go to:
www.robbinsphotographic.com
FACEBOOK
@robbinsphoto