Todays wedding is a stunning Manchester Wedding. Set at the Manchester town hall this wedding is full of modern touches and is incredibly stylish. The couple chose the Room restaurant for their reception which mirrored the spender of the Town hall perfectly. Keeping with the modern feel of the day they chose beautiful blooms and THE most amazing cup cakes. Helen the bride looks absolutely stunning in the most gorgeous David Fielden dress that I just LOVE! everything about this wedding is simple but super stylish and has been captured perfectly by Nicola from Nicola Thompson Photography
I know it's cheesy and corny but it really was the best day of our lives
Helen and Nicholas were married on the 6th of October at Manchester Town Hall followed by reception at the Room Restaurant. 'We had seen a few standard wedding type venues, hotels etc. and nothing felt right. When we found our photographer first (Nicola Thompson) she had done a wedding at the same locations and we loved how it looked. Room Restaurant was always a place we went for cocktails and we hadn't thought about it for a wedding but as soon as we walked in we knew it was 'us', and exactly what we wanted. Together with Manchester Town Hall it was a perfect combination. Both venues are stunning inside which meant that we weren't dependent on the weather. We had 96 guests and the wedding took 9 months to plan.'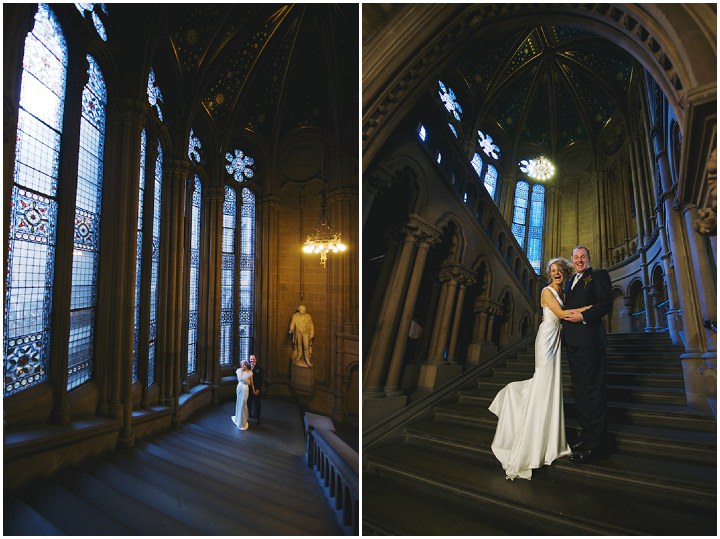 How they met
14 years ago, we met in a club in Manchester when we were 21.
The proposal
I (Nick) decided to take Helen to London at Christmas, I booked a suite at Claridges (still paying that off!) and surprised her by getting down on one knee, very traditional but it did the trick!
Why did you choose your photographer?
We chose Nicola because we spent a whole day trawling the internet looking for cool photographers, not a traditional wedding photographer, we wanted something different and Nicola ticked all the boxes and definitely didn't disappoint. Everything from our first meeting was just spot on, and on the day it was like she was one of the guest (an old friend!).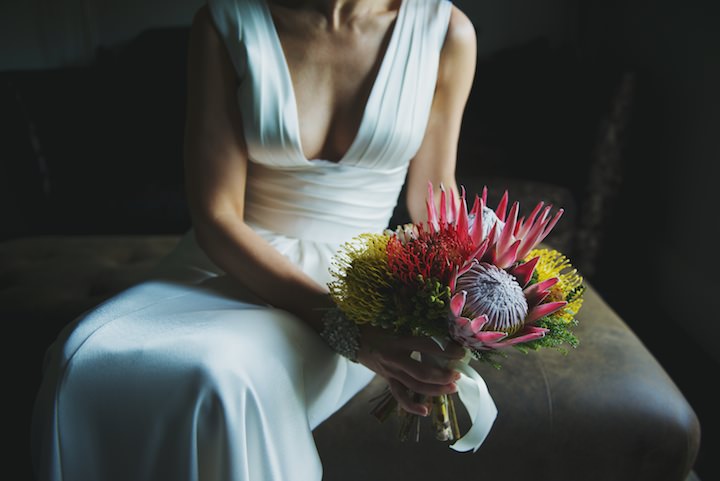 The dress
I chose a David Fielden dress called Goddess. It was as if the dress was made for me; it was just perfect and I felt amazing. It was even more special because my mum picked it! A piece of advice – don't have any preconceived ideas of what your dress should look like, try everything on and don't discount things by what they look like on hangers or in pictures. You will know the one! The dress was from Amy Louise bridal gowns in Nantwich the girls were so great with me and really made the whole experience very special. Shoes were from Jimmy Choo. Bracelet and earrings were a present from my special friends that I will be able to keep forever! They took me to London to the Jenny Packham shop and helped me pick the perfect accessories. My fur shrug was from Adolfo Dominguez. My cocktail hat was from HT Headwear. It was a last minute panic purchase and Helena Talbot from HT Headwear was amazing in helping me decide. I sent her pictures of my dress and accessories and she sent me some options and chatted me through how each would look. When it arrived it was perfect and finished my whole outfit; I felt like a film star!
The suit and bridesmaids
I only had one bridesmaid my beautiful Niece. I would never want to ask someone to wear something they didn't like and as we didn't have a theme I let her pick whatever she wanted. In the end she found a gorgeous long dress from BCBG in Harvey Nicks. My adorable God Daughter was Flower Girl and had a princess dress from John Lewis with sparkly in pink shoes. Nick's suit was from Philip Alexander in Wilmslow, Shoes from Oliver Sweeney and underwear from M&S!
Theme or colour scheme
We didn't really have a theme or colour scheme it was just about picking things we liked. it just happened in the end that it all came together.
Flowers
We just love South Africa and Proteas are our favourite flowers. We wanted to mix Proteas and Succulents. Frog, a florist in the Northern Quarter, really understood what we wanted and the final product was just perfect and stunning.
Decoration
The flowers in different shaped vases mixed with candles were all we needed as the venue is so amazing itself.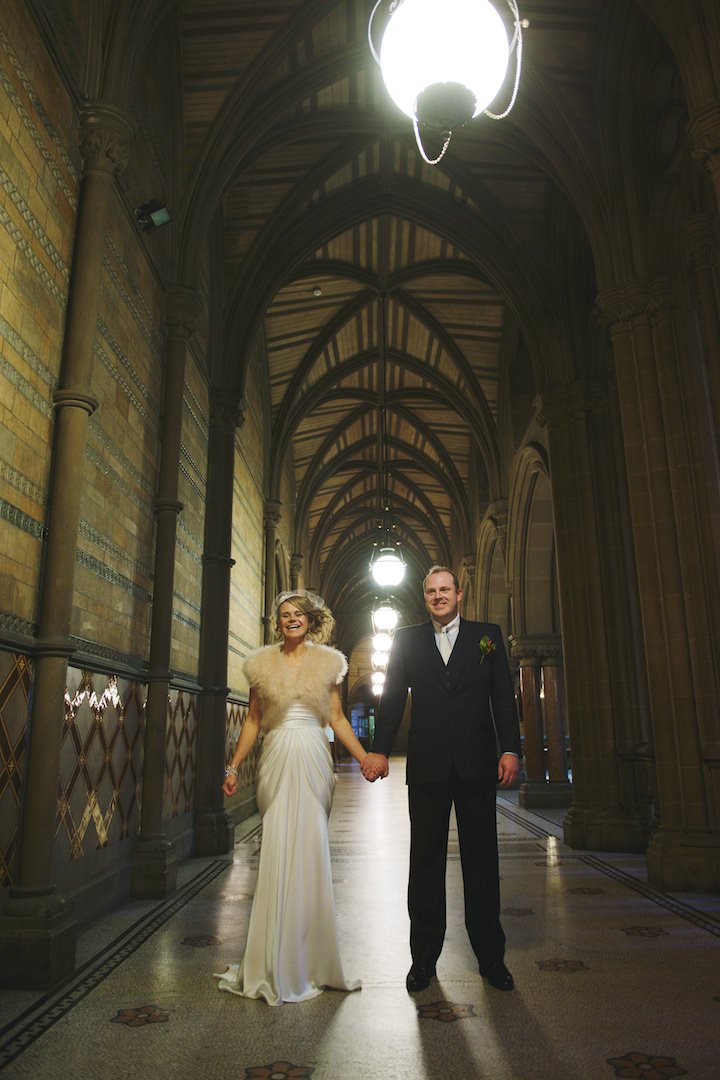 Food
We chose Room Restaurant because the food was an important element to us both; we wanted people to have a choice.
Starters: Sweet Potato Soup, Chicken Liver Pate & Toast or Ham & Eggs
Main: Beef Wellington, Lamb Rump or Fish
Wedding Cake
We didn't want a traditional wedding cake, I had an idea of what I wanted but never thought I could find anyone to do it. When I found Katja I just couldn't believe my luck, she is so talented. The cakes mirrored the flowers and made a fab display. We found it so hard to pick a flavour we ended up picking them all, we had multiple cakes, cupcakes (incl gluten free) and she also did brownies to go with coffee. These really were a talking point and everyone loved them.
What did you have as entertainment?
For the ceremony we had an amazing acoustic guitarist, Matt Wilkinson. We had a DJ in the evening that was recommended by the venue. He was great, we talked him through the type of music we wanted and he delivered. Everyone was dancing!
Special moments or highlights
There were many special moments, but for us it was when we took a step back and we realised everyone was there for us; it sounds cheesy but you could really feel the love in the room. We are so lucky to have the most amazing family and friends.
Biggest surprise
After all the planning, finally seeing it all come together and just work was just perfect!
Our friend is from Spain and he ran to the local shop to get bags of rice and handed it to all the guests as a surprise. When we come out of the Town Hall we were showered with rice with everyone cheering, it was so perfect! The weather was also a surprise, in October we assumed it would be pouring with rain. The day before and the day after were cold and miserable but on our wedding day the sky was blue, we were so lucky.
Advice for other couples
Do what you want! There are no rules so don't feel like you have to conform. It's about you and the day should reflect you both as a couple. Also don't let the day pass you by and make sure you have moments together to really take it all in. A great tip is just be yourself in front of the camera! We are rubbish at having our pictures taken! Trying to smile in the right place and keeping your eyes open is never easy; just relax, laugh and have fun. In the end these are the pictures that reflect your day.
Supplier Shout Outs
For more information on Nicola's work go to:
www.nicolathompsonphotography.co.uk

[jprel]