I love all the rustic , DIY weddings I feature here on the blog, but I am also very partial to a modern wedding and today's modern Manchester wedding certainly fits the bill. Shot by the incredibly talented Nicola Thompson, this wedding is chic, elegant and features two stunning Manchester buildings! The Bride is stunning and oh so glam and Nicola has put together some amazing contemporary shots, not only of the couple, but the two beautiful venues as well as the Manchester skyline.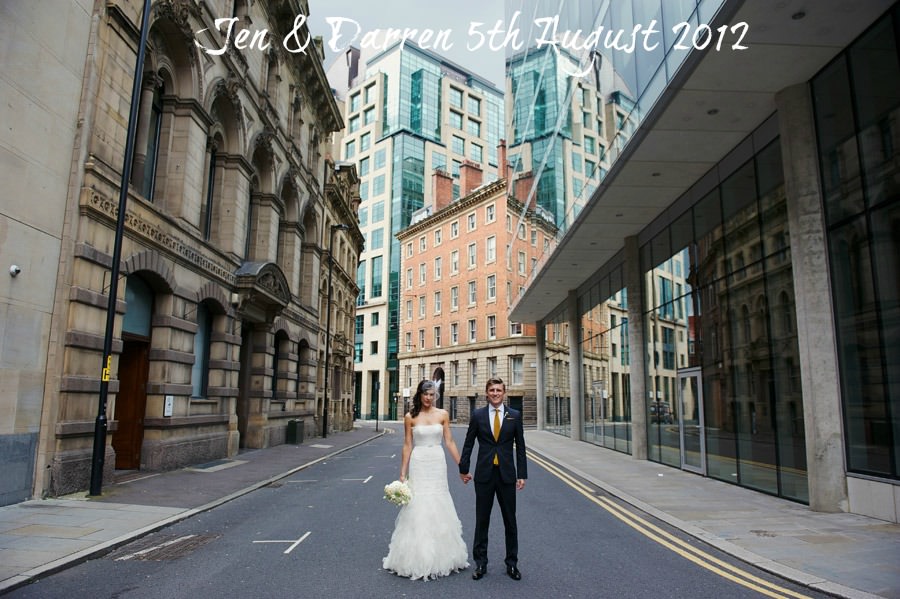 The gorgeous and very stylish couple are Jen and Darren who were married on 5th August 2012. The ceremony took place at The Lord Mayor's Parlour at Manchester Town Hall, followed by dinner and dancing at Room Restaurant and Cocktail Bar. They had around 100 guests and it took a year to plan the wedding.
'It was a chic, personal, city celebration – with grand old buildings, great food, cocktails and music.'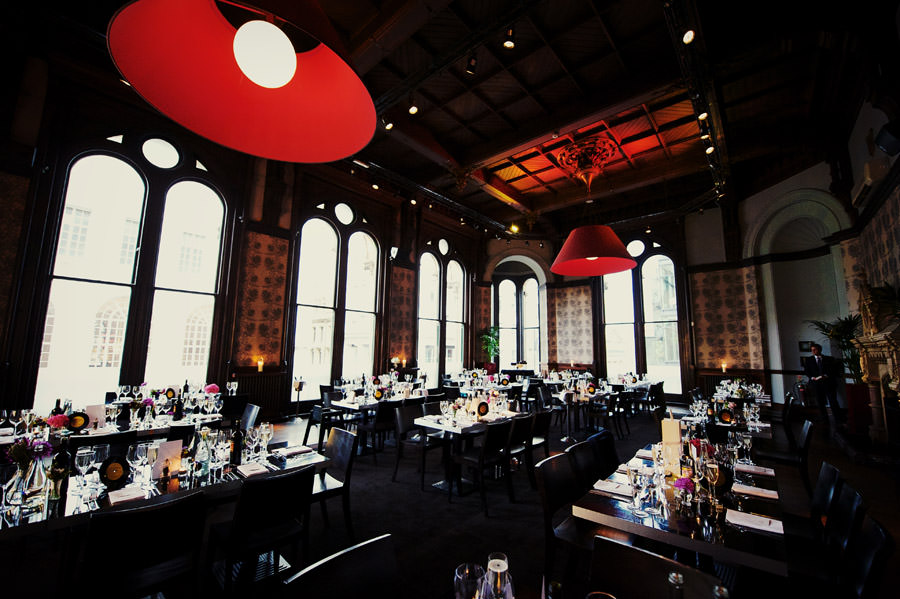 How they met
We met almost 10 years ago at our Best Man's birthday party. It was love at first sight. Just took us a while to get married!
The proposal
We were on a post-New Year's break in the Lake District; Darren had asked my Dad over Christmas and then whisked me away to a gorgeous hotel. He carried the ring around on several long walks before choosing to pop the question in a cosy snug, in front of a roaring log fire, with a large glass of Rioja. I couldn't have chosen it better.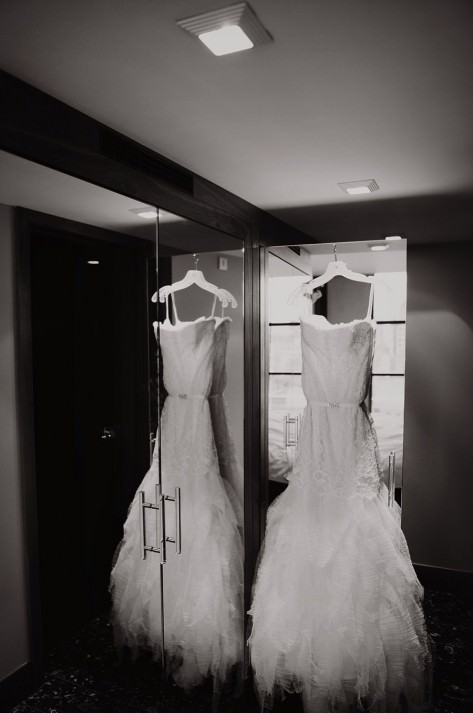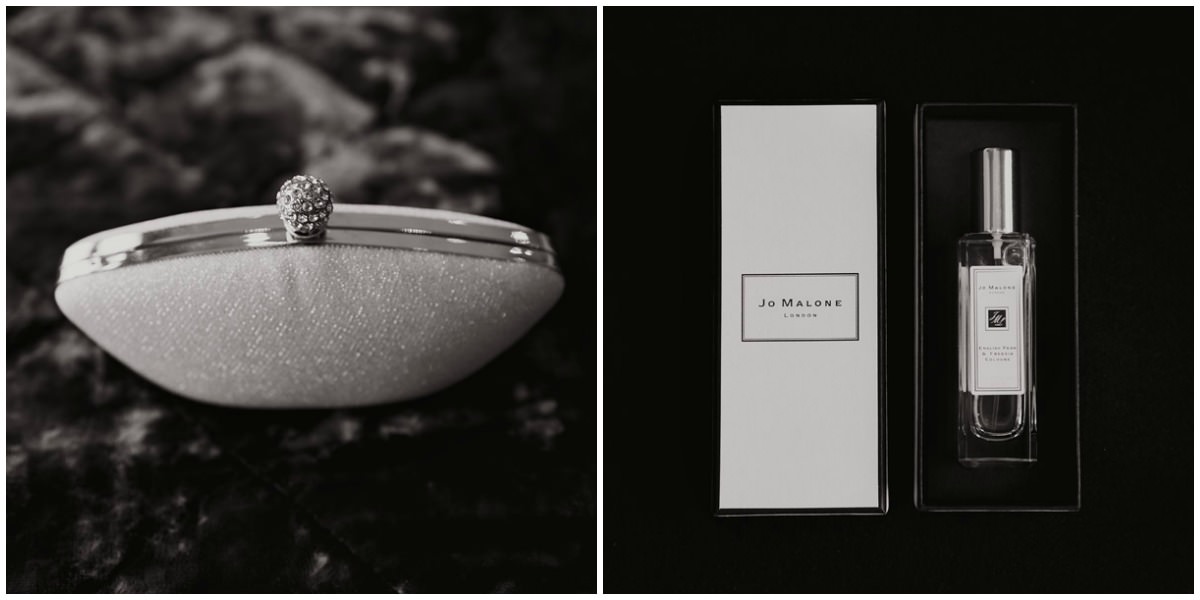 The Venue
Manchester's Town Hall is an incredible building, with such history and character. It made a perfect setting for the ceremony; our guests from elsewhere were amazed when they arrived. Then a short hop and skip away was Room – another historical setting, but with a contemporary feel and a focus on really good food and drink.
How did you choose your photographer?
We used the Wedding Search to see who was available, then looked at blogs to see whose style we loved the most. Nicola's work is AMAZING – she makes every wedding look individual and we knew she would give us some beautiful, unique and fun images which reflected the style of our city wedding. PLUS we thought she would get on with everyone.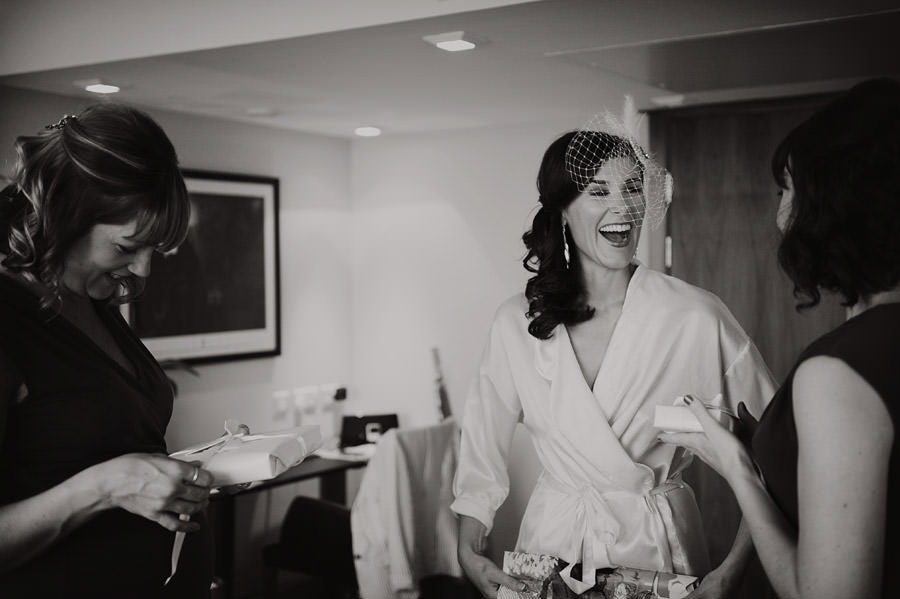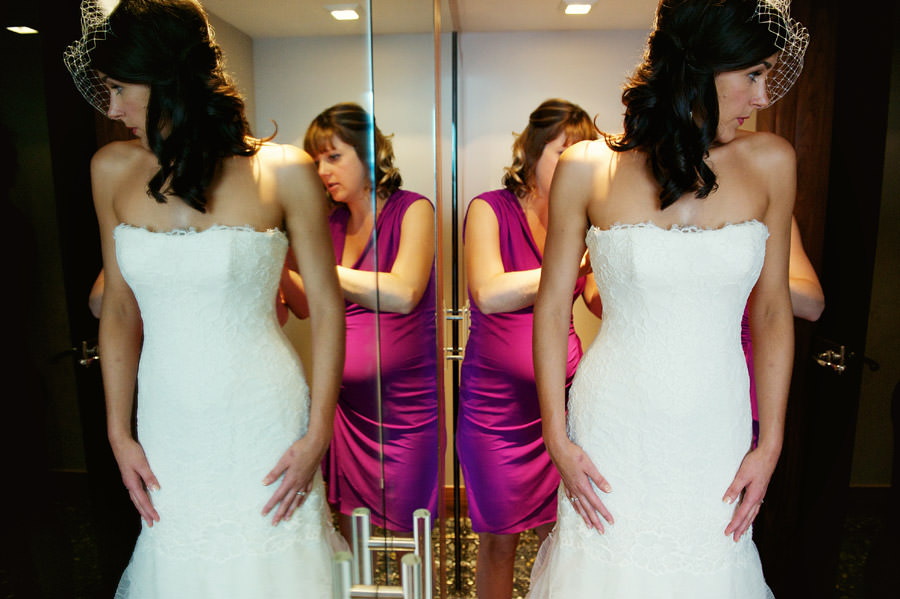 The Dress
My dress was Luci Di Bella from Timeless Bride in Poynton. Michelle who owns the boutique there was a lifesaver in helping me choose the right dress; I had no idea at the start! My shoes were Rachel Simpson, Marilyn, and my girlfriends treated me to the most beautiful earrings which we found on my hen do in Bath.
The veil was a last minute addition on the morning of the wedding!! My make-up artist Jodie A Smith knew I had wanted a birdcage veil but hadn't had time to find anything, so she made and brought this one along on the morning of the wedding, just in case. I'm so glad that she did; it went perfectly with my dress and even my Dad loved it!
The suit and bridesmaids.
Darren's whole outfit was pulled together around a burnt gold coloured, silk knitted tie from Doherty Evans & Stott – a Manchester-based tailors who have limited edition ties made in Italy, just 60 examples of each piece. He wore patent shoes by Kurt Geiger and a navy suit which after much searching was bought from M&S because the fit was so perfect – save for a little alteration by the tailors. I made gold pocket squares for Darren and the ushers.
My gorgeous bridesmaids wore a Coast dress in a bright magenta, and fabulous heels from Ted Baker. We wanted something not too formal, and that they could wear again; plus Jen was pregnant so we wanted something fitted that flattered her bump – she and Cara looked amazing!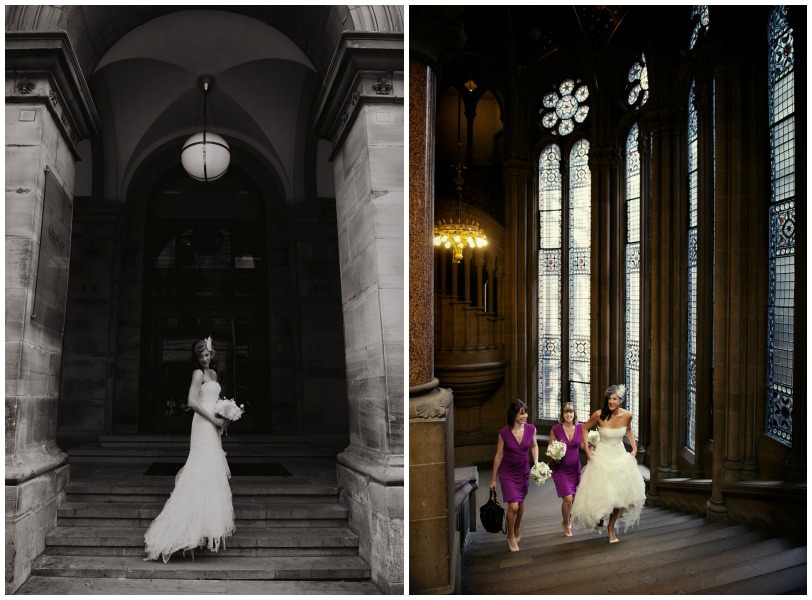 Theme
No, not really. I wanted Darren and the Bridesmaids to be able to choose their own colours and styles. If anything, I used the gold in Darren's tie to pull things together towards the end.
Table names and signage were also based around music, something very important to us.
Food
Very, very tasty food! One of the main reasons we chose Room was the food and the service. It was top quality and we had lots of compliments from guests afterwards. We sent out dinner menus with the invitations and each guest could choose their starters, mains and desserts, as they would in a restaurant. My favourite was vegetable tart with poached hens egg and truffled butter to start, beef bourginon with cumbrian pancetta for main, and chocolate tart with honey and lavender ice cream to finish! We had canapés of mini fish and chips (wrapped in paper featuring pictures of us), and mini burgers on arrival, and then bacon and brie sandwiches in the evening, along with the wedding cakes.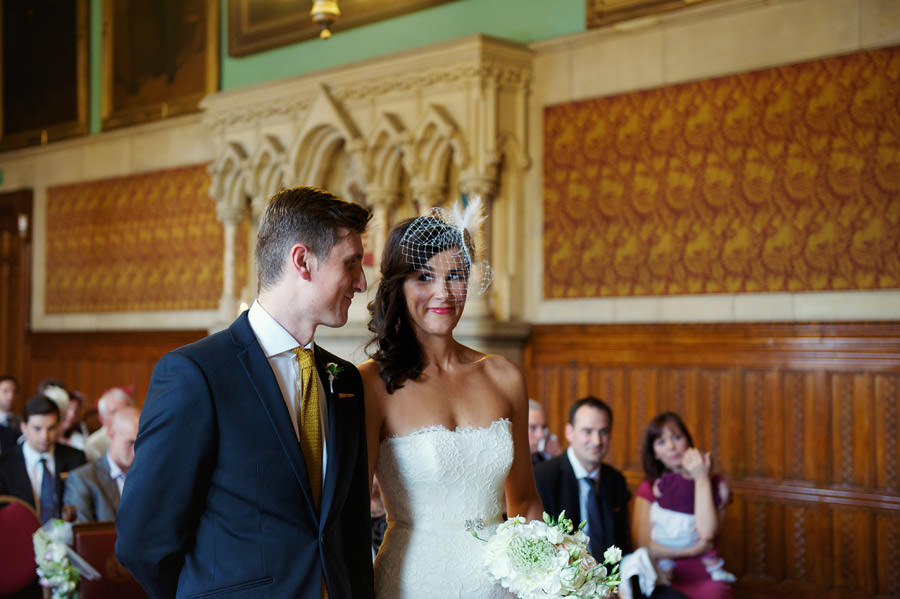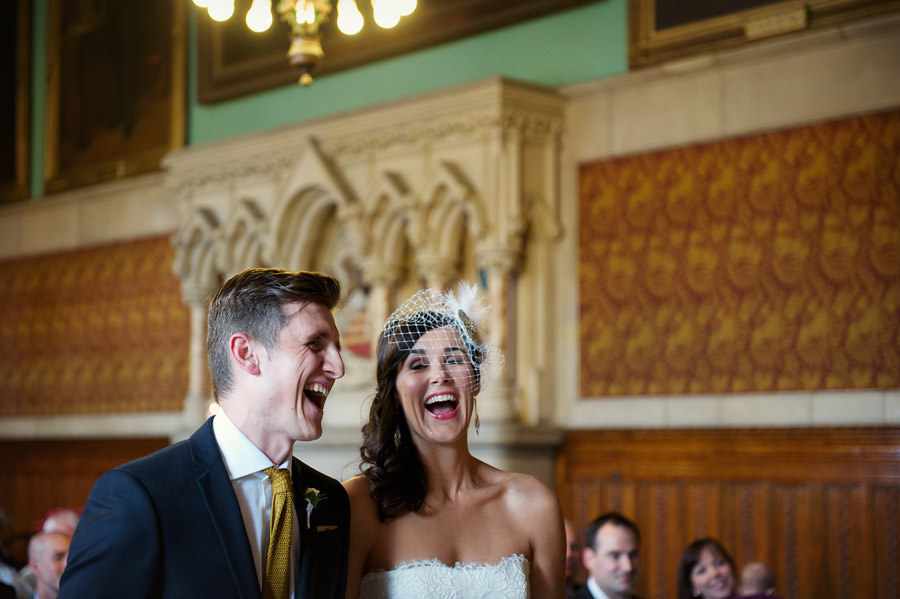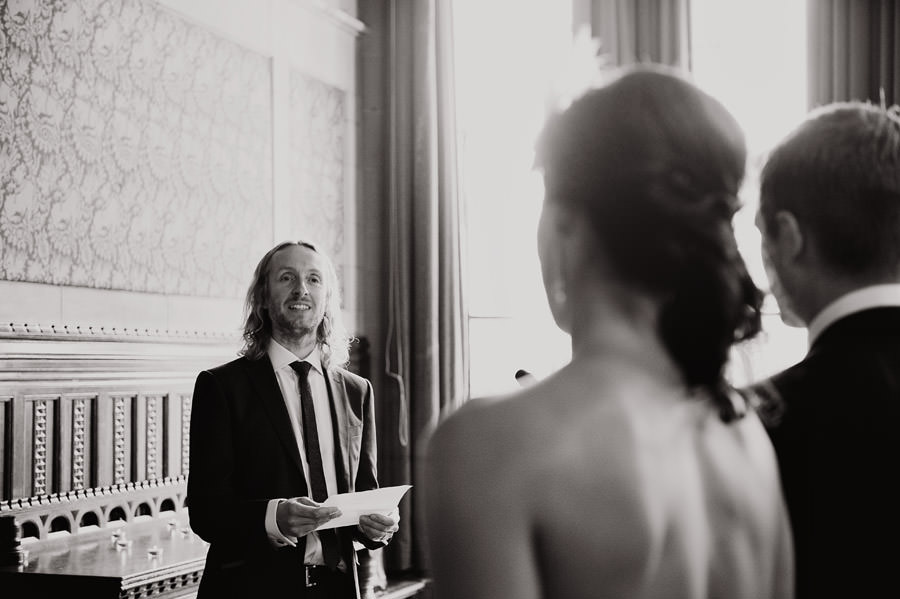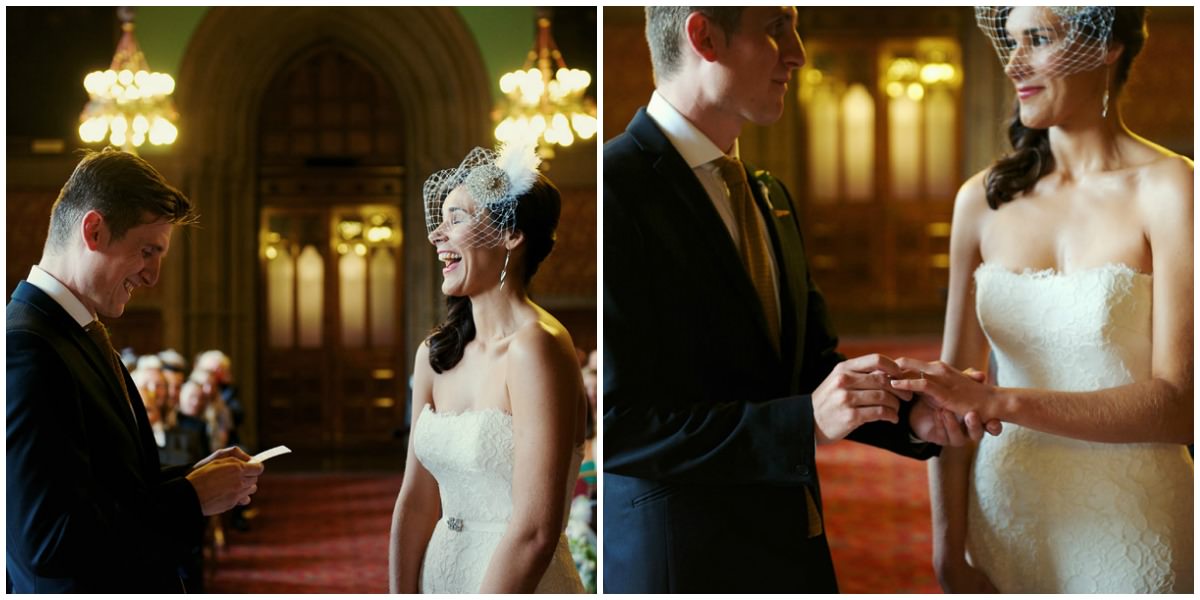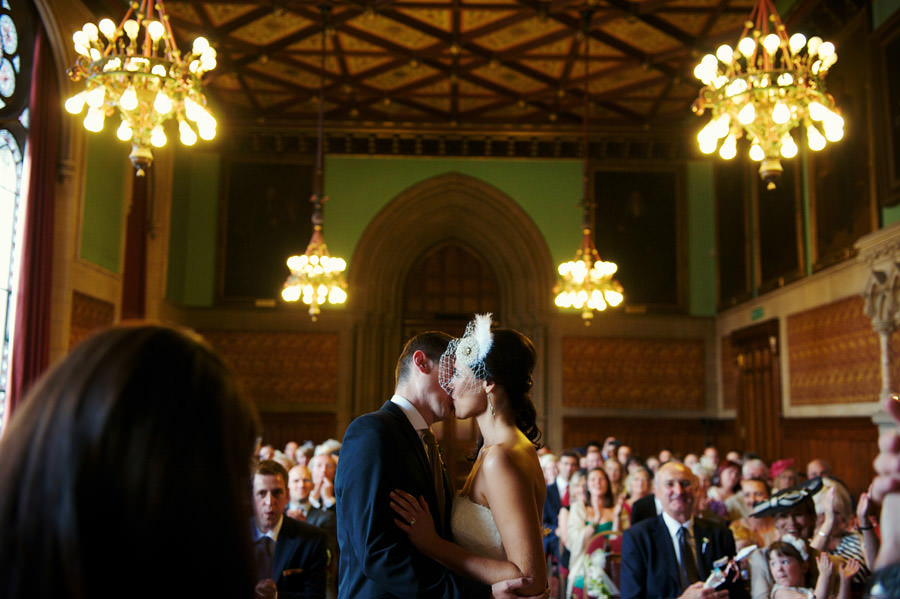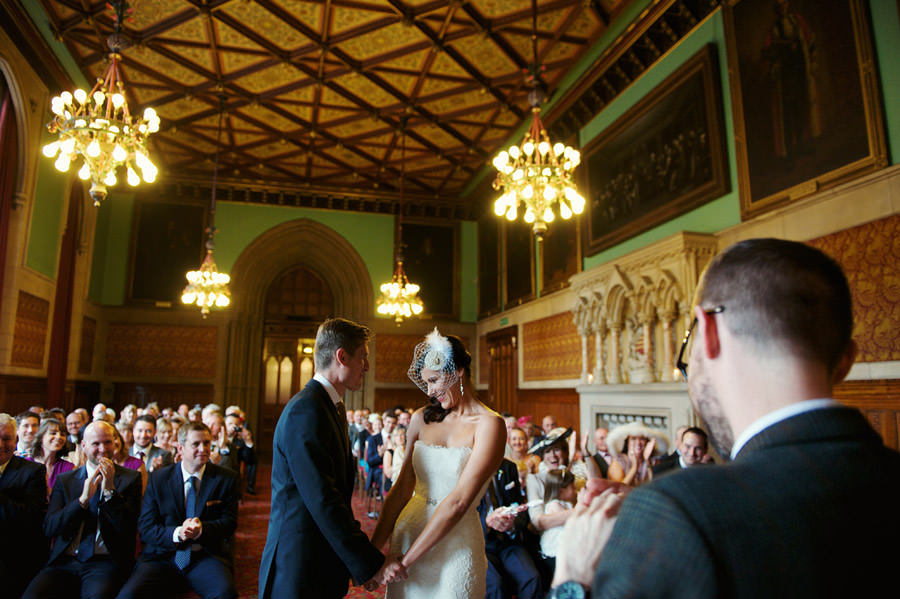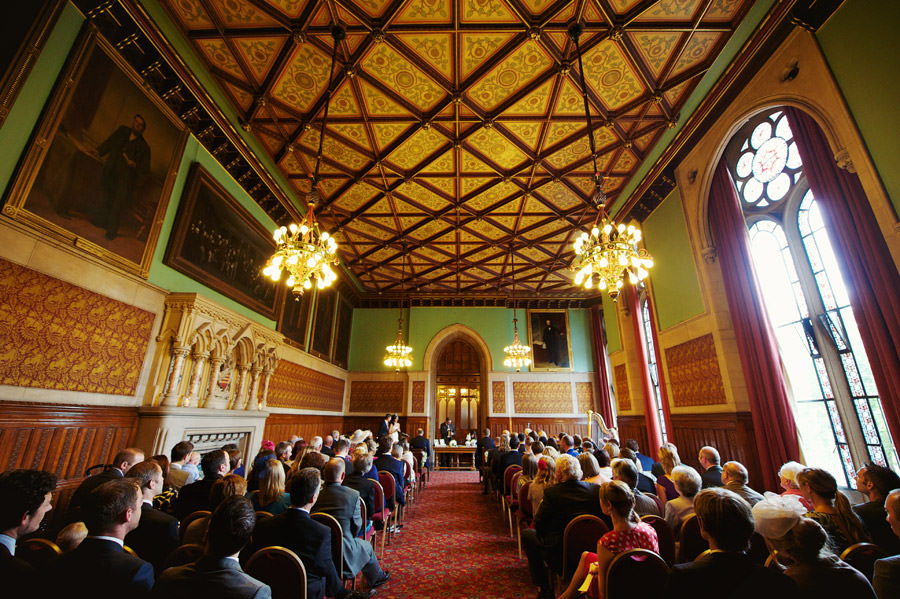 Entertainment
We had a wonderful harpist for the ceremony; I'm Welsh and used to play the harp when I was younger. Louise, the harpist, arranged and played a piece called A River Flows In You by Yiruma as I walked down the aisle, and Calon Lan, during the signing of the register Darren made a playlist of our favourite songs for the reception and wedding breakfast. We had a hang-drum player for after dinner as our evening guests arrived.
Our wedding was during the Olympics – the night before the ceremony we'd had a very large gathering to watch Jess Ennis, Mo Farrah and Greg Rutherford win their golds. The 100m Men's Sprint final was on during our reception so we arranged to project it onto a canvas – stretched onto a large picture frame surprisingly elegantly by Room – and almost everyone gathered to watch it.
Our friend, Alex Lovell, DJ'd in the evening. He played the sound track to our years together, complete with impromptu limbo competition and rounding things off nicely with some drum and bass!!
Flowers
I'm not great with flowers!! I think I might have asked the florist for something round and fluffy! The only direction we really gave was to ask that the ceremony flowers and bouquets would be soft, white, muted tones, then for the colour to be ramped up for the reception.
My florist was Laura from Green Earth Flowers in Poynton and fortunately she instinctively knew what I wanted and got everything right. There were exquisite roses, dahlia, stocks, hydrangeas – a really lovely mix. I think it helped that she knew which dress I was wearing and I gave her pictures of the venues so she could visualise it all.
Decoration
The buildings themselves were the backdrop so we didn't need much decoration.
For the ceremony we placed candles all around and I put pictures of my Grandparents' on their wedding days on the ceremony table. They would have so loved to be there – so I thought they should be. The order of service were small scrolls tied with ribbon and placed on each seat.
Room is such an impressive, elegant space that it didn't need much tinkering with, the huge windows, over-sized lampshades and v colourful bar(!)– which you can see so well in Nicola's photography – were decoration enough in themselves.
Personal touches
• On arrival at the reception we had a framed 'Time to Drink Champagne and Dance on the Table' sign to signify the start of the party! Woo hoo!
• We made our table plan ourselves, borrowing a large ornate gold frame from a friend and spending a few nights glue-ing our fingers together. Each table was named after a gig we had been to together in Manchester. The table names were made out of old 7" records bought from charity shops. We printed our own record labels – continuing the gold theme – and attached these to the centre of the records.
• We made our own 'Daz and Jen' cake topper.
• In the second room we had two tables adorned with pictures and items from the hen and stag do's.
• On the reverse of each guest's place card was our favourite picture of them. We had these made at MOO and everyone loved them; they were a real talking point for the tables as everybody got a little surprise which reminded them about a party, holiday, event or moment we'd shared with them.
• Finally, we gave all the children little goodie bags with toys / snacks / activities to welcome them to the wedding (and help keep them occupied during the speeches!)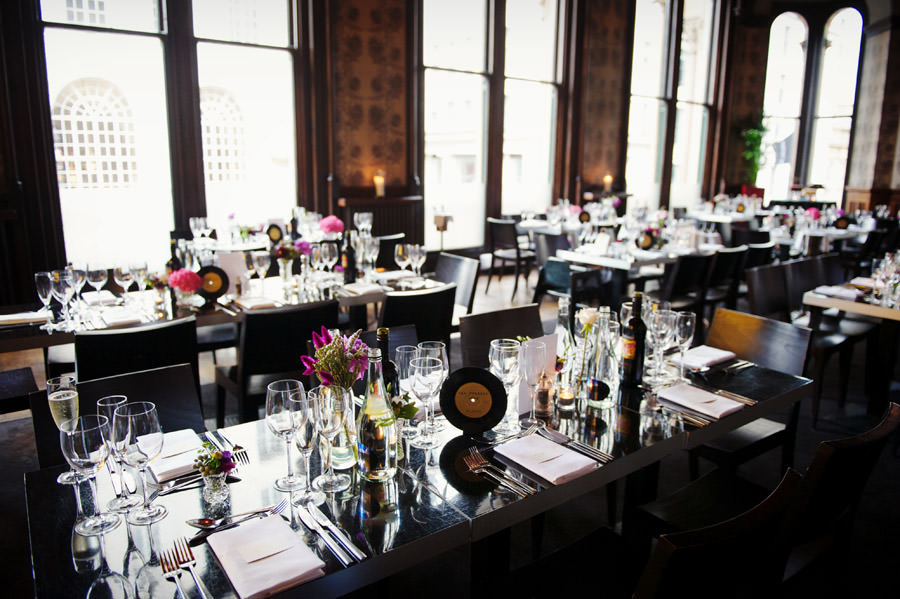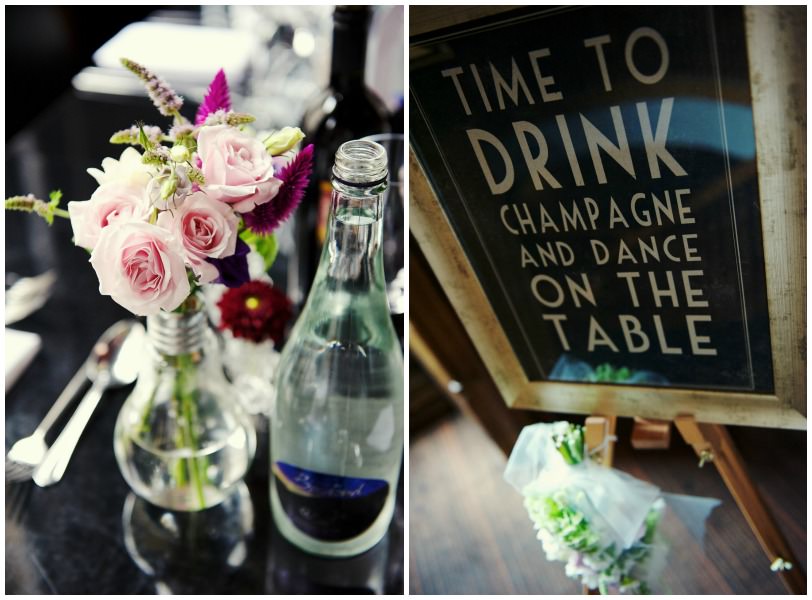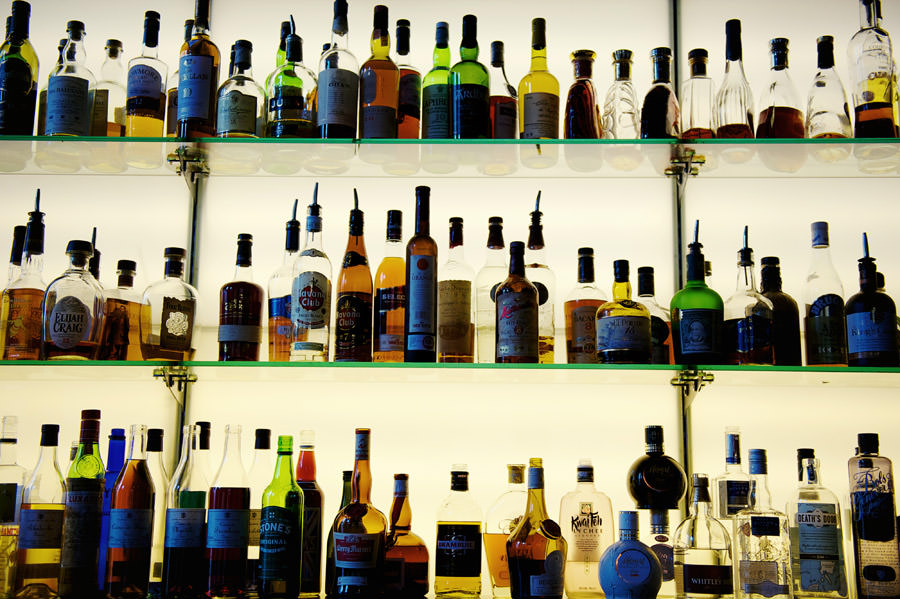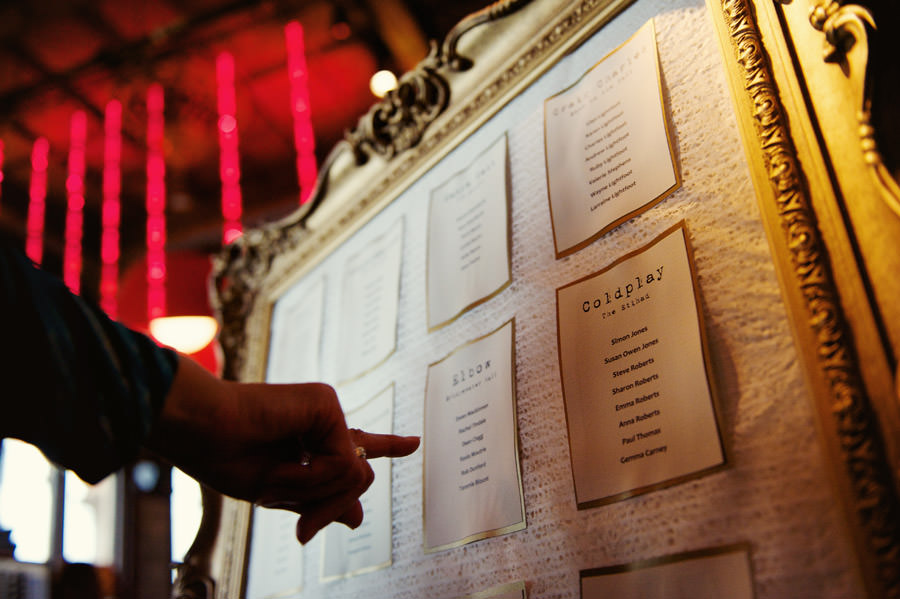 Special moments
We had such a wonderful day it's hard to pick. ♥ We wrote our own vows and many guests commented on how personal they were. ♥ Our two readers Dean and Vicky did such an amazing job, they really did us proud delivering readings we'd taken a long time to choose. ♥ The look on her face when our 3 year old flower girl Ellen saw her princess dress! ♥The witty and moving speeches by my Dad, Darren and the Best Man and our MC, Rob Dunford, making a few one-liners of his own. ♥ Seeing Darren's step-father attempt the limbo will live long in the memory.
Advice
• Test the DJ kit before the reception
• Don't fret the details during the day. Everyone is having a great time, never more so than when you are!
• Try to leave yourself as few jobs as possible on the day before the wedding. Your favourite people in the world will be arriving, spend some time with them and enjoy it.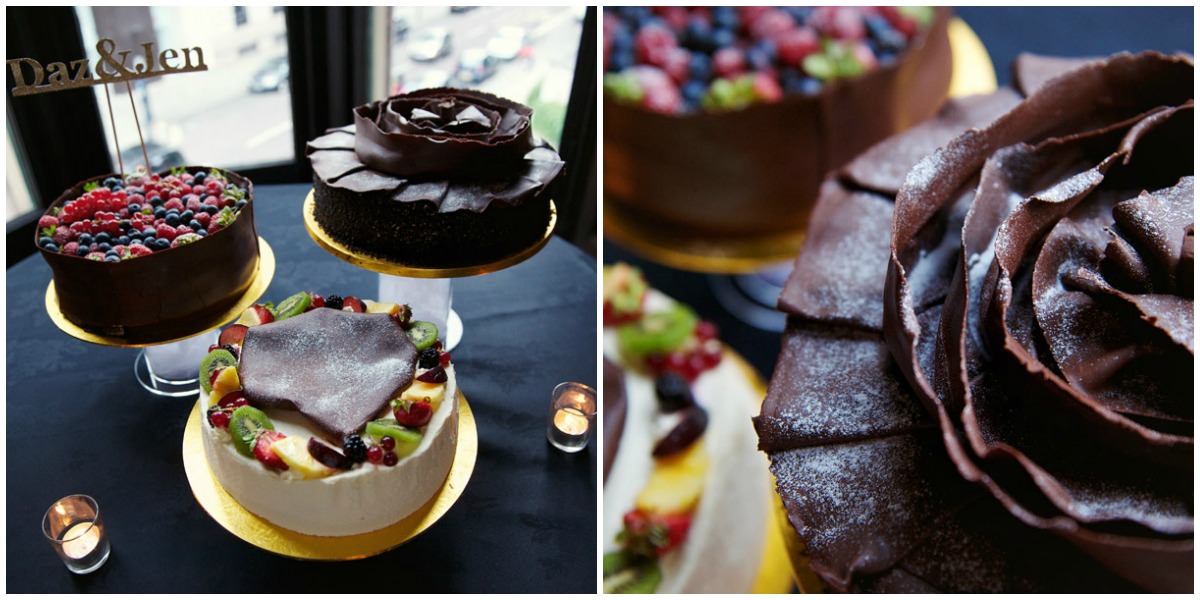 Biggest surprise
Just how thoughtful, amazing and generous all of our friends and family were (even more than normal!). Soon after the wedding we received a surprise gift – a photo album from our MC, Rob, and his girlfriend Tammie, with shots from the day before the wedding (which we hadn't even thought of photographing), of the day, and of the late night party. Their comments on all of the photos were hilarious, it was a lovely thought and much appreciated.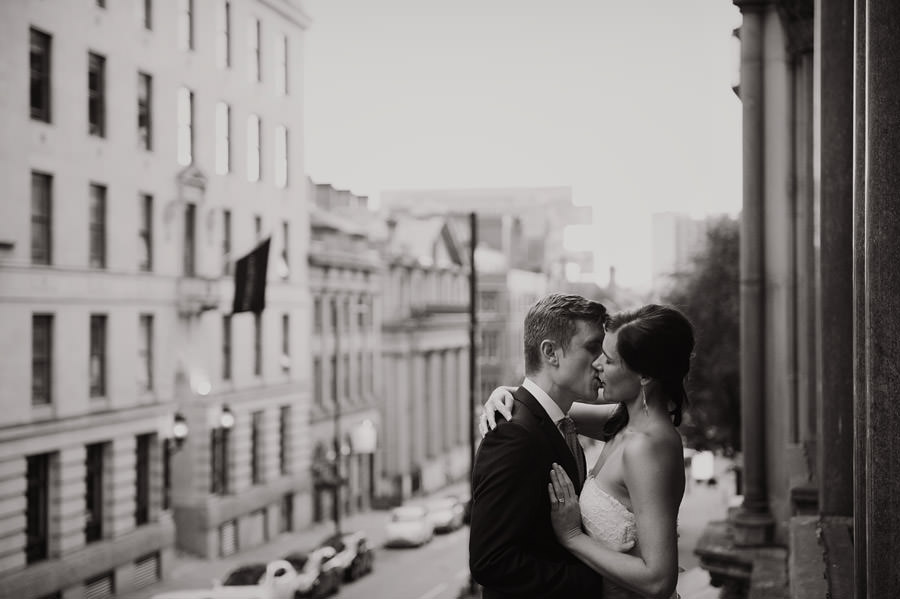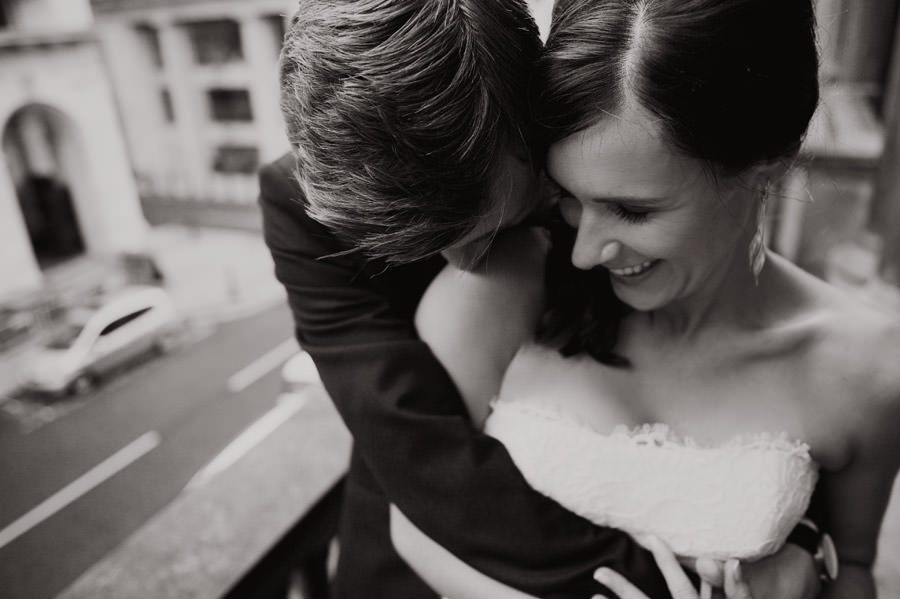 Supplier Shout Outs
For more information on Nicolas work go to:
http://nicolathompsonphotography.co.uk
[email protected]
FACEBOOK
TWITTER
07525233778