Happy Monday everyone, and welcome to another wonderful week! I am now back from my holiday, my birthday has been and gone and I am ready for a busy week ahead, what about you? I had a lovely time on holiday, the right amount of sunshine and sea, mixed with a lot of relaxation and chilling out. Baby Hood had a lovely time and has been kicking loads while we have been away, he certainly enjoyed the rest! Now it's onwards and upwards and time to start the week with another cracking wedding. This one is Paul and Lizzy's Wedding Weekender. Their love for the Glastonbury festival brought them to a rustic, DIY festival themed day, filled with lots of homemade details and the most adorable flower crown! Thanks to Claire from Blue Daisy Photography for the photos.
OUR BEST DAY EVER!!!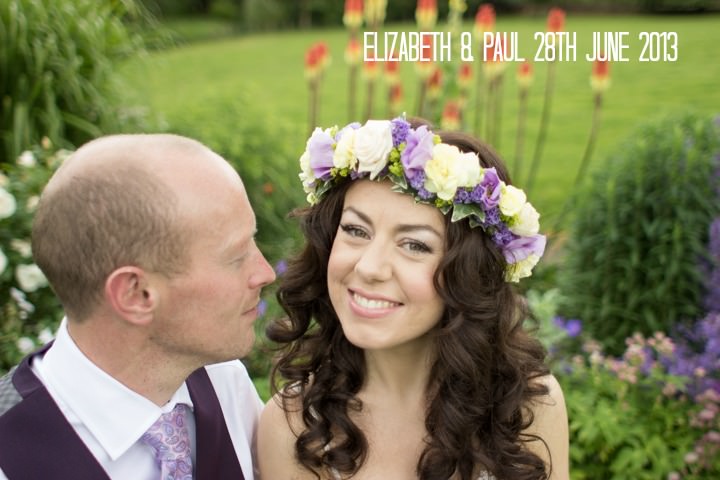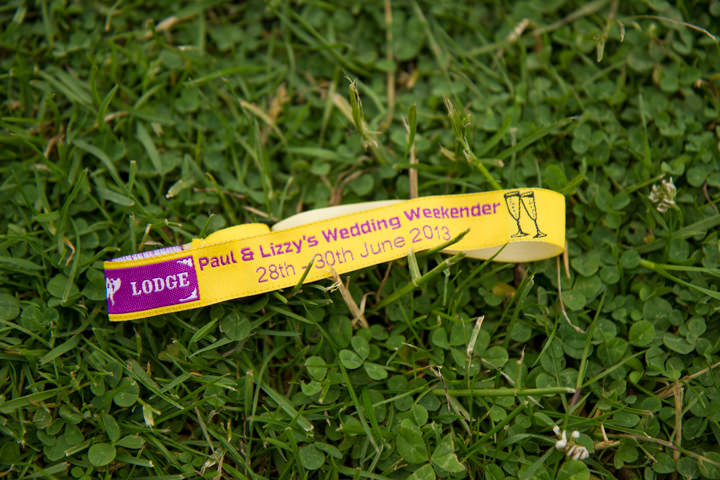 Elizabeth and Paul were married on the 28th of June at Talton Lodge, Stratford-upon-Avon, Warwickshire with a prior legal ceremony at Stratford upon Avon registry office. 'After lots of research online, we knew that the theme of our wedding would be 'rustic' and we wanted our ceremony outside. So I looked into venues in the countryside such as beautiful barns and even enquired into marrying in lavender fields (which, by the way, is a little bit impossible)! Paul & I love Glastonbury festival. We love the vibe there and the feeling of fun and freedom, so we decided to mix a bit of this into our wedding. High up on the list was the opportunity for our guests to camp! This narrowed the search and also bought up venues with festival themes along with the flexibility to create your own unique day. We had decided that we disliked the strict rules that applied to most venues. Then I came across 'Talton lodge' and it ticked all the boxes! It boasts two giant hat tipis set in a walled kitchen garden, yurts & huts, as well as on-site camping, with home grown produce for the catering. There was also a large lawn looking out over a small river, where our ceremony would be set. All this and so much more, set in the beautiful Warwickshire countryside. The venue was ours for the whole weekend! It was perfect! We had 90 guests and took 2 years of planning'.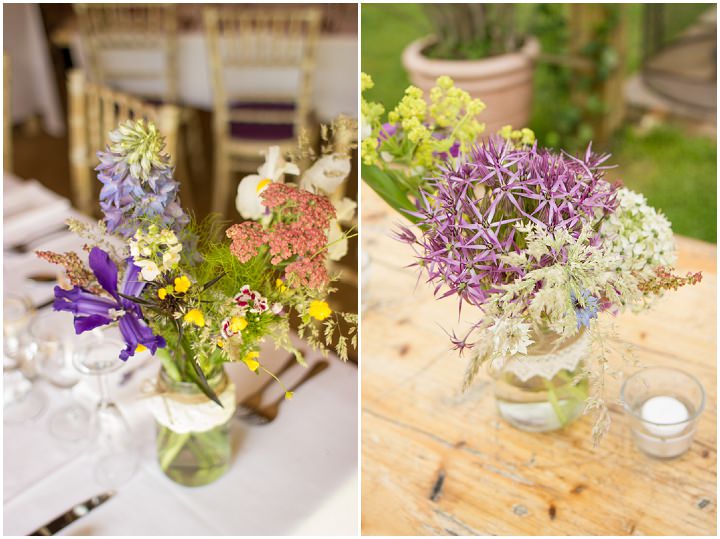 How they met
We met through mutual friends whilst I was at Dance College. It took a year of friendship to make it official, much to the frustration of everyone around us!! We have been together 10 years
The proposal
I was working backstage in a dance company and our show was on tour in Italy for a week. After this week we were given a week holiday so Paul and I hired a car and we visited Lake Garda for 3 nights. One evening Paul and I had dinner at our hotel, which was set on the very tip of a peninsula. He asked to have our deserts and prosecco outside so we could enjoy the beautiful sunset looking out over the lake (for which he wanted to take photos of apparently!). Then he got down on one knee! Followed by saying "the only thing that would make this more perfect is if you would marry me" And would you believe it, I had no idea it was coming! I kept saying "Really, really…?" until he asked "so is it a yes?" !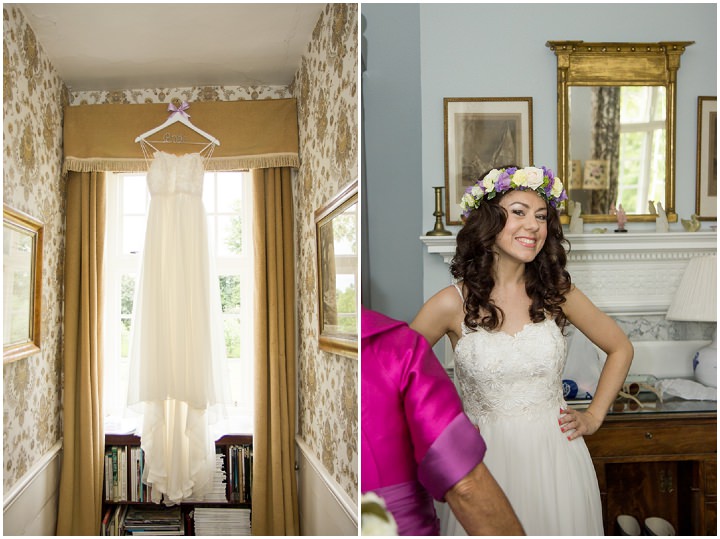 How did you allocate your budget?
Once we decided on things we wanted, we just made sure we could get the best price for them. We were realistic and did lots of research! I also made a lot of things myself. Lots of saving up too.
How did you choose your photographer?
Again, lots of hours spent on the internet, looking through blogs/real weddings in magazines & online and seeing the credits for them. I found Claire, at 'Blue Daisy photography' from a real wedding article which was set in a beautiful woodland in Cornwall. Her style really captured the beauty of the surroundings and we thought that was perfect for us too! Included in our package was an engagement shoot, which was a fantastic opportunity to meet Claire and it made us feel really relaxed and it gave us an ideas for good shots for the wedding day.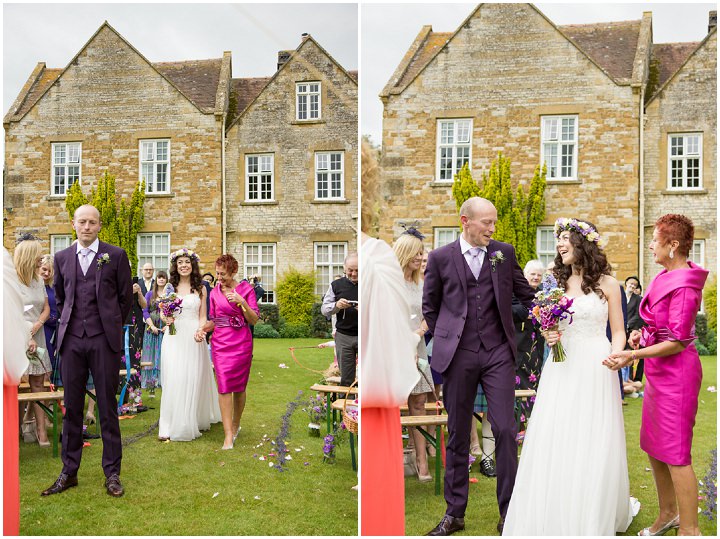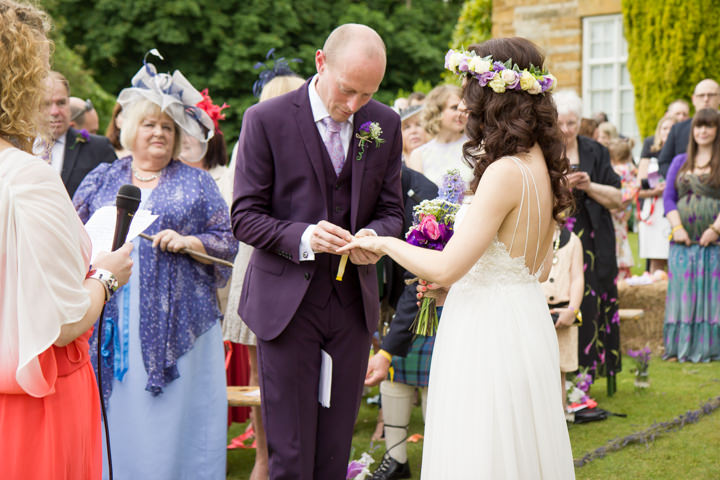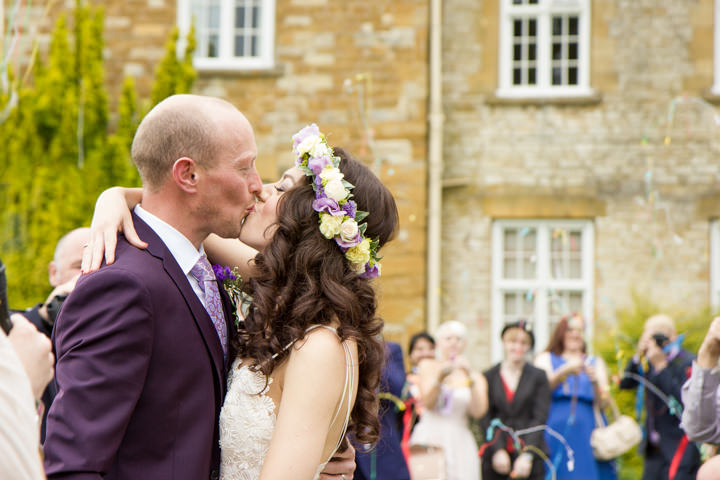 The dress
I searched for quite a while for 'the' dress, which was fun, but also exhausting. There seemed to be nothing out there with the low back, bohemian style that I liked. So I decided to use a local dress maker. She was fantastic and I saw her about 5 times for fitting and details. It was fun to be able to pick and design everything myself and cheaper. I recommend it! I chose a flowery lace for the bodice which was sweetheart shaped and fitted and we added pearly beads to the flowers. Then from the waist I wanted the skirt made from 100% silk so that it was super light and would bellow around me in a breeze, like I was floating. We added lots of material to the skirt and included a modest but full train. My shoes were sparkly gold sandals from Office. My beautiful head garland was from a florist local to Stratford, who I contacted some weeks earlier. I sent pictures I had found and just said to use pretty seasonal flowers of all colours. I gave her my head measurement and picked it up on the wedding day. It was an awesome surprise and I loved it so much!! Especially as she used a lot of my favourite colour, purple, which she didn't know!
The suit and bridesmaids
A few months before the wedding Paul and I went to Ben Sherman in Carnaby Street, London. A mannequin was wearing the suit and we both instantly loved it! It didn't come with a waistcoat, so Paul contacted their headquarters and they made one specially! His shoes were Ben Sherman, super shiny brown numbers. He wore a crisp white shirt and paisley patterned lilac tie from Selfridges.
My two bridesmaids wore different dresses, both in the same pale pink nude colour. My chief bridesmaid wore a dress that was completely covered in sequins and had cute little cap sleeves with a low back. This was from Topshop. The other bridesmaid wore a dress from Pepperberry (Bravissimo's clothes range) which had pretty sequins and scalloped detailing on the hem. My beautiful flower girl's dress was from Monsoon. It was a similar colour to the bridesmaids with a crochet top and glittery long skirt. Teamed with pink butterfly sandals from Next. Comfortable to play and run around in. I put her hair into two plaits with flowers.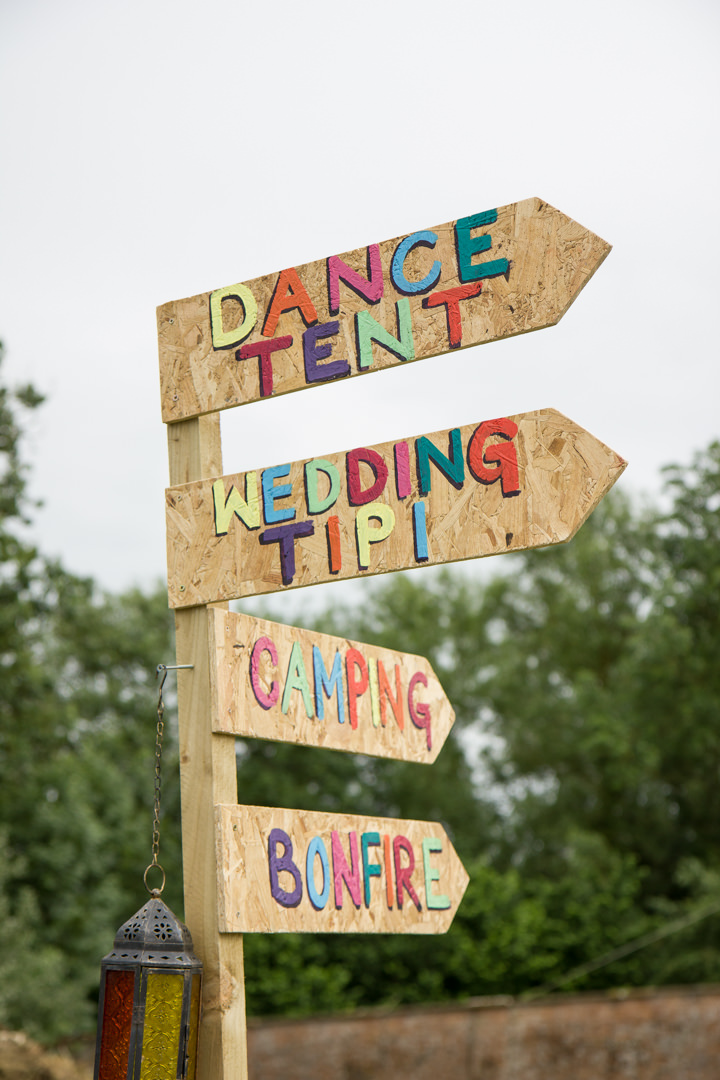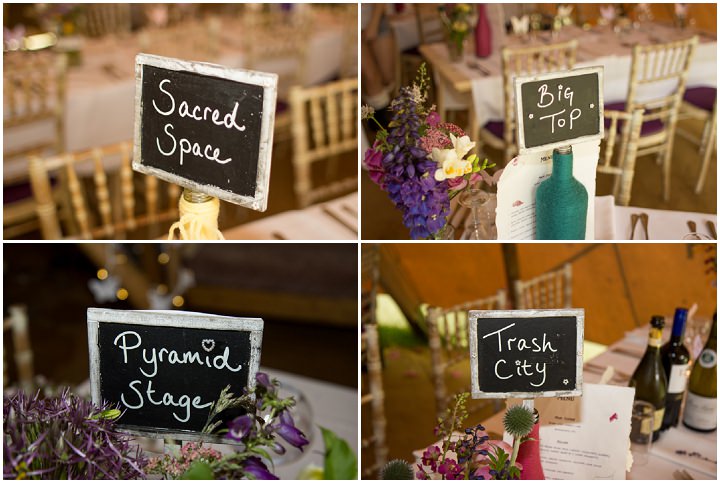 Theme or colour scheme
A rustic, relaxed, fun, festival theme wedding. I didn't limit myself to any particular colours as I love them all! We both love purple so that somehow ran through the day.
Flowers
Colourful seasonal flowers hand-picked by me & my bridesmaid from a flower farm in Maidstone, Kent 2 days before the wedding. It was a gorgeous sunny day and we managed to squeeze 6 buckets of flowers into the back of the car. Once home our other halves helped us prep them ready for the next day of bouquet making. I had watched a few tutorials on youtube and had a practice and I was so happy with the results! I wanted our bouquets to look like we had just picked them from a field full of wild flowers-which we had! We also visited a lavender farm in Kent and left with about 6 big bundles of dried lavender, which we used to decorate the aisle and place on the napkins. The perfume was amazing.
Decoration
Well, where to begin?! Of course the handmade bouquets! The paper Pom poms, the flower jars/vases decorated with lace, string and wool, tea light holders with raffia, the cake placards, the directional sign post and of course the amazing bunting my chief bridesmaid made 60 metres of! Incredible! We also adorned the tipis with ribbons, butterfly garlands, Moroccan lanterns, chimes, lavender and lots of fairy lights! We put homemade lanterns in the trees. Paul's best man Jon painted a fab picture of me and Paul at a festival with our faces cut out and people put their own faces through. It was a really fun idea and it went down really well!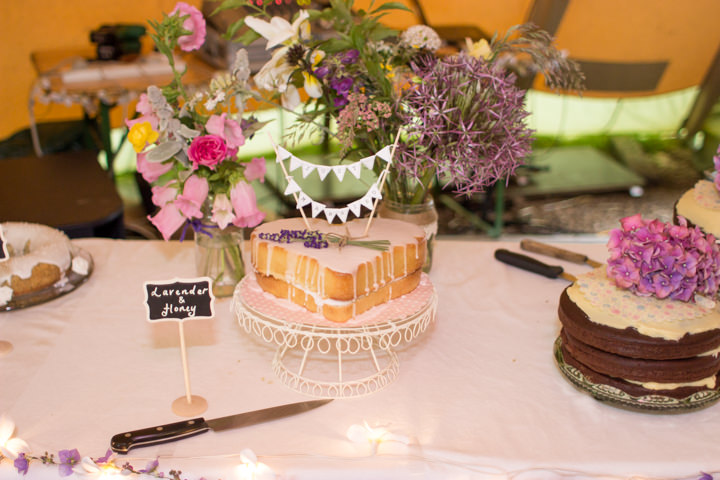 Food
The food was made by Olivia on-site, who is a chef and owns the venue with her husband Barney. It was so scrummy! Mains – Wood Oven cooked Lamb (born on their farm) & Spanakopita for vegetarians accompanied with a selection of 5 salads (all home grown/locally produced).
Wedding cake
Our wonderful friend Julie bakes the most amazing cakes. So we asked her if she would mind making our wedding cake. After more thought we decided it is such a shame that most wedding cake does not get eaten or is passed around to anyone who will take it after the wedding. So we asked Julie if she would mind making enough cake to serve as pudding so then everyone will definitely enjoy it. In the end she made 7 cakes! Doubling up a couple of the most favourite flavours. They went down a treat. What a kind and talented woman Julie is! The flavours were: Lavender & Honey, Lemon Drizzle , Chocolate Fudge and a Blueberry ring. All accompanied with strawberries and cream.
Entertainment
We had a live band called 'Groove Entertainment' provided by Earcandy and they were fantastic! We booked a 5 piece band and the dance floor was full the whole time! After their set was over we followed with our own iPod music playlists. We had to stop at midnight, but we were allowed to sit around a massive bonfire (which the venue set up) and play acoustic music. Our friends who are musicians hosted this part by playing their guitars.
Buy or DIY your Stationery?
DIY Stationery: The invitations, the welcome packs (complete with camping info & festival style personalised wrist bands! With our names & wedding date), the table plan, the place names, the table names.
Highlights or special moments
• Guests selecting a ribbon colour which symbolised special meanings and fortunes and tying them to a tree at the reception and letting them float in the breeze!! That was so beautiful!! And meant so much to us both!
• My personal highlight was my husband's speech closely followed by the best mans. They were awesome and filled with so much thought, love and giggles.
• My husbands purple suit was also one of my favourite things!
• Also a highlight of ours was over the whole process, how much our friends helped us with our wedding. From 2 years of collecting jars & bottles for vases, to setting up the venue the day before in the pouring rain (luckily mother nature was on our side on our wedding!) we couldn't have done it without them all! Everyone pulled together and had their little jobs to do. The bridesmaids and Liz (my makeup artist & close friend) did such a fabulous job with everything! We will be forever grateful.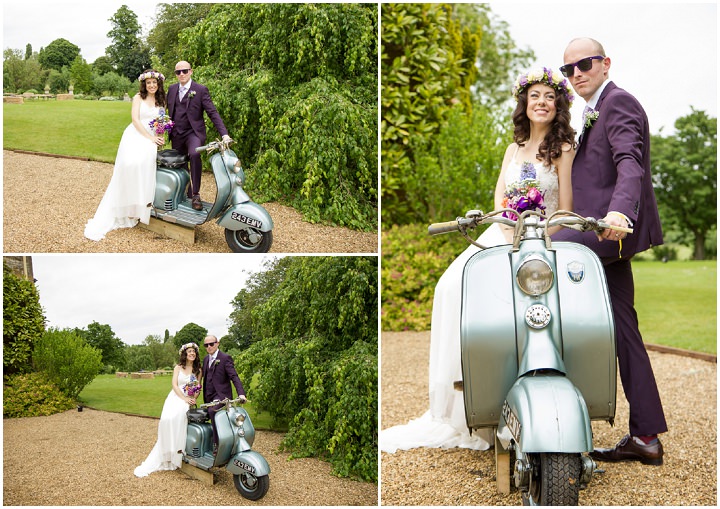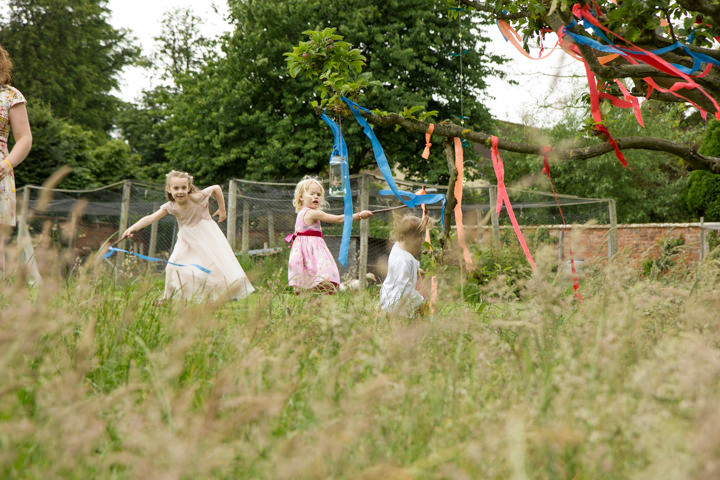 Biggest Surprise
How wonderful and beautiful the ceremony was with all our family and friends there.
Cheesy as it sounds but looking at what we put together. Our nearest and dearest coming together all in one beautiful place to celebrate our day with us on our first day as a married couple. What could be better?!!
Advice for other couples
Research, lots! Searching for our venue became easier once we had decided on things we definitely did and did not want for our day. This also includes the smaller details. Send the invites out earlier than you need to. It can be a struggle to get RSVPs and you need this for your plans and budget. If you're planning a DIY wedding, make sure you give yourself enough time on the morning of the wedding day with your select wedding party to relax. It's tough but delegate last minute jobs to others, sit back and have a sip of champers! As I'm sure you have heard before, you must do what you, as a couple, want. Not anybody else. And in the end you will both be really chuffed at everything you created.
Supplier Shout Outs:
For more information on Claire's work go to:
www.bluedaisyphotography.co.uk
[email protected]
07899 758 246
FACEBOOK
@bluedaisyclaire
I am a Photographer based in Somerset. My style is quite relaxed and laid back. I adore shooting weddings, it's hard work but always enjoyable.
Due to an email issue if you have emailed me between the 2nd & 9th of December, please resend it.
X