Hello you lovely lot and do I have a smashing wedding to share with you today! In case you were wondering where summer has gone, I have a huge dose of sunshine to share with you today in the form of this desert wedding from Marrakech. Karin and Ruud chose an intimate wedding of 30 guests and decided that Morocco was the perfect place to hold it. With traditional Moroccan entertainment, and food, this desert wedding ceremony, followed by a feast under the stars is just picture perfect. The soft dusty colour palette, coupled with the laid back boho decor is just perfect. I just love the overall vibe, it's super chilled and oh so romantic. Maria Rao was there to capture the day in all it's glory.
It was a special, intimate and relaxed day in a boho atmosphere, and the magical desert. No posh wedding, but matching to us and respecting the Moroccan culture.
Karin and Ruud were married on 25th May 2019 at Terre des Etoiles, Agafay desert, Marrakech. 'Ruud proposed to Karin on the 16th of December, and the initial idea was to get married somewhere at the beach, with our bare feet in the sand. We already planned for a new years trip to Marrakesh, where we booked 2 nights at Terre des Etoiles. We were amazed by the magical atmosphere there and the idea to get married there can with us at the same time, when we looked at each other we knew that we both had the same idea. We had 30 guests (including 5 children) It took 5 months to plan. We hoped to get married on the 25th of May and as we are aware of that life can change every day and you can loose beloved ones we decided not to wait a year longer.'
How they met 
We met in December 2006 at our work and became a couple 4 years ago.
The proposal
The day before the proposal we had a wedding of my cousin and Ruud was already giving some hints / making jokes, but you never know with him. After a short night of sleep we went for a hike in the nature, the first weekend it snowed in Holland. We enjoyed our time, had a small hangover, but enjoyed spending time together, the snow, the woods and the sunshine. When we stopped for a kiss and to enjoy the view, Ruud went on his knee in the snow and popped a ring out of his backpack, I really thought he was joking! So sweet to hear he already visited my parents earlier that week to ask traditionally for my hand.
How did you allocate your budget?
After searching for flight tickets, and a place to stay with our guests the first nights (the fantastic Palais Paysan, where we already had 2 amazing pre wedding nights with our group) we focused on what was necessary and what we wished for. We already put a budget for each aspect of the wedding, which meant that we had to search several times for different options. Considering for each aspect how important is was, could we find another solution and making choices.
Where did you splurge and where did you save?
We wanted to share this wedding with our close beloved ones, most of the budget was spent to have everybody with us and to have an incredible trip together. Moodboards and stationary Karin can reate, so we saved on this and also we decided not to go for a wedding planner as this would take too much of the budget.
As the wedding location was already amazing, for decorations we only had flowers and 2 peacock chairs made for us.
How did you choose your photographer?
We searched thoroughly for a photographer matching our style and the feeling we love. We were so happy to find Maria Rao, perfectly matching to our style, enthusiastic and luckily available on our wedding date. Maria lives in Marrakech, knows the nice spots and about the specific light in the desert. Her pictures really tell the story of our wedding day and the colours and atmosphere are amazing, the soft dreamy boho look and feel!
The dress 
The dress was by Cymbeline, I loved the special detail of all the lace flowers added on the dress. The dress had 2 layers of lace, a flower and dot lace, and the guipure flowers added on this. My jewellery was by Cellini in Roermond (the Netherlands), where Ruud and me were stunned by a amazing bracelet of Nanis. The earrings are of a designer in Maastricht, Trudi van Schaik and are made of a special green amber stone. The shoes are by Unisa.
The suit and bridesmaids
The suit is tailormade by Cooijmans Herenmode in Geleen, the Netherlands. The shoes are by Yves Saint Laurent. For the bridesmaids we ordered fabrics of Karin's dress at Cymbeline and found a fantastic and super kind person who designed together with Karin the dresses, matching to the character of each girl and produced the dresses.
Did you have a theme or colour scheme?
Our colour theme was dusty pastels and desert shades, with colours like white / off white, sand colours / beige, light pink, old pink, rust, gold colour, light blue and olive green. We prefer soft, dreamy colours that match the environment. As we got married under an olive tree in the desert the beige and green colours suited very well. The rusty colour we added for a nice boho accent and Karin and the bridesmaids were wearing gold glitter shoes.
Flowers
The flowers were in the colour theme of our mood board with roses, olive branches and eucalyptus in it. When the bouquet arrived in the morning it was enormously big, more to put in a big vase than to hold all day. One of my friends decided to cut the bouquet and started re arranging it. I saw the flowers flying through the room while the make up artist was fixing my hair, we had flowers everywhere.
Decoration
As the location is already stunning, we only had some flowers, carpets and ottomans. In the evening there was a live musician playing at the camp fire, there were a lot of candles burning while sitting there.
Food 
Traditional Moroccan food, tajines, couscous and lamb out of a special clay oven.
Wedding cake
We had a 2 layered ice cake, decorated with fresh fruit and flowers
Entertainment
We have choosen for Moroccan entertainment, Moroccan drummers, belly dancers, a fire dancer (spectacular!) and a live musician who placed a the camp fire.
Who supplied the stationery?
All the stationary was designed by Karin, the save the dates, wedding card, welcome card and welcome gifts.
Personal touches
At the ceremony we placed wedding pictures of our parents and grand parents, like a family tree.  As we decided to get married on 25-05, the wedding day of Karin's passed away grandparents, we wanted their wedding picture of the wedding in 1948 at our wedding. Ruud's father passed away 26 years ago, by having the wedding picture of his parents, we made a small memorial for his father.
Special moments
The first look of Ruud when he saw Karin in her wedding dress was so unforgettable. He was so impressed and emotional, wow, such a special moment of love.
Our wedding shoot at Royal Mansour was amazing, the manager congratulated us by treating us to a bottle of champagne. After that we had such a wonderful time at in a small Moroccan village where we made wedding pictures in the local shops and had a lot of fun!
And we were touched to have the wedding ceremony with such a small intimate group, it was so personal, with our friend as wedding officiant, the niece of Ruud singing, tears flooded at all faces.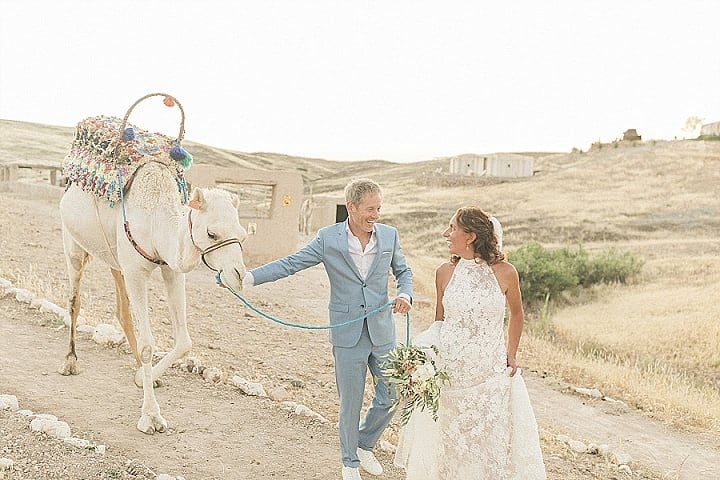 Advice for other couples 
To stay close to want you want for your wedding day, really make it your day and celebrate it with the people you love. Take time to enjoy this day to the fullest!
Biggest surprise 
We surprised all our guests by preparing in secret with our friend Harry the ceremony. Ruud faked there was no officiant showing up and made a joke by getting Harry out of the group and gave him the officiant costume. Everybody was so surprised we planned the whole ceremony in secret with the 3 of us.
Ruud surprised me with a secret message on the breast pocket handkerchief, with a word that only we know and he wore as a hidden message.
We surprised the mother of Ruud by arranging a donkey to bring her up hihi. She is 83 and we worried about her walking up a small hill, so we arranged a donkey to bring her. The children loved it and got in the baskets next to her.
Supplier Shout Outs
For more information on Maria Rao go to
www.mariarao.eu / www.mariarao.eu/blog / FACEBOOK / INSTAGRAM / PINTEREST

[jprel]