I have a gorgeous styled shoot for you this afternoon, courtesy of a huge team of wedding creatives! The shoot takes influence from the story of Casablanca, mixing in old vintage hollywood glamour with the bright vibrant colours of Morocco. Personally I like styled shoots that tell a story and this one certainly does and it keeps true to the films styling. Mix in a stunning table arrangement full of Moroccan colour and detail and you have something truly inspirational. Thanks to Kate Hopewell – Smith ,  Nikki Sheffield and Christine Maciocia for organising such a fab shoot.
It all started with a concept, a really creative mindset and an amazing team who all wanted to work together as a collaboration of talent using our individual skills to create a stunning styled shoot to inspire Brides and Grooms with their own wedding day.
Firstly, we came up with a theme and the movie "Casablanca" stood out for us all.  We wanted to capture the essence of this great Hollywood era with our own creative spin.
As a team we worked hard to capture the essence of the movie with all the passion and drama of the story.  We hope through our imagery we have transferred this into something that the modern day Bride and Groom can be inspired by and incorporate into their own personal wedding day but overall we hope that we have done justice to this romantic concept and visually stunning old Hollywood movie.
The story unfolds with Rick entering "Ricks Café" not knowing that his long lost love is inside.  With the use of dramatic lighting we are able to encompass Rick's loneliness as he sits at the bar lost in thought while Ilsa waits anxiously inside also feeling lost without Rick desperate to meet him again.  Then the intensity of the couple finally meeting for the first time in a years and their passion dramatically re-ignites.  Finally, Rich & Ilsa embrace and passionately part at the end always knowing that they will love each other forever.
We all loved the idea of using the vintage theme along with the vibrant colours of Morocco to set our scene.  We found the most amazing house based in Hurst, Berkshire which is owned by an extremely creative and talented couple who have built in the Moroccan theme throughout their home and made it look just like a film set which worked perfectly.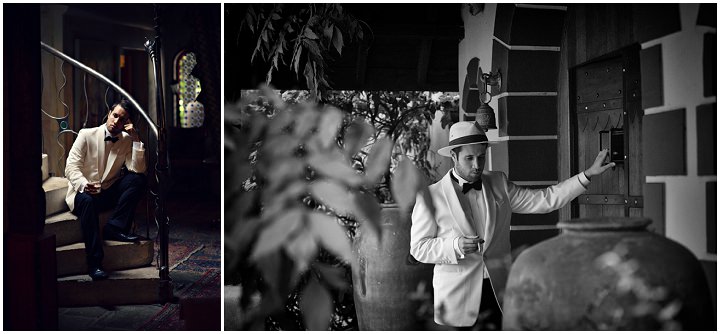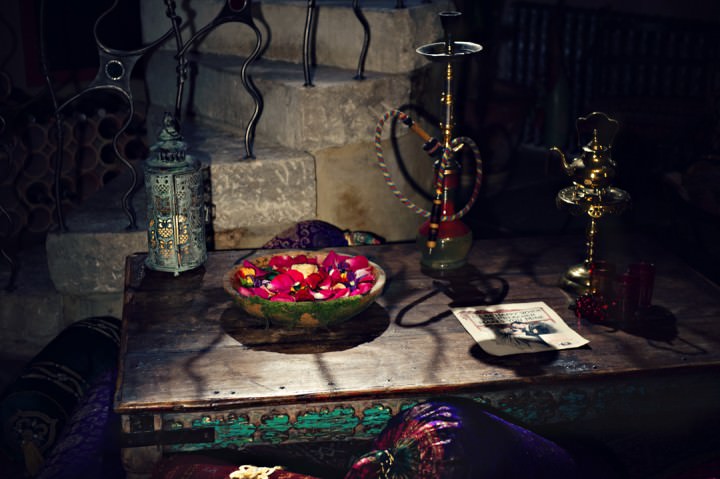 We then brought together the whole amazing creative team including photographers, a set designer, a props supplier, a make-up artist, a beautiful designer bridal dress maker, a hand- made vintage accessories company, a fabulous florist and stunning vintage car hire company along with a very beautiful modern day couple and together we went about creating a really special shoot with the overall aim to inspire Brides and Grooms to think about a different take on their own wedding day plans.
We wanted to re-create the Hollywood Film Noir look and so the lighting was key to setting the classic cinematic tone for the couple shots.  We wanted to invoke different moods to the scenes and achieved this by incorporating different lights and lighting effects which helped replicate the intensity and romance of the movie while showing Brides and Grooms how to use similar set ups and poses to achieve this beautiful style in their own couple shots on their wedding day.
The Moroccan theme also plays an important part – wanting to create an impact for your guests with the use of strong, rich colours for the table settings and seating plan, the clever use of props, vibrant table cloth's, vintage table accessories (menus, table numbers, table settings) and added to this the vibrant use of beautiful flowers on the table to compliment the look and to tie in with the gorgeous bridal bouquet again with the use of stunning colours looks truly striking against the bridal gown.
In terms of the hair and make-up, we wanted to replicate this striking flawless Hollywood look from the movie that is both soft and classic with a touch of glamour to make any Bride feel extra special on her big day.
We also wanted to have a different take on the traditional Bride and Groom's choice of dress incorporating a contemporary and elegant look for the Bride with a stunning timeless designer silk and lace gown together with some gorgeous vintage accessories for the hair and pieces of vintage jewellery to compliment this romantic style.  We loved the idea of white-tie for the Groom instead of the traditional black-tie that is so often used – we felt this will set you apart from other weddings.
Now to introduce you to the wonderful creative team that made it all possible…..