I am in love with today's wedding which has been sent into me by the lovely Jess Petrie. Emma and Michael put together a wedding bursting with personality on a tight budget but did so by creating loads of DIY projects and bringing in friends and family to help. With a quirky and mismatched collection of wedding items this wedding is full of vintage finds and amazing bits and bobs. From the DIY flowers to the decoration to the two fabulous venues this wedding is so full of love and happiness and such a super cute couple! What's not to love!
'Lighthearted and fun! A day with lots of personal touches.'
Emma and Michael were married on the 3rd of August with a legal ceremony on the Friday at York register office, then on the Saturday a blessing at Poppleton Tithe Barn followed by a reception at Haxby Village Hall. 'It was the biggest challenge finding a venue. We spent 10 months planning our wedding, and for half of that we were looking for a venue! Bizarrely, the barn was the first place we saw! We must have visited about 50 after that. It was a challenge to find somewhere we loved, was a registered venue, was big enough and within our budget. The barn felt right, so we decided to do our own ceremony up. Getting married to us was more about being together and expressing that in front of our family and friends than getting the piece of paper. We had 100 guests, and a few more in the evening.'
How they met
At a housewarming my housemates and I had. We'd all just moved to York and wanted to meet new people. We got chatting in the kitchen in the early hours about travelling, new adventures and our mutual love of recycling. I could tell he was a good one! We'd been together just under 3 years when we got married.
The proposal
We were on a trip to Cambodia. We'd been to Angkor Wat the day before, then we headed to a small, remote temple called Beng Mealea (Indiana Jones Style). We were talking about how my sister and her partner had just got engaged that morning, 5 minutes later he was asking me if I'd do the honour of becoming his wife. He'd bought a ring already… I couldn't believe my sister and I had ended up getting proposed to on the same day!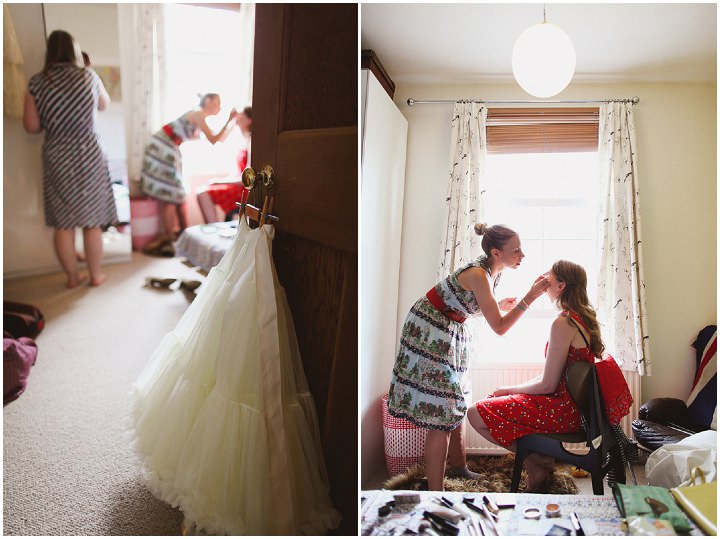 How did you allocate your budget?
We started off with a small budget of £2000 before we got home from Cambodia and realised the reality of wedding costs. Our biggest spends were on food and our photographer. I knew I'd be able to do a lot of the creative bits myself, so venue, food, music and photographer were the main things to sort.
Why did you choose your photographer?
We spent a long time looking for a photographer, mainly looking on blogs/websites. We knew we wanted a reportage style and a vintage feel. I think Jess captured our day so perfectly. We were very relaxed on the day and just wanted to have fun with our guests and Jess went with it. And I think the pictures reflected the mood of the day.
The dress
As I sell vintage as a job I knew I had to have a vintage wedding dress! I tried a few shops, but they were a bit too pricey for me – a bargain hunter to the core. I finally found it on eBay from America. I knew what I wanted, it was just a case of finding it. I had a dressmaker change it a lot, then had an underdress made by Oh My Honey and got a petticoat from Doris Designs. My veil was vintage too with vintage lace stitched on by my good friend, Becka.
The suit and bridesmaids
Mike's suit was a Burton special. And the bridesmaid dresses were Monsoon
Theme or colour scheme
We wanted it to be quirky, mismatched and to reflect our personalities, so there wasn't really a colour scheme, we just went with what we liked.
Flowers
As we were getting married in summer I really wanted british grown cottage garden flowers. We took on the task of doing all the flowers in the barn and on the tables at the village hall, which were from Mike's Mum's garden and from a local grower, Ellen. It was so lovely going to pick our flowers while they were still in the garden and seeing then on the farm! The bouquets and buttonholes were from Setting The Scene, a very local florist. They matched the pictures I showed them perfectly!
Decoration
Village hall chic! Lots of bunting, vintage, mismatched china and balloons (I knew I wanted pictures with balloons!)
Food
Sandwiches and Yorkshire curd tarts in the garden after the ceremony; deli style foods from Teahees for the breakfast and fish and chips in the evening.
Wedding Cake
Mike's mum made a last minute fruit cake, and we decorated it with a little Danish couple, pom poms and cake bunting!
Entertainment
An absolutely amazing busking band from York! Y street band who learnt 'The Smiths, There is a light that never goes out' for our first dance and now they play it on the streets in York. It always brings back happy memories!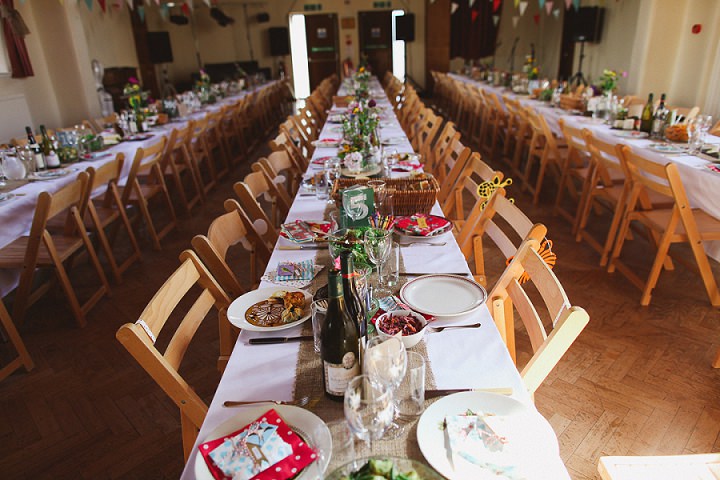 Buy or DIY your Stationery?
All the stationery was DIYed. Our invites had a bird theme, with cut out vintage birds. I thought it was only right I took advantage of our married name!
Personal or handmade touches
Lots! We took on the challenge of doing a lot ourselves to keep the costs down and to make it more personal. I had so many ideas, it was a case of trying to fit them all in!
• We made bunting,
• Michael made signs and cut the tree trunk discs for flowers,
• We collected mismatched china and old bottles/tin cans for the flowers,
• Invitations and orders of service.
• My favourite was our favours. I knew I wanted to make little parcels for everyone. When I found a vintage bird bingo game I knew it'd come in handy for those!
• Everyone wore their badger badges, which was a reference to a bit of a private joke when we first got together.
• I'm hoping to start hiring out vintage china/props for weddings as part of my new vintage venture: (www.mrsbirdvintage.com)
Special moments or highlights
My favourite moment was our first dance. The day had gone so well and it felt like our time to have a few minutes together to take it all in. It was so lovely to see everyone having such a great time!
Biggest surprise
At the end of the night everyone made an archway outside that lead to the Morris Minor Cabriolet to take us off. That was fun!
Advice for other couples
Try to not take on too much! I think we may have tried to do too much the day before.
If anyone offers to help, let them. We wanted to make a lot ourselves but we couldn't have done everything without all our family & friends help washing the vintage china, making bunting in France, baking cakes, growing flowers, collecting Rose petals for confetti! We were so lucky that so many people helped.
Try not to worry if everyone will have a good time, I think if you're having fun everyone else will!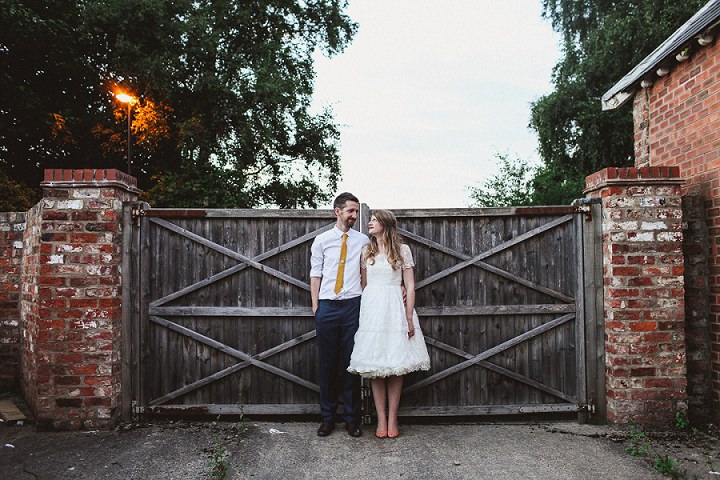 Supplier Shout Outs:
For more information on Jess' work go to:
http://jesspetrie.com
http://jesspetrie.com/blog
FACEBOOK
@JessPetriePhoto

[jprel]