Today's wedding has to be THE most chilled out and relaxed wedding I have ever featured on the Blog. When the groom wear board shorts and the bride wears a dress for under $40 you just know the wedding is going to be as laid  back as they come! In fact if there was a prize for the most chilled wedding then this wedding would win hands down! Alex and Julia wanted a wedding full of love and joy and as simple as possible and that is what they got. A Beach wedding located between Los Angeles and Orange county filled with their family and friends, simple décor and simple food and lots of beach games to keep the guests happy!  Thanks to Jacqueline Patton for the beautiful sunshine filled images!
'Our wedding was full of love and joy. We made it as simple as possible, so we could focus on the marriage and joining of our two families.'
Alex and Julia were married on the 14th of September at Long Beach City Beach. 'It was a special place for Alex, and it was centrally located between Los Angeles and Orange County for our guests to join us. And we knew we needed to be on the beach! We had 75 guests at the wedding took us 7 months to plan.'
How they met
We met in college in the music hall. We have known each other for 7 years now.
The proposal
They planned to be engaged for a while, and Julia found her ring on Etsy. Alex was playing bass on tour, and she emailed him the ring she found. He came home, asked if that's what she wanted and he bought it a week later. Even though the ring arrived, it still took a month for him to take it out of the package and ask her to marry him! They spent a beautiful day in Santa Barbara and once they arrived home, he asked her to marry him. It was simple and intimate.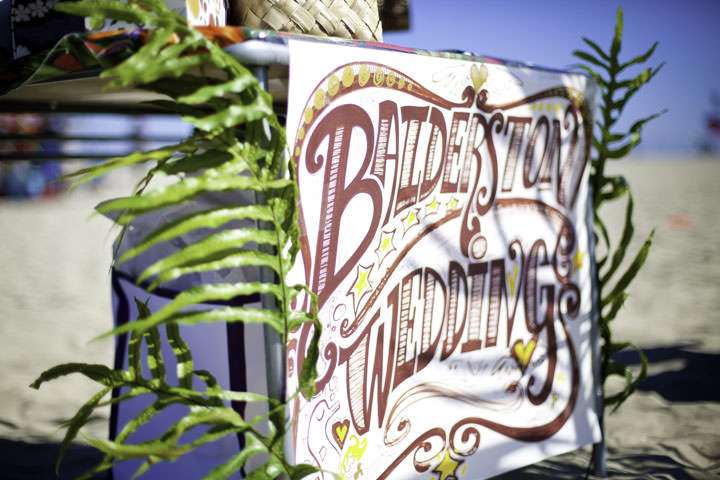 How did you allocate your budget?
Our parents helped with most of the budget, and most of it was very low cost anyway.
Why did you choose your photographer?
Our neighbourhood friend Jackie was our photographer…and she did a stunning job! So thankful for her.
The dress
My dress was bought at a local retail store for under $40 and my mother bought the belt as a gift. I didn't wear shoes
The suit
Alex just wore his boardshorts because we were at the beach
Theme or colour scheme
We didn't really have one…We just wanted it to be beachy and casual.
Flowers
None… my mother bought decorative flowers for the tables
Decoration
My father found palm leaves a gardener was cutting down, and he asked him if he could take several to decorate our tents. It looked great!
Food
We had a Taco truck
Wedding Cake
Our friend Raijina homemade our delicious and beautiful wedding cake as a gift to us!!
Entertainment
We set up the ipod to play Hawaiian music in the background. We brought frisbees, baseballs and gloves too..
Buy or DIY your Stationery?
I ordered invitations on Zazzle.com, and to have everyone RSVP through our website or in person.
Personal or handmade touches
Alex's sister made us a sign that said Balderston Wedding and Julia's father made a collage of a smaller and earlier ceremony in Hawaii. Our gift box was a shoe box wrapped in Hawaiian fabric by Alex's mother.
Special moments and highlights
Seeing everyone around, so supportive and loving to us was so great. And having or pictures done down by the water with Jackie was so fun, as well as cutting the cake our friend Raijina made. We had a great time! It was just a fun beach day.
Biggest surprise
Nothing was really a surprise… it was just as a imagined it to be.
Advice for other couples
Do not get caught up in the overwhelming options that wedding websites and ideas throw at you. Try to narrow things down to what you must have that is important to you, and forget the rest. It's about the marriage and community more than the cute decorations or expensive dress.
For more information on Jacqueline's work go to:
www.jacquelinepattonphoto.com
www.facebook.com.jacquelinepattonphoto
917-331-4816
Bi-coastal photography based LA & NYC. My style is emotional, high-impact, and fun…pretty but edgy.  Mix of editorial and journalistic.