This weeks featured supplier is One Sweet Day an amazing candy buffet company who emailed me a few weeks back.
I get sent loads of suppliers details, so it takes quite a lot these days to impress me and make me take notice, but this company certainly did!
Laura and Dave who own the compnay told me 'One Sweet Day was a concept dreamt up during the planning of our own wedding in 2010. We wanted our wedding to be a bit different to others we had experienced and to include as many DIY details as possible, so along with hand-knitted blankets on bales of hay, personalised teabag name places, old iron key escort cards and a typewriter guest book, we decided that our favours should also be unique!'
'We loved the idea of offering an 'experience' to our guests and after months of research and brainstorming, decided to go down the candy buffet route. We looked at lots of buffets that had lovely jars laid out on tables, but they were not quite what I was looking for, for my own wedding. I had this idea of my guests taking part in a competition or treasure hunt to entertain them and opening lots of little drawers to find things! And from there I was obsessed with spice cupboards, media units and library card files!'
'Having spent more hours than I care to remember looking for these units to buy, my husband suggested that I design something that would fit all of my specifications and be exactly how I wanted it. We combined our skills, mine as a design teacher and his of a carpenter and created this vision (that was coincidently sketched on the back of a wedding magazine originally!) And so the One Sweet Day stand was born!'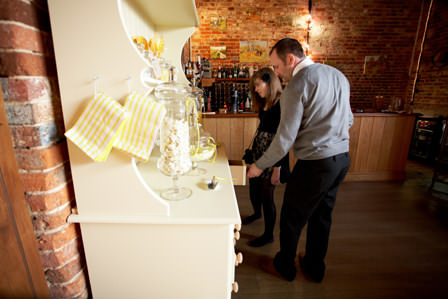 The stand consists of 21 dinky drawers that guests can take their time exploring. Using mini scoops adorned with ribbons, they can dig into their favourite sweeties and add them to their cute stripy bags finished off with personalised labels to remind them of the special day. Drawer 21 can be locked with a miniature padlock, hiding a special gift either for the winner of a treasure hunt, a special loved one, or the winner of a special lucky dip, set up upon entering the reception.
On top of the stand are pretty pedestal glass jars containing colour co-ordinated treats that are matched with the wedding colour schemes. These are finished with satin ribbons and personalised labels that help to create a wonderful showpiece for your special day.
The best thing about this stand is that it can be customised to reflect the personalities of any bride and groom; whether it's through the choice of sweets (how about retro sherbet or sophisticated truffles?); the wording on labels (Mrs P's Marvellous Mallows, Lovers jelly hearts); or the finishing touches (Hessian drapes and twine on the scoops to create that rustic feel, colour co-ordinated bunting and mismatched cups and saucers for an afternoon tea look or lace doilies and loose pearls for a vintage theme). Laura and Dave will work with the bride and groom to create a look that will suit any wedding. The initial consultation in your own home will allow you to discuss your ideas and look through images and options at your discretion.
The One Sweet Day stand will provide entertainment for your guests with an unforgettable experience and unique favours that they can enjoy at the wedding or take home for later (plenty of treats to do both!) It also offers fantastic photo opportunities that will really add to the memories of your special day!
Laura or Dave  can also offer new and alternative ideas for place names, escort cards or seating plans, here is a great solution they put together using old keys and luggage tags.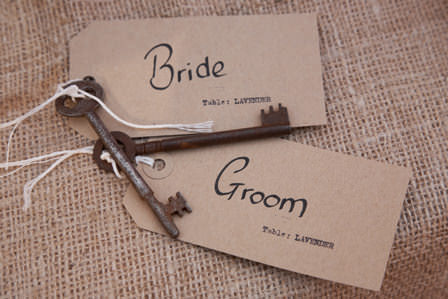 I LOVE this idea, I think the whole thing is SO cute and highly professional, any wedding would look amazing with this added to it, imagine how happy your guests would be!
One sweet day is based in the south of England between Bournmouth and Southampton but they are happy to travel anywhere in the UK.
photo credits: www.murakamiphotography.com
If you would like more information please go to:
www.onesweetday.co.uk
or follow us on Facebook
You can call Laura or Dave on 01425 278403 or 07968 581402
email: [email protected]
Due to an email issue if you have emailed me between the 2nd & 9th of December, please resend it.
X