Well hello Monday, how the devil are you? I hope you all had a wonderful weekend and now feel refreshed and rejuvenated for another busy week ahead!  I do hope you are looking forward to another week of amazing weddings as I have some beauties for you this week. The first one comes courtesy of Philippa James as she takes us to the beautiful countryside of Beckley in Oxfordshire. The gorgeous couple are Hannah and Alex who have been kind enough to share with us their stunning country wedding. This relaxed and chilled out day is jam-packed with DIY details and vintage touches. The whole thing is just beautiful!  
Beautiful, fun and relaxed, surrounded by loved ones with a kicking party to finish off! And lots of beer!
Hannah and Alex were married on the 17th of August, at their local church with the reception afterwards in a nearby field in Beckley, Oxfordshire. 'I grew up in Beckley and my parents still live there – have done so for nearly 35 years. It is a beautiful village with stunning views over the surrounding fields. I have always wanted to get married in Beckley Church – it's really old and unique – some parts date back to the 12th Century. We had 100 guests and it took a year to plan'.
How they met
We met at medical school in 2002 and have been together for nearly 11 years!
The proposal
I was whisked away on a surprise weekend to 'Burgh Island Hotel' off the coast of South Devon. This is a beautiful Art Deco Hotel which used to be popular with Agatha Christie in the 30's! Alex proposed with a bottle of champagne on the balcony of our room, and a stunning sapphire engagement ring.
How did you allocate your budget?
We prioritised things that were important to us, namely food, music and photos! Everything else we tried to do ourselves to save money. I made all the invitations/save the dates and orders of service, we ordered the flowers wholesale and arranged them ourselves (except the bouquets!) and my Mum made the cake! We bought wine when it was on offer in Tesco and had vintage Cava rather than champagne.
Why did you choose your photographer?
I had seen some of Philippa's photos on a wedding blog, and loved her quirky but natural style. We knew that we didn't want a very traditional photographer, as had been to a lot of weddings where the bride seemed to stand in the same place for hours on end whilst different groups of people posed either side of her! After chatting to Philippa on the phone we seemed to be on exactly the same page from this point of view!
The dress
The dress was by Sassi Holford, and was the design Melissa. My shoes were from Anthropologie in the sale, a bargain at £40. I wore vintage marquasite and pearl earrings and a marquasite watch that was my great grandmothers. I made my birdcage veil.
The suit and bridesmaids
Alex's suit was tailor made by tailor in Bristol, 'Territo Tailors'. He bought a shirt from Reiss and some vintage braces from Ebay. The bow tie took a long time to find, I think he ordered it online from a shop in Canada in the end! The bridesmaid dresses were from Anthropologie.
Theme or colour scheme
No colour scheme but I did want a very relaxed, country/vintage style wedding.
Decoration
I made reams of bunting out of various fabric remnants that people had donated. We kept the decoration in the marquee quite simple, as it was a beautiful natural canvas marquee.
Flowers
Very local, seasonal, wild flowers from a grower in Oxfordshire. We had a lot of mint, scabius, thistles, grasses, hydrangeas and sweet peas.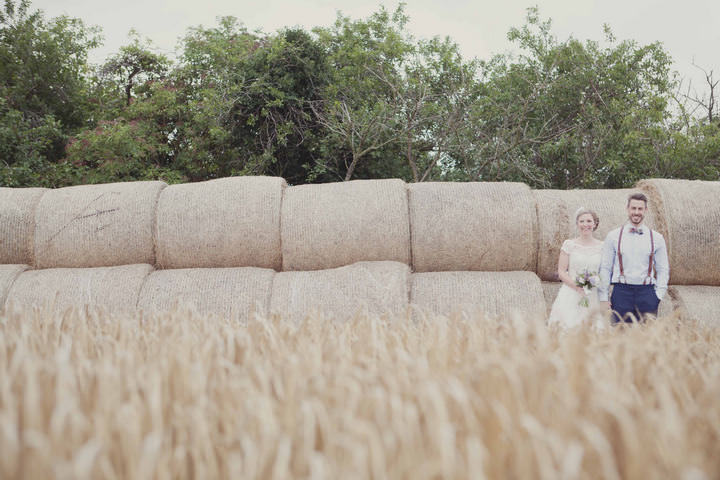 Food
Canapes, Hog Roast and salads and then my Mum's chocolate cake!
Entertainment
We had a fantastic band called Urban Central, who we had also seen at a friend's wedding. They were wonderful!
Personal or handmade touches
• Alex polished up his surf boards and we made tables out of them using hay bales!
• Old leather suitcases from the attic for cards and presents
• Polaroid camera and guest book for people to take their photos with and stick in the book with a little message!
• Vintage milk bottles for the flowers which Alex's Mum used to collect in the 70's.
• I painted an old piece of wood with chalk board paint and drew the table plan on it.
• 'Real Ale Tent' with our favourite Devon ales!
• Homemade confetti – really useful having had such a hot summer as was able to make it all in a week by drying out rose petals on baking trays and foil in the garden!!
• Our car! We decorated a neighbours old LandRover Discovery from 1960. It just about made it to the reception!
Special moments
• Getting ready with my bridesmaids in the morning. We all did our own make up and had champagne!
• Walking into the church and seeing everyone's faces
• Alex's speech was wonderful
• For our first dance we learnt a little 'modern Charleston' routine which we did to Will-I-Am's track 'Down Down'. The best part about this was that no-one was expecting it as Alex really isn't a dancer, and we'd told everyone we weren't having a first dance. He decided it would be fun to surprise everyone!
• The band and party afterwards, I didn't want it to end!
Biggest surprise
How relaxed I was and how much I enjoyed every minute.
Advice for other couples
Planning ahead and doing as much as possible in advance is really helpful, as the last week can be completely manic!! I started making bunting in January I think (ridiculous I know) but was really pleased I did as we needed about 200 metres and it does take a long time!
I think spending money on the things you know you can't do yourself is fairly unavoidable (for us the band), but there are so many things you can do, and a lot that you don't really need at all. We didn't have favours, and I did a website rather than making loads of extra info to go with the invitations.
Don't be afraid to do exactly what you want to do. People will love it. There is a lot of unnecessary stress attached to weddings with regards to convention and what you should and shouldn't do. As our vicar said to us, 'the only thing that needs to happen for your wedding, is for the two of you to be there, sober, and with two witnesses. Everything else is just the party.' Good advice!!
For more information on Phillipa's work go to:
www.philippajamesphotography.com
www.philippajamesphotography.com/philippa-james-photography-blog
FACEBOOK
@PhillipaPhoto