Well hello Friday and how are you? Yes it's nearly the weekend, I hope you are all suitably pumped! I know I am! It has been an exciting week for me so far, I've taken some time off this week to spend with Nik as well as my family and I am looking forward to catching up with some friends over the weekend, what about you? Before the weekend begins properly I have a fab Manchester wedding for you. The wedding theme was sheet music with lost of DIY touches as well as splashes of red. Thanks to Mike Plunkett  for the photos.
 'Our wedding was relaxed, modern and informal, though captured the essence of a traditional wedding. It took place on a beautiful autumnal day within the city we've called home for years, and of course our family and friends were fantastic!'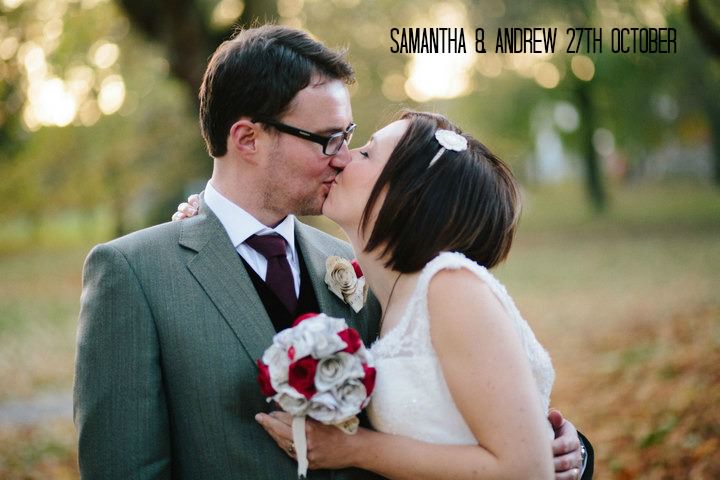 Samantha and Andrew who were married on 27th October at Ceremony – Whitworth Art Gallery, Manchester  with the reception at The Woodstock Arms, West Didsbury   'The Whitworth is a gallery that we visit regularly and a space that we both love. Andy said that it is a place where he feels relaxed and calm. It's also very local to us, which was important. The view from the gallery into Whitworth Park is lovely, and we knew that the trees and leaves would look stunning in autumn  The Woodstock Arms is a beautiful old redbrick building, but also a cosy and unpretentious pub. We wanted somewhere that served proper ales (we tested this a few times prior to selection, of course), and they were flexible and accommodating regarding the food we wanted, replicating parts of the menu of a nearby Middle Eastern restaurant that we love. The decor seemed fitting and the overall feel was that of a fantastic, informal party. We had 85 day guests and 110 evening guests. It took 10 Months from proposal and 8 months from finding the venues.'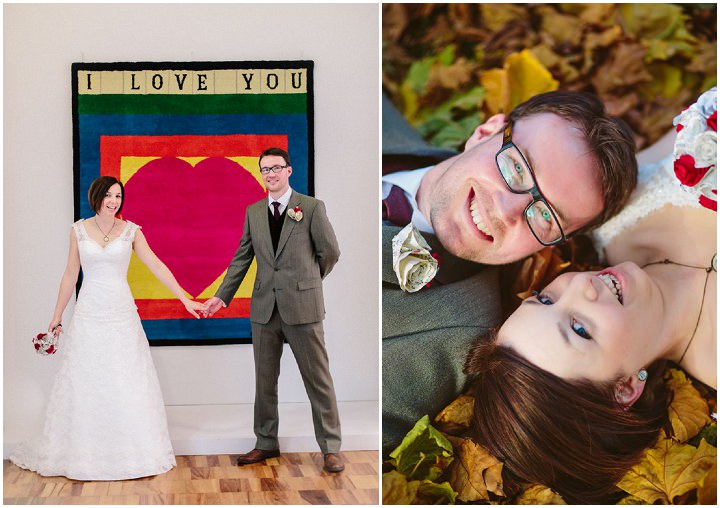 How they met
We met through mutual friends at Kendal Calling festival in 2008. I (Sam) was living in Glasgow at the time, and was in the process of relocating back to Manchester to start up my own business. We met a few more times as friends, and started seeing each other in February 2010.
The proposal
Andy surprised me just before Christmas by booking a surprise night in a hotel, and took me to a lovely hotel in Conwy, where there was a bottle of champagne waiting in the room. We had a meal and were suitably tipsy – I commented on what a nice place it was and how it would be a perfect place to pop the question. Andy completely through me off the scent and said that it was just intended to be a night away in Wales for us both. I was rather sheepish and hungover the next day! It was a very wet and drizzly morning, but Andy was keen for us to make the most of our visit and walk along the medieval town walls. We arrived at a tower where the views were lovely despite the damp weather. Andy was a little nervous as other people were there – I thought nothing of this, as he's not a big fan of crowds. However, the other people finally left and when I turned around, Andy was down on one knee holding his late mother's engagement ring. It was beautiful, both the ring and the proposal. After calls to our friends and family we went home to curl up on the sofa with a pot of tea and watch 'It's a Wonderful Life'.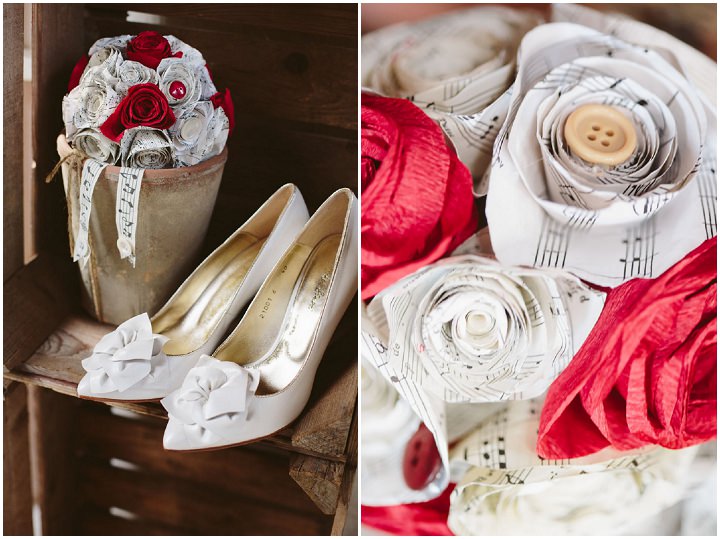 How did you allocate your budget?
We worked out what was important to us, researched the costing and everything else fell into place. We didn't have a large budget, but thankfully could rely upon family and friends to perform key roles to reduce costs, such as creating handmade flowers, baking cakes and DJing.
Why did you choose your photographer?
He was a colleague of a friend, who recommended him and forwarded his website. We instantly knew he was the right man for us!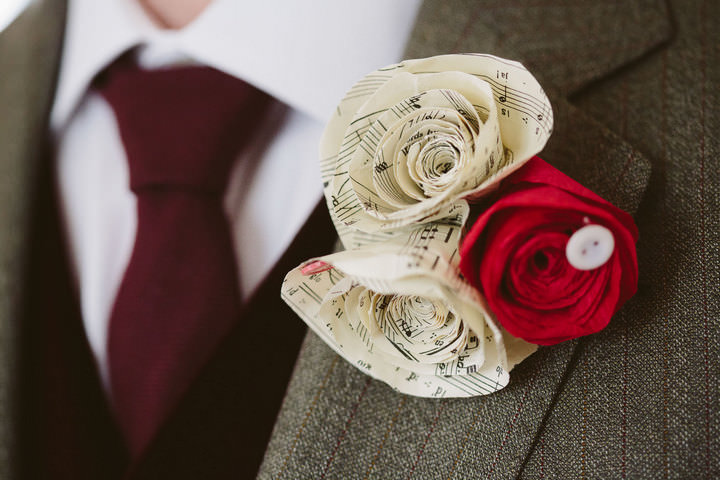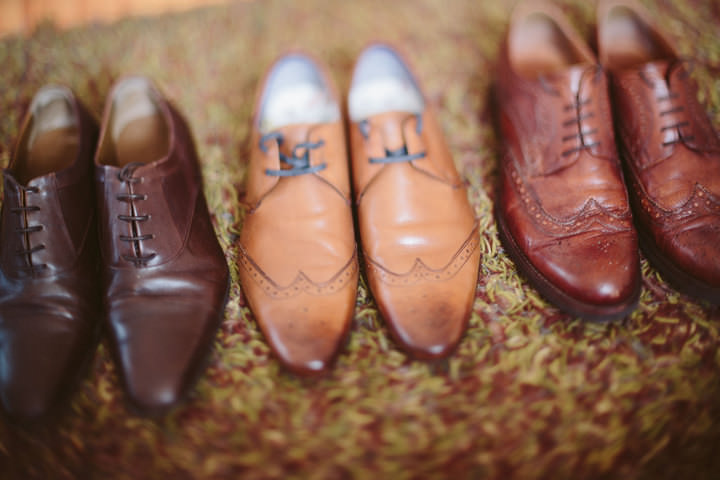 The dress
Dress was by Charlotte Balbier It was bought half price from Mears Ghyll bridal rooms. My shoes were Rachel Simpson bought brand new from ebay. I made my hair band and also my necklace.
The suit and bridesmaids
Andy suit was by Magee and bought from Slaters Menswear.The Bridesmaid dresses were from a supplier via Etsy.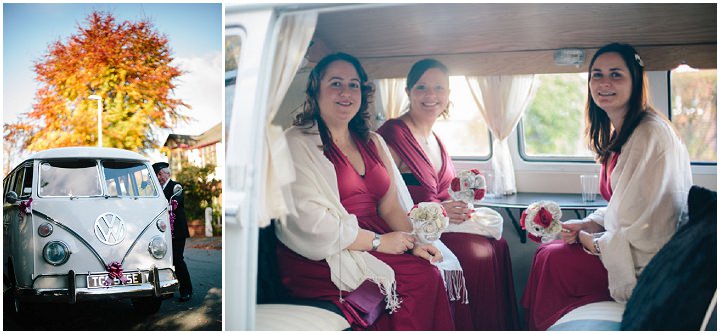 Theme or colour scheme
We had a theme of sheet music, from which the bouquet and buttonholes were made, and a burgundy colour scheme.
Decoration
We made sheet music bunting and had antique-style tealight candleholders. I bought some large 'S&A' letters and covered in sheet music. We had large white hearts hanging at the top of the aisle, which were later transferred to the Woodstock.
Personal and handmade touches
We made bonfire toffee for our guests as favours. I made the bridesmaid's hair accessories. A friend made a giant album cover for display, in the style of the band The Smiths. The cover featured photographs of us (i.e. Mr and Mrs Smith) outside Salford Lads' Club, which featured in a Smiths album sleeve. Our friend took the pictures and then used his graphic design skills to mock up the 'album cover' in the seminal Smiths' style.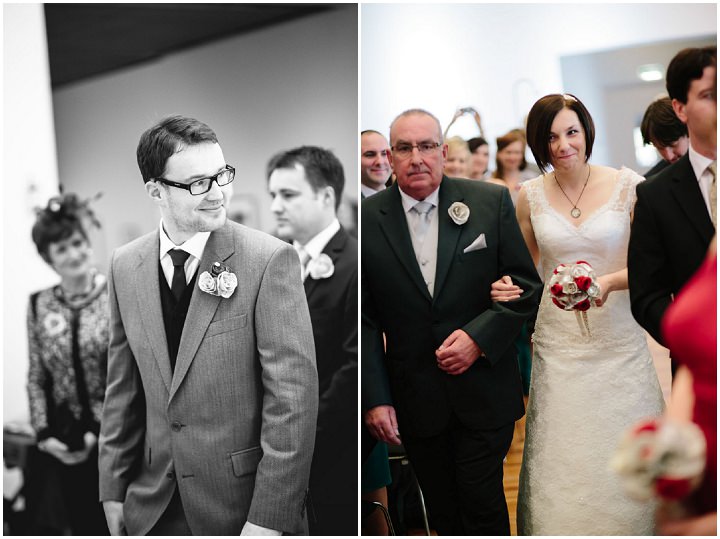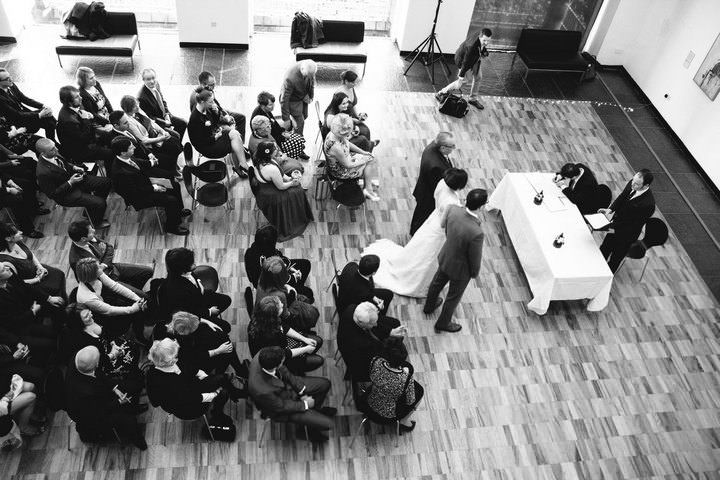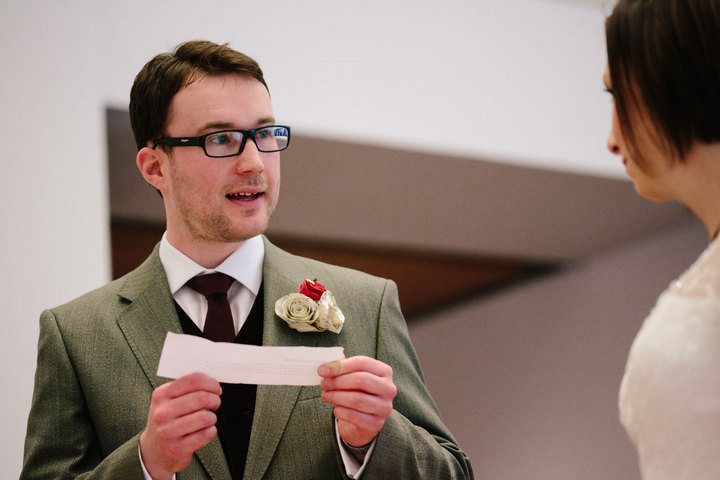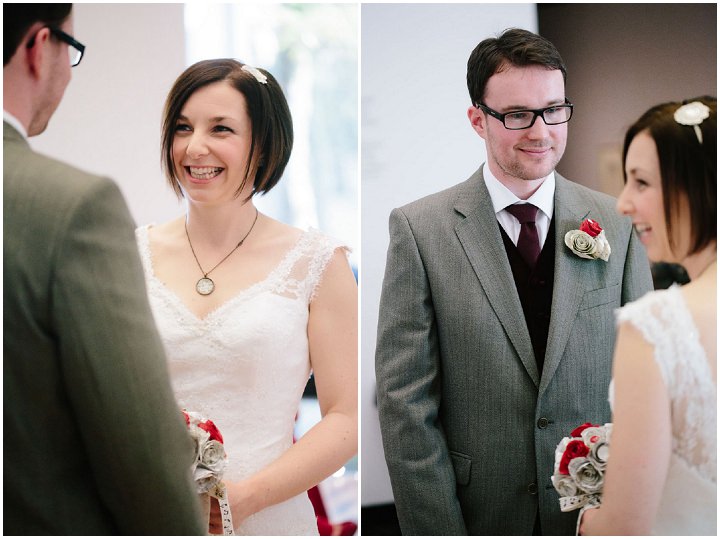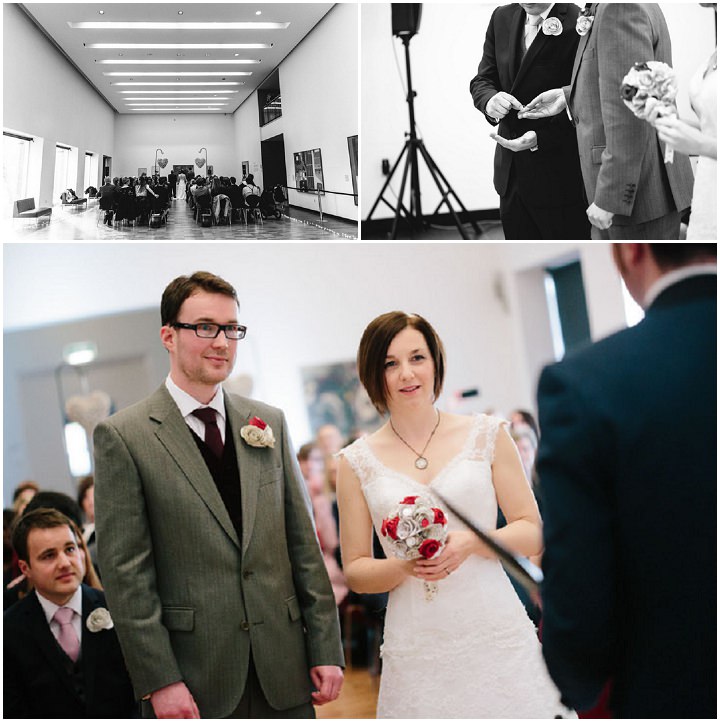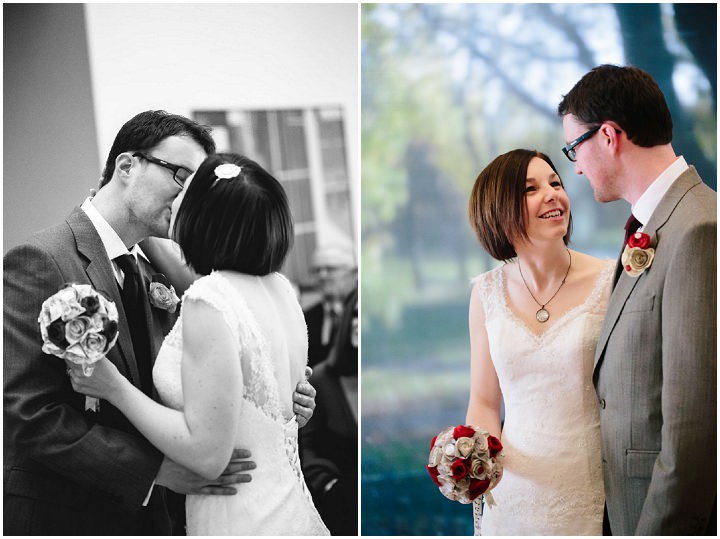 Food
We had Middle Eastern food based around our favourite restaurant Aladdin: The Woodstock did a BRILLIANT job with the food.
The wedding cake
We had a selection of cakes made by family and friends

Entertainment
A good friend DJ'ed for us and did a fantastic job, working closely with us to ensure key songs were included within his selection. We also made a DVD containing photos of us over the years with family and friends, which was looped and shown through a TV screen at the reception.
Flowers
A close friend made the bouquets and buttonholes from paper flowers. The paper used was sheet music and burgundy crepe. The bouquets contained buttons taken from my Grandma's button tin, who sadly died shortly after we got engaged (we held the wedding on her birthday). Our table flowers were from The Flower Lounge
Buy or DIY your Stationery?
We customised our stationery online.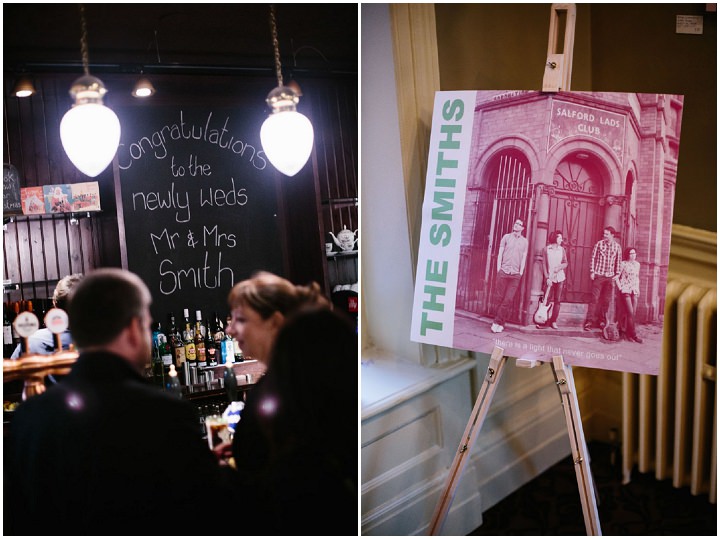 Special moments
Andy's speech was fantastic! Very funny and heartfelt! Travelling between the venues in a vintage VW camper van, drinking champagne. To be honest it was all fantastic – It's hard to pinpoint a moment.
Advice for other couples
Work out what is most important to you, get that right and the rest will fall into place. You don't need a large budget to have a great day, so concentrate on what is important to you and don't worry about too much what other people think.
Biggest surprise
That it all went smoothly!
Supplier Shout Outs 
For more information on Mike's work go to
www.mikeplunkettphotography.com 
www.blog.mikeplunkettphotography.com/blog
[email protected]
FACEBOOK
@m_p_photos 
07875546132
I'm a Manchester based photographer but I do love to travel too. I love weddings and how good they can make us feel, there's nothing more natural than two people in love wanting to celebrate that in their own way. My style is very natural and modern, reflecting and highlighting what's unique about each wedding I attend and the people involved. Great people have great weddings and I feel so privileged and lucky for each one that I get to photograph and to tell their story through my photos.
Due to an email issue if you have emailed me between the 2nd & 9th of December, please resend it.
X