Happy Monday everyone.  I hope you are all well and happy and ready for a fun packed week ahead. We have a packed week for you on the blog starting off with this fabulous Welsh Farm Wedding from blog regular Mike Plunkett Photography. Ceri and Nick found Mike after his work was featured on the blog and by the sounds of it they couldn't be happier with the photos he created of their beautiful rustic chic day.  Working to a tight budget, Ceri and Nick enlisted the help of a few talented friends and family to make their wedding dreams come true. With a brother building tables, a grandmother making the wedding dress a mother making the wedding cake, this really was a hands on and craft filled wedding.
'Intimate Welsh hilltop ceremony followed by celebrations on the family farm. Unconventional, relaxed, bilingual, do-it-together and on a very tight budget!'
Ceri and Nick were married on 17th July 2015 at Ceri's parents' farm near Welshpool in Mid Wales – ceremony on a hilltop and reception in the silage shed. 'For us it was a no brainer – I had always imagined getting married at home, and the hilltop where we had our ceremony is our favourite spot on the farm. The silage shed provided the perfect blank canvas for our reception space. We had 50 guests for the day, with an extra 100 joining us for a massive evening party! The wedding took 18 months to plan.'
How they met
We met via online dating, and have been together 2 years.
The Proposal
Nick proposed to me at our ceremony site on a hilltop on the farm at Christmas. It came as somewhat of a surprise – I thought we were taking our dog for a quick walk and was wearing wellies, my Dad's bobble hat and a muddy high visibility jacket over my pyjamas!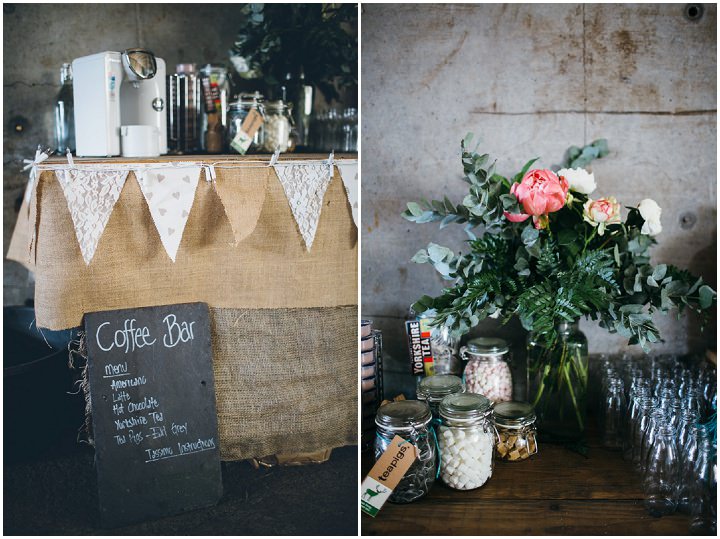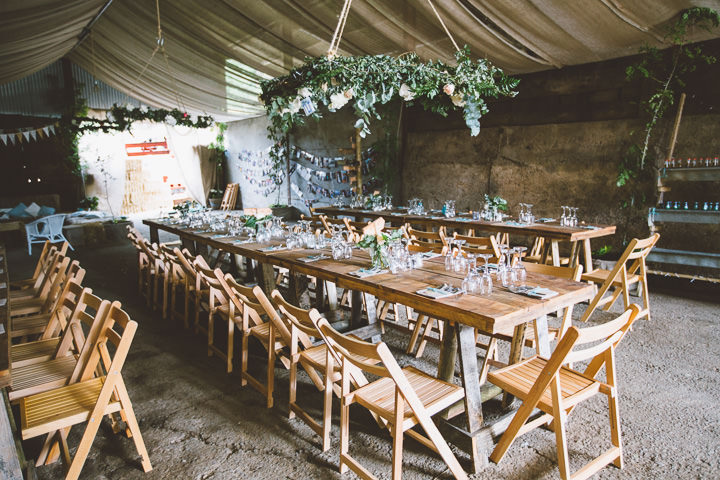 How did you allocate your budget
Our main aim was for ourselves and our guests to enjoy themselves and have a relaxing day, so the majority of the budget was spent on food, entertainment and making the shed habitable! For us, budgeting meant really thinking about which wedding traditions were really important and DIY-ing wherever possible. Total: under £10,000
Where did you splurge and where did you save
With such a small budget I did agonise over our one splurge – our photographer, Mike Plunkett – but boy did the gamble pay off! Our catering felt like a splurge but was actually amazingly good value – more on that below…
We have been incredibly lucky with crafty friends and family and of course the stunning setting which helped us keep the budget under £10,000. I don't know of many brides who have custom made tables at the reception courtesy of her furniture designer brother who is also a talented guitarist, another brother with a surprising flair for wedding planning and a grandmother who just happens to be a retired dress designer!
How did you choose your photographer
I first saw Mike's work on this very blog! Nick and I have a thousand pictures of ourselves pulling faces – a testament to how uncomfortable we can get when asked to pose in front of a camera. Mike's brides and grooms looked really relaxed and it became clear when chatting to Mike that he was the reason why!
On the day of the wedding Mike arrived early and then promptly set about being as unobtrusive as possible – to the point that some of our guests commented that they never noticed we had a photographer!
Words cannot describe how pleased we are with our photos of the day! He gave us a perfect mix of intimate portraits (no face pulling required), stunning landscapes, photos of our reception space looking beautiful and most importantly our guests having a blast!
The nearest anyone has come to describing Mike's talent was my father 'I knew you'd picked the right man for the job when I saw the first photo of the reception space – If he can make my shed look as good as a ballroom then you're sorted!'.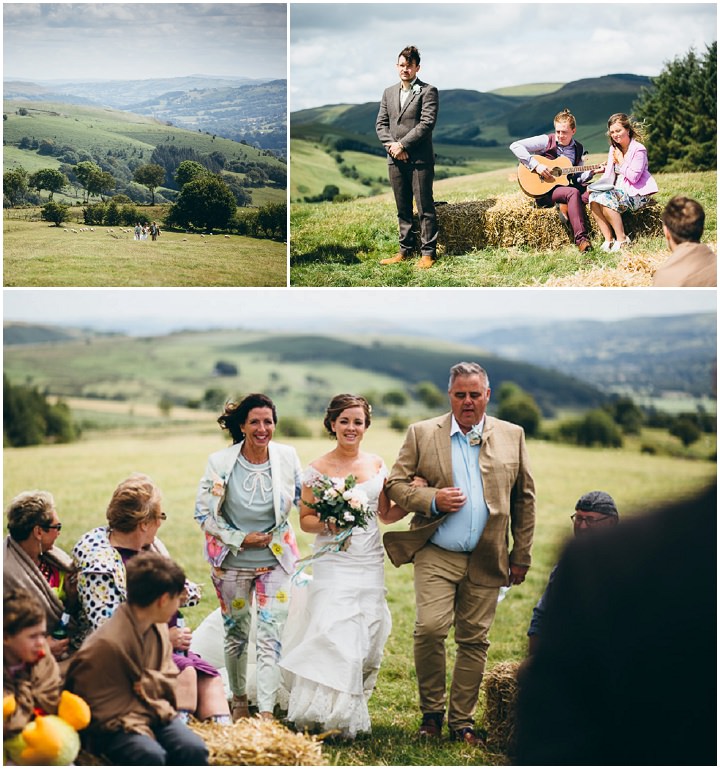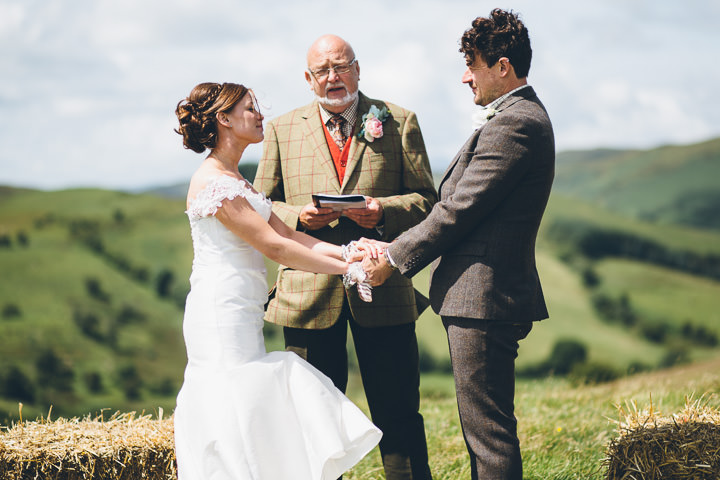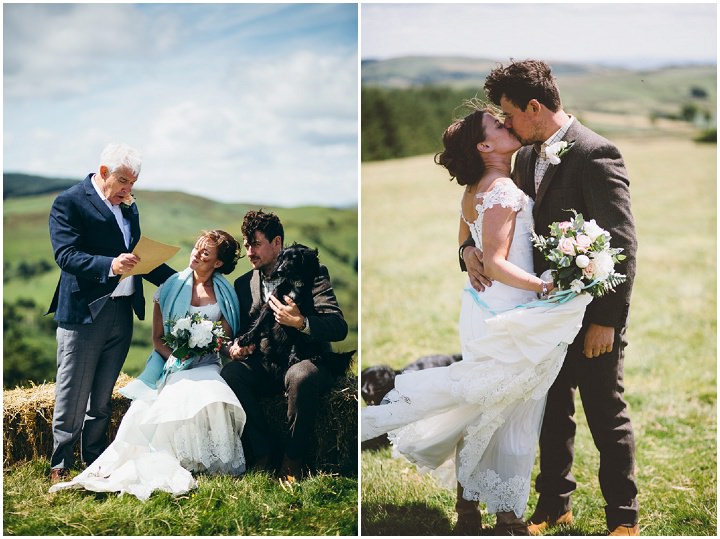 The Dress
Not many brides have a grandmother who happens to be a retired dressmaker! I have happy memories of 'helping' in my grandmother's workshop and have always known I wouldn't be buying my wedding dress from a bridal shop. My dress was made of dupion silk with cotton lace applique and I spent a few calming hours in the run up to the wedding helping my grandmother cut and stitch – under close supervision!
I bought a pair of knee high leather boots in the Dune sale – I'm not sure my grandmother was ever convinced on my choice of accessories, but I have had plenty of wear from them since! I had a tweed Joules jacket and an aqua Coast wrap in case of cold weather. Nick bought me my aquamarine earrings and necklace and I was lucky to borrow an opal ring from my mother, an antique lace handkerchief from my grandmother and my bridesmaid's watch.
I wore fresh flowers in my hair as I didn't fancy the chances of a veil in the wind. Special mention to Stacey at Unique Hair who somehow managed to give me hair that withstood being on a very windy hilltop without looking heavily hairsprayed!
The Suit and Bridesmaids
Nick wore a three piece brown suit from Next with Barbour boots and shirt. He was the most excited about his braces!
My bridesmaids infinity dress arrived from abroad the week after the wedding…Luckily I had only one bridesmaid and Suzy very obligingly took herself shopping two days for the wedding in the hunt for 'anything vaguely minty green'
Theme or Colour Scheme
I would say our wedding epitomised rustic chic. Nick's favourite colour is brown and mine is aqua so that was that! I was keen to have the focus on a relaxed atmosphere.
In order to help our guests feel comfortable on the day we had a suggested dress code – 'Mumford and Sons chic (no ties)' for the gents and 'posh frocks and wellies (no hats)' for the ladies!
Flowers
Our flowers were white with a hint of pink – roses, hydrangeas and peonies with plenty of greenery. I ordered them from the triangle nursery with only a vague idea of the quantity I wanted and how I was going to arrange them My mum and bridesmaid then stepped in and arranged them the day before the wedding. I was most pleased with the ceiling wreaths and my bouquet.
Decoration
I'd like to say the silage shed was a great blank canvas but a few weeks before the wedding it was still full of several tonnes of animal feed – so the first order of the day was to get rid of that and a good pressure wash down! Nick and my brothers suspended hessian from scaffolding poles to create a false ceiling, from which we hung large flower wreaths swathed with fairy lights.
My brother Carwyn made rustic tables from salvaged wood which he will be able to repurpose as saw horses for his budding furniture design business. They were topped with flower centrepieces. For our table names we used mini signposts displaying Welsh field names from around the farm, and our table plan was a corresponding 6 foot tall signpost. Carwyn also came up with an ingenious sheep feed trough drink stand to keep bottled beers and soft drinks on ice.
Nick's parents hung family photos on twine to cover the more – ahem – rustic sections of concrete wall and spent many hours draping fairy lights on potted trees that we are hoping to transplant into our garden.
With guest comfort in mind, we borrowed a warehouse heater – which wasn't needed – and set up a hay bale lounging area with plenty of cushions made by my grandmother from old curtains! With a proportion of guests who weren't massive drinkers, we set up a coffee and soft drinks table with iced tea and lemonade in Kilner drinks jars served in mini milk bottles. Outdoors we had plenty of seating for people to sit and enjoy the view, fire logs and a bonfire for when it got chilly and my grandfathers vintage Ferguson tractor, giant chalks and the pony in a nearby paddock to keep the children amused!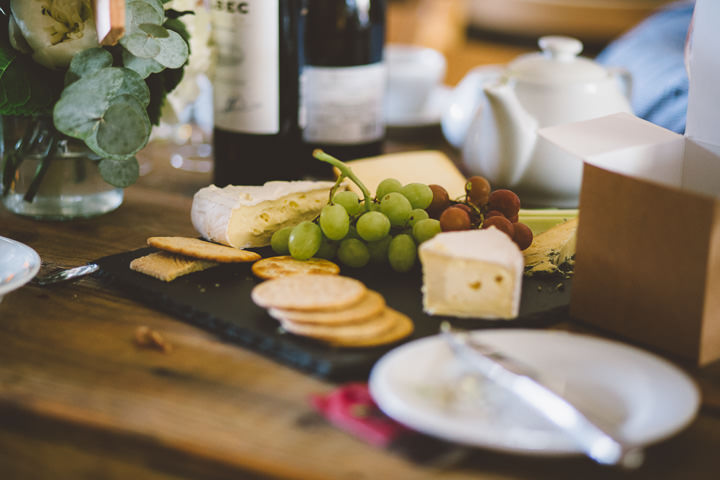 Food
Guests arrived to a mid-morning snack of cookies (very kindly made by friends) and coffee, with beer and water then being provided at the ceremony site after a trek up the hill! We then provided Pimms, iced tea and blueberry lemonade with canapes after the ceremony. Our local café Cwpan Pinc did a fab job of serving up a hog roast provided by our local butcher 'family style'- with all the meat and trimmings served on the tables for people to help themselves. This was followed by cheesecake and strawberries, then cheese and port. Instead of favours, I gift wrapped a box of assorted mini Green and Blacks' bars for each table. Evening guests were treated to pulled pork burritos and Mexican beers followed by marshmallows around the campfire later on in the evening – Nick's only regret from the day was that he only had time to eat one burrito and not three!
Wedding Cake
My mum made the cake – the main priority for us was that it was delicious, but she also managed to make it beautiful! There were three tiers – chocolate Guinness cake, Captain Morgan tiramisu cake and champagne and strawberry cake. Needless to say there were not many leftovers.
Entertainment
My brother Carwyn played the guitar during the ceremony. My father also a keen guitarist and joined in to play a Welsh song 'Ti' during the ceremony and they also did a set together to kick off the evening reception
Our award winning DJ Andrew at Evolution Roadshow was amazing – his lighting setup along with our surprise ceiling monogram transformed the space and the music had even the most unlikely dancers on the floor, in their wellies, until the early hours of the morning!
The Stationery
Nick and I made the invitations from rustic brown paper tied with aqua twine. I was finishing some last minute assembly of the matching orders of service the night before the wedding when I managed to pour nail polish remover over the completed pile – a massive thankyou to Nick's brother Stuart and family who burnt the midnight oil starting again from scratch to surprise me on the morning of the wedding with a new and improved set!
Personal or Handmade Touches
Writing our own ceremony was our biggest personal touch – it was important to us to that it was meaningful to us both. Or friend Dave officiated, with readings from my maid of honour Suzy and her friend 'The Ent-Wives Tale' by J.R.R. Tolkien to accompany the ring warming, 'These are the Hands' by my brother Gareth to accompany our handfasting performed by our best man Dan, and to close, a modified Apache blessing led by Nick's father which culminated in all our guests reciting the last lines together. My Dad and brother Carwyn played a guitar duet also.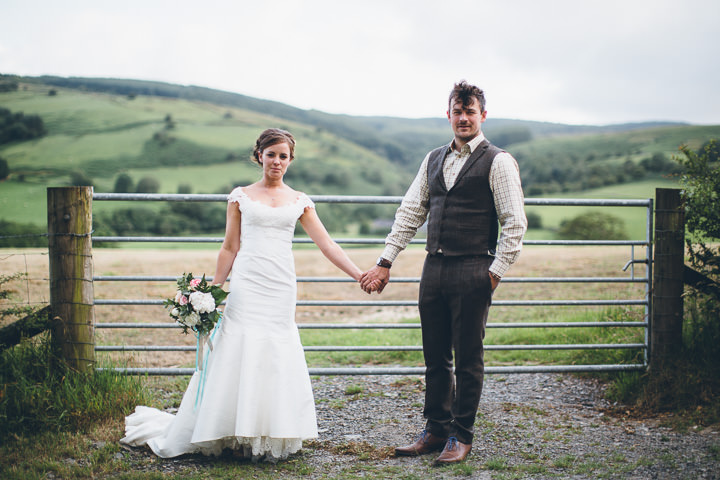 Special Moments
Walking up the 'aisle' was a special moment – I walked over the horizon with my parents and could see Nick and our family and dearest friends on the hilltop with the hills of Snowdonia in the distance. My brother Carwyn played the guitar, the sun was shining and there was a gentle breeze, setting the mood for the ceremony perfectly.
I was determined not to cry my way through the ceremony but was struggling to keep it together during the readings. Comic relief came in the form of our dog Ffi who – having been previously meandering around the guests amusing herself, appeared from underneath the train of my dress, looking like she was wearing my lace petticoat as a veil!
Advice to other couples
Firstly, you won't please everyone, so stop trying! Have faith in your ideas and stick together as a couple. We had a few sceptics who were more than convinced by the time it all came together, not that we cared what anyone else thought! It helped that we were funding the wedding ourselves, so I would take this option where possible.
Don't be afraid to think outside the box and DIY or use unusual vendors like your local café and butchers. We found we had good value for money and were able to support local businesses. Having said that, know your limits and know when to use the pros!
On the day relax and enjoy yourselves – one gem of a quote from my dad; 'With these sorts of things, about 80% will go to plan and the rest wont so there's no point fretting over it!'
Biggest surprise
The weather – having had a week of Welsh 'mountain mist' (sideways rain) in the run up to the big day, it was such a surprise to arrive on the hilltop with beautiful sunshine and a strong, very photogenic breeze. This really contributed to the relaxed atmosphere of the day, and we and our guests were able to enjoy a few days in the sun following the wedding.
Supplier Shout Outs
For More Information on Mike Plunkett Photography
www.mikeplunkettphotography.com / 07875546132 / [email protected] / @m_p_photos / I: mikeplunkettphotography/ FACEBOOK
"I'm good at telling stories with my camera and I can easily blend into the background to be a natural and easy part of your wedding, capturing moments you expect will happen and moments you didn't expect too! My style is artistic documentary and I use natural light whenever possible."