Today's wedding took place over 3 days and was set in a gorgeous Hampshire Forest. The amazing venue allowed Claire and Mark to have the outdoor wedding they wished for, along with a host of garden games, a camp fire and most importantly ferret racing! I love this wedding, so full of character, a totally relaxed feel and lots of gorgeous handmade details. Big thanks to New Forest Studio for the stunning images.
'Really personal – everything from the favours to the flowers and dress were made by ourselves and family, for a rustic handmade feel. We wanted the day to be fun for everyone with ferret racing, campfire and marshmallows and outdoor games'
Claire and Mark were married on 15th June 2013 at Weddings in the Wood, New Forest Outdoor Centre in Hampshire. 'We both love being outdoors and are real animal lovers (we have a pet ferret!), so we wanted to find a venue that represented that, and what better than a forest! We had 70 guests who were there for the whole day – just our close family and friends. Many of them stayed overnight in the forest with us and it took 8 months to plan.'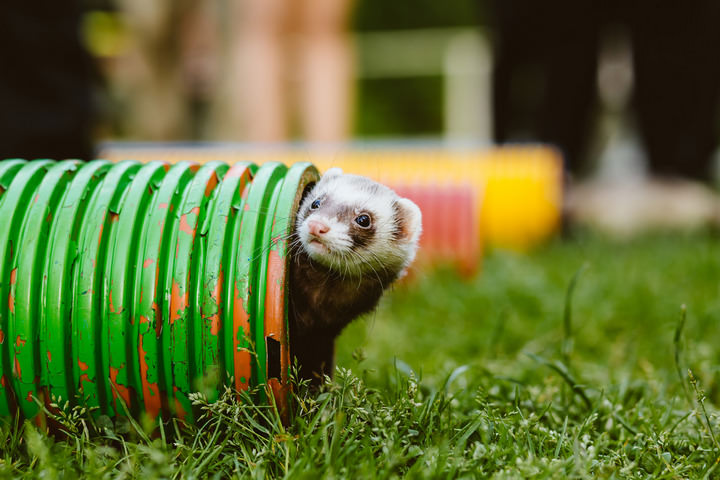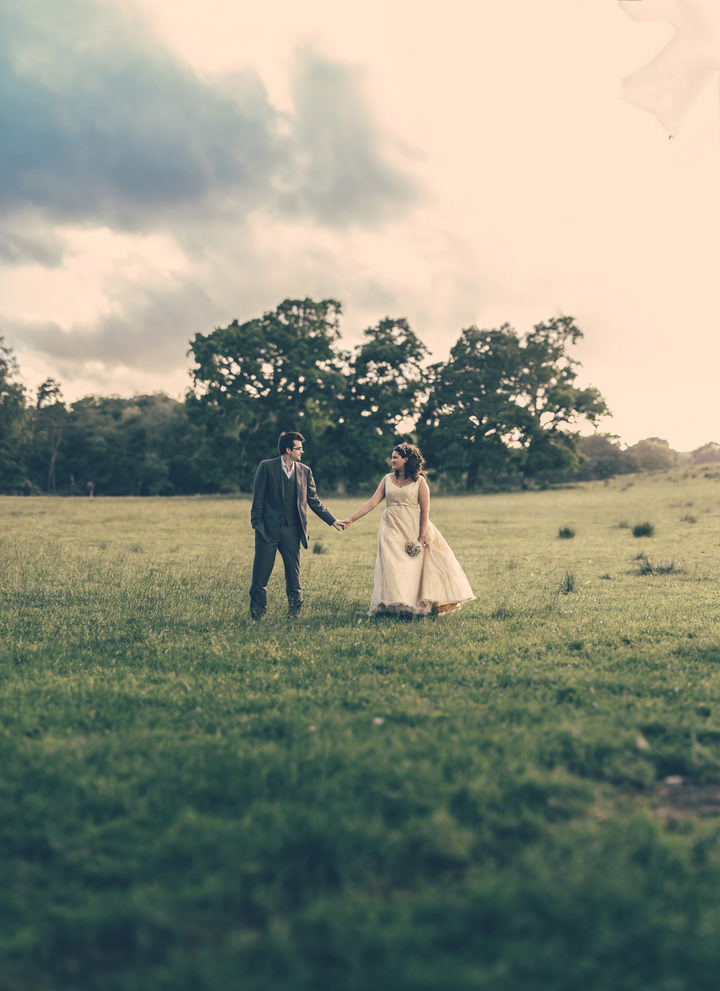 How they met
We met at work and were actually best friends for years before we got together. We have been together for 4 years.
The proposal
Mark took me to one of the 1st places we went together as a couple (Lulworth Cove on the south coast). He proposed to me at the top of the cliff, overlooking the cove.
How did you allocate your budget?
The key to our budgeting was to detail everything we planned to spend on a spreadsheet, and keep updating it as we went through the planning stages, not forgetting to include deadlines for when to pay different suppliers (easy to forget when there are so many!). We had to been to many weddings, which gave us an opportunity to see what people actually notice and therefore what is and isn't important.
Photography
Sam from new Forest Studio was fantastic – his creative style really captured the day and he was so enthusiastic and friendly. So many of our guests have complemented us on his photos.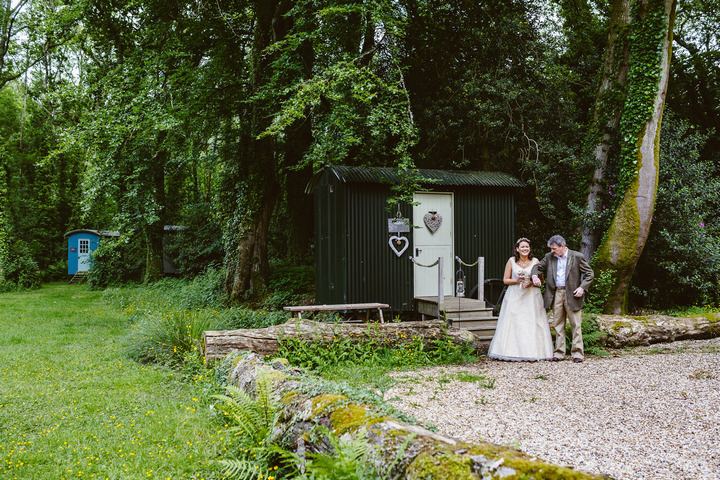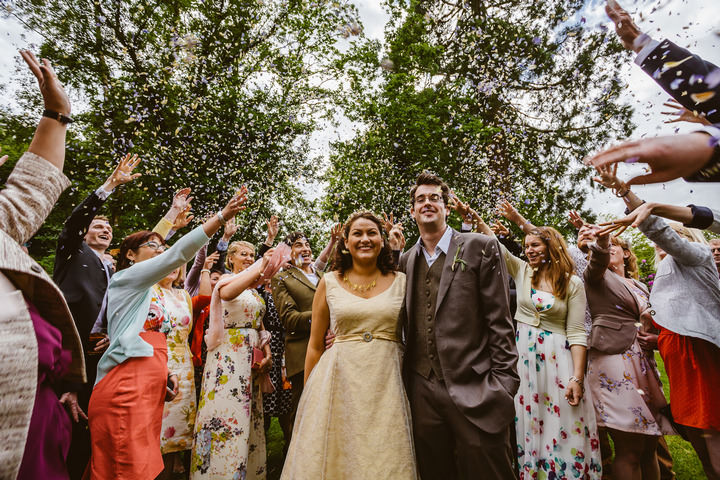 The dress
My dress was handmade by my mother, using indian gold supreme silk, and an overlay of French gold & white Chantilly lace. Our supplier in Guildford was fantastic, helping us with patterns for the dress and ordering samples of material options for us to choose from. My shoes were from nine west – peep toe flats which were practical for the location and extremely comfortable. My tiara was made by the wife of a work contact, who made it bespoke to match my dress. The necklace was handmade by me, as was the brooch bouquet, which featured brooches from 3 generations of women in my family.
The suit
Mark's suit was from House of Fraser, and the shirt and waistcoat were from an independent shop in Farnham. We didn't have any best men or bridesmaids.
Theme or colour scheme
The colour scheme was gold and green to match my dress and the forest setting.

Food
We had a buffet including a wedding 3 tier pork pie cake (as I am allergic to eggs so cannot eat traditional cake). We then had a hog roast in the evening. The pork pie cake was a nod to becoming a 'Bacon', as were the cake toppers (2 pig sylvanian families with handmade suit/wedding dress), as well as the hog roast.
Entertainment
We had ferret racing in the afternoon, run by the ferret rescue team where our pet ferret Bobo came from. The name for each table was the ferret they would be racing, and we had a tournament where the winning table won bar tokens for the night! We also had outdoor games, followed by a disco and outdoor campfire with marshmallows.
Flowers
The flowers were all chosen and ordered by me from our local garden centre. There were all wildflowers, including cornflowers, gypsophilia, veronica, alyiums etc. with lot of purples/blues/whites, as well as ferns. The flowers were in various milk jugs and other rustic glasses.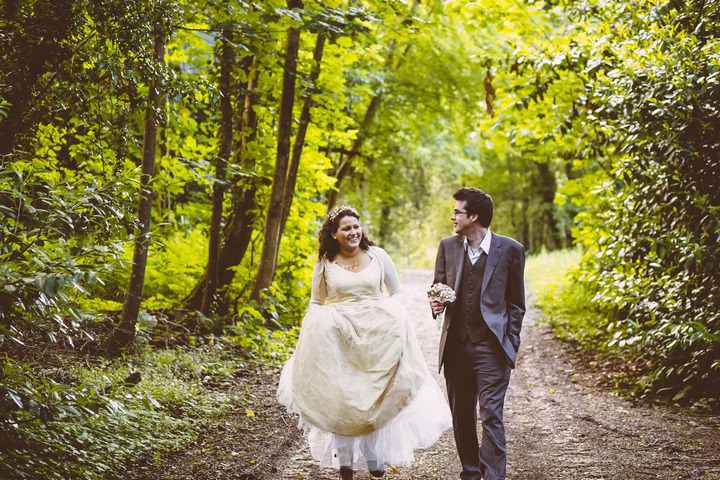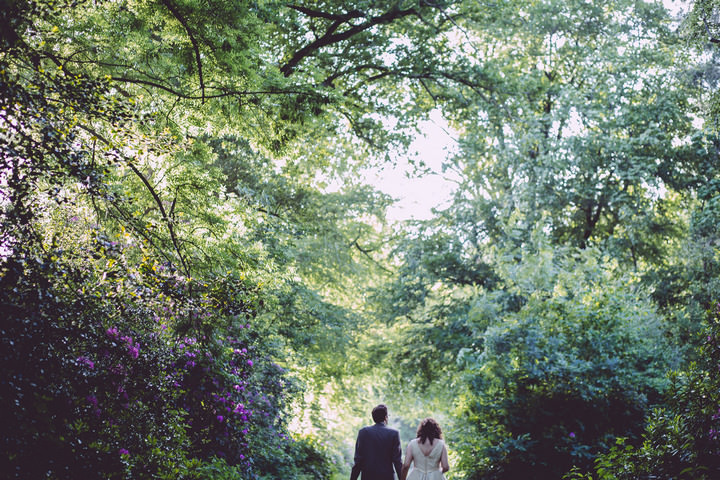 Decoration and Personal Touches
The decoration was very rustic – we hired in wooden folding chairs, and also long wooden trestle tables which we had in 2 long lines for the wedding breakfast. My mother made two long green 10 metre table runners for each line, and we decorated it with lots of rustic glasses/milk jugs and golden skeleton leaves. We used tealight holders full of gypsophilia, hung off the chairs, to mark the aisle, and we made a screen to place behind us at the ceremony, using a twig trellis, covered in wild flowers and ferns.
Other handmade items were the dress, jewellery, brooch bouquet, table runners, flowers and cake toppers. I also did my own hair and make-up (I went for make up lessons beforehand) and made the stationery. For favours for the tables Mark's parents made mini terracotta pots of chives and homemade jam.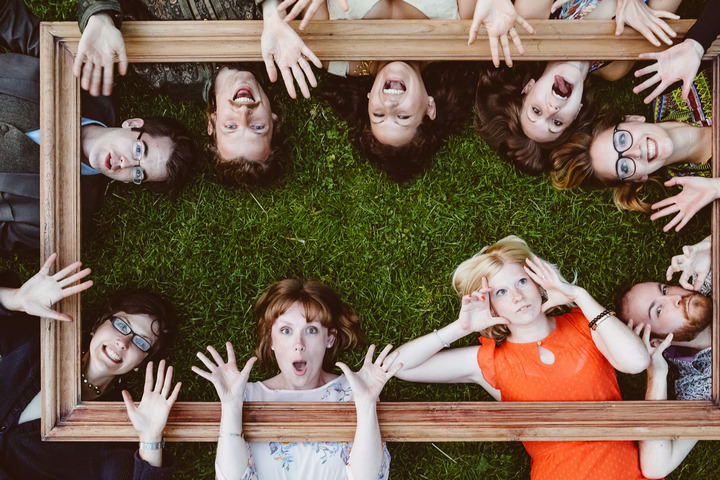 Special moments
The ceremony was brilliant – the sister of one of my friends provided the musical accompaniment with a cello duet, and they arranged the music especially for the day. We chose modern songs which they then arranged for the cello. I walked into 'paradise' by coldplay, and it also featured the beatles, elbow and the verve. Ferret racing was fantastic – it became quite competitive with our guests! And also the campfire went down really well and made for some beautiful photos.
Biggest surprise
My aunt and uncle gave a reading of "A lovely love story" by Edward Monkton. The story is about 2 dinosaurs who fall in love and the way their relationship worked. To our surprise they memorised the reading, and did impersonations of the dinosaurs which was really entertaining and meant a lot to us.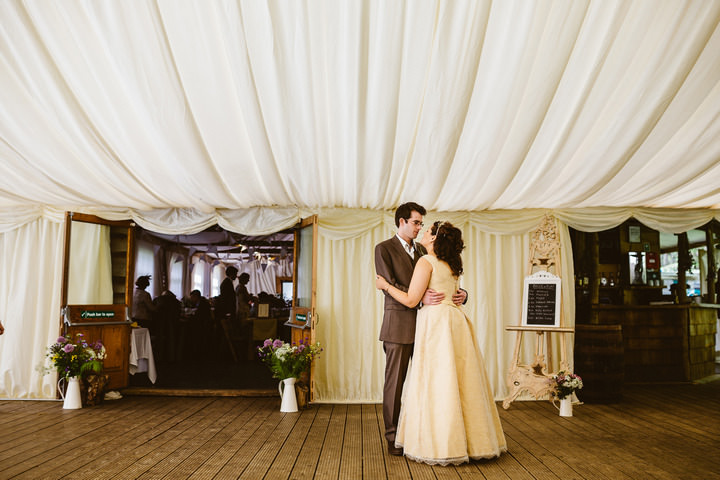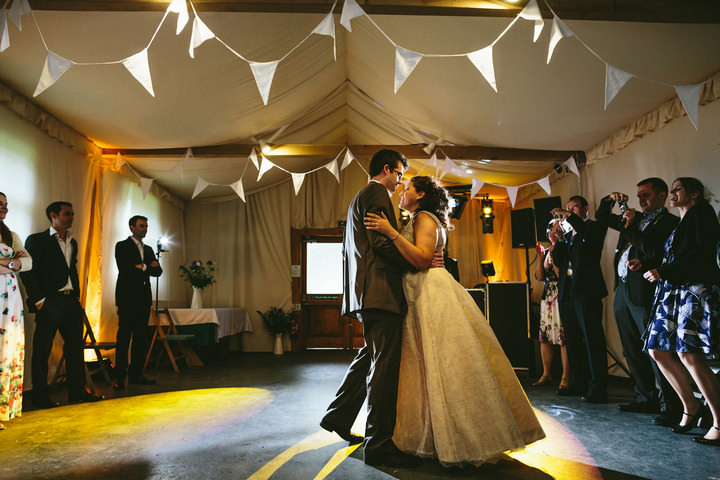 Advice
Don't underestimate the amount of organisation needed to have a DIY wedding! You definitely need to work as a team. Don't be worried about what other people may think about doing things differently – all of our guests were blown away by it! Tradition is wonderful, but don't be afraid to change things to fit what's important to you – everyone is different!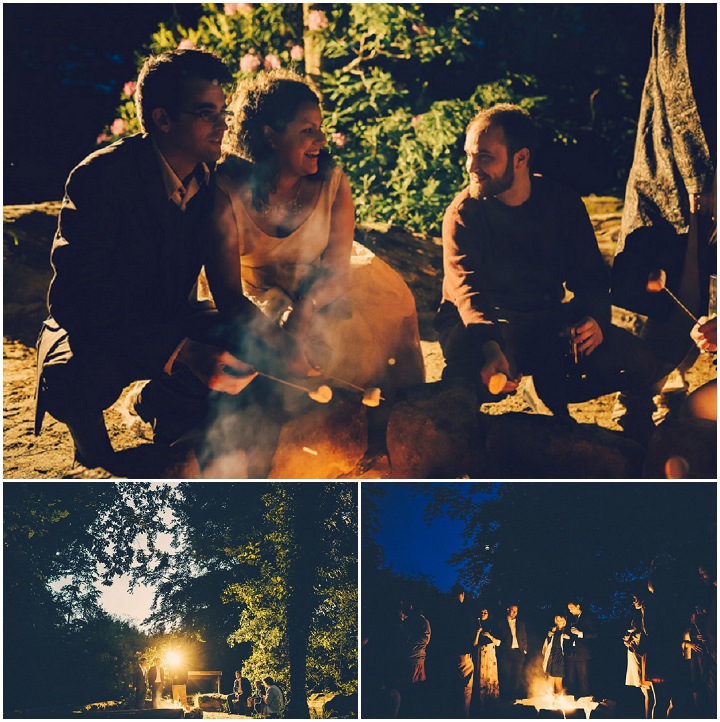 Supplier Shout Outs
For more information on Sam's work go to
www.newforeststudio.com
www.blog.newforeststudio.com
[email protected]
FACEBOOK
@NewForestStudio
07723009617