Happy Friday everyone! I can't believe it's come round so fast, how has your week been? I have been a busy bee this week getting all the last minute preparations ready for tomorrows wedding. The lovely Maria and Sam are getting married and it's my last wedding of the season, so it's an especially significant one for me. But that's tomorrow, today I have this lovely country wedding for you, courtesy of Emma Bouileau. The wedding takes place on the brides parents farm, which makes it even more personal for the couple, they even had the family cat attend the reception!
'A relaxed, rustic, country celebration. Nothing was included without reason and everything had its significance for us as a couple.'
Brook and Alexis  were married on 13th July at All Saints Church, Siddington, followed by Brook's parents' house for the reception. 'I grew up in Siddington and the church was a central point of the community. To us as a couple, getting married was about standing up in front of that community, our friends and families, and making a commitment witnessed and supported by everyone. Making our vows in a place that had borne witness to that tradition and been so central to that community was important to us. My Mum has always dreamed of having my wedding reception at their house, and although it was a lot of hard work to get it ready, it was a brilliant way to make it about how we live our lives – informal and fun, surrounded by horses. It even meant we got a completely unplanned but brilliant bonus that I could see the stables from the top table! We had 75 guests and it took 13 months to plan.'
How they met
We became housemates at university by chance and a year later started dating. That was in October 2006 so we've been together nearly seven years. Al's best man Ben was housemate with us at university too.
The proposal
For many years it was no secret that I (Brook) was wanting and waiting for a proposal, although I tried my best not to pressure Al. The main problem was I half expected a proposal at any possible romantic occasion, so making it a surprise was going to be very difficult. We were housesitting for my parents one weekend so I was stood by the stables, feeding the horses and rushing to get them done before Would I Lie To You started on TV. Al was trying to talk to me but I was too busy rushing for the telly! He pulled out a bottle of champagne and I had to bite my lip not to jump to conclusions, as I did on every other occasion, that this might be 'it'. Turns out this was the one occasion I was right and soon Al was on one knee asking me to marry him. I soon forgot all about Would I Lie To You (which as it happened was not even on that night!) as we rang friends and family to spread the news and celebrate. (He took me for a secret break later!)
Why did you choose your photographer?
Al is an amateur photographer, so I knew he would be interested in choosing ours. I searched for local photographers on the web and picked out those that were in budget. I already knew which I preferred just from the way they came across and described their approach, but I didn't tell Al this. He looked through all their portfolios and suggested we invite Emma Boileau to show us more – by happy chance he'd picked the person I'd liked best! From working with her before the big day and having fun getting shots on the day itself we knew we'd made the right decision, and the photographs that followed proved it too.
The dress 
My dress is an Alfred Sung design from 7th Heaven Bridal in Congleton. I'd found my dream dress in another shop but it was out of budget so I'd gone looking for a cheaper alternative. Several friends recommended 7th Heaven and I have had so much fun every time I visit them it has been great. I picked out dresses similar to my dream dress and tried them all but they weren't quite right. Then I tried a completely different one, just for a laugh, and that was it. All my ideas of what I wanted went out the window (as did my budget). 7th Heaven helped with some perfect alterations to just tweak the style and also made me a matching hairpiece. My veil was a last minute decision and bought from them too. My shoes are Rainbow Club – an amazing find on ebay! I changed shoes for the dancing at the reception too; another ebay bargain of heeled brogues with coloured shoelaces to match the brogues Al was wearing.
The suit and bridesmaids
The suits caused a lot of stress but were worth it. Al tried 'standard' morning coats and liked the look, but we felt it wasn't quite right for our rustic, country feel. Al definitely wanted a 3 piece suit, so I spent a lot of time trying to decide exactly what would look right; until I realised it was the tweed look, but not the mismatched look of most vintage weddings. After a lot of internet researching we found a great check suit in Next.
The bridesmaids were given an almost free rein; I gave them a budget and said I wanted blue dresses, preferably all the same colour blue but so long as they looked coherent I didn't mind if they wore different dresses. We spent a day at the Trafford Centre and were nearly on her our knees when we walked into Monsoon and all three girls pointed at the same dress at once. Perfect!
Theme or colour scheme
I compete in eventing with my horse and the 'colours' I ride in are royal blue and pink so these were our main colours. On the day, most things were rustic browns and creams due to the way everything came together in the 'country' way, but where we had colour (flowers, outfits, bunting), it was mainly blue with a hint of pink.
Flowers
I asked Lauren (at Alderley Flowers) to use as many English country garden flowers as she could, with white roses (to symbolise York, where we met) as the only key requirement. My bridesmaids had all white bouquets, the buttonholes were all white and then my bouquet had just hints of the blues and pinks too. Lauren also did us a beautiful heart which hung on the gate between the garden and the tipis.
For the centrepieces Al's Mum grew herbs for us, which she potted up into long cream planters the weekend before. They had great texture and people were running their hands through them for the smell too.
Decoration
We kept it really simple – Mum and Dad's doesn't need any decoration to set it off really and with tipis instead of a white marquee we already had the wow factor! We had the heart flower on the gate and just a few lines of bunting in the tipis to add colour. A few candles ready for the evening finished it off nicely.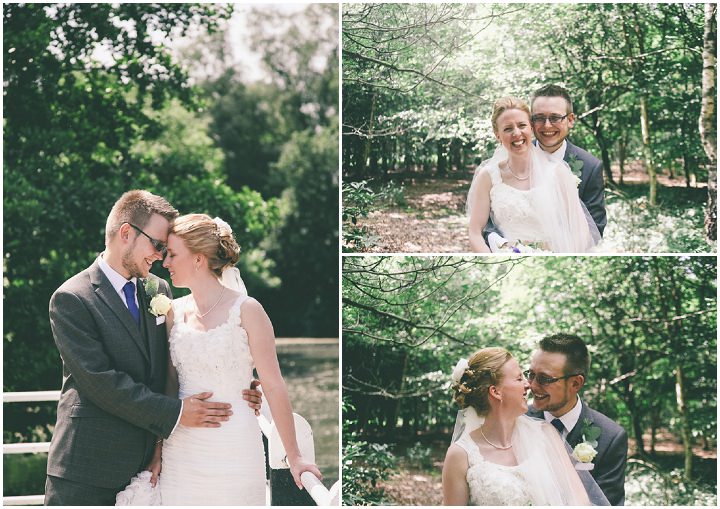 Food
We had afternoon tea as the wedding breakfast and then a hog roast in the evening. It was such a hot day many people had small appetites, but the afternoon tea was perfect for people to just eat as much or as little as they like. The hog roast was served halfway through the dancing, by which point the air was cooler and people were in need of the hearty sustenance! Thank you to Sue le Bonne's great team on the day .
The cake needs a special mention too. My ex-boss Michelle has made wedding cakes as a hobby for many years and was clearly excited to help with mine too. We were trying to think what a 'rustic' cake would be and Al had a brainwave – a haybale cake! Michelle had to do a lot of research and test runs for the icing but it was definitely worth it. It looked amazing!!
Entertainment
We had a few garden games out during the afternoon; quoits, croquet, giant jenga and mölkky (a Finnish form of skittles), then we had a ceilidh. Neither of us are disco-people and most of our friends/family wouldn't fancy a disco either. We thought a ceilidh would be a great way to get everyone dancing and it worked. Al is half Finnish and even his relatives who don't speak English were really enjoying it. The Flaxmere Band who played and called for us were excellent.
Personal / handmade touches
• My transport to/from the church was my parents old landrover – blue by coincidence – a bit rough and ready, but a great talking point. Perfect for the relaxed country theme.
• We handmade all the place names by burning names on to little slices of wood – it was really touching to see so many people take them home as keepsakes – and Al and I had a special 'branching' piece.
• The table plan was a very last minute job that Al made using an old apple store that seemed to just 'fit' too.
• The cake topper was a special personalised one that I got from Katie at Cherry Top Models. I got a wowcher for a discount and it was the first 'wedding' thing I bought, then I paid extra to have a horse in the model too; it wouldn't symbolise our relationship if it didn't have a horse in there somewhere!
• I guess the rest of it was DIY too – we planned it all from start to finish, including hiring a skip and loos for the weekend! It was a lot of work, but it made it all feel extra special to have pulled it off.
Special moments
• Standing in the church next to Al, listening to the readings we'd carefully chosen and the vicar's particularly great sermon and the blessing in Finnish he did for the benefit of our foreign guests. We've really enjoyed working with Revd Ian as he's helped us prepare for marriage – having been together so long we felt very confident we knew each other and were doing the right thing, but discussions with Ian over the last few months have made us feel so much stronger as a couple, the service was very special.
• There is a lake just down the road from the church, we went there after the ceremony for some pictures. Just as we were leaving, an elderly gentleman stopped us to tell us that he and his wife were married for 62 happy years and he wished us the same joy. It was incredibly moving.
• I'd planned in advance that to get a shot that captured the relationship I have with my brother a portrait of us stood next to each other would not do. I told him it would be ok to give me a fireman's lift, as he does nearly every other time I see him, but not to say when he'd do it, just to warn the photographer. Halfway through the afternoon I saw him coming towards me with a grin on his face… the pictures are great!
• We spent a lot of time learning to dance with Louisa and Andy from Body in Motion – so long that our dance included jive, tango, cha cha and foxtrot! The cheers we got throughout our dance were fabulous. We really felt that it was something people will remember and had so much fun doing it!
• And I'd have to say my Dad's speech was a highlight. Very, very different and I'm still not entirely sure what he was trying to say, but everyone else seemed to love it!
Biggest surprise
It has to be my Dad's speech. It wasn't a surprise that it wasn't your traditional 'Father-of-the-bride' speech, because I knew better than to expect that, but I didn't expect it be so quite so 'different'. As one guest said "It's either genius or insanity and we can't quite decide." He presented Al and I with some gifts to help us start married life, but given that they were a brush for cleaning stable buckets, a piece of blue rope and a yellow hand axe, I'm not quite sure why he gave them to us! The axe was most definitely the biggest surprise!
Advice
• Stay true to what is important to you both as a couple. If it's not important to you, don't worry about it! And remember that everyone who comes is there to celebrate with you and wants nothing but the best.
• If you're going to organise it yourselves as we did, organise is the key word. I had a big spreadsheet where I kept track of all the ideas, costs, timescales etc and I used wedding planning websites to check I'd not forgotten anything. You can expect it to take over your life too.
• I found that it really challenged our relationship at times, to a large extent because I wasn't prepared for it to be 'my' wedding – it was a celebration of us as a couple and if Al wasn't in agreement on anything, that meant we weren't at the right answer yet. We learnt a lot about each other in the process. One day I declared that we were going out on a date, we were not to talk about weddings and I was not to stress about whatever trivial thing was causing me to be grumpy that week. It was a lovely break!
• I'd heard all the tips beforehand about making sure you stop to appreciate the day as it can go by so fast and I'd also heard people say that you should be prepared to have moments when you're not ecstatically happy because it's not going absolutely perfectly. I'd asked Al beforehand to be ready in case I needed to confide in him that I was feeling a bit low, just so I didn't dwell on it. But I can honestly say that I didn't have a single 'down' moment. There were some imperfections but I looked around and saw so many people smiling and enjoying themselves, I couldn't help smile myself.
Supplier Shout Outs
For more information on Emma's work go to
www.emmaboileau.co.uk
http://emmaboileau.wordpress.com
[email protected]
FACEBOOK
@boileauphoto
07531 894201
I am based in Manchester, I like to photograph weddings in natural unobtrusive way, from all the fun and emotional moments, to the tiny details that couples have both taken time to plan and put together. I work in a reportage style and enjoy mixing in with your guests; I find this really helps to capture familees and friends when they are at their most relaxed.
Due to an email issue if you have emailed me between the 2nd & 9th of December, please resend it.
X