A few weeks ago I put together a feature on Wedding dresses under £500 (click HERE) when I was researching it I thought it would be fun to run a feature on luxury wedding dresses, those dresses many of us look at and can only dream of wearing. I decided to give myself the price tag of £3000 and upwards to work from.
So today I have been scouring the Internet and going through all my bridal magazines to find you the best of the best.
This hasn't been as easy as I thought though. Most designers don't actually put their prices on their websites, I guess the higher something is in price the less that price is advertised! and as much as I can guess a rough price I want to give you the exact price!
So here I have 14 dresses for you, not as many as I would have liked, but I hope you think it is a good selection.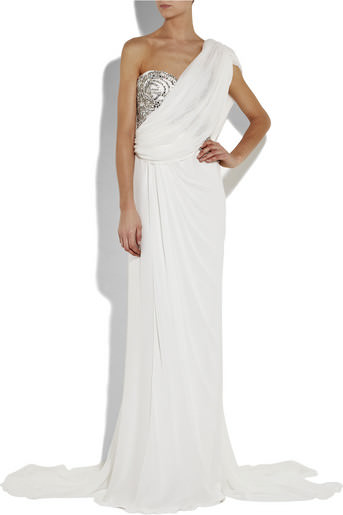 MARCHESA – Crystal-embellished silk-chiffon one-shoulder gown £5,230 (image from net a porter)
TERRY FOX – two-piece ensemble, layered bodice using strips of tulle, silk, organza, chiffon and lace and original pieces of vintage jewellery. The skirt is full of twisted tulle, silk and lace, with just a hint of diamantes. £4800 (thanks to Terry Fox for the image)
LANVIN – Embellished asymmetric linen dress £4,480 (image from net a porter)
AMANDA WAKELY £3900 image from Brides Magazine
DONNA KARAN – Asymmetric wool and silk-blend gown £3,960 (image from net a porter)
SUZANNE NEVILLE – £4265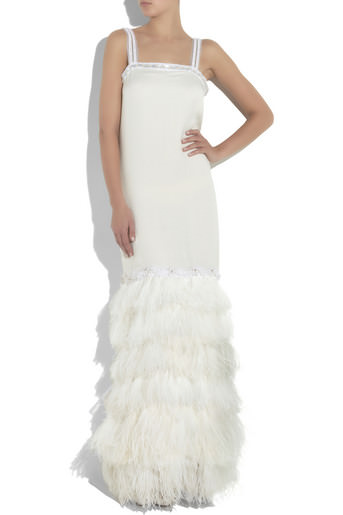 LANVIN – Ostrich feather-trimmed georgette gown £3,715 (image from net a porter)
JASON WU – Silk-organza and lace dress £3,100 (image from net a porter)
VERA WANG – £4629 (image from brides magazine)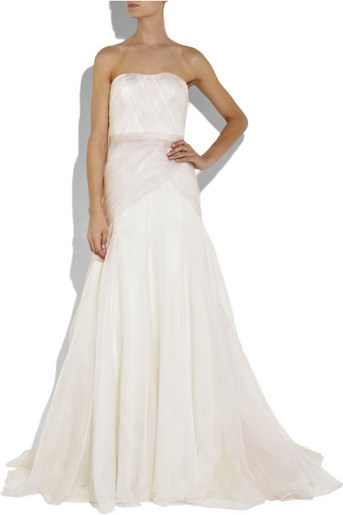 LELA ROSE – Strapless silk-gazar gown £4,315 (image from net a porter)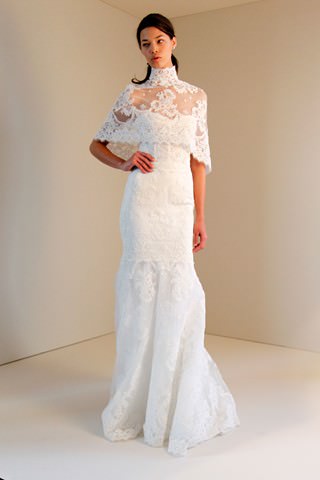 MONIQUE LHUILLIER – dress £6000, cape £1600
MARCHESA – Strapless silk-organza and feather dress £3,455 (image from net a porter)
JENNY PACKHAM – £4540
TEMPERLEY LONDON – Embroidered lace gown £4,900 (image from net a porter)

If you have any suggestions for dresses or other things you would like featured then do let me know.

Thanks