It's Christmas next week, still not sure how it came around do fast! Quite scary really! I feel partly ready, I've at last written the 100 Christmas cards, I've ordered all the presents from the Internet (although none of them have turned up yet…cheers royal mail!) the decorations and tree is up! BUT I am cooking Christmas dinner…..for 7, now this is quite a big thing for me! I do love cooking beofore I set up Boho I loved having people round for dinner, BUT this is Christmas and people have such high expectations. So I have been thinking about those extra special touches to make the house look festive, and have been searching for something to put in the middle of the table.
So I thought I thought I would put together an Inspiration Board of Christmas Decoration ideas for you. These decorations can be used around the house, office or for a Christmas wedding.
Next week I will be doing a week long Christmas special, with more Christmas wedding ideas and lots of lovely Christmas wedding pictures. So pop back then for that!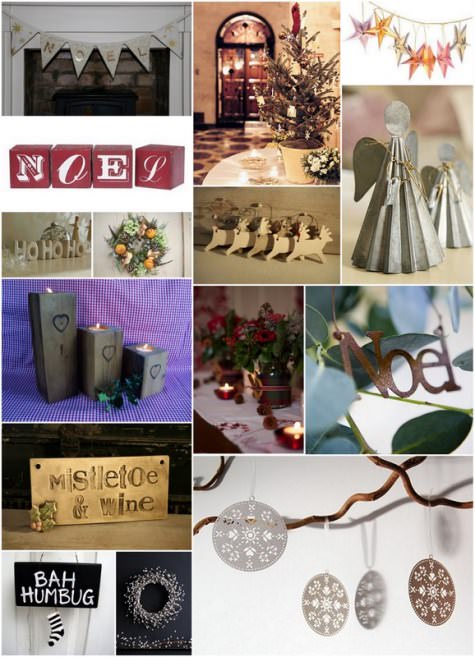 Photo credits left to right/top to bottom:
1) Bunting Queen 2) Martha Stewart Weddings 3, 5, 8 and 11) Not the hight street.com 4) The velvet Store 6) The Blossom Tree 7 and 12) Cherry Pie Lane 9 and 13) Giddy Kipper 10) Rock my wedding 14) John Lewis 15) Hummingbirds cards