Today's wedding is full of fun and character, and is brought to you by Tori Deslauriers . Lorna the bride really embraced the her wedding DIY and spent a lot of time creating and crafting wedding details for her big day. There are so many amazing aspects to the wedding that I'm sure you will agree she did an amazing job! From the yellow personalised Converse, to the felt button holes, the dessert table, the flag game, to the colour coded tables with colour coded guests, to the Pirate theme, with pirate photo booth. This wedding is FULL of personality and a whole lot of fun!
'An amazing day filled with love and laughter. It was a colour coded, pirate themed, intimate handmade wedding of my dreams!'
Lorna and Sam were married on 11th May 2013 at Dickens Inn, St Katharine's Docks, London. 'As we live in London it made sense for us to get married in London but finding a venue that suited us and that we could afford took a lot of searching. It was important to us that we had the ceremony and the reception in the same venue. When we stumbled across the Dickens Inn we knew we'd found the right place for us. It's right on the water of St Katharine's Docks, virtually under the shadow of Tower Bridge and had exactly the aesthetic we had in mind. Better yet, Scott, the manager there is amazing and took care of so many things for us. We had 70 guests, We were engaged for 20 months but after finding the venue and sending out save the dates, we didn't do anything until 6 months before the big day.'
How they met
Sam and I met on the first day at the University of Nottingham – we both misread the literature and ended up there a week before everyone else. I spotted Sam's face in the four-hour long queue for signing up for history modules and joined him to save myself some time. By the end of the queue we'd arranged to meet that night in the union bar and we were together for the duration of uni. Upon graduation Sam got a job in London and I moved back up north so we parted ways. Over the years we've lived together up north and been apart as much as we have together but in 2010 I made the decision to move to London to be with Sam. 2013 marks the 10 year anniversary of our meeting and so was the perfect year to marry in.
The proposal
Sam had planned a proposal to recreate a moment that we had shared on our first holiday together where we were playing with the stones on a pebble beach. We were on a holiday in California and he ensured that as part of our itinerary we would drive to a place handily called Pebble Beach. It was all going to plan until we got there and as soon as I got out of the car I complained that the beach was actually quite stinky. I think I moaned about how horrible it was for a full 5 minutes so he slipped the ring back in his pocket and desperately tried to come up with a plan B while we were away. Eventually we ended up at La Jolla beach in San Diego at sunset and he finally found a romantic moment that I didn't put my foot into. I was completely unsuspecting and immediately said yes, as I would have done on the stinky beach!
Why did you choose your photographer?
Tori Deslauriers is the sister of a close friend and was my first choice for taking our wedding photos. You read so much about how important it is to get on with your wedding photographer and Tori is so easy to get on with. We've always been very comfortable around her. However, the photography was something that we had chosen to spend a very large proportion of our total budget on and I was worried that I hadn't shopped around enough so I actually spent months and months looking at other wedding photographers. In the end, Tori's style was exactly what we wanted from our wedding pictures and we signed on the dotted line. On the day I leaned on Tori so much for help and advice on what to do next and wedding etiquette. I can't believe I ever considered anyone else.
The dress
I really struggled with my dress because I didn't know what I wanted from it. I knew what I didn't want: nothing strapless, no corset, not covered in lace, nothing that could stand up without a person inside it, no train and no fishtail dresses, and it didn't leave very much left.
I also knew that I wanted a separate dress for the evening and I found this for £10 in a local charity shop. In the end, I hand made a lace covered belt to make it feel a bit more bridal.
My main dress came from Debenhams – I didn't even know they did wedding dresses when I went in to help my mum find her outfit for the day! I pinned a vintage brooch on the belt for some bling and accessorised with pearl earrings. My shoes were my biggest extravagance with Vivienne Westwood heels for the day and customised yellow converse trainers to match the groom for the evening.
The suit and bridesmaids
The boys had to be dragged kicking and screaming to try on suits but we managed to find exactly what we were looking for in Burtons. The groomsmen were in waistcoats with polka dot yellow ties and wore felt boutonnieres made by me.
Clare, my maid of honour wore a Coast dress with her favourite nude heels and a corsage she made herself at my hen do.
Theme or colour scheme
When we first saw the venue Sam declared that it would be perfect for a pirate wedding and he really wanted to go all out for it – him dressed as a pirate, me as a wench, a Jonny Depp lookalike dressed as Jack Sparrow for the master of ceremonies, walking the plank instead of walking the aisle… I spent the entire time we were planning the wedding trying to convince everyone that it wasn't as good an idea as Sam was making it sound. I mean who honestly wants to get married in a wench's costume?!
In the end there were many subtle pirate touches to the day. Our invites featured a screen printed pirate map that I designed and printed myself. The favours were little treasure boxes and we had a photo booth with pirate hats and patches for our guests to dress up in.
Sam didn't get his own way entirely though!
I wanted a colourful wedding and we tied this in with our invites. We had silicone wristbands made with the date of the wedding on them and we sent these as save the dates. We then asked guests to wear the colour of the wristband they'd received. We grouped the colours per table which actually turned out great for the photos.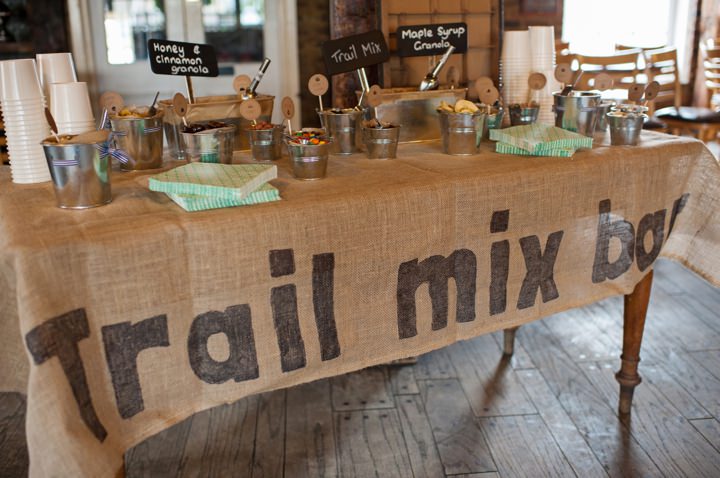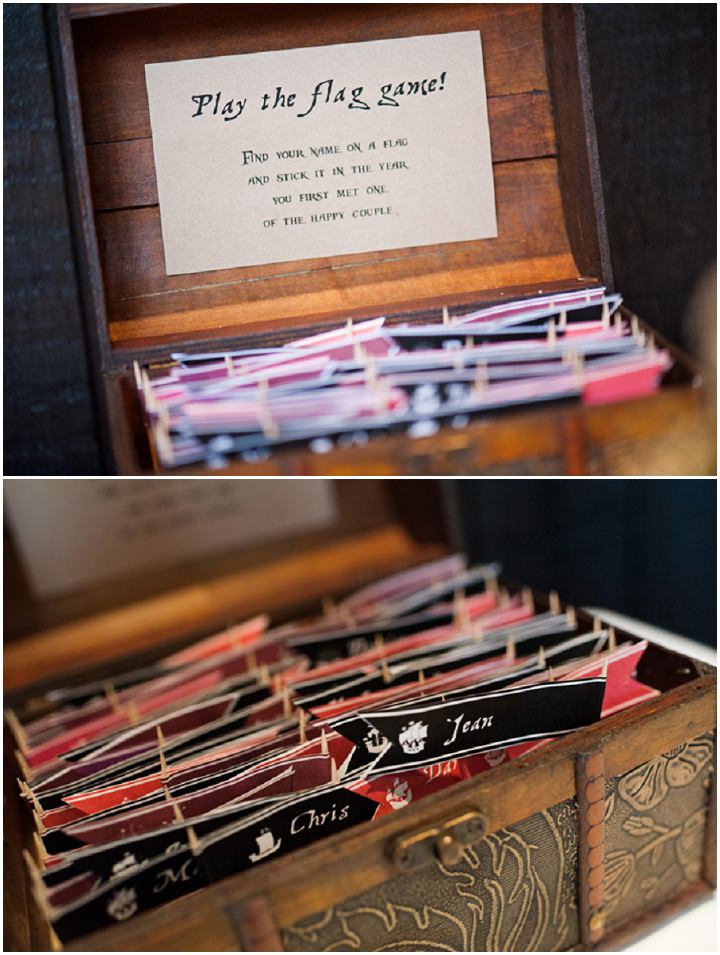 Food
Guests had a choice of Spanish onion and goats cheese tart, chives and dressed green leaves or home-made ham-hock terrine, Dickens Inn Picalilli relish and wholemeal treacle bread to start. More Main pork medallions in a cider cream sauce with caramelised apple, new potatoes and green beans or chicken supreme with a parmesan crumb, roasted new potatoes and creamed leeks or Keralan sweet potato cashew nut curry with basmati rice and a flatbread.
Entertainment
Upon arrival we had a trail mix bar for guests to fuel up before the ceremony (is food entertainment?) and after the ceremony we provided games for people to play including giant connect four, quoits and a naughty card game called cards against humanity.
We made our own playlist for the evening's dancing and had a photo booth for people to have fun.
Flowers
I did all the flowers myself with the help of my mum, parents in law, friends and aunties. I got up at 4am 2 days before the wedding to drive to the New Covent Garden market and got flowers in 9 different colours to do all the tables. My bouquet was made up of white peonies, ranunculus and gypsophelia and my maid of honour's bouquet was entirely gyp. I had albino gerbera daisies and sprigs of gypsophelia in coke bottles around the venue and clouds of gypsophelia whereever I could put it. For the table flowers I stuck to the colours I had assigned the tables and chose mainly big blooms like hydrangeas and peonies for ease of arranging, although there was quite a variety of flowers.
I handmade boutonnieres for all the guests out of a variety of materials, mainly felt, ribbons, buttons and crochet.
Decoration
The venue as we first saw it was pretty much how we wanted it so we didn't add very much besides the flowers. We had Bows Hire decorate the beams with fairy lights and we also hired in white chairs and that was all we needed really. All of the barrels and sailing items were already in the venue.
Personal / DIY touches
I did so much!
• The save the dates were designed and made by me – the silicone bands were made by a specialist company in China.
• I designed, printed and punched all of the invitation suite. I spent a weekend at Inky Cuttlefish studio in Walthamstow screen printing my pirate map on calico. The map was too big for normal envelopes so I even hand made all of the envelopes for the invites.
• I made all of the boutonnieres for all the guests
• The mother and father of the bride painted all of the favour pirate treasure boxes and I printed a thank you message which Sam stuck inside. We filled them with 5 chocolate gold coins, some seaweed (shredded tissue paper) and 3 (fake) pearls and a shell.
• I made the printed table cloths for the trail mix bar and cake table.
• Sam's mum made the traditional wedding cake. I'm a member of the WI and my fellow WI committee members baked amazing cakes for the cake table, my maid of honour made chocolate coated marshmallows and caneles while her partner, Andy, made his amazing cheesecake. Sam's dad made a tiramisu and Sam's Aunty Patti made the chocolate roulade. I made a rainbow cake, although I needed a fellow WI member to come round to my house the day before to ice it for me. We had so many cakes, they wouldn't all fit on the table at the same time!
• I made the backdrop for the photobooth and a number of props.
• I made a board with lots of dates on and flags with the name of each guest and invited them to stick their flag in the year they first met one of us.
• My biggest making effort though was definitely the lace and pearl belt that I wore with my charity shop dress in the evening. The lace had to be carefully cut and sewed together and hand beaded and took approximately 50 hours to complete. It is absolutely beautiful!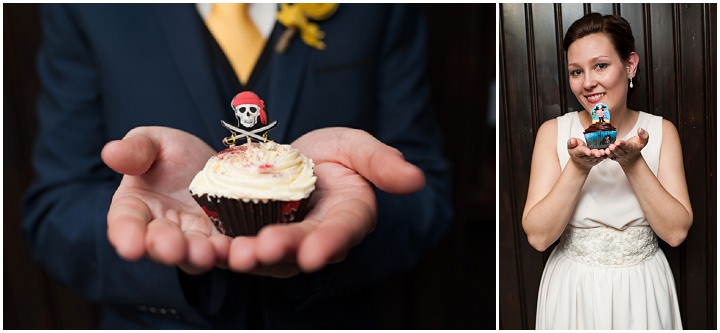 Special moments
There are so many! When I had my hair done with my mum in the morning I don't know why but I didn't tell the hairdresser it was my wedding day. I hadn't wanted a trial as I felt it would stress me out if it didn't turn out exactly the same on the big day. I did say that I was going to a wedding, I just didn't mention it was mine until she'd pretty much finished. The excitement that rippled around the hairdressers when I confessed was a great start to the best day of my life.
Sam and I wrote our vows together so the moment we said those to each other will always stay with me, and I really enjoyed getting our photos with Tori and our videographer. It was a really lovely time to spend together after the ceremony.
The first dance passed by me in a blur but after that I loved dancing my socks off with my husband, my family and my friends. I haven't laughed so hard as I did when all of our mums and aunties started doing the jagger swagger to the Rolling Stones!
Advice
I would say to focus on the details. All of the big things, once you've got them in place, take care of themselves. Getting all the small things in place are the things that make your wedding day special.
Biggest surprise
When my husband admitted in his wedding speech that he agreed that I am smarter than him!

Supplier Shout Outs 
Tori Deslauriers Photography was the best decision we made by far – we relied on her for so much more than capturing our big day and were delighted to have her there. Plus we are delighted with our beautiful photos. She really did capture the day! – www.torideslauriers.com
Dickens Inn were fantastic and really went out of their way to give us the big day we wanted. Everyone loved the central location and the food was excellent. – www.dickensinn.co.uk
Bows Hire were phenomenal – the whole process was outrageously smooth and easy. We never saw them but the fairy lights and chairs were all there and just as we'd wanted them. – www.bowshire.co.uk
I bought fabric from the fabric shops of Goldhawk Road and Shepherds Bush Market.
Fore more information on Tori's work go to
www.torideslauriers.com
www.torideslauriers.com/wedding-photography-blog
[email protected]
FACEBOOK
@ToriDeslauriers
01727 839015 or 07774 505 153
I'm a wedding and lifestyle photographer based in St Albans, Herts covering UK and destination weddings. I like to capture a couple's day from preparations to dancing in a relaxed, documentary style, coupling that with some great portraits, family shots and detail shots.  I love weddings with relaxed, happy couples, personalised details and a slight individual element the best!